The enduring appeal of Stone Island's Ice Jacket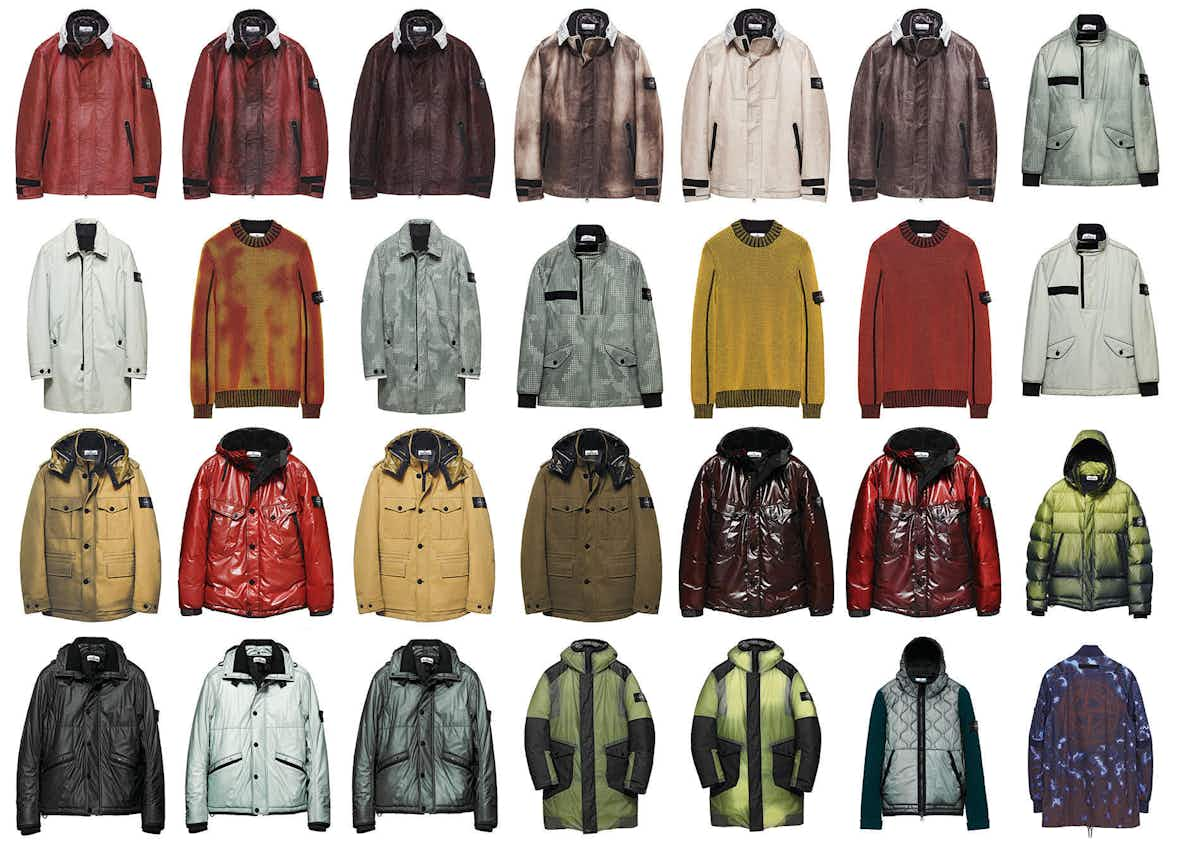 First introduced in 1988 using a forward-thinking thermosensitive fabric, the jacket has been reproduced and reinterpreted numerous times over the years, most recently using thermosensitive bonded leather.

Stone Island has always been synonymous with innovation. Since launching in 1982, the brand's laser focus on researching and redefining outerwear has seen it grow steadily from a cult favourite into a household name. Creatively directed by Carlo Rivetti, Stone Island is well known for his meticulous approach to design, led by an enduring fascination with military clothing, technical innovation and pioneering fabric development. All of this, supported by his early training in graphic design, allowed him to cultivate a seamless union of style and substance across his portfolio of brands.
Characterised by a pared-back, utilitarian aesthetic, Stone Island initially grew to prominence on the backs of fashion-forward young men in Italy's industrial cities. Groups of Paninaro would don their finest sportswear and workwear to congregate at the fast-food cafes that had begun to proliferate there in the early Eighties. With money to burn, a young, home-grown label like Stone Island represented a perfect opportunity for them to make an impact. Before long, the brand had also been folded into the UK's label-conscious working-class youth culture, and, by the early Nineties, could be found extensively on football terraces across the UK. These early adopters laid the groundwork for Stone Island's identity as a go-to brand for those looking for an experimental yet practical approach to masculine dressing.
Despite now producing headgear, footwear and everything in between, Stone Island owes the lion's share of its legacy to quality outerwear. Parkas, puffas and windbreakers are all offered in an impressive array of colours – achievable thanks to continual experimentation with dyeing techniques – and constructed with painstaking attention to detail. Fabrics such as the lightweight Tella Stella, which launched the company's name in ​'82, and hybrids such as 1987's Rubber Wool, are still used to pioneering effect.

One piece that remains firmly at the centre of this pantheon is the Ice Jacket. First introduced in 1988, it made a splash due to its employment of a new Thermosensitive fabric. The jacket's outer shell includes a thermo-chromatic coating, composed of heat-sensitive molecules which modify the passage of light and morph in response to temperature fluctuations. This invention marked a significant development in the field of intuitive design, highlighting the role of clothing as a medium between our bodies and the outside world.
The Ice Jacket has been reproduced and reinterpreted numerous times over the years since its launch. One latter-day incarnation changes gradually from yellow to black as it warms up, whilst another shifts from navy blue to white. In 2010, the thermo-chromatic pigment was upgraded, offering even more effective results, and, more recently, the company released a version of the jacket which uses its first-ever thermosensitive bonded leather.
Like members of a not-so-secret society, Stone Island's many devotees can identify one another across the globe thanks to its distinctive black, green and gold compass logo (derived from Osti's penchant for exploration, both in design and beyond). These days it can be seen buttoned to the upper arms of everyone from Noel Gallagher to Drake. However, thanks to its strong, grassroots following, the brand will always retain a sense of hardworking, reliable cool.