Menswear is rejecting the alpha male

At last, the AW23 menswear collections felt progressive, ushering in the modern man. He's vulnerable, sensitive and comfortable with his femininity. He's everything conservatives hate.
If terms such as ​"fluid", ​"gender-blurring" or the ​'80s-adjacent ​"androgynous" feel a little old-hat, that's probably a good thing. The overlap on the Venn diagram of menswear and womenswear is constantly widening, and this season's shows felt the most progressive they've ever been. Besides, there's no need to define the shift with an overused adjective. The end-goal is for a bloke in a skirt to not be a thing, isn't it?
Collections from Martine Rose, Gucci, Saint Laurent and Prada felt like a positive step forward. If past seasons have been dominated by heavy, military-influenced utility, AW23 stripped away traditional codes of masculinity altogether, revealing some level of vulnerability in the process.

Intentional or not, it felt like designers were responding to the testing political climate; masculine, traditional shapes were given the boot in favour of transgressive design, a welcome runway protest against a backdrop of rising misogyny. Fashion isn't about to solve the crisis, though. It won't put an end to the rise in sexist rhetoric in schools and certainly won't rewire lost causes. But when the industry catches a whiff of what's happening outside its cushty bubble of expensive clobber, the results are emotive.
In some collections, the classic suit was chewed up and spat out. There'd be a moral panic if Wall Street bankers hopped on the New York subway in Fendi's subverted silhouette: a smart dress shirt with a shoulder sliced off, collar wrapped around the neck like a choker. One-shouldered tops looked as though they were made to be worn on a dirty disco dancefloor, not a boardroom. At first glance, Prada went heavy on traditional tailoring, but with soft cardigans, pillowy, cushioned vests and pop-coloured, darted collars on shirts that revealed the entire torso. It felt vulnerable.
Martine Rose is a designer who has consistently challenged the traditions of menswear. At her first show outside of London during Pitti Uomo, the mother of subversion came out swinging, reveling in the sexiness of Italy. This season, the suit became an actual jumpsuit, blazers were decorated with Western fringing and double denim was felt reminiscent of cosplaying cowboys. The ordinary becomes extraordinary with Rose's Midas touch. It's for only the brave and, in this new world of menswear, brave blokes aren't steak-gobbling woodchoppers. They're revealing skin, their emotional side and, in Rose's case, their appetite for a good night out.
Once the Saint Laurent show came around, this new man was out in full, like an unabashed force of nature. The house's creative director, Anthony Vacarello, has never shied away from blurring gender conventions. His sartorial signatures reference Yves Saint Laurent's elongated silhouette: blousy pussy bows and fabrics that flow into flares. But this was Vacarello's most seductive statement yet. The collection was high-glam, even funny at times, as models wore fluffy high-neck dresses that cocooned around their faces, heads poking out like in a game of a whack-a-mole. If the collection was to be presented in February's womenswear show, it wouldn't feel out of place.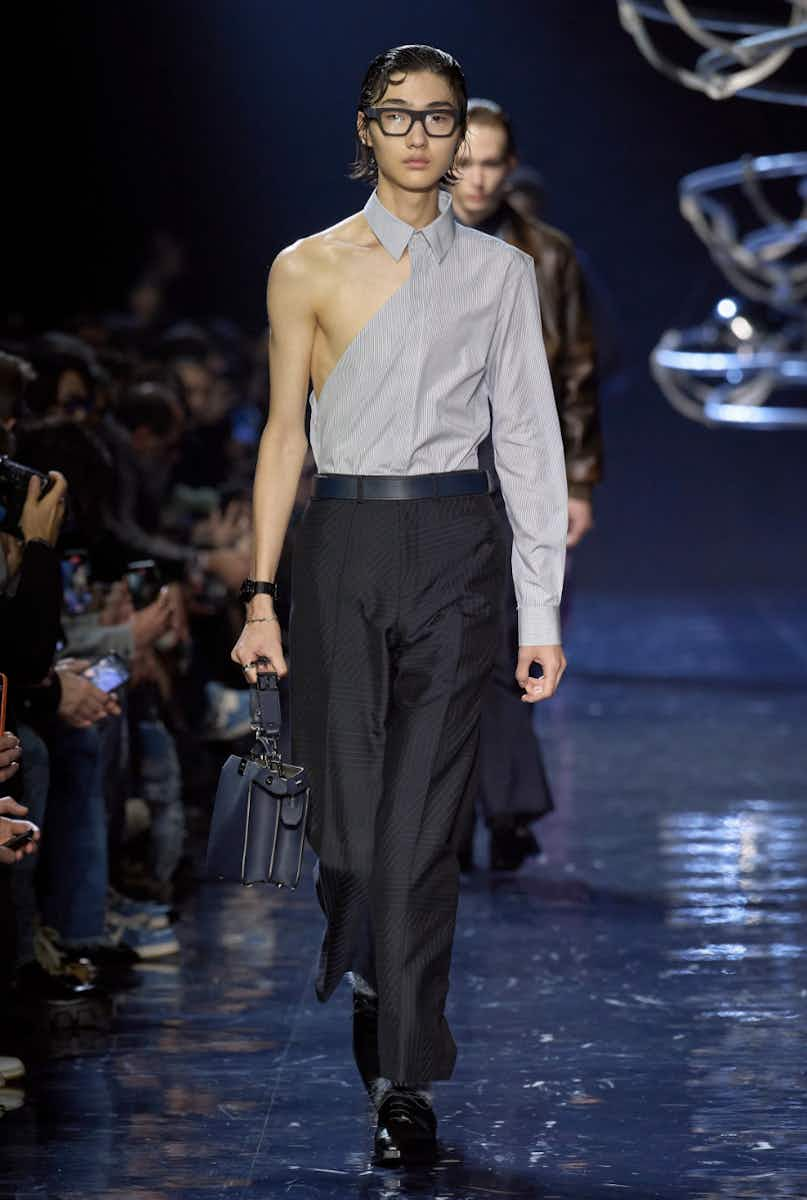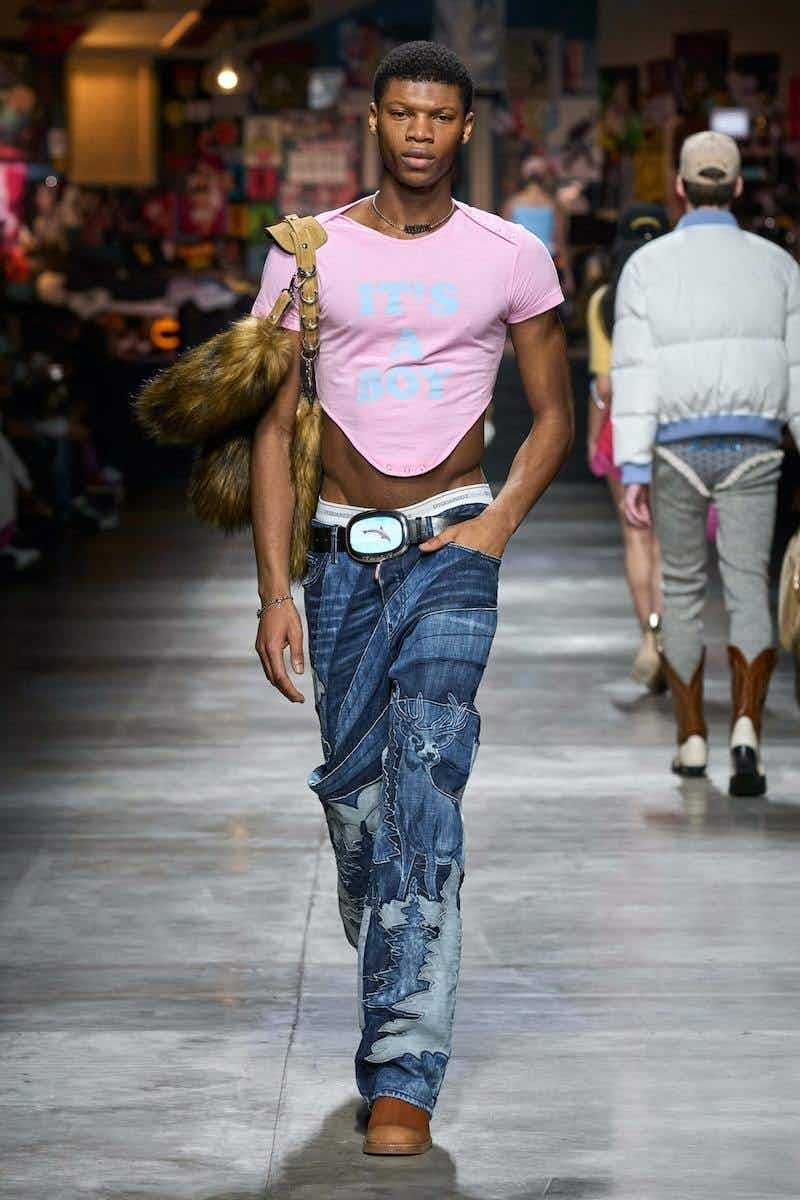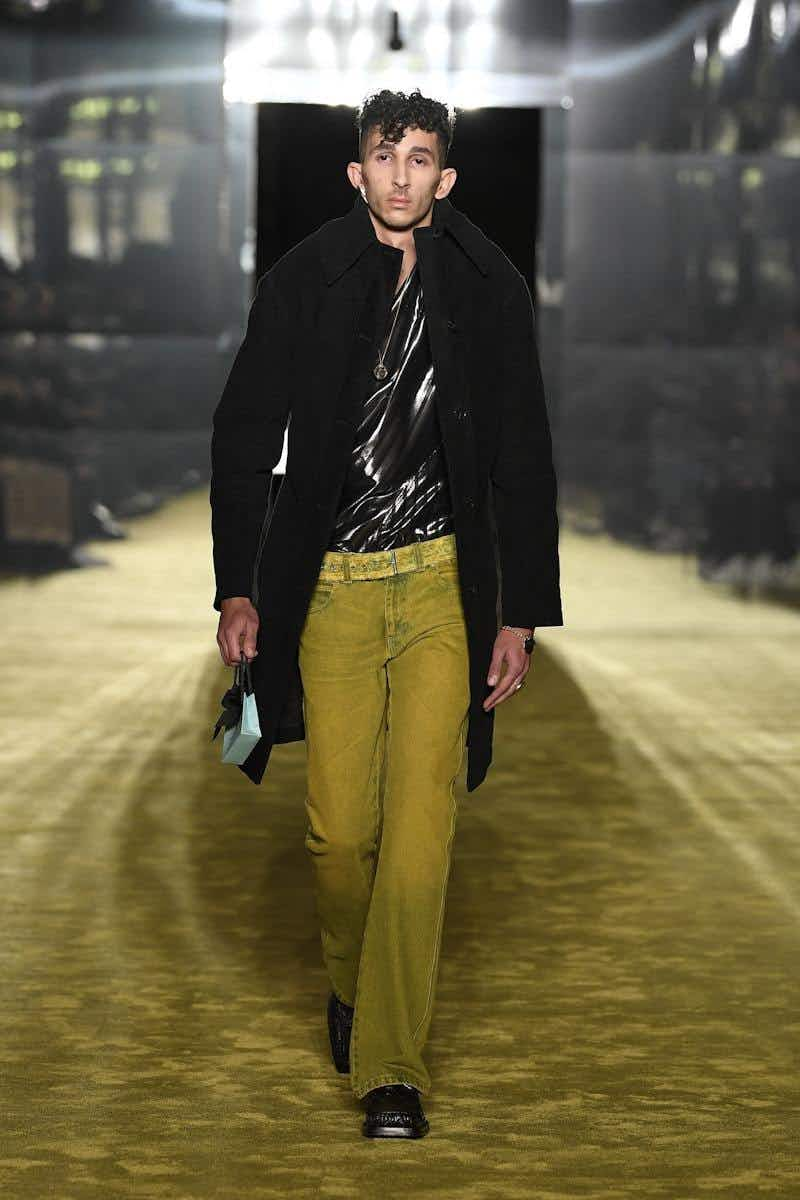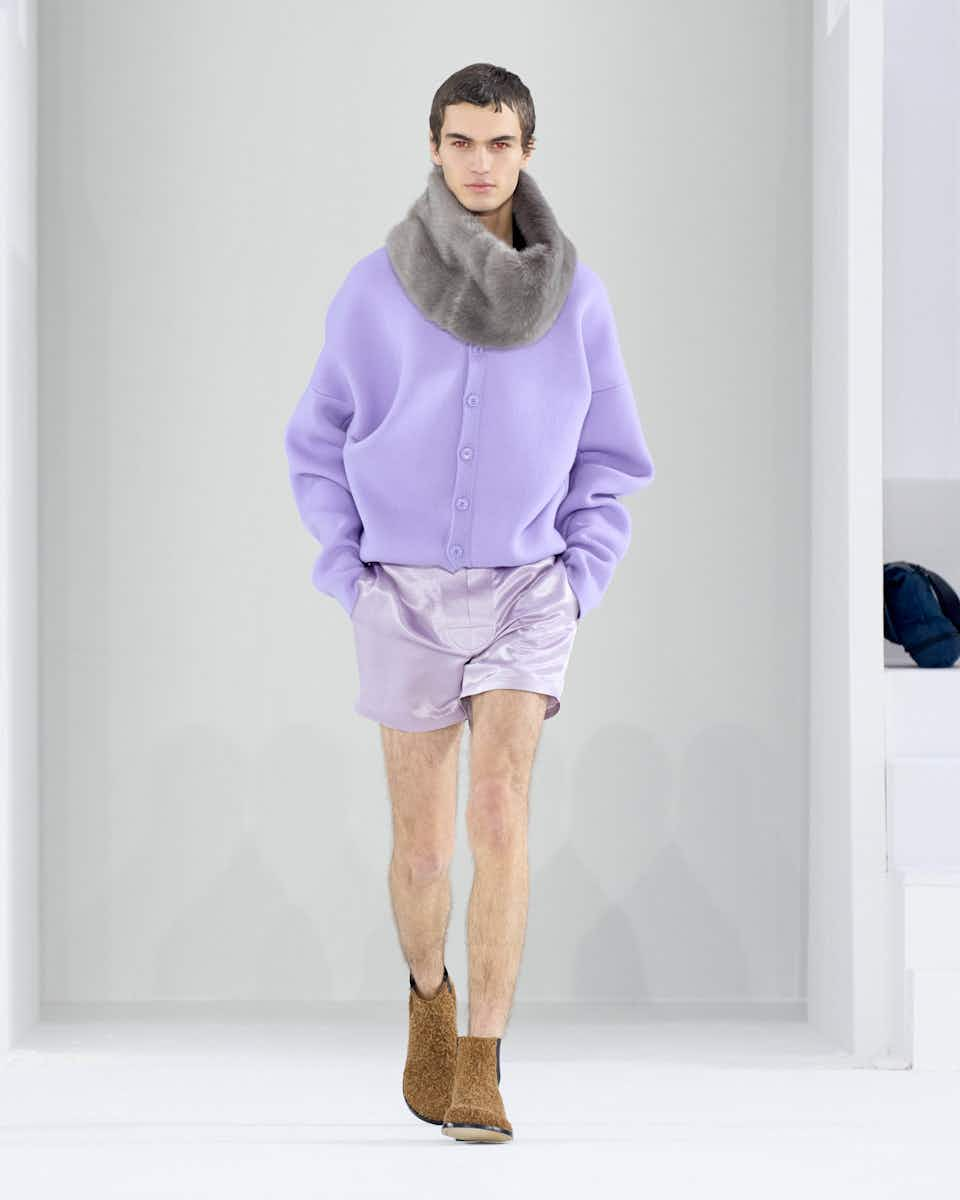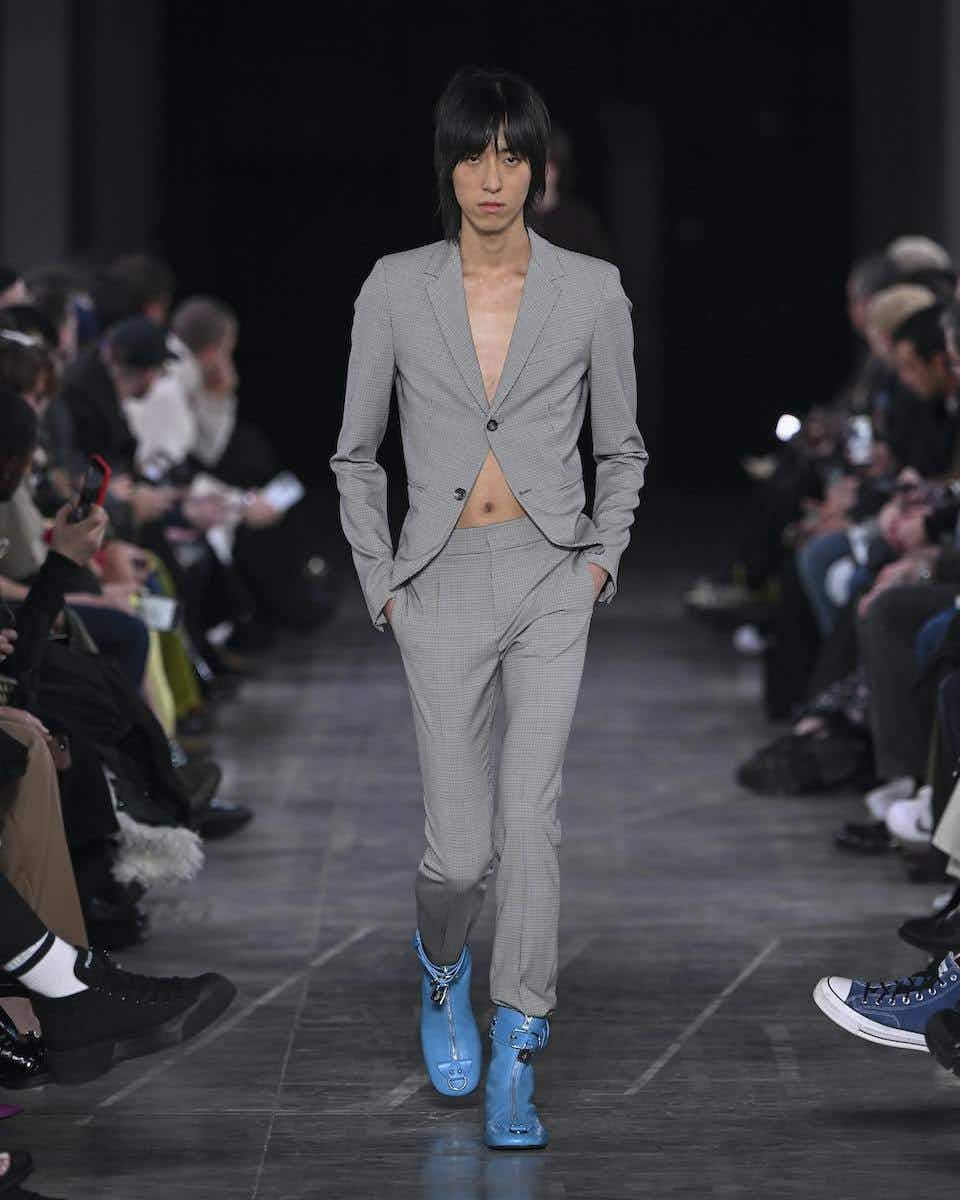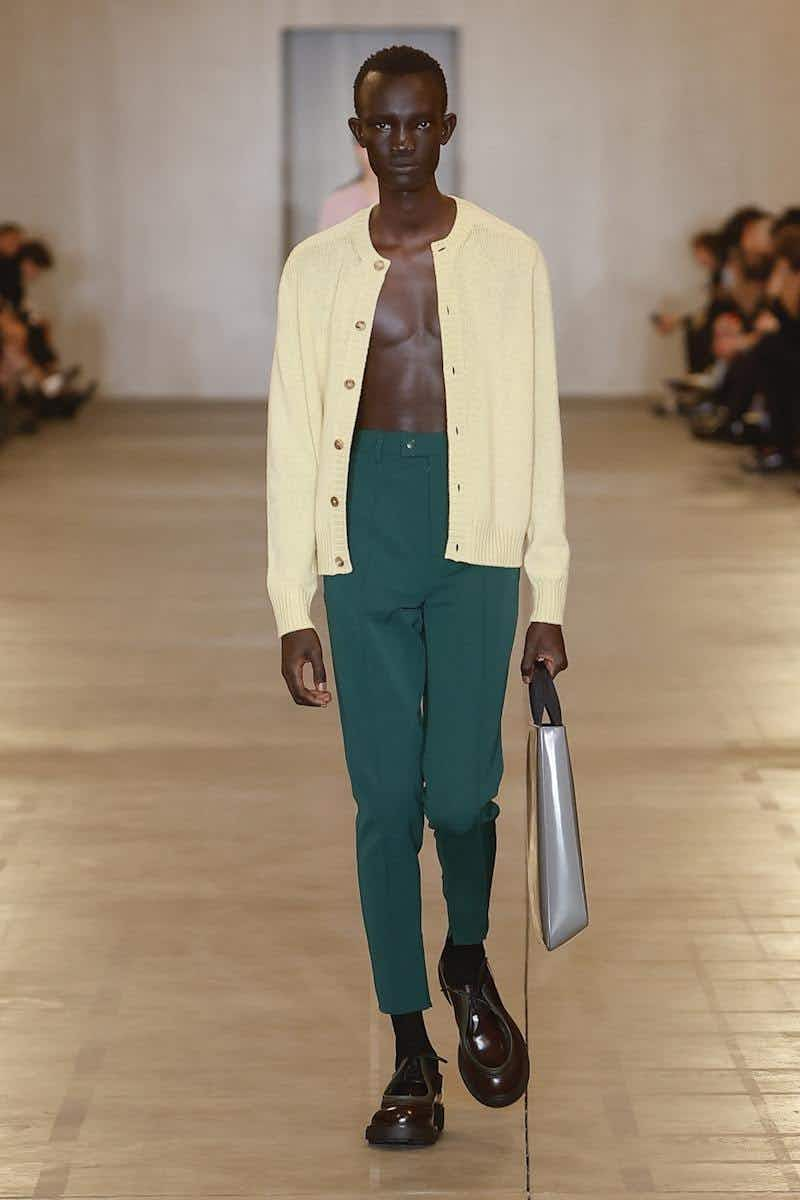 It's fitting that Ludovic de Saint Sernin was the penultimate show of the season (with the highly-anticipated runway return of Maison Margiela closing, obviously). The designer, who's been appointed creative director at Ann Demeulemeester, pulled no punches. Showing leather skater skirts on men and feather boas on boys, Saint Sernin's clearly all for the party.
And so are we. This season, fashion is reconfiguring the man. Designers have rallied together to tear up the proverbial guide to dressing like a bloke. At least one the runway, the modern man is comfortable with his femininity; the bravado is slowly diminishing and, beyond the veneer of machismo, lies a glimmer of camp in men from all ends of the spectrum. It's a conservative's worst nightmare.

More like this