Not for rookies. Here's an advanced guide to the outdoors.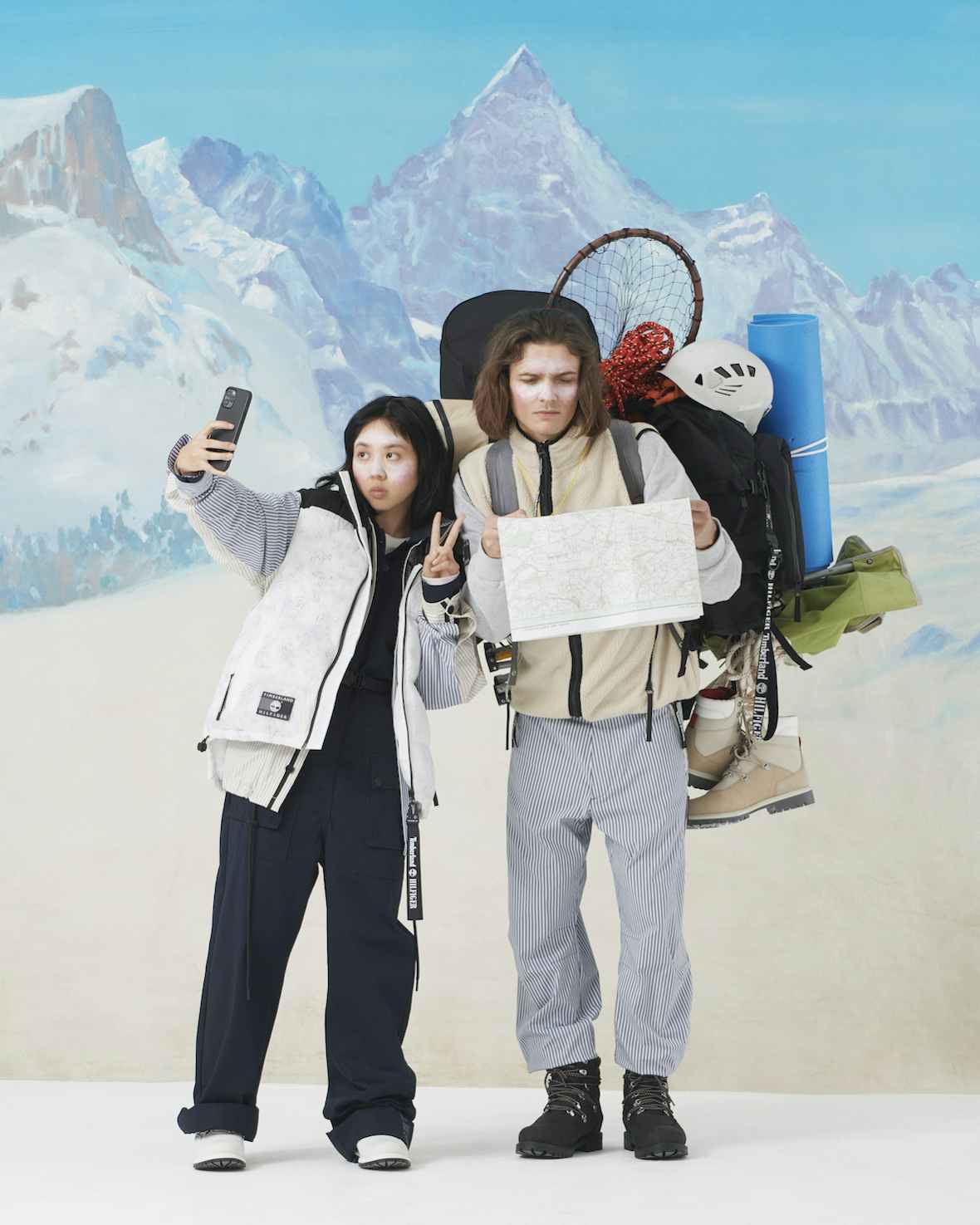 To celebrate drop two of Tommy Hilfiger and Timberland's collaboration, THE FACE has created an expert camping guide as modelled by Orienteer Mapazine founder Rory Griffs and forager Clytie BaoBao. It's sure to knock your walking socks off.
When you think about ​"outdoorsy" clothing, you'd be forgiven for imprinting on neon festival windbreakers and your dad's muddy boots from that six months where he got really into ​"rambling", and wouldn't stop calling it ​"rambling". Thankfully, the reality is a lot more interesting: take it from legacy brands Tommy Hilfiger and Timberland, who are currently gearing up to release the second half of their TOMMYXTIMBERLAND collab.
While sustainability is the thread that connects both parts of the full TOMMYXTIMBERLAND collection, it takes centre stage for this second drop. Proving that eco-innovation can go hand in hand with the classic iconography of both brands, this capsule features a parka coloured with plant-based dye, puffer jackets filled with recycled materials, and rubber obtained outside of cycles of deforestation.
As Christopher Raeburn, Global Creative Director of Timberland, explains, this capsule aims not only to lead the way as fashion pursues a greener future – as both brands plan to continue using the production processes and standards established here – but to also ​"have a positive impact on nature".

Essentially, these are clothes designed to help whoever wears them appreciate Mother Earth in all her splendour (even when it rains). To demonstrate this, we've enlisted outdoor expert Rory Griffs and forager Clytie BaoBao, for the second round of our TOMMYXTIMBERLAND nature guides photographed by Raphael Bliss. Here's the Advanced Outdoors Guide.
THE BIG SEARCH FOR BIGFOOT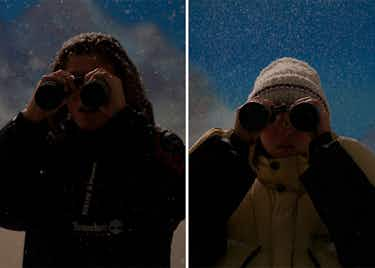 Step 1
You've decided to track the forest's premier mythical beast: congratulations! Equip yourself well and become one with the shadows – you never know when you may need to disappear.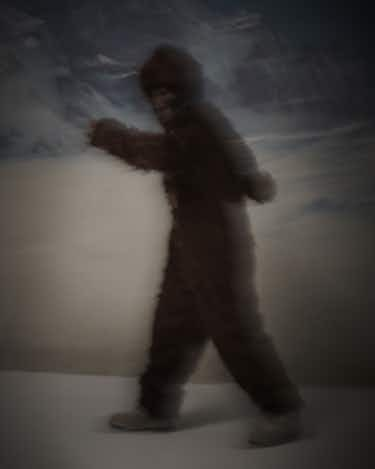 Step 2
If you do get a Bigfoot visual, record it for posterity in case of a Blair Witch-style situation. Hopefully not, though!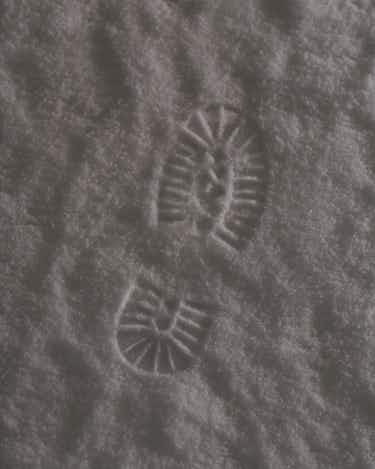 Step 3
Consult your knowledge of past sightings to verify his tracks. Was it Bigfoot, or was it just a guy in Timberlands and cosy winter drip?
HOW TO SCALE THAT MOUNTAIN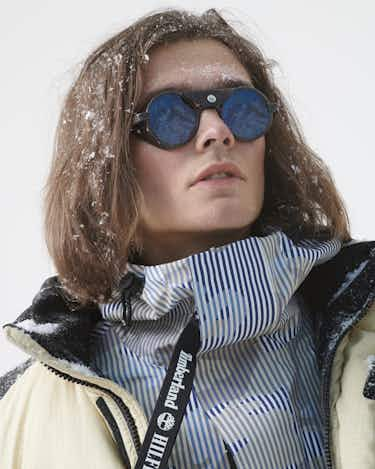 Step 1
Before you embark, contemplate the mountain and the physical feat it demands of you. It's best if you play some rousing, movie soundtrack-style music off your phone at this point as well, just to really get you going.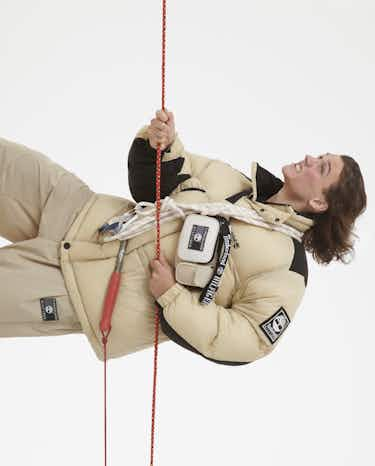 Step 2
Be prepared for adverse conditions. For example: standing horizontally against a cliff face.

Step 3
When you reach the summit, bask in your achievement. Oh, and remember to capture the moment – because if you climbed a mountain and you didn't flex about it online, did you even really climb the mountain?
SO YOU'RE LOST. WHAT NOW?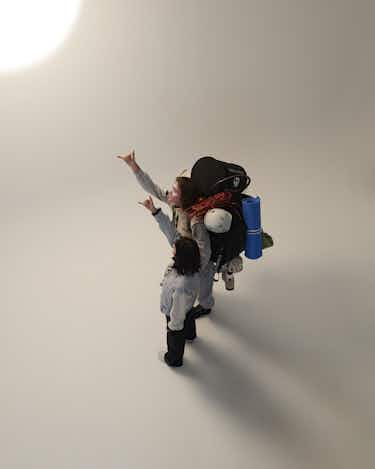 Step 1
Getting lost is practically a rite of passage in the great outdoors because this is where all the skills you've learned get to shine. Alternatively, you could just try hitching a ride – that works too.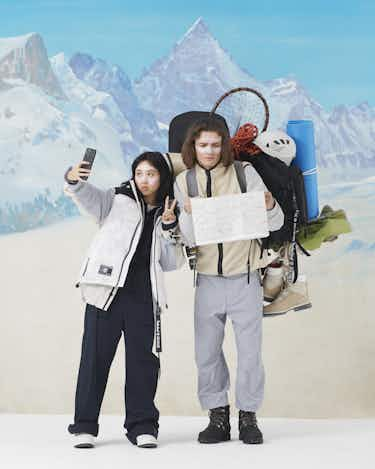 Step 2
In the (likely) event that nobody stops, a decision must be made: are you the friend who painstakingly reads the map or the friend who takes the opportunity to get a selfie against this perfect snowy backdrop? Both are valid.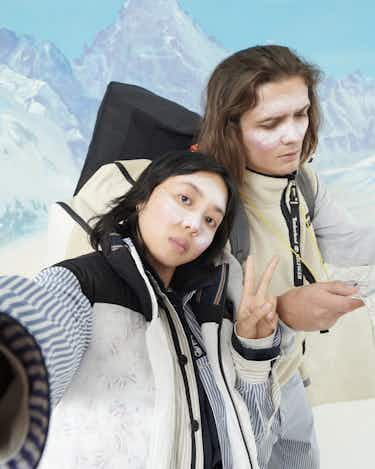 Step 3
Sure: you may end up walking around for hours, your feet half-frozen, only to discover that your tent was only five minutes in the other direction. But you'll always have the memories!
Photo assistant: Arthur Comely
Head of Production: Rosanna Gouldman
Head of Project Management: Rachael Bigelow
Brand Partnerships Manager: Jocelyn Sital-Singh
Branded Content Editor: India van Spall
Jr Producer: Katherine Bampton
Creative: Clara Goodger
Creative Assistant: Cassandra Joseph
Set design: Phoebe Shakespeare
Set assistant: Molly Morphew
Background image: Bob Bampton
Stylist: Flo Arnold
Stylist assistant: Sam Riki Wright
Makeup: Ana Takahashi
Makeup assistant: Daisy Moore
Hair: Takuya Uchiyama
Hair assistant: Takumi Horikawa