Vetements is launching a new brand – here's what it could look like

As the label gears up to unveil a secret new project, we look back at seven years of brilliant fashion piss-taking to predict what might come next. Invisible clothes, anyone?

Vetements takes the piss. It takes the piss out of fashion critics, the piss out of the rich and the piss out of you.

Since 2014, the brand has subverted the Paris catwalks to meme-worthy effect. They've made grannies cool, hunchbacks hot and platforms unwalkable.
The joke started at birth, really. Founded by brothers Demna Gvasalia (the design one) and Guram Gvasalia (the business one), Vetements is French for clothes – it's that simple. And yet, for all its modesty, the brand's second collection for SS15 caused something of a seismic shift in the wardrobes of bright young things across London, Paris, NYC and Berlin.
Suddenly, art school kids were asymmetrically chopping the ankles of their jeans, scouring charity shops for XXXL bomber jackets and stretching jumpers to mimic the dramatically oversized limbs of its knits. And over the years that followed, what Vetements put out, fashion wannabees bought with fierce loyalty.
In 2016, it made hoodies huge, in size and desirability, when its long-limbed, logo'd version was worn by Kanye West and Rihanna. It was the ultimate thrill to look like the grim reaper. And for £800 you could, too – unless you missed the opportunity before they sold out.
The same year, the Vetements x DHL T‑shirts, almost identical to the original uniform, were priced at £185 and sold out within days. Gvaslia's radical design approach was owed in part to his time working for ultimate fashion disruptor, Maison Margiela. His goal was to take a simple piece of clothing, twist it, contort it and throw it on someone unexpected, until a pre-existing garment became brand new.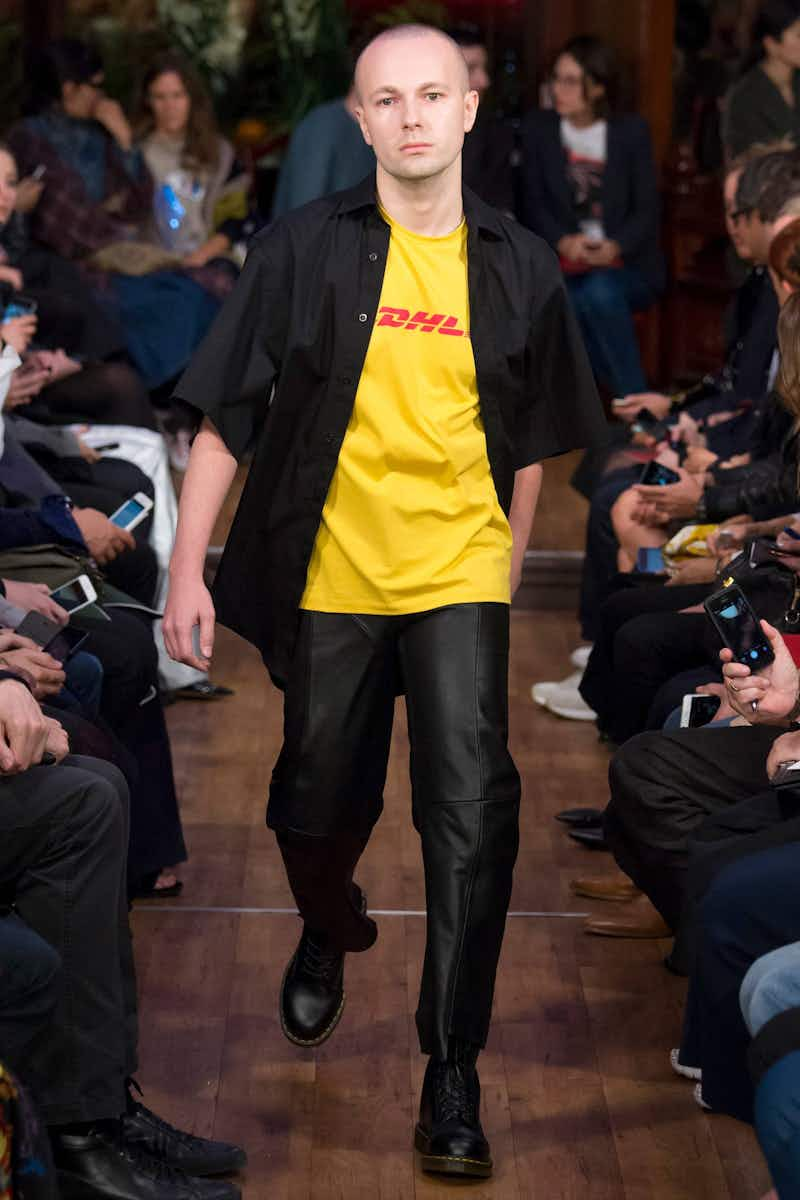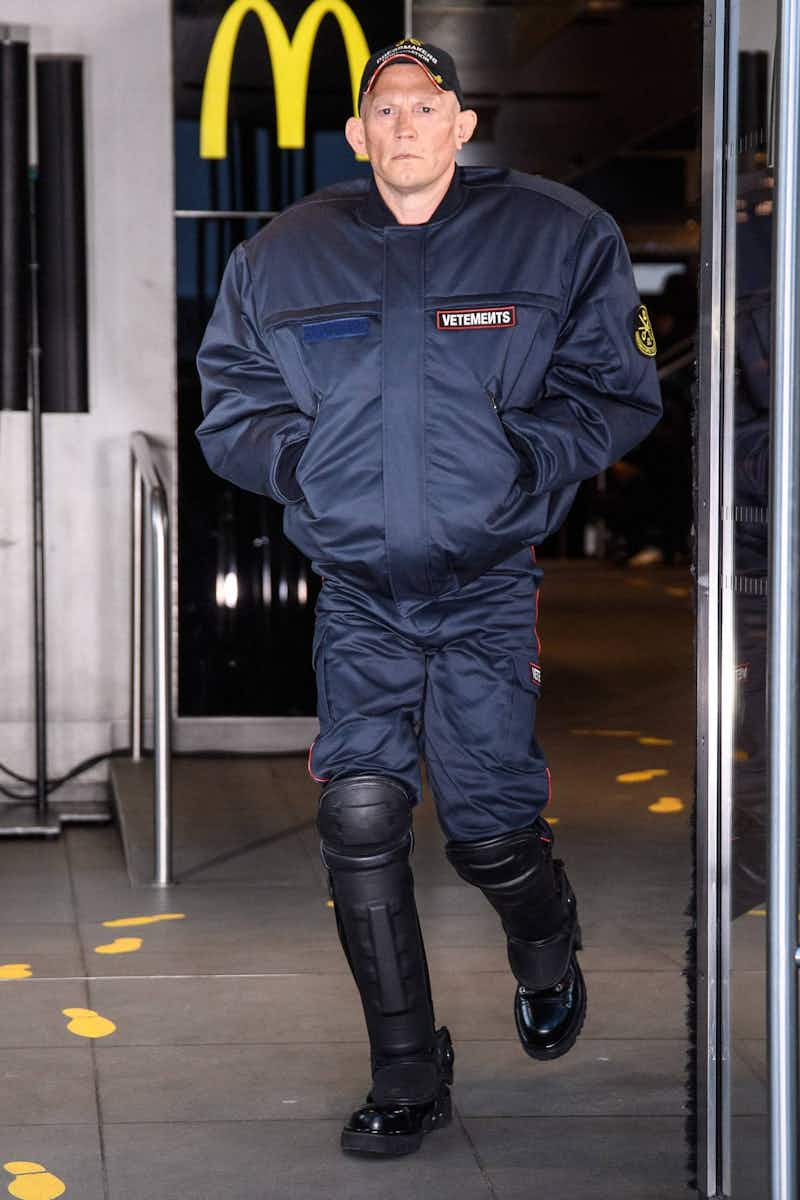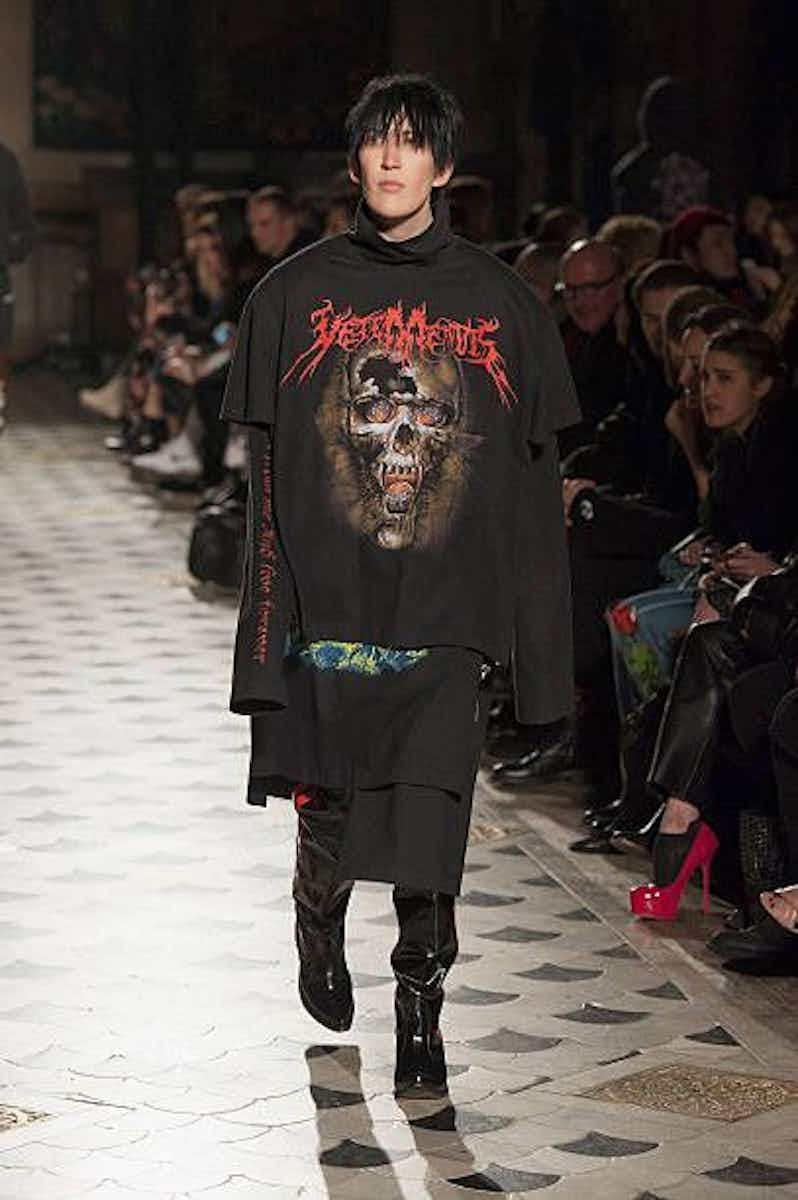 By this point, a recurring theme of odd-ball capitalism was unavoidable. A luxury brand with price-tags in its hundreds was ripping off the banal, all in the name of selling – because it could – to the blissfully wealthy. Was it laughing at their devotees? Was it all part of the plan? Did it… give a shit? Whatever the case, it carried on with collaborations regardless, with Juicy Couture, Reebok, Manolo Blahnik, Carhartt, Umbro, Canada Goose and Hanes getting the Vetements treatment.
In 2019, the same year Demna Gvaslia retired from the brand to focus on heading up Balenciaga, Vetements presented its SS20 menswear collection in a Parisian McDonald's, where male models of all ages wore hyper-inflated, almost comic French police officer uniforms. Padded, dystopian and satirical, Vetements' stance was clear as day by this point. The names of two ​"courses" on the show's fake ​"menu" spelled it out: Kapitalism and Global Mind Fuck.

Now, fashion's ultimate prankster could be taking the piss all over again, with the recently announced @vetements_secret_project.
According to this Guram Gvasalia interview, the secret project is in fact a new brand. Or rather, ​"not actually just one brand [but] the first milestone in the whole situation."
Any clearer? No, us neither. So as the label's loyal customers get ready to feast on whatever this secret project serves, we had a go at predicting what the next era could look like.

And in the style of Vetements, don't take it too fucking seriously.

Five suggestions for the future of Vetements:
Invisible clothes
Nothing says joke's on you like nothing at all.

Clothes that fart as you walk
Like those Clinton's cards that start singing Happy Birthday when you open them.

Clothes that protect us from the pandemic
Contrary to the UK's sodding Freedom Day, we are still very much in the middle of a pandemic. And as Covid cases soar across the country and France, we could be well on our way to wearing Vetements hazmat suits. 100% protection, with some bonkers hemlines and price tags thrown in.

Clothes you literally don't want
Vetements made ugly so good it was bad, but it was still good. But what if this time round, it's so beyond comprehension nobody wants it? And, like, on purpose?
Vetemole
Vetements for mole people. Best viewed underground.


More like this