Love
Life
Having sex six feet apart isn't easy, but eye fucking could be the answer to help you bridge that gap.
Life

Shagging, wanking, getting off, getting on, listening to erotica, necking vodka, PornHub, dicks, knobs, tits and a bit of foreplay. How's your love life looking during lockdown?
Society

"Should you lock the room on a first date?" and other questions we're asking ourselves at the birth of a new era for digital intimacy.
Life
The Face guide to the 2020s: Romantic love is going down and "love drugs" are coming up, at least according to Anna Machin, Evolutionary anthropologist at the University of Oxford.
Life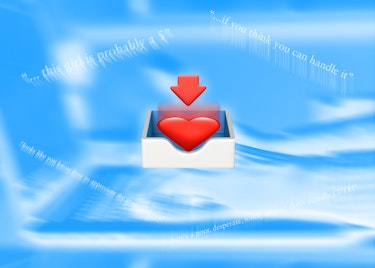 As the growing popularity of personals ads signals a pivot to a slower, more gentle type of online dating, Rory McClenaghan looks back at the brief period he spent as an "opener" for men looking for love online.