Nights of Violence: love and grief in the face of addiction

Artist Tan Gillies mixes moving image, painting, sculpture and photography in a soul-bearing new exhibition tackling mental health, domestic abuse and the hard road to getting clean.

When London-based artist Tan Gillies walked out of rehab 15 months ago, he didn't have a clue what he was going to do, other than make art to channel the unresolved feelings that led him there in the first place.
After quitting his corporate job to pursue art full-time, he released two projects last summer: a debut photobook, Cold Bones, which charted Gillies' descent into drug addiction, followed by Trauma Hurts, a short film about his Icelandic heritage and the country's ability to heal his fervent inner turmoil. Both functioned as a means for Gillies to expel deep, dark emotions, make sense of the pain he'd experienced up until that point and deal with slipping in and out of addiction.
Since then, Gillies has deservedly carved out a reputation for his unflinching exploration of drug-addled battles with mental health, the all-consuming nature of grief and the perseverance of love in the face of it all. His new exhibition, Nights of Violence, doubles down on these themes and then some.
Never one to limit himself to a single medium, the exhibition is a heady mixture of photography, moving image, painting and sculpture, combining gritty elements of graffiti with eerie photos of red-lit gravestones at dusk. Elsewhere, large canvases are covered in specks of neon paint and gradient blues, greys and pinks. While very much a culmination of Gillies' previous projects, Nights of Violence features new, equally poignant work that he worked on non-stop over the last three months.
"It felt like the right time to show some of my studio paintings alongside the photography and film stuff I've been doing all in one place, as each piece informs the other," Gillies says. ​"It started coming together as a show before I had any solid plans to make it one. It's all the things I see in my head and need to make so that I don't go mad."
While many people equate art with therapy, for Gillies, it's a more all-encompassing and cathartic process than most. ​"I latch onto it completely and channel everything into it," he continues. ​"When I'm feeling my feelings far too much, doing that gives me somewhere to disappear to."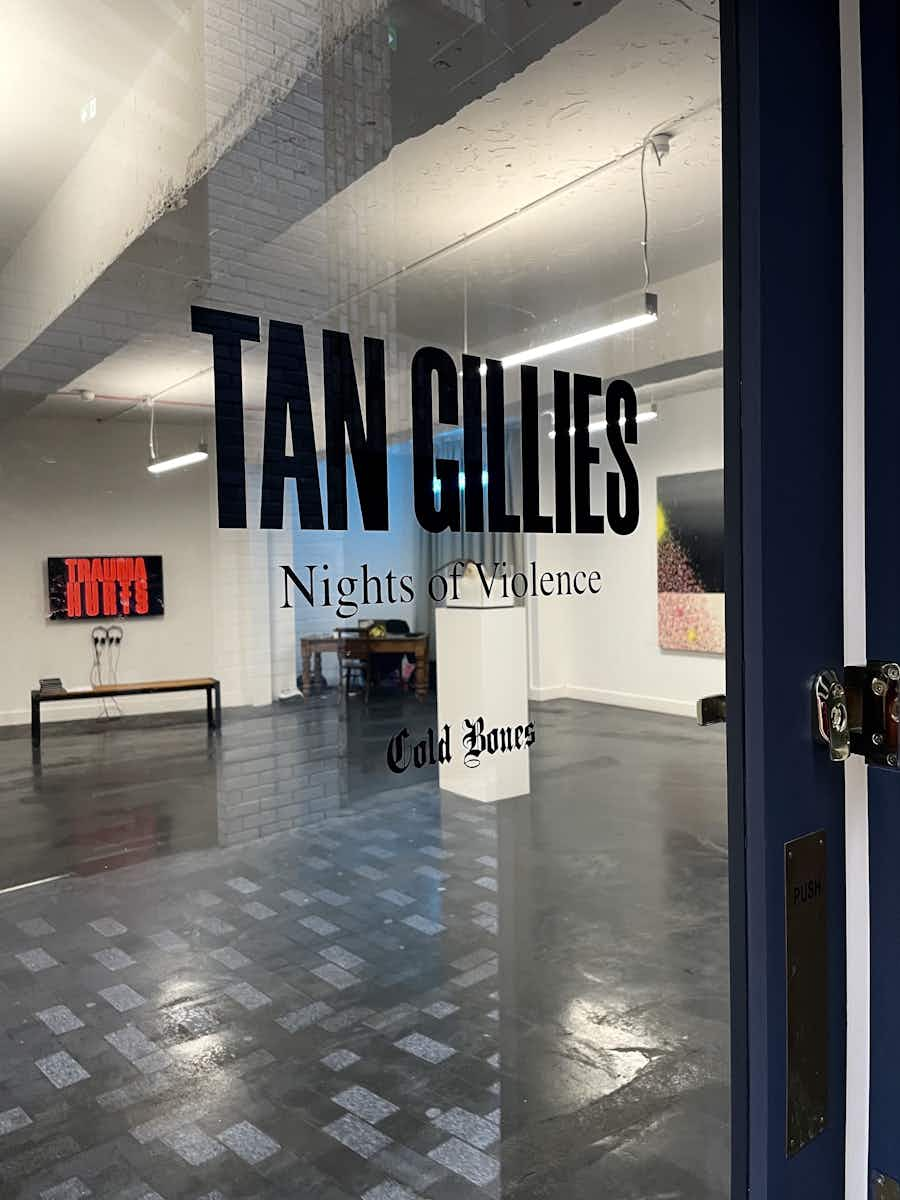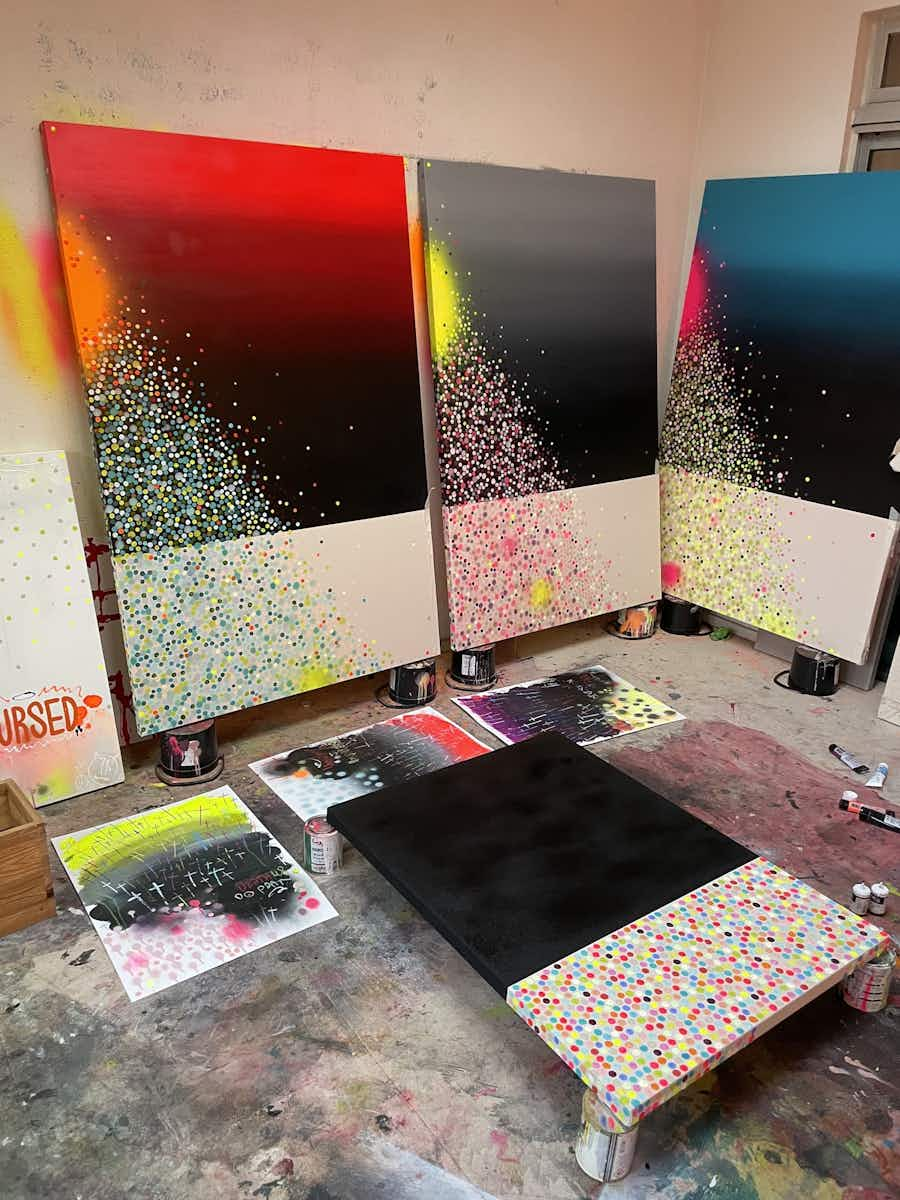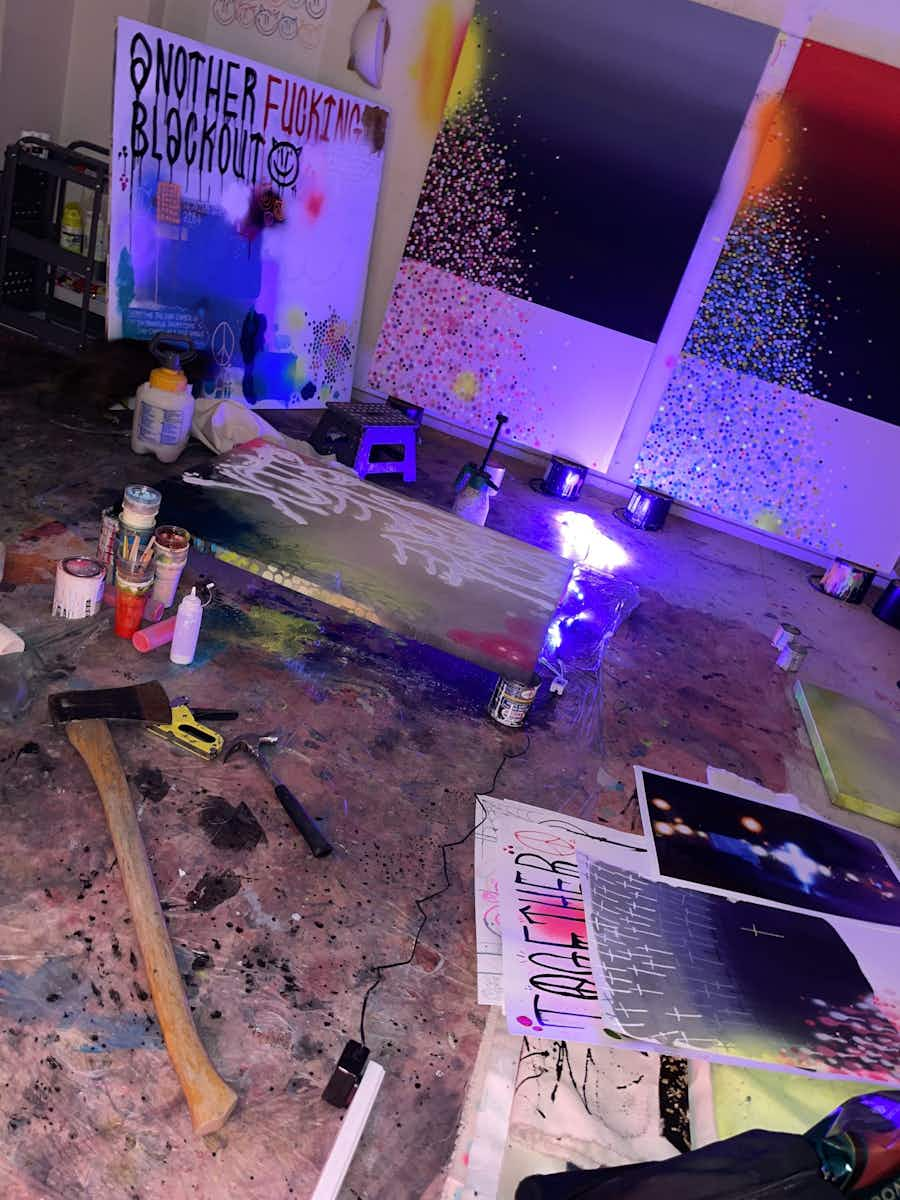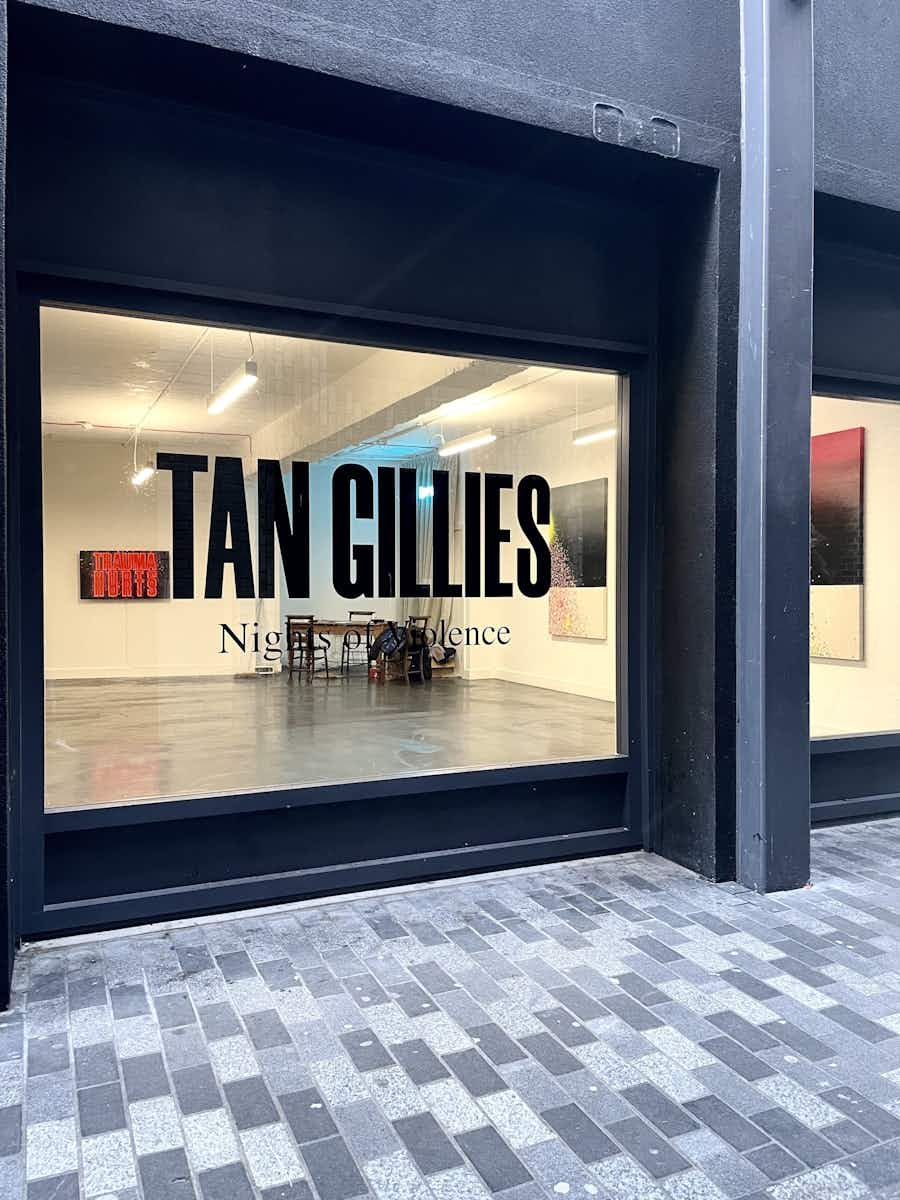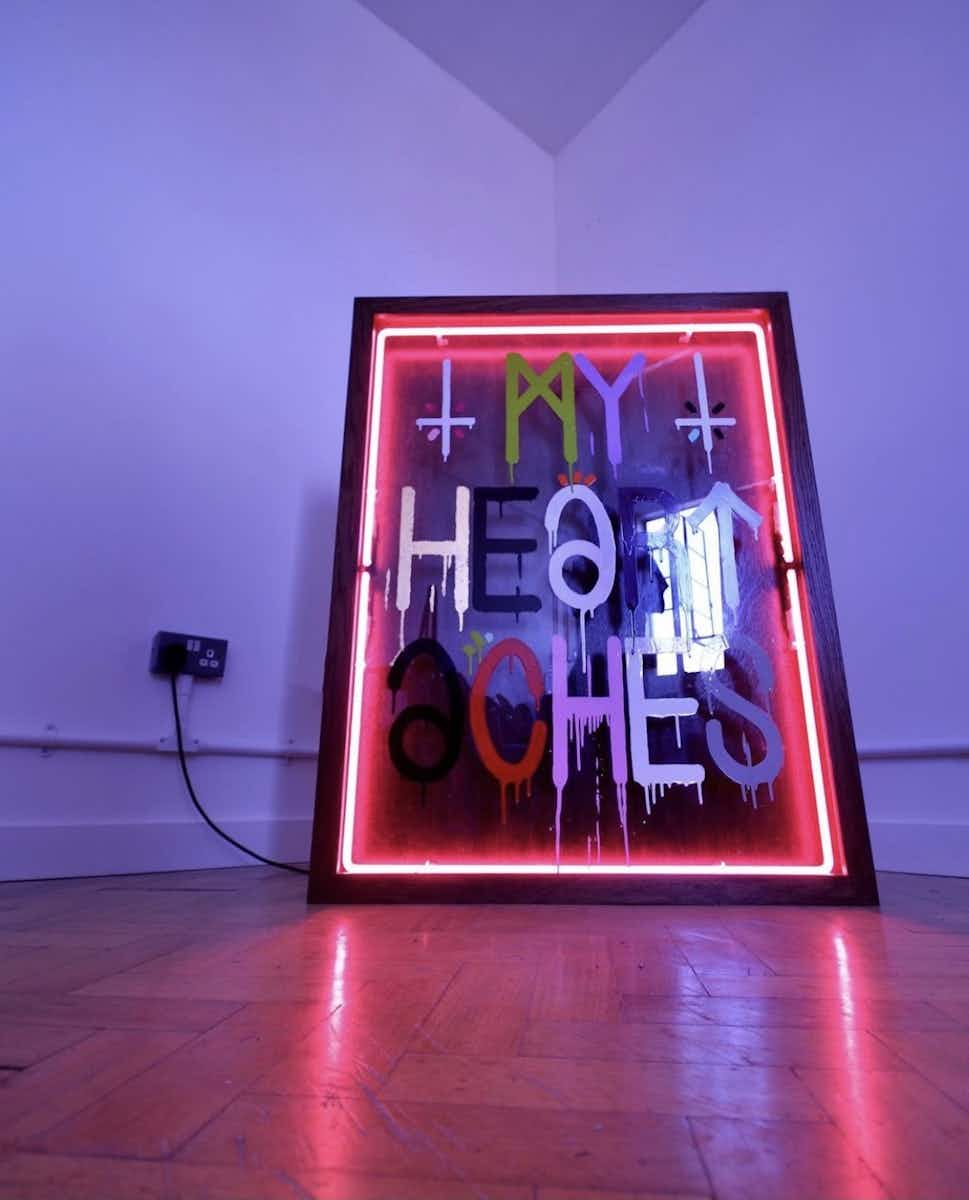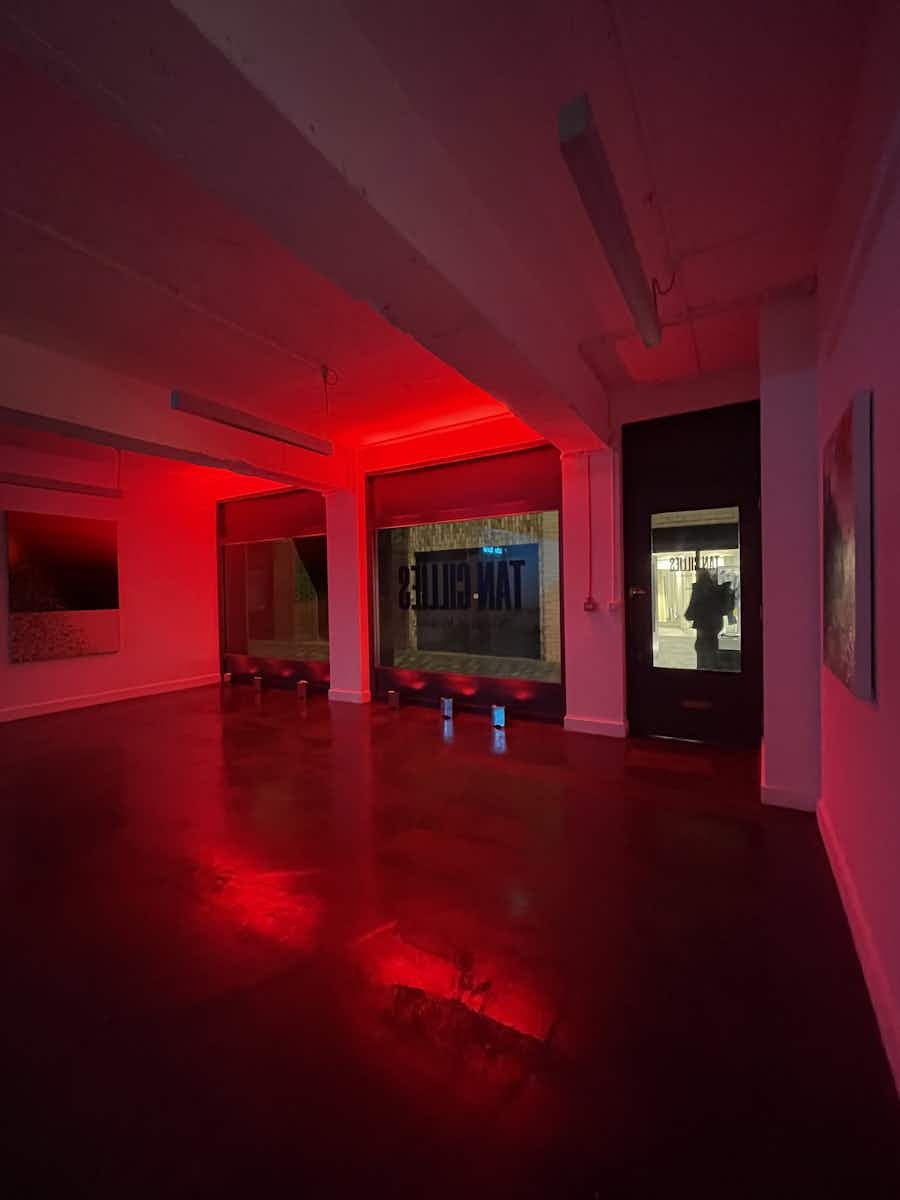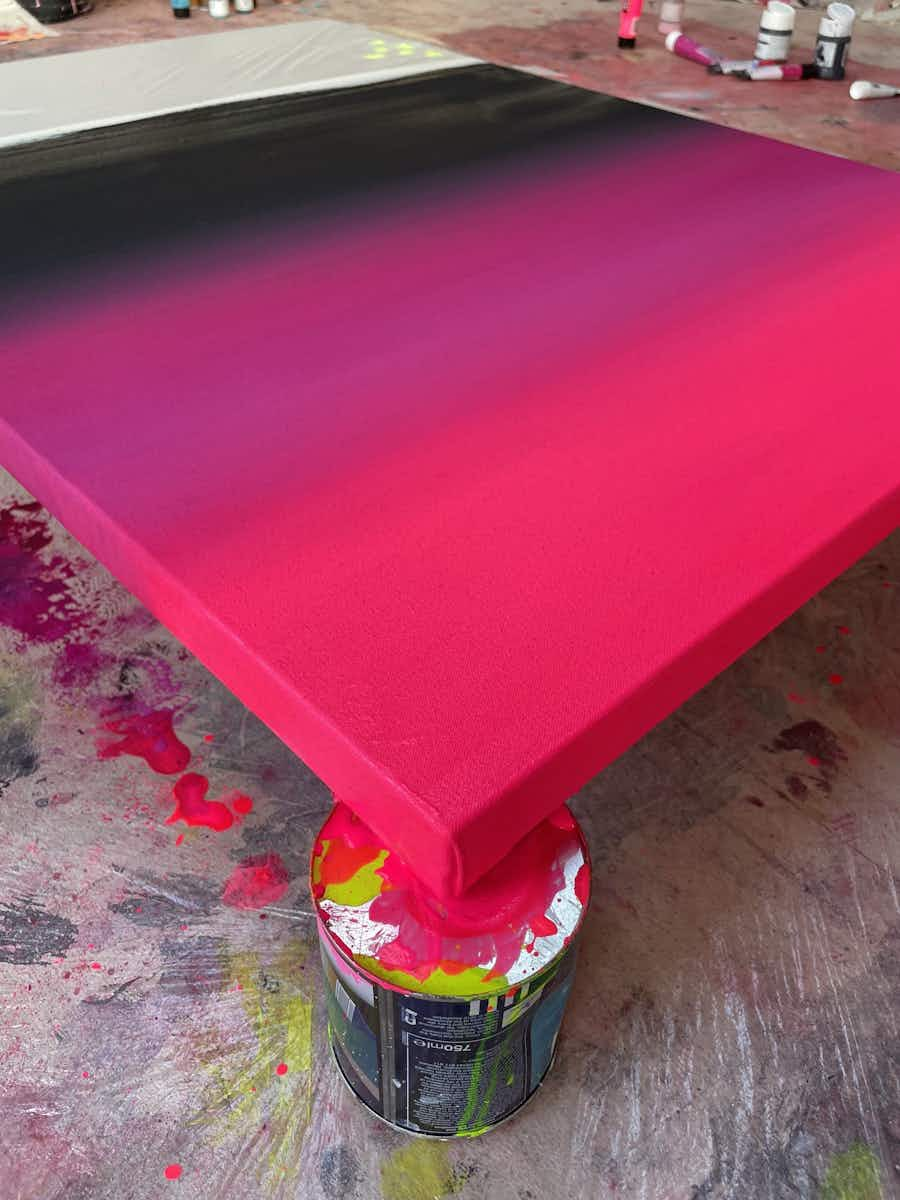 As for his main points of inspiration for Nights of Violence, Gillies describes Iceland and its innate sense of peace, contrasting the chaos of inner-city London, ​"the sickly sprawl of London's suburbs and all its weird and wonderful quirks". These are all elements that have shaped him into the artist and man he is today. But most significantly, while putting together the exhibition, Gillies returned to his childhood home for the first time in almost 20 years.
"That's what I drew on, going back [there] and being totally alone, processing my thoughts and feelings while painting," he says. ​"Last summer, after losing a friend to an overdose, I was so lost in this tornado of grief, which propelled me to get clean and create the [pieces] in this show."
Just as Nights of Violence reflects on Gillies' own flaws and shortcomings, it also shines a light on the power of redemption and his strength in overcoming the worst. The result is profound and soul-bearing. Such searingly honest and deeply moving pieces of art are rarely made out of anything other than necessity and, in this case, urgency. It's essentially the physical outcome of Gillies' life without substances, reflecting on the domestic abuse he witnessed growing up, the finality of death and the inevitable vulnerability that comes with getting and staying clean.
"[You'll be] talking to someone on the phone one day and 24 hours later they're dead from an OD. It's senseless stuff and you can be left with survivor's guilt," he explains. ​"I'm still trying to figure out how to sit with it all, but I'm moving in the right direction.
"The whole spectrum of emotions that have gone into this show – love, fear, happiness, sadness, grief, elation – are a visual download of me coping," Gillies continues. ​"Getting clean leaves you extremely raw. Feelings flood back in and it's fucking overwhelming to say the least, especially if, like me, you've experienced a lot of death just prior to checking into treatment."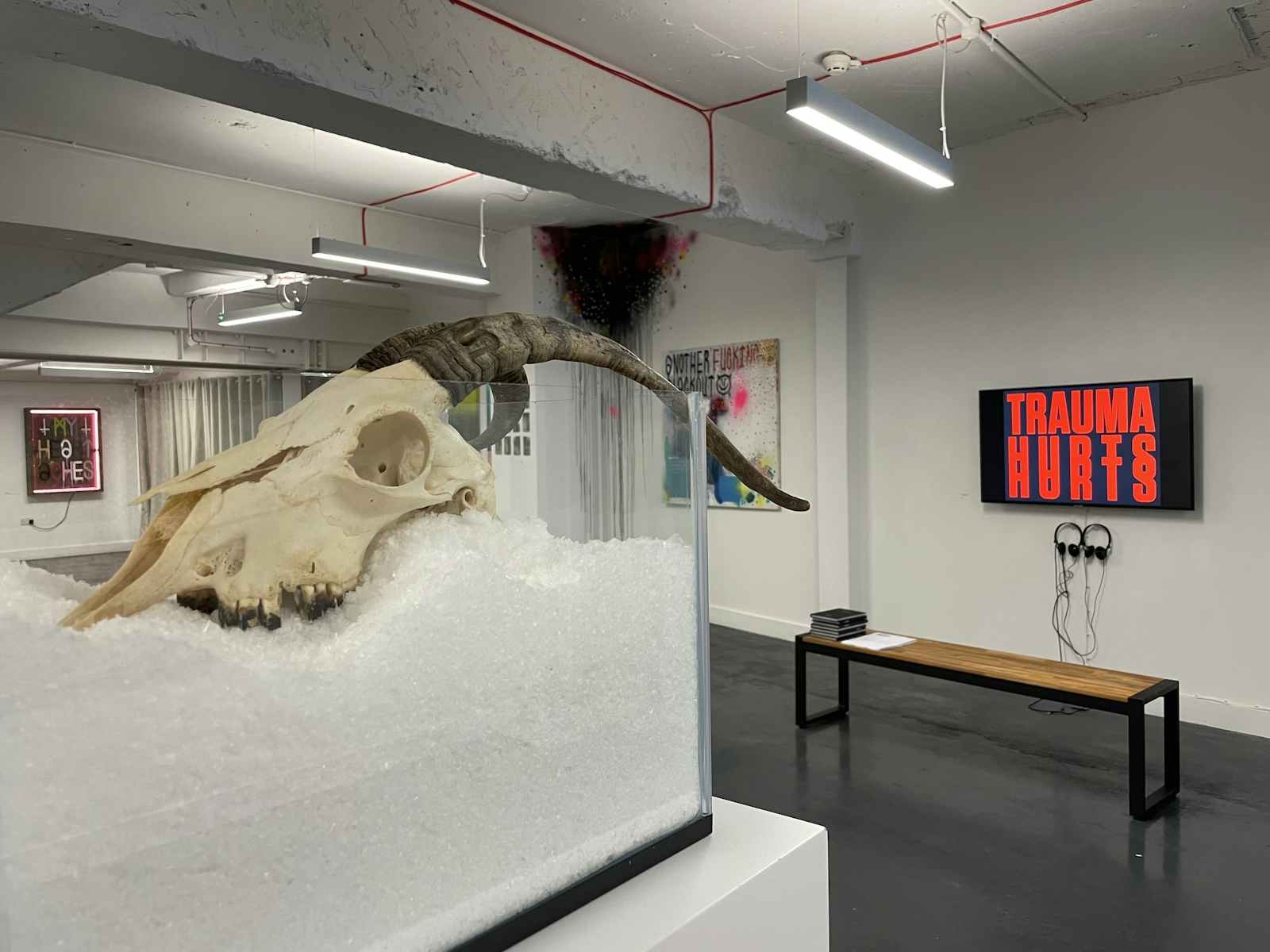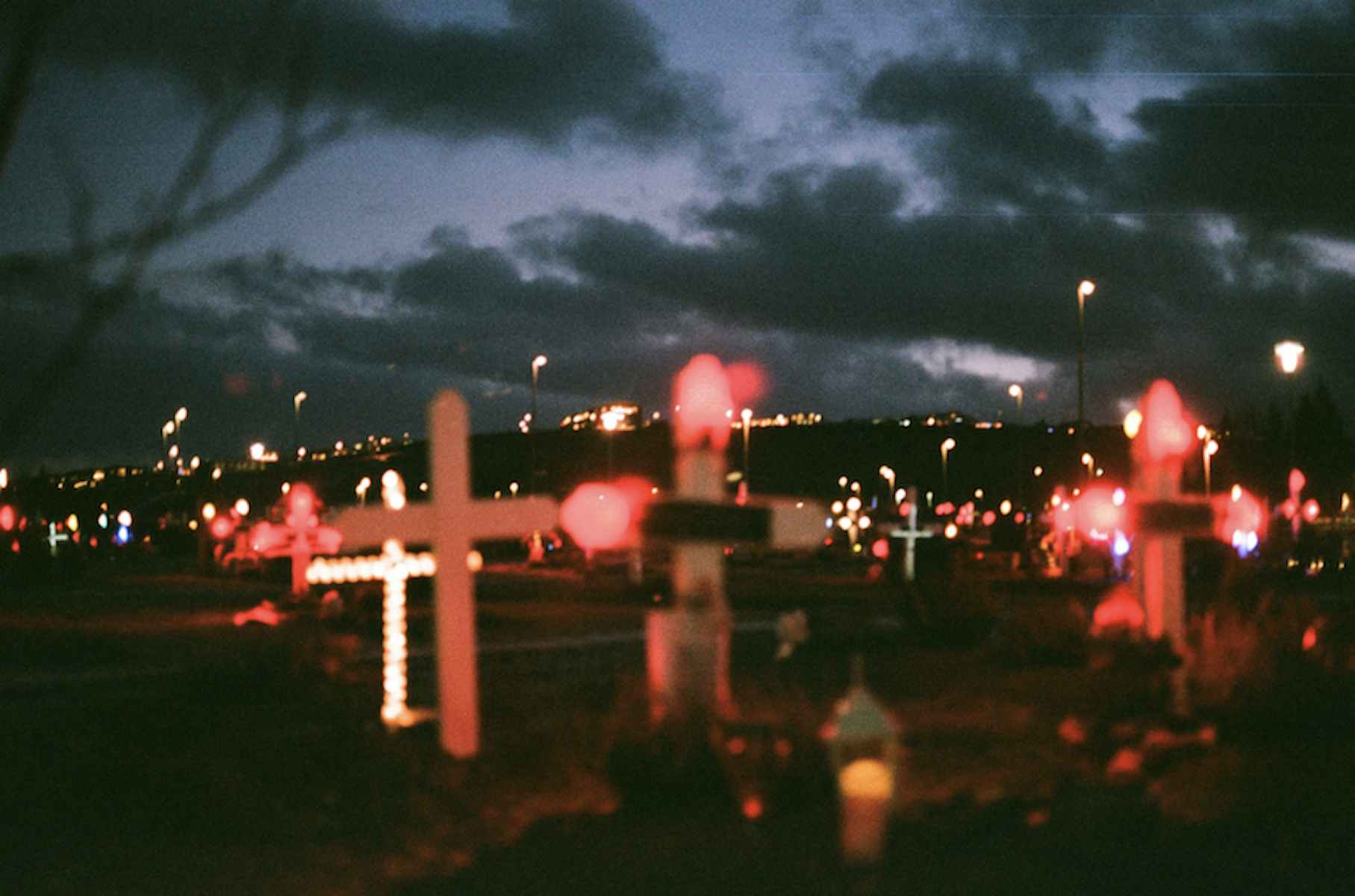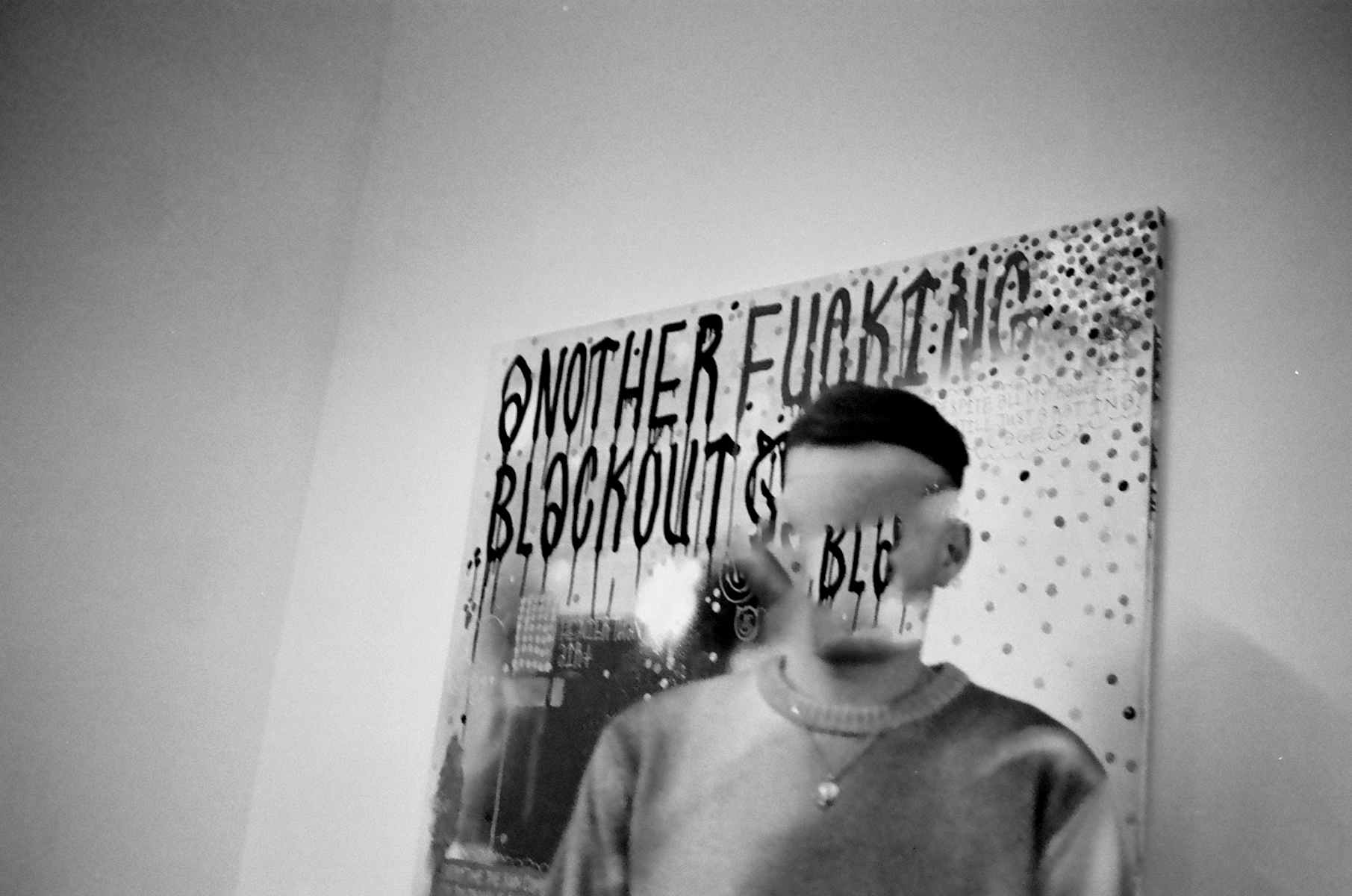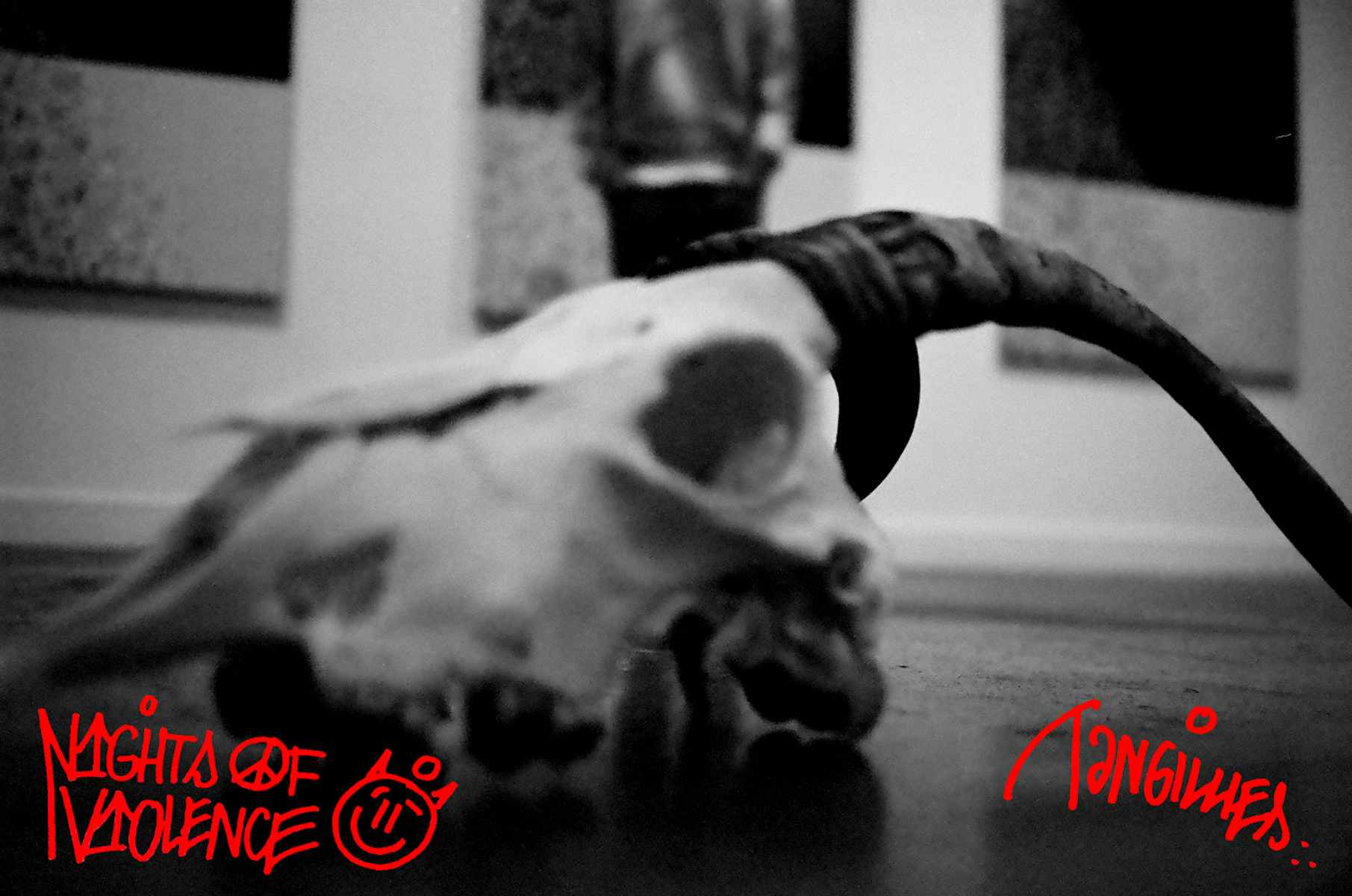 The exhibition's title is a direct reference to situations Gillies found himself in as a teen. ​"Memories of domestic violence at the hands of my father that I witnessed growing up in [my childhood] house, drugs, graffiti, crime," he says. ​"Yeah, nights could get very violent. [There was] graffiti beef, pub fights, falling out with people over money or even fighting with some of my best friends.
"Being a young man is difficult. You're not taught how to cope with what happens to you, and it comes out in all kinds of mad ways. It's a full circle thing, being born into violence and in turn behaving violently, as some kind of shield to protect you from feelings you can't deal with."
Nights of Violence is about transforming these experiences into something positive, while healing the damage that started the cycle to begin with and making peace with oneself.
Now, largely thanks to his creative practice, Gillies feels like he's progressed immensely. Making art instinctively to survive, alongside therapy and a strong support network, has helped him keep the demons at bay.
"This time 18 months ago, I was lying on the floor in my flat, too weak to hold a pen, with little hope I was going to make it out. Life is much different now," Gillies says. ​"It's all about consistency and hard work. No one else will get you off drugs in the same way no one else will paint you 150 pieces of art. It's on you. I've learned a lot, but mainly that we, as humans, can overcome and achieve anything we want with the right mindset."
Nights of Violence is showing until 23rd December at Soho Revue, London


More like this