Photography
Life

Young boys take a rest after swimming at Qargha lake in Kabul in Afghanistan on 18th July.

Culture

Germany provides quite the setting for those in favour of al fresco nudity. Photographer Spyros Rennt captures the bustling queer scene at Berlin's favourite outdoor hang-out spot.
Life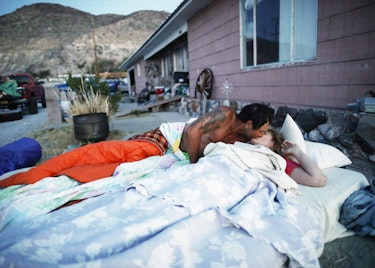 Chimene Jackson kisses her husband Johnnie shortly after dawn outside her parents' home, which has been deemed uninhabitable due to structural damage from the recent 7.1 magnitude earthquake on 8th July in Trona, California.

Life

USA players celebrate following victory in the 2019 FIFA Women's World Cup France Final match against The Netherlands at Stade de Lyon on 7th July in Lyon, France.
Life

Spain's Rafael Nadal plays a forehand in his Men's Singles second round match against Australia's Nick Kyrgios on day four of The Championships, Wimbledon on 4th July.