Lukita Maxwell on surf-proof moisturiser and self-affirming fragrances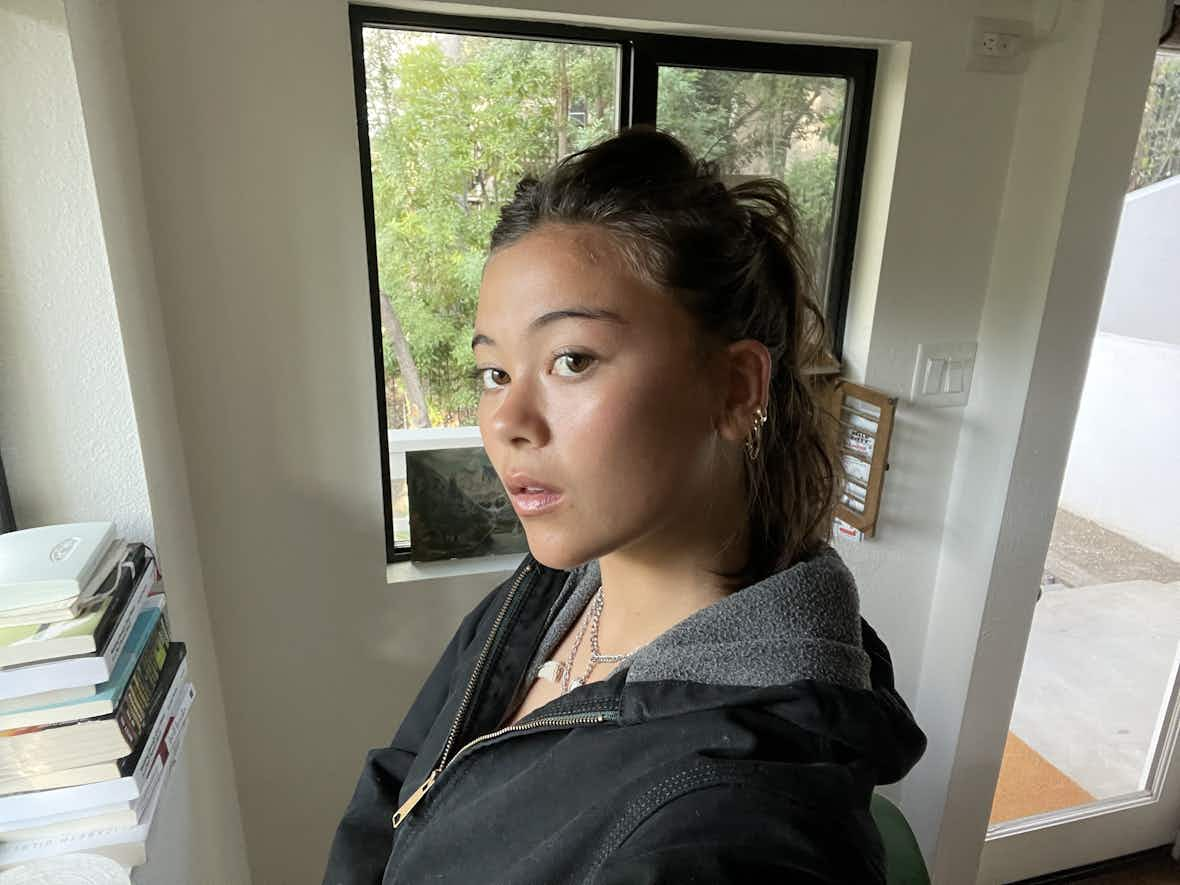 Daily Beauty Rituals: The Shrinking actor lets us in on her best kept beauty secrets, from soothing Singaporean scents to men's aisle lip saviours.
Scoring a part in a HBO show is on most actors' bucket lists, but Lukita Maxwell ticked off that milestone early on. Fans of the Lena Dunham-produced Generation will recognise her as Delilah, a teenage activist whose cryptic pregnancy (that is, when a person doesn't know they're pregnant) sees her unexpectedly give birth in the very first episode.

Wailing and screaming while pretending to squeeze a baby out in a public toilet? It's all in a day's work for this 21-year-old.

Luckily, Maxwell's had a strong dose of comedic relief since filming those ​"intense" scenes. The Indonesia-born actor recently flexed her funny bones in Shrinking, a laugh-then-cry Apple TV+ series about a therapist who essentially gives up after the death of his wife. She got to learn the quirks of comedy acting from the industry's best, too: Maxwell plays Alice, the angsty on-screen daughter of Jason Segal AKA the self-destructive shrink. (Harrison Ford also brings the laughs, namely via a scene in which he's high on edibles.)

Next up, Maxwell has a Netflix flick, The Young Wife, on the agenda, but she's still finding time to embrace the great outdoors and go surfing in between filming. How does she salt-water proof her skin on down days? We're so glad you asked…
The first thing I eat and drink when I wake up is…
The half-finished glass of water on my nightstand from the night before.

My morning skincare regimen looks like…
A splash of cold water and moisturiser.

The soundtrack to my morning routine is…
Whatever my monthly playlist is on Spotify. This month I've got The Sundays, Slow Pulp and Horsegirl on there.

My go-to beauty hack for when I've pulled an all-nighter is…
Curling my lashes.

The product I'll reach for when I've got a pimple is…
Nothing. I let them run their course, because my skin gets dried out by anything topical.

My favourite brand of sunscreen is…
The Supergoop one! I don't own it but every makeup artist on set uses it on me.

My holy grail skincare product is…
The Mad Hippie Triple C Night Cream.

Because…
I have dry ass skin and it has kept me soooo moisturised, especially after wearing makeup at work or surfing all day.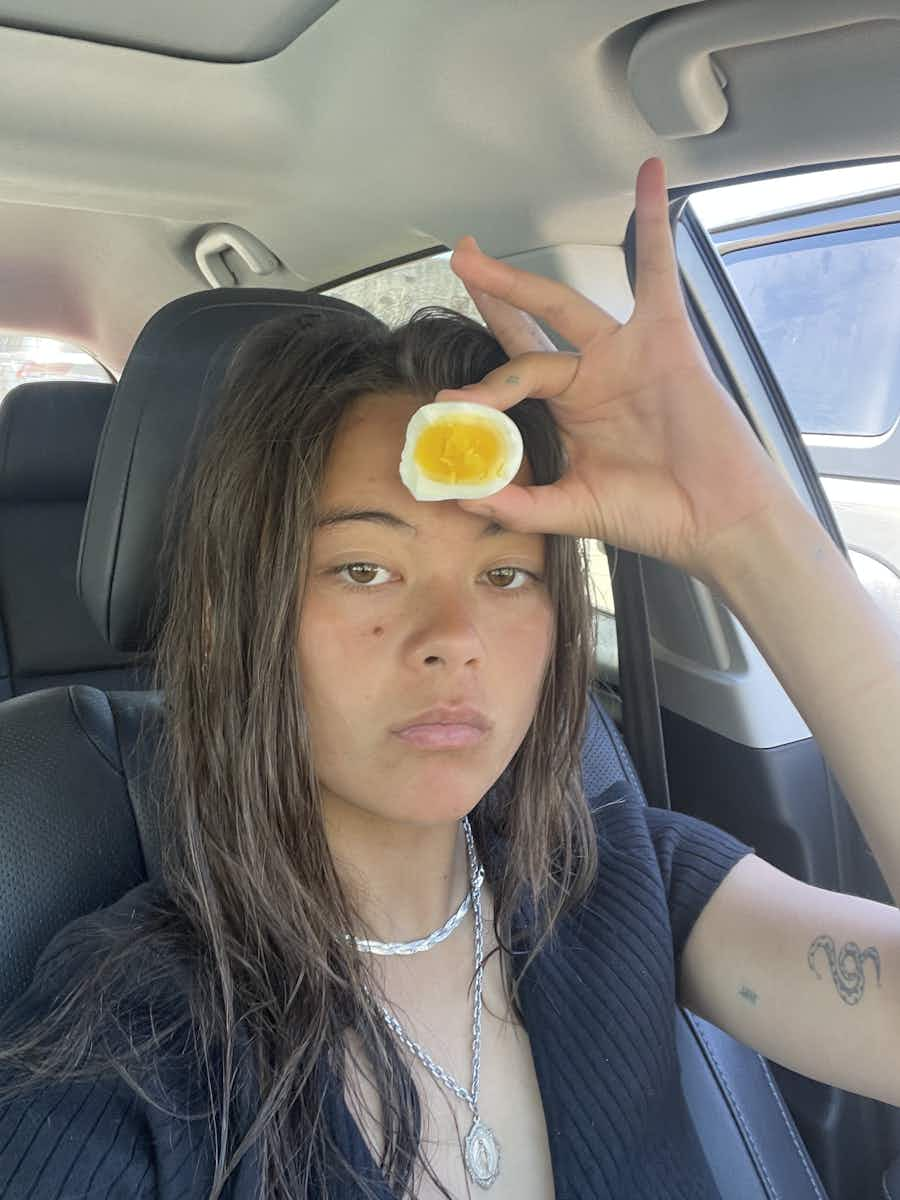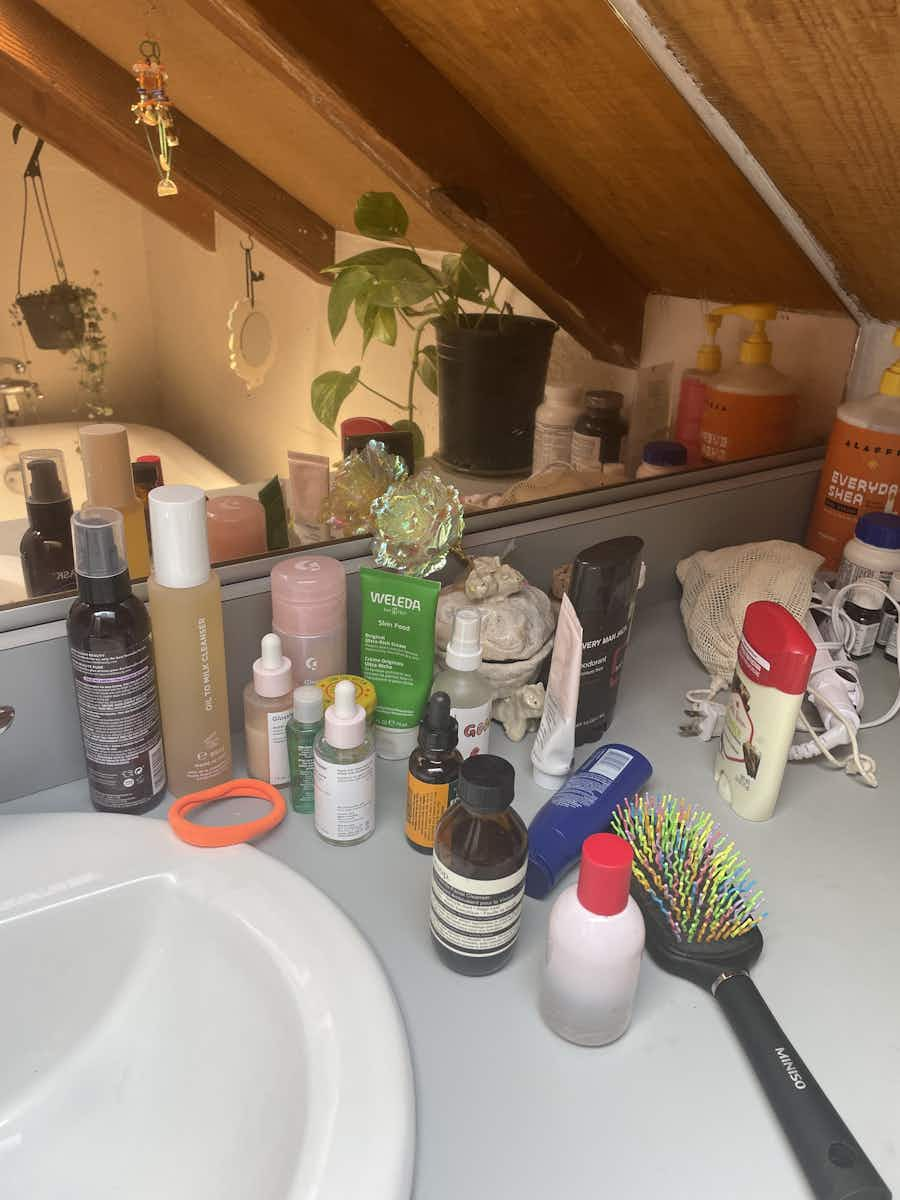 My best kept beauty secret is…
When surfing, the combo of salt water and sun clears my skin up like nothing else.

My favourite feature is my…
Nose.

Because…
Someone said I have a lil' pixie nose and I loved that.

My first beauty-related memory is…
My mama doing my makeup for ballet performances.

The last life-changing product I discovered was…
Embryolisse Lait-Crème Concentré as my daily primer while shooting. Nothing moves!

The best tactic for getting rid of stubborn waterproof mascara is…
I have no idea. I let my eyes stay smudgy for as long as they want, honestly.

I keep my lips moisturised with…
The Duke Cannon Cannon Balm. I found it in the men's grooming aisle at Target. It looks like a glue stick and has SPF. I never go anywhere without it.

The boujiest beauty product I own is…
The most money I've spent on a beauty item was probably Kiehl's Clearly Corrective Dark Spot Solution.

My favourite budget find is…
The Cannon Balm for sure.

The face mask that never lets me down is…
I don't have one. Need a recommendation!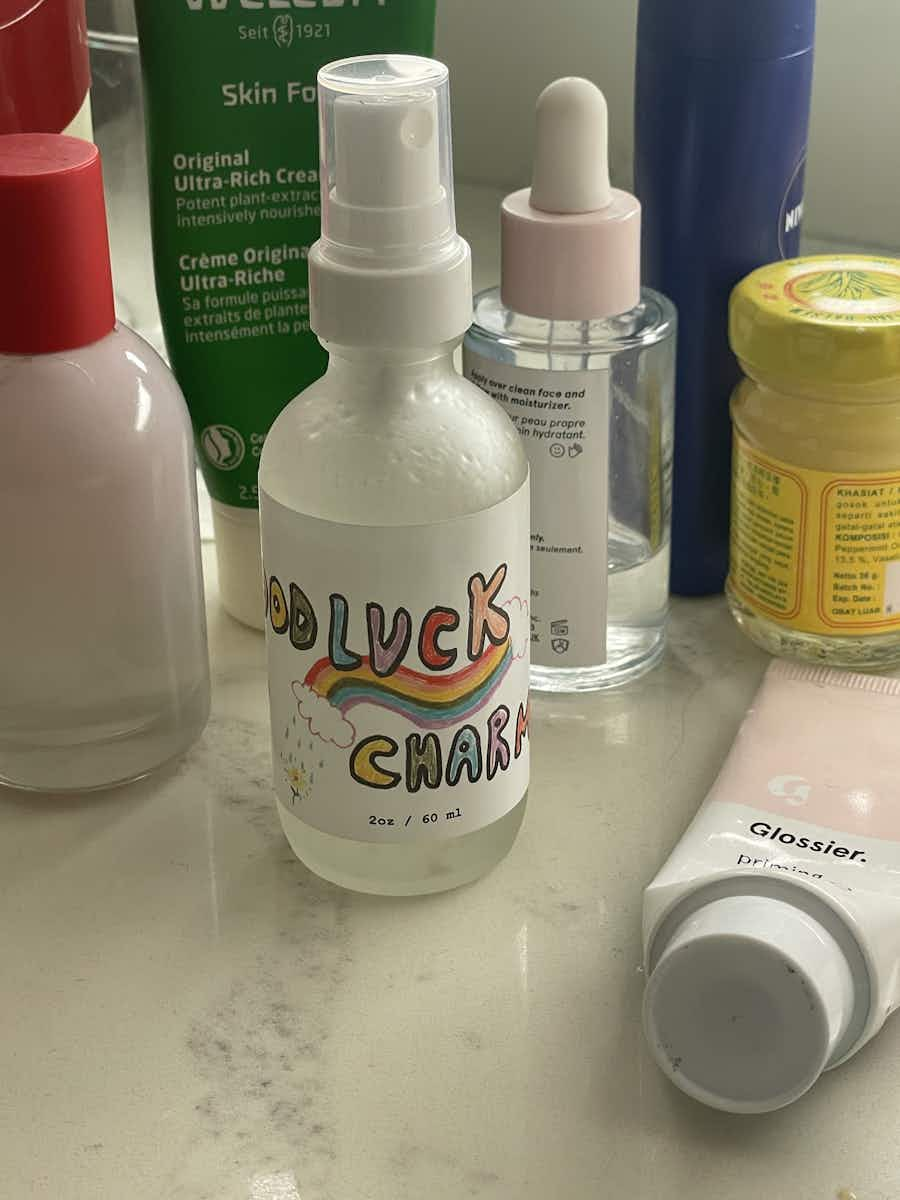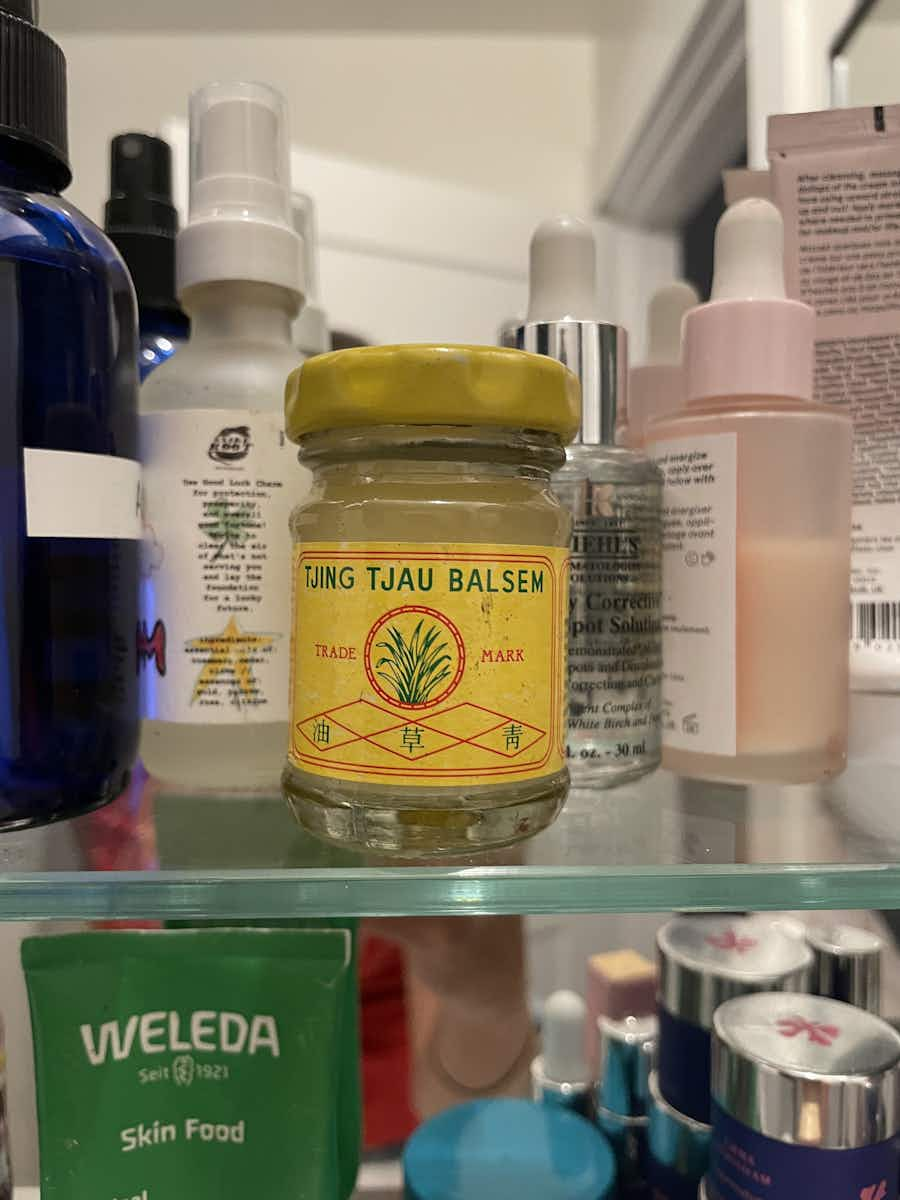 My signature scent is…
Sometimes I smell like this yummy ​"Good Luck Charm" spray that my herbalist friend (@snakerootapothecary) makes. I also sometimes smell like this Singaporean balm, Tjing Tjau Balsem. It's my comfort smell because my mama (a Chinese ointment queen) would put it on me as a kid to help me sleep. After a long day of playing a character, I come home and put on the balm. It's my sensory grounding tool to bring me back to me.

My top tips for having a good hair day are…
Wash it the night before and then air dry.

A hair product I can't go without is…
I don't have one product I use in my hair… so maybe just shampoo? I use the Hask Argan Oil Shampoo.

My evening skincare routine looks like…
I wash with the Aesop Two Minds Cleanser, which has witch hazel and salicylic acid, tone with the Glossier Solution for AHAs, BHAs and PHAs, and moisturise with either the Mad Hippie Triple C Night Cream or the Weleda Skin Food, which is lighter. I'll try and gua sha my face too if I have time.

The very last product I apply before going to sleep is…
Lip balm, of course.

The secret to a good night's kip is…
Half a glass of water.


More like this