Queens' Beth Kucic on building the ultimate community beauty salon

As part of THE FACE's Beauty Rituals series, we caught up with the owner of South London's hottest salon about DIY dye jobs, the power of a good haircut and how she built a thriving business from the ground up.
Beth Kucic, the owner of South London hair and beauty hotspot Queens, thought she'd be many things before becoming a hairdresser – namely, a professional Irish dancer and, er, Blink-182's tour manager.
"Can I get you something to drink?" she asks from the centre of the salon, which is based in Peckham. Her tooth gems are glistening and blonde blow dry bouncing, wisped bangs falling in front of her eyes. Kucic's a million miles a minute, in a comforting, infectious kind of way, as she makes her way across Queens' green marbled floor.
This is her salon's third iteration and, over the last four years, Kucic has built up this particular space's visual identity as inseparable from her own personal style: kitschy, glam, vibrant. Punters wait for their turn on a plush leopard print sofa; some walls are tiled, others painted lime green or baby pink. Queens, ultimately, is a hub for people from all walks of life to come in, have a gossip, and leave feeling and looking better than they did before.
We settle in round the back, in the salon's hot pink utility room, the smell of laundry detergent wafting through the air. Kucic's ready to get down to it. So, what was that about Irish dancing, then?
"I did it at championship level," Kucic, 35, says with a laugh. ​"It was my life, be all and end all, since the age of seven. I even went to Ireland to dance, but then I turned 18, which meant I was hungover all the time and couldn't be arsed to practice anymore. It slowly stopped. My mum was devastated."
Even back then, she had a knack for hairdressing, and Kucic's sister, mum and mates took full advantage. She did everyone's hair before Irish dancing competitions and weddings, sometimes going so far as to cut up kitchen foil and use it to set highlights, DIY style. ​"I used to dye my hair a different colour every week," she continues. ​"Before my 18th birthday, I got a mullet, then went home and bleached bits of it before dying them pink.
"I made my hair blue once, the day before a job interview. My brother was like, ​'how the hell are you going to get a job looking like that?' But I got the job. Mind you, it was at Ann Summers in Croydon. But still."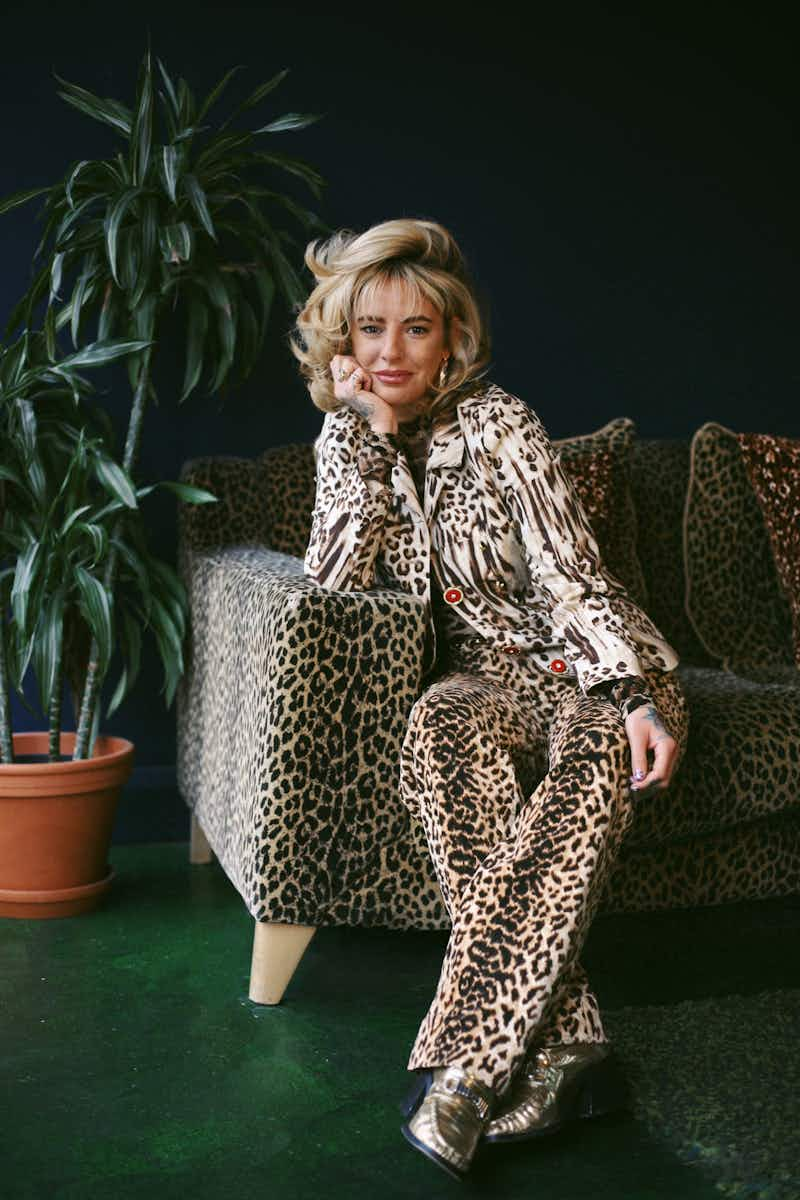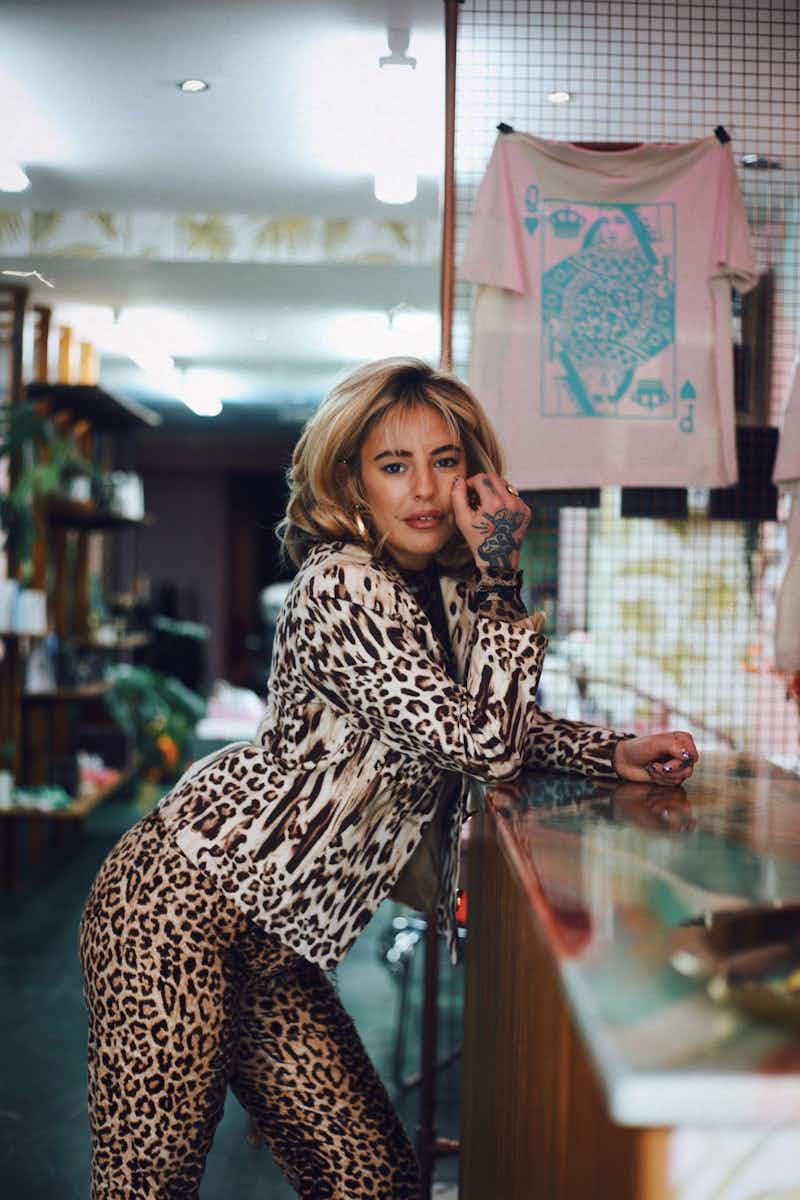 Born in Merton, South London, Kucic grew up in Wallington, South London before moving to Norwood Junction as a teen, fresh from graduating her course in business studies and events management at college. An avid gig-goer, she had ambitions to manage a band (yes, Blink-182), which soon faded after all her mates went off to university. That's when Kucic picked up a trainee job as a hairdresser to make some cash. She'd moved out of her family home as soon as she could; living with five brothers and sisters had, unsurprisingly, created a kind of ​"carnage" that felt overwhelming at times.
"They all used to go out clubbing in Sutton and I'd sit there in bed, watching them get ready when I was 14," Kucic says. ​"My sister used to go out every single weekend and she'd buy an outfit from the local shop in Croydon – always matching in all lemon or all orange. Watching her I was like, owh. One day, it'll be me!"
And it was. By that point, Kucic was enjoying partying and festivals, while trying to become a qualified hairdresser as quickly as she could. She did it within a year. After taking a six month break from hair to save money by working as a receptionist (her previous hair job paid a paltry £340 a month), Kucic landed a gig working in her pal's vintage shop in Islington, North London. ​"That's where I learned about being my own boss," she continues. ​"My friend made all this jewellery and kitsch pieces, and I learned all about vintage styling, wigs, extensions, colour. I learned about editorial work and session hair."
That's when Kucic, feeling energised by everything she'd picked up over the years, started working at Bleach, the cult London salon founded by Alex Brownsell in 2010. ​"It was super cool and grungy," she says. ​"They were doing something creative, something new that no one had really done before, at least not in that way." Kucic felt able to be creative and expand her knowledge even further than she had before. No more ​"can I speak to the manager" haircuts, then?
"No, but I live for those people, too," she says, earnestly. ​"I'm a people person, which you don't have to be if you're a hairdresser, but if you are, you can tackle different things." Kucic remembers that when she was younger, hairdressers were the ones telling the customer what kind of hairstyle they should be getting. That never sat well with her. ​"There's an element of that, but if someone comes in asking for a crazy hairstyle, I'll do it. All I can do is give advice. I just want people to feel happy, to feel good. I've had too many people screw my hair up in the past."

After five years at Bleach, Kucic found herself taking on more editorial work than ever – and she was exhausted. After leaving work, she would regularly travel around London to see her old clients, which wasn't sustainable. It felt like the right time to start looking for a studio space. As it happened, Kucic's friend owned Rye Lanez tattoo parlour in Peckham, where she'd often hang out. There was a free spot next door and, within a week, she had a set of keys in her hand.
"That was the birth of Queens!" Kucic says, throwing her hands up. ​"We didn't have a lot of money. I got a £600 credit card, then me and my boyfriend James did everything ourselves. When I was training, I knew I always wanted to own a salon. I couldn't believe it had finally come to fruition. I was petrified, to say the least."
She decked it out Kucic-style, with ​'70s decor, hip hop blasting out the speakers and a hand-painted leopard print floor. After a year, Rye Lanez moved out and the vibe shifted. Queens needed to find somewhere with more flexible opening hours. So they moved across the street to Holdron's Arcade, AKA ​"Peckham's corridor of wonders". At the time, it was home to cult vintage resellers Wavey Garms, as well as local radio station Balamii, which you can still find nestled in its narrow corridor.
"I'd spoken to my friend Keisha about doing nails with me and my other mate Oona, who did lashes. I liked the idea of having loads of different creatives in one space, feeding off one another," Kucic explains. ​"It was amazing, but we had no space. We were in the process of looking for somewhere new and then lockdown happened. Everything was fucked."
Luckily, she'd managed to secure the space we're currently sitting in just at the right time, conveniently located a little further down Rye Lane. A year of stop-start lockdowns allowed Kucic to dedicate all her time to the salon – a big, airy space that Queens was destined to call its official home.
"We did everything ourselves, me, my boyfriend and my friends," she says. ​"We never paid contractors. James made the nail tables. We've saved money doing that and lockdown, as weird as it sounds, allowed us to all do the things we wanted to do. If we hadn't had time to decorate, it might have fucked us over.
"The style is chaotic, but it's very me," she continues, smiling. ​"What's important is the energy of the space, that it be inclusive, like you won't ever be judged, where the staff want to work. I want to have an exchange with people and come together. I want to be a platform for all that good stuff."
As it stands, Queens has three hairdressers, two nail artists, a piercer and tooth gem artist on their roster, with freelancers coming in to do pop-ups every now and again. ​"Everyone is very individual and has their own niche," Kucic says. ​"The team makes it all worth it – and the clients, of course. Sometimes I think to myself: wow, I've just met people who work in five different industries, all in one day! It's mind blowing."
The salon's location is also crucial to Kucic. Peckham has become a second home over the years and the community she's built around the area is invaluable. ​"I want Queens to be a reflection of Peckham, too," she says. ​"This is a community-based salon. I never just want to think about what I can get out of something – it's about what works best for everyone. That's what Queens represents."


More like this