The story of Travis Barker in 10 tracks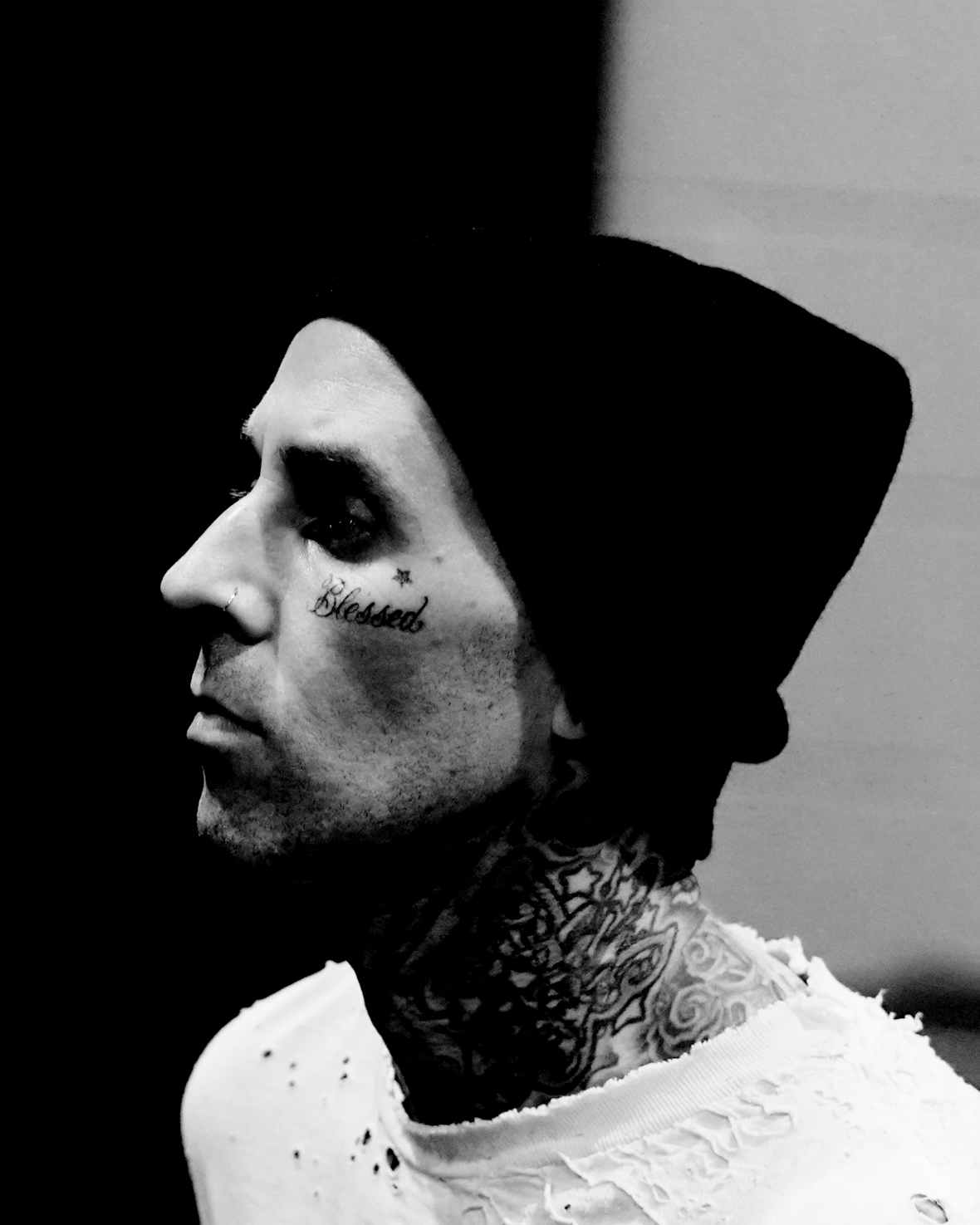 We unpack the songs the Godfather of pop-punk has created through his decades-spanning career.
Travis Barker has established himself as one of music's great drummers. For many years, Barker was most famously known as the frenetic sticksman behind blink-182, the trio's laidback cool guy who has so many tattoos that his torso resembles the walls of New York club CBGB's.
But over the last 20 years or so, Travis Barker has also been a conduit between the worlds of rap, pop-punk and pop, drumming and producing for artists ranging from Machine Gun Kelly to 03 Greedo, Britney Spears, Trippie Redd, Willow Smith, Lil Wayne and KennyHoopla.
So now, at the age of 45, Travis Barker is arguably more relevant than ever. He's been acknowledged as a kind of Godfather to the new generation of pop-punk artists and he's cool in the eyes of many of today's rock-dabbling rappers.
A classic Travis Barker drum track combines visceral thumps of a weathered floor tom with energetic splashes, crashes, open hi-hats and stabs of the ride bell. It's a timeless sound that was shaped from playing snare drum in his high school marching band. Today, Barker remains the man our pop stars can call on, with that relentless, bloodied-palms energy still very much intact in 2021.
To celebrate a diverse, decades-spanning career, this is the story of Travis Barker through 10 key tracks.

The Aquabats! – Super Rad! (1997)
This one makes you feel like you're at a house party in a ​'90s romcom starring Seann William Scott. The Aquabats! were a superhero-themed ska-punk jam band who formed in Huntington Beach, California. During his stint with the band, Barker played under the alter-ego of The Baron von Tito.
When he joined, Barker was juggling The Aquabats! with being a trash man and sleeping on friend's couches. The Aquabats! started a series of dates supporting blink-182 in Winter 1997. At a February 1998 gig in Nebraska,blink needed a drummer to fill in at the last minute, following a fallout with their drummer Scott Raynor. Legend has it that Barker learned blink's entire setlist in 45 minutes. It was a match made in heaven and Barker was soon recruited to join them permanently.

blink-182 – What's My Age Again? (1999)
blink-182 hit a new level with Barker on the drums. Their first single with Barker introduced blink's audience to their refreshed sound, with Mark Hoppus and Tom DeLongue's songs boosted by his technical prowess behind the kit, as well as Jerry Finn's glossier production.
What's My Age Again? Also saw Barker embrace blink's goofy humour by agreeing to go naked in the song's iconic music video. He quickly became a hero to the fans. The Enema of the State tour featured a firework show during his drum solos, while Barker sat inside a cage that spun 360 degrees, framing him like a pop-punk cross between Tommy Lee and Keith Moon.

Transplants – Diamonds and Guns (2002)
This massive track was the debut single from punk-rap supergroup the Transplants, which also included Rancid's Tim Armstrong and roadie-turned-rapper Skinhead Rob. Barker's drumming here is so breathless and frenetic that it's no surprise it inspired a hook that features the group simply shouting ​"woohoo!" over and over. Although the song ended up becoming catnip for TV commercials (cough… Garnier shampoo) and has subsequently aged somewhat, Barker's drumming has retained its middle-fingers-in-the-air energy.
Travis' foray into rock-rap territory would lay the foundation for most of his non-blink projects over the next two decades. He is someone who has long enjoyed pushing rockers towards rap territory and vice versa. In recent years he's helped Machine Gun Kelly's strike commercial gold by reconfiguring his fidgety street rap sound into an arena punk aesthetic.

The Game – Dope Boys (2008)
For many, this was the moment Barker truly proved he belonged on rap songs, with his gigantic drumming and ticking hi-hats elevating this hard-hitting ode to cooking crack in your grandmother's kitchen to something fit for stadiums. Barker hits the drums like they're his worst enemy, which works well given the fact The Game spends a big portion of Dope Boys mocking his once arch-nemesis 50 Cent and threatening to sleep with his girlfriend. Barker's stature in the street rap world would grow in the following years, with his 2011 solo album, Give The Drummer Some, featuring the likes of Rick Ross, Lil Wayne, Beanie Sigel and E‑40.

Britney Spears – Don't Keep Me Waiting (2011)
This Britney Spears deep cut deserved so much more love, with Barker helping bring her into the rock arena with aplomb. Britney's vocals are a bit like Avril Lavigne meets Gwen Stefani, as she cheekily criticises a lover for keeping her waiting on an rousing hook. Barker's blunt, distorted drumming is at its best when it illuminates Britney's horny, half-rapped complaint of: ​"What the hell? I'm standing outside". This proved that America's biggest pop stars could count on Barker to inject their tracks with a healthy dose of moshpit energy.
Run The Jewels – All Due Respect (2014)
One of the best tracks on RTJ's hard-hitting album, Barker sounds as if he's pounding away on a snare drum that's bigger than your house. Here it feels like his splintering drum patterns are trading bars directly with El‑P and Killer Mike, with Barker mimicking the stop and start energy of two emcees trading back-to-back bars in a cypher. El‑P's electronic drums and earth-shattering bass were already blistering, but Barker helped to tie the song together.

03 Greedo – Detention (2019)
The truly unique LA rapper 03 Greedo gravitated more towards Tom DeLonge hooks than most rap 16s when he was growing up in the dangerous Jordan Downs Projects, Los Angeles. So this collaborative EP, Meet The Drummers, with Travis Barker is a lot less random than it might first appear.

The pair were introduced by mutual friend and producer Kenny Beats, with Greedo hastily recording music with Barker while on the run from authorities. He extended his freedom as much as possible in order to create thousands of songs, before surrendering to a 20-year prison sentence for drug and firearm possession charges. With a bassline that could wake up a small country, Barker provides a stripped back beat to allow Greedo to fill the track with his unconventional style and his throaty tone. One can only hope that the pair create more music when Greedo is finally free.
Travis Barker, Jasiah, nascar aloe – Dog Shit (2020)
A collaboration with underrated rap metal mischief makers Jasiah and nascar aloe, this is easily the most unhinged song on this list. Barker's drums hit like heart palpitations before switching into something steadier and more trap-like, replicating the dark energy he brought to Yelawolf's underrated anthem Push Em. The fact Barker continues to work with artists in their twenties shows the old dog can learn new tricks and there's a sense that Dog Shit might just be the most fun he's had in years.

Willow – t r a n s p a r e n t s o u l (2021)
This infectiously catchy single marks Willow Smith's transition from the subtly psychedelic, folky songwriter we got to know on her 2019 album to a pissed-off rock star. With a nostalgic sound and aesthetic that nods to pop-punk's early-mid ​'00s commercial peak, there's really no one else Willow could call to get behind the kit.

Trippie Redd feat. Machine Gun Kelly and blackbear – Pillbreaker (2021)
This melancholic emo rap anthem longs for the embrace of a drug-addled romance and a stadium filled with lighters. Trippie Redd, the Chucky-esque emo rapper, enlisted Travis to produce, co-write and drum on his 2021 project Neon Shark vs Pegasus, which was presented as a kind of rock-oriented deluxe addition to his album Pegasus. In 2021, it feels like the boundaries between rap and rock have been well and truly been destroyed.

More like this