The year we went back to the cinema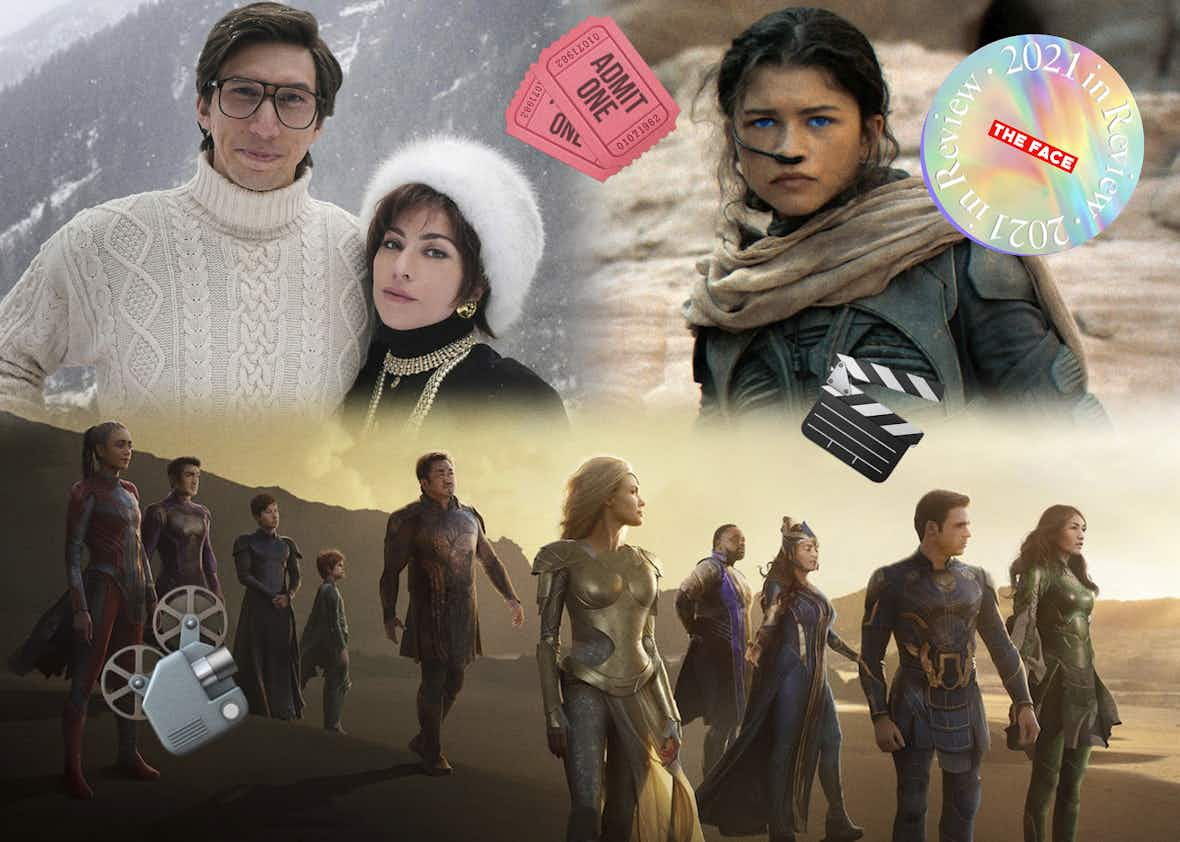 2021 in review: After a year of being stuck in our homes, cinema returned with a host of blockbusters that demanded our attention, from No Time To Die via Marvel to House of Gucci.
The name's Bond, James Bond. But you can call him both the movie-killer and the saviour of cinema.
In the distant days of March 2020, when its release was abruptly cancelled less than a month before its international launch date, No Time to Die was the film that helped bring the shutters down on picturehouses the world over. Eighteen months later, 007's 25th big-screen outing was the blockbuster that brought cinema-going roaring back to life.
When it finally opened in Britain on 30th September, No Time to Die took £29.5 million at the UK box office. Eight days later, its US opening weekend figures were relatively soft at $56 million, less than its two franchise predecessors, 2015's Spectre ($70 million) and 2012's Skyfall ($88 million). This was viewed by some analysts as a mark of the reluctance of older, Covid-wary cinema-goers (a core Bond demographic) to return to cinemas.
No such fears in the land of Bond's birth. In the UK, No Time to Die beat both those previous films' opening weekend scores – and in fact, it beat every previous Bond film's opening weekends.
By the end of November, Daniel Craig's fifth and final outing as Ian Fleming's super-spy had taken $730 million worldwide, giving No Time to Die the honour of being the highest-grossing film since the onset of the pandemic.

Those bums on seats – not to mention a slate of reviews so enthused you half imagine the critics would have given the film six out of five stars if they could – spoke not just of enthusiasm and approval. They also spoke of relief. Massive relief.
This was a film that delivered. Even at 163 minutes (yeah, it was really that long), this, at last, was a film that demanded to be seen on the big screen, experienced in a space with hundreds of other people, all breathing the same air, inhaling the same popcorn aroma, luxuriating in the communal cinematic experience. Imagine that!
Well, for almost a year-and-a-half, we could only imagine it. Sure, in 2020, when multiple other films were being punted straight onto Disney+, Amazon or Netflix, Christopher Nolan stuck to his cinephile's guns and insisted Tenet be released in cinemas, the first tent-pole to do so since the onset of the pandemic. The result: Nolan's lowest-grossing film since 2006's The Prestige.

But in 2021, we reconciled our divorce, babe, from cinema-going and all the hoopla that surrounds it. As lockdown restrictions eased, picturehouses in England, Scotland and Wales were allowed to reopen from 17th May and the vaccine roll-out did its job. Movie-going became, once again, a viable – and appealing – night out.
And as options opened up, there were, too, a multiplicity of films.
We all lost our shit in anticipation of House of Gucci – which, even with more overacting than a BoJo press conference ("There are times when the movie becomes a kind of actors' contest, with the stars lining up to salt the ham" – Anthony Lane in The New Yorker), the costume design alone is worth the price of an Odeon ticket. Watch that at home, second-screening with one eye on your phone, and you risk missing another fabulous Gaga outfit or chewily-delivered meme-moment. Movie magic well and truly spoiled.
In Marvel's Eternals versus Shang-Chi and the Legend of Ten Rings smackdown, both reoriented the diversity of superhero films. And both merited being watched on as big a screen as you could find – although, in the case of Eternals, that was mainly because you always want to see Harry Styles in as many extreme close-ups as is humanly possible.
Indeed, of Marvel's two big ​'21 cinema moments (we're not counting Black Widow because it was on Disney+, and also just because), Shang-Chi was easily the critical and commercial winner, becoming the first pandemic-era film to take more than $200 million. It was a figure quickly matched by Venom 2, which enjoyed the second best ever October opening in America.
Meanwhile, on 15th October, the 2021 UK and Ireland yearly box office cumulative (£323.8 million) overtook total receipts for the whole of 2020 (£322.9 million). And that was before the release of The Matrix: Reloaded and West Side Story (and Clifford the Big Red Dog). Meaning: beleaguered distributors and cinema owners can breathe a sigh of relief and treat themselves to a bucket-sized helping of Haribo from the refreshments stand.
That sense of pre-festive celebration, both in the stalls and in the box offices, will be further enhanced on Thursday this week with the arrival of the high-kicking, finger-snapping, jazz-dancing cavalry: West Side Story. Steven Spielberg's magnificent remake of the 1961 adaptation of the 1957 Broadway musical is an ageless wonder with themes, songs, choreography and vanished New York cityscapes to lift the soul – plus, a tragic romance to rend the heart.
To watch all that, at home, on a small screen, would be to fence-off the fun, crimp the imagination, crush the pleasure. Plus, it's better to cry in the dark of the matinee, right?
Even outside actual picturehouses, this year the theatrical experience returned to improve all our lives just a little as film festivals returned from 2020's online-only (or cancelled) iterations. In October, the London Film Festival was back back back, the success of its 65th edition buoyed not just by a media partnership with THE FACE but by the presence of Actual Talent on red carpets across London.

Idris Elba, Regina King and the rest of the cast of The Harder They Fall. Kristen Stewart, providing film royalty support for Spencer. The Succession clan (OK, that's telly, but it's cinematic in its scale). Oscar-winning boss Frances McDormand for The Tragedy of Macbeth. Kirsten Dunst for Jane Campion's magnificent The Power of the Dog.
Here were stars, sprinkling stardust, making us all feel a bit starrier, walking amongst us once more.
You think that was glitzy? The month before, Venice experienced a virulent outbreak that threatened the emotional wellbeing of anyone observing the Italian city's 78th International Film Festival. That's right, in early September Chalamet-nia swept The Lido as Timothée, Zendaya and Denis Villeneuve boated into town to launch Dune. Here was intergalactic princeling Paul Atreides made winsome flesh by the hottest (in all three senses; it was boiling in Venice) young actor in the world.
When Chalamet subsequently started popping up all round London as he began shooting Wonka, the origin story in which the actor plays Roald Dahl's future master chocolatier, the social media sugar-rush lasted for days.

That film won't be out for another 16 months, but no matter: we can still marinade in Chalamet's appearance in Dune. This is a performance and a film that demand to be witnessed on the biggest screen possible – IMAX, preferably, if your Covid-era budget will allow it. Villeneuve's sci-fi epic is what going to the movies is all about: spectacular on every level, from how it looks to how it sounds to how it feels as another utterly credible, planet-sized spacecraft hoves into view or an army of alien super-soldiers explode into action.
No matter how big your telly, phat your SurroundSound system or retractable your armchair, Dune would be irreparably diminished by home viewing. Do you really want to do that to the blessed Timothée?

Us, together, back @ the movies – a widescreen love story for the times. Roll credits.


More like this