An inside look at Lady Gaga's meticulous Gucci fits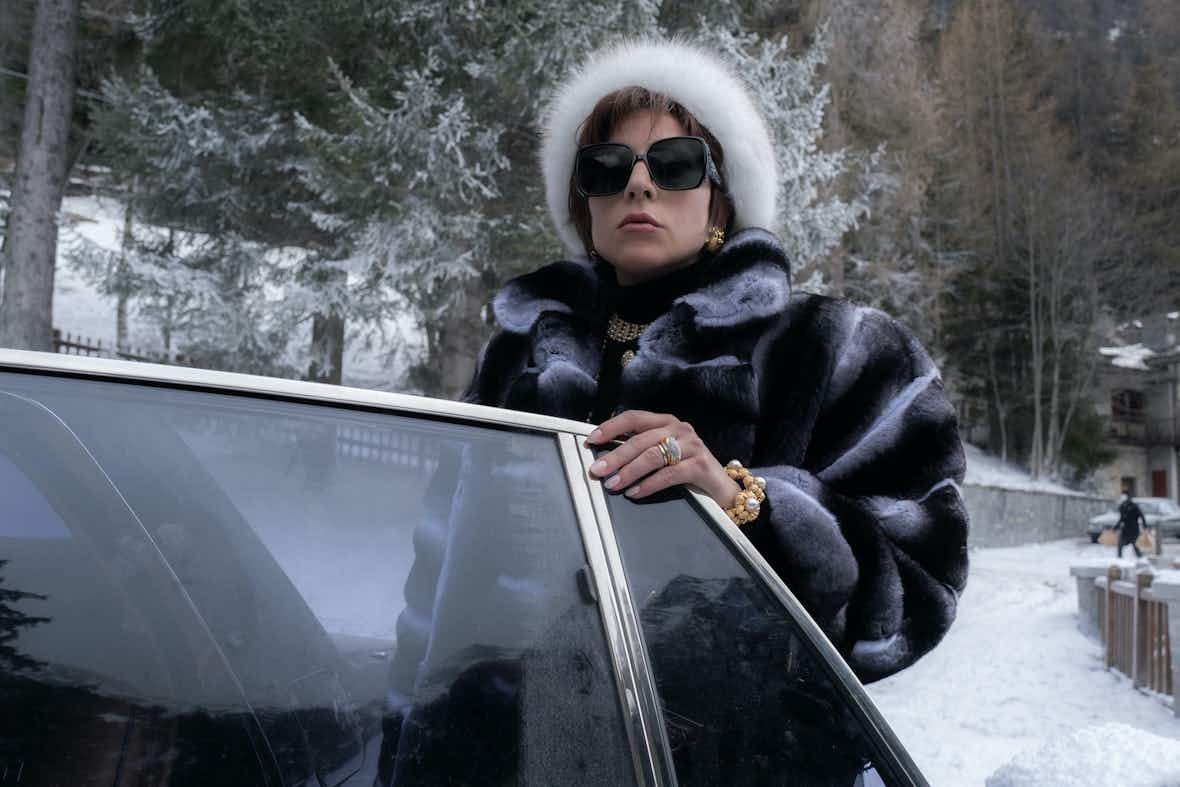 From the pink polka-dot dress to the crimson bodysuit, House of Gucci costume designer Janty Yates explains how she masterminded the Gucci dynasty's key looks.
Much has already been made of Lady Gaga​'s arguably deranged, capital‑M Method acting in the run-up to the hotly anticipated release of House of Gucci.
She lived as Patrizia Gucci, née Reggiani, for a year-and-a-half, as she told Vogue, and ​"spoke with an accent for nine months of that. […] I never broke. I stayed with her." But it didn't stop with the voice. While her account is likely embellished, as one usually tends to fluff up at the beginning of an awards campaign, it wasn't Gaga, even at the film's earliest costume fittings: according to those around her, it was Patrizia.
"Gaga's [costuming] input was huge, down to every single earring," Janty Yates, the costume designer behind Gucci​'s myriad sartorial statements, tells THE FACE. ​"I mean, every fitting took a good hour. We would maybe get three looks in three hours of a fitting. She would stay in character throughout."
Costumes are, after all, central to the psychological undertaking of performance — not least for a role like Patrizia, a person so deeply wedded to the pomp of high fashion. ​"We had everything hung up, and my cutter would be there," Yates continues. ​"She goes, Oh, this is what I'm going to wear when I see [Jared Leto​'s] Paolo [Gucci]," taking one of the dresses from the rack. ​"She was determined to get it right."
House of Gucci is, centrally, Gaga's film. It follows Reggiani's ascension as she, through a confluence of wild serendipity and devilish cunning, powers her way to the apex of the Gucci dynasty — before her downfall culminates in the murder of Adam Driver​'s Maurizio Gucci.
While the script is a tonal mess, shackled by its battling identities – is it a Godfather-esque couture crime epic? A high-camp, theatrical romp? A declaration of war on Italy? – she elevates it beyond the schlock. Much of this is earned from her unwavering commitment to the bit: her Patrizia, scene after scene, percolates with the ambitious artifice that defines her bejewelled, real-life muse.
Another pillar comes in the form of Gucci​'s meticulous fits – and not just Gaga's, of which Yates estimates there were between 75 and 100. Naturally, a film about the world's most famous fashion house comes with an additional weight of vestiary expectation, from Maurizio's endless rack of Savile Row suits, to Paolo's… questionably garish garms.
Yates broke down five of Gucci​'s key looks for THE FACE – including, yes, Adam Driver's hot, white Aran sweater.

Patrizia Gucci: The "father, son, and House of Gucci" pink polka-dot dress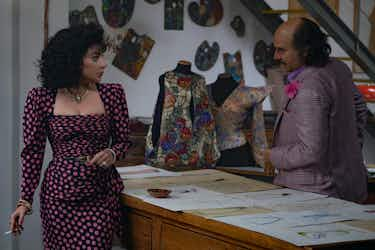 Even the first trailers for Gucci were quickly mined for memes. Think of Gaga's punctuating moment, stating the immediately immortal lines, ​"father, son, and house of Gucci." She wears a vibrant pink polka-dot dress in the scene, so flashy as to communicate girlboss insidiousness. ​"That was from one of our vintage collections from Tirelli," Yates says. ​"Gaga did it again. She'd come in, she'd go through the rails, she'd go –[miming Gaga's Italian accent] – Oh, this one is speaking to me, I think I'll‑a see Paolo in this — we put it on, and it fit like a glove, like everything did. It was extraordinary how everything fit so well."

Paolo Gucci: The pink "chic-a!" elephant cord suit
Paolo is a tragically ludicrous fellow in Gucci, underscored by Jared Leto's that's‑a your Dolmio accent. That, and the gloriously tasteless suits conceived-and-worn by this deluded arbiter of taste. But one design has caught attention like no other: a pink Norfolk jacket in elephant cord, self-described as ​"chic‑a!" This one was Yates' design, ​"but mainly, his costumes were made by the Attolini Brothers, who made all of Toni Servillo's suits on [Paolo Sorrentino's] The Great Beauty," she says. ​"Unfortunately the pink suit was not by them, but I feel I should credit them because they did such a beautiful job on all of his other, rather loud check suits, and clashing shirts and ties."

Patrizia Gucci: The crimson bodysuit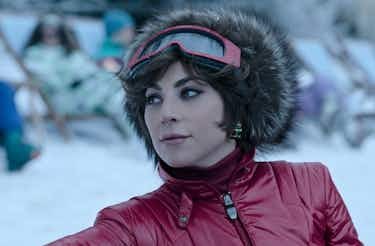 "I don't consider myself an ethical person," says Patrizia, menacingly stirring a cup of coffee, ​"but I am fair." Accentuating the menace is her typically showy, glistening crimson ski-suit, topped off with a wispy white fur hat. ​"I went to Annamode, the costume house, and found the models for the suits, it was very straightforward," says Yates. ​"They had a navy suit for Maurizio, a sort of two-tone one for Paola … LG [Gaga] just put hers on, and ran with it." Yates notes another Gaga moment of mad method: ​"She did say, I will have all of the fur hats. Paola will not have any. So she ended up with all of them."

Maurizio Gucci: The white Aran sweater from Gucci's first-ever still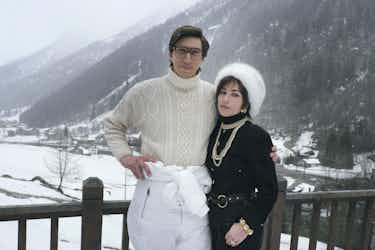 "I mean, why? Why does it have its own website? Why does it have its own Instagram page?" says Yates, bemused that the white cable-knit worn by Maurizio in the film's first-released still so captured the film-loving zeitgeist: ​"Did you see the Halloween costumes?" The real creative focus for these scenes went into the white ski-suits worn by Maurizio and Camille Cottin's Paola Franchi — the jumper, an Aran sweater, was an afterthought. ​"It was just, you know, we put that on at the time and it worked. That was it!"

Patrizia Gucci: The low-brow jacket and jeans
As much as Gucci is the story of Patrizia's unlikely ascent, we all know how it ends: with the assassination of her ex-husband, and her reputation in ruinous rags. Yates' costume work terrifically communicates Patrizia's spiralling psyche, manipulated by the stirring whispers of Salma Hayek's Giuseppina, a TV psychic with whom she forms a disastrous bond. When she sits down with a pair of bumbling hitmen to plan out the violent deed, her haute couture is swapped for a leather jacket and jeans.
But that wasn't the original idea: Gaga decided she wanted to wear the pairing on the day of the shoot. ​"It was last minute dot com. We had a couple of vintage leather jackets in her closet, a couple of pairs of jeans, but we had to rush out and get another dozen to make sure we had something that worked that afternoon," says Yates. ​"But it works so well, because she looks quite butch. And it just completes her arc – apart from the courtroom suit – but yes, her hair's so short, and her makeup is sort of raw. But that was totally her input."

The House Of Gucci is out in cinemas on Friday 26th November.

More like this