7 days in Lima with Lotte Andersen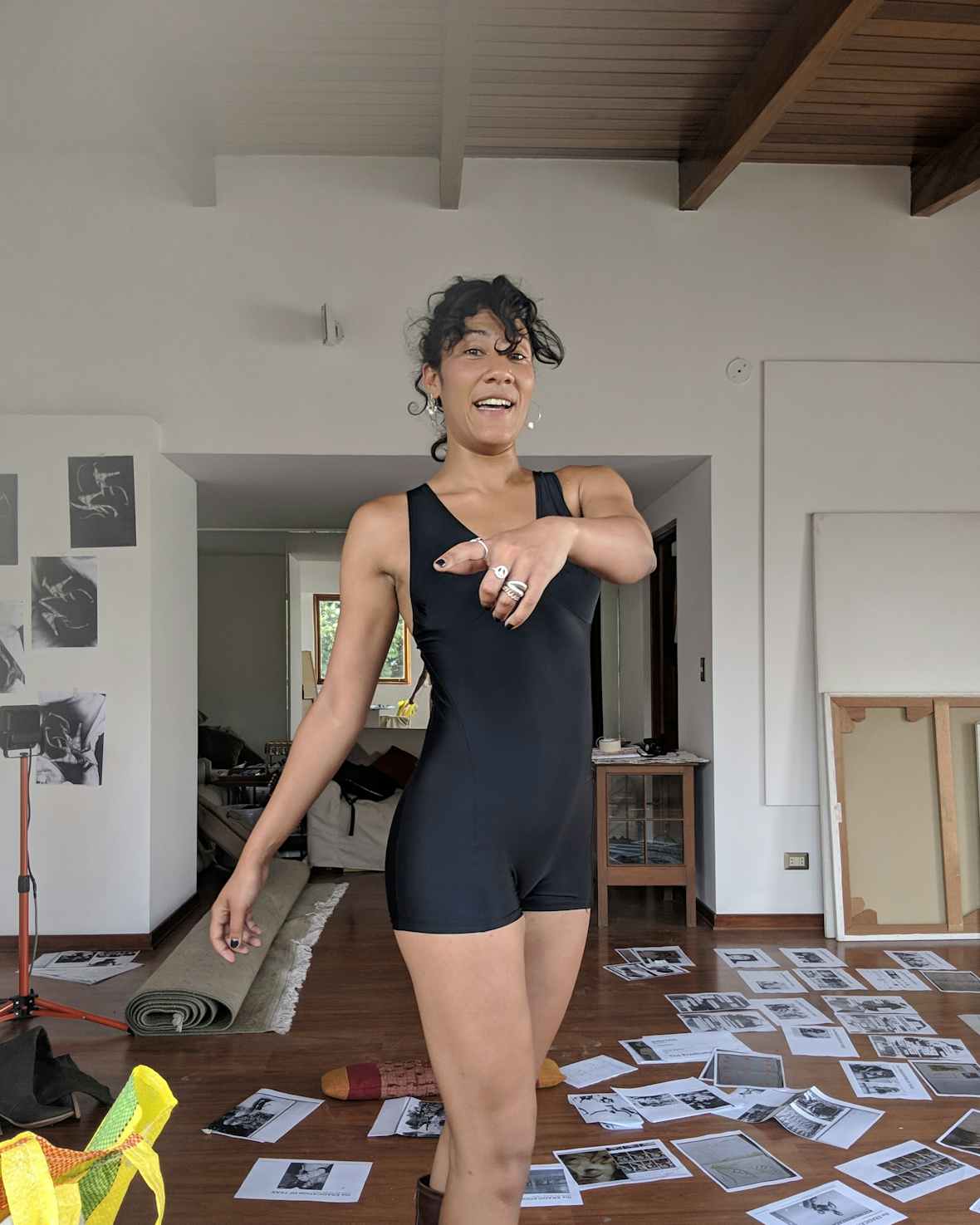 The British artist fled during the month of a would-be Brexit to make art in Peru: "We were all fighting. Time to get out."
Lotte Andersen is an artist who was born, lives and works in London. Recently, she travelled to Lima, Peru to escape what should have been the month that Britain left the EU: a topic she tackled in the final iterations of her successful Ladbroke Grove club night, ​"MAXILLA."
In her work, Andersen always tries to raise awareness about the real implications of socio-political issues, discussing how they affect her personally, but also the city and country she grew up in.
"Making work is listening in without bias, checking the air and mirroring what is happening. The early months of 2019 felt rife with a rippling xenophobia and a class/​race/​gender war within the creative community in London, which simply mirrored inequalities hitting a zenith across the country," explains Andersen. ​"We were all fighting. Time to get out."
So she head to Lima, where Andersen hoped to make friends and sink into a new culture. Upon arriving, she expected to encounter the politics she had seen and heard of Peru – its setbacks like any country; the extreme gap between rich and poor; the danger women face, not forgetting where the country stands in terms of gay/​trans rights acceptance (gay marriage is still illegal). Instead, she was overwhelmed by a number of things: ​"Kindness, generosity of spirit, time and the warmth of the people I met," she says, ​"coupled with excitement with which they throw themselves into creative endeavours."

Lima allowed Andersen to tackle a new body of work titled The Eradication of Fear or T.E.O.F. Originally a collection of essays the artist started writing in 2016, she was able to finally condense her thoughts ​"into creative expressions which take various forms. This could be film/​video installation, sound, collage, performance, or ​'whatever I need to get the job done' as I sometimes say."
Peru opened up a creativity for Andersen that she felt had been stifled. The following snapshots, captured in the build up to her new work, are described by Andersen as ​"incidental moments, almost like snippets of a diary of me working."
Day 1: Decisions (a great number of formal choices within my practice are dominated by my character)

"Listening to these on loop thinking about hip hop and paper collage and how they relate and fit … trojan horses."

Day 3: Free content
"The Eradication of Fear is a manifesto for just that. Sensationalist, absurd, pop, full body, free, radical and above all fueled by love. The essays from this are The Body Politic, Death is the Qualifier, The Bias Matrix, The Economics of Movement and The Balance.
These are collections of diary entries, notes, lists and definitions copied and pasted mainly from open source search engines (like Wikipedia) that publish free content. I love that they are therefore based on collaboration through a model of content editing, working with the group, screwing the hierarchy and also inviting mistakes and the human hand.
These essays exist as manuals in this case for the protection and the preservation of the body, my body, a body, anybody; but primarily a black, queer, female, body in movement and finally the eradication of all fear. Some type of 21st century guide to emancipation."

Day 4: Beautiful resilient women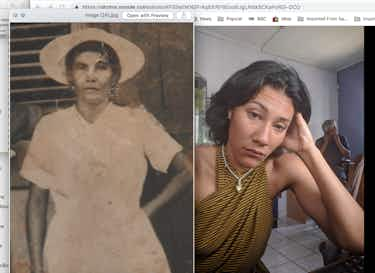 "This is an image of my great great grandmother. She was born in Dominica and is from what I know as the Kalenago or Carib tribe. My maternal grandmother (Fortuna Esprit) relayed the horrifying tale of her being sold in a market. I am pictured next to her in an internet cafe, behind me is a man on the phone. There is an odd dark humour to this man, unconcerned and getting on with his day to day, in this shared public space, next to my melancholic expression.
It struck me this was where I gained my face… I am pictured here feeling a weight of ancestral trauma and processing her pain, not mine; I am the vessel. The works I made here serve to clear these horrific atrocities and potentially attempt to move beyond and forgive any and all oppressors.
I am such a simple girl; the research I do takes many shapes. The textures of these become feelings, the work is the processing of this internal struggle. I find this internal struggle of my white family, Anglo Indian and white South African, in relation to my black family, a complicated mess.
The resilience in her face is balanced by my quiet, exhausted, sadness. In the eye of the storm you don't break, if families are trees. I would love to offer up my privilege as a free woman, my sadness for her experience of the world."
Day 5: Audience as opposed to the viewer. Can culture be captured? What is more important, documentation or ownership?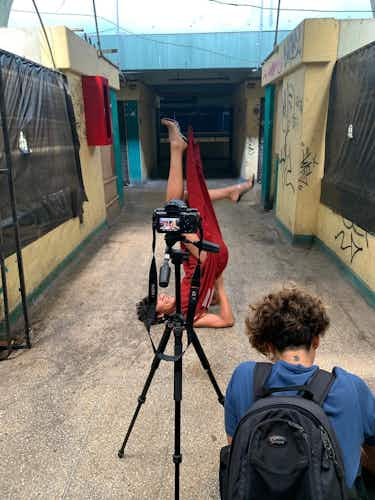 "I think about ownership when making photographs and film work: information on the internet and ownership, sampling, and copy-pasting and collage culture. But ultimately when I set up a situation where a body is being captured, how I set up that exchange counts. Whether it be self-timer, an all-female team, the people in the copy shop who you invite into the construction of your work ultimately implies and leaves an impression on the [work's] intention.
In Lima, when filming and photographing on location I worked with two women collaborators, Janine Costa, Isis Mur and a male collaborator, Ian Duclos. The women handled all the cameras while I set up and work. In this exchange, no man touched any capturing tool (camera, film camera). This was important as this aspect of the work in Lima (part 1) specifically related to the realities of what it is to be a woman moving in the world, our fears, our tears, our pain our strength. The women therefore have permission to capture my image, all male gaze is supportive and therefore removed from the apparatus setting up a safe space for a singularly female expression and dialogue. This is the balance of trust, boundary and respect.
Ian recorded and mixed the initial sound percussive works made in the studio pictured on day one."
Day 6: Black and white Xerox prints, made in the copy shop (with the help of the shop keepers)
"In Peru, I set up multiple studios. My practice is currently quite collapsible, as I archived and packed down my permanent studio in London during the final months of 2018.
In Lima, the essays and initial collage were made in a tech company. Book and layout for publications were made in studio at home. The video installation I installed at Good Night:Energy Flash for the latest iteration of Dance Therapy in Korea in the garden. The bodywork and rehearsal work happened in a dance studio. I recorded sound in my friends' houses. All scanning and print work I like to make in public spaces.
I love the thrill of working with people who don't usually make art breathing down my neck, the pressure and fun of it often pushes you to create in double time. Boundaries are super important with making. For instance, with the MAXILLA posters and prints, the financial boundary of working with photocopiers birth exciting conclusions."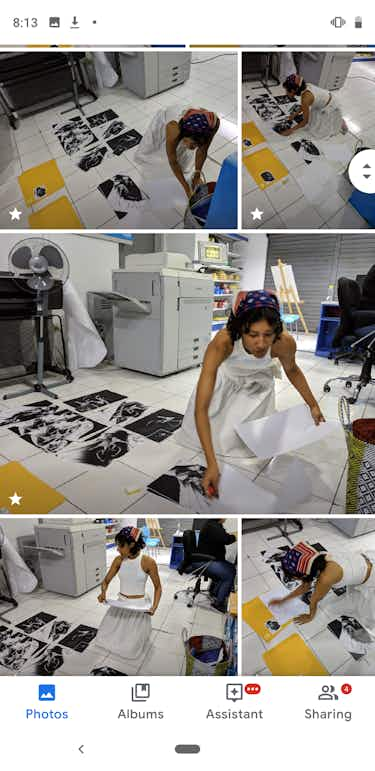 Day 7: Love is the fuel, bias the obstacle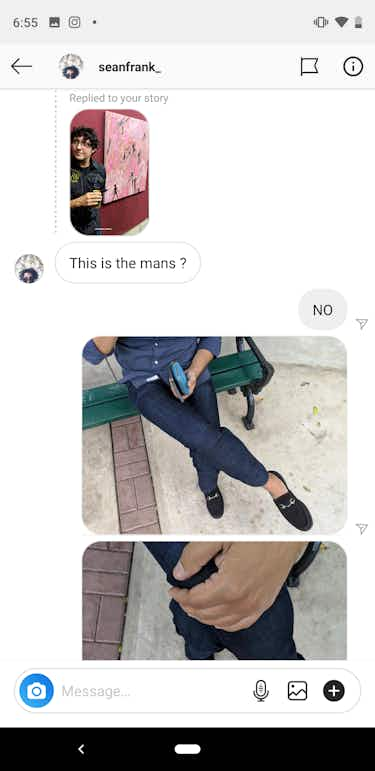 "I dedicate this work to Alonso LV, who taught me to check my bias in public, unconsciously binding me to the words I wrote. The support and shared studio space we had in Lima facilitated the dance sketches, helping me develop the external elements of The Eradication of Fear, performing on the sound for the piece, alongside my foot for percussion and Mateo Majluf on bass.
Thank you, Lima, and thank you Peru, for helping me scrape fear away with food, kindness, love and care. Thank you fear for giving me dance, my most dedicated act of resistance. Joy my constant act of defiance in overcoming grief, time my anxiety and my qualifier."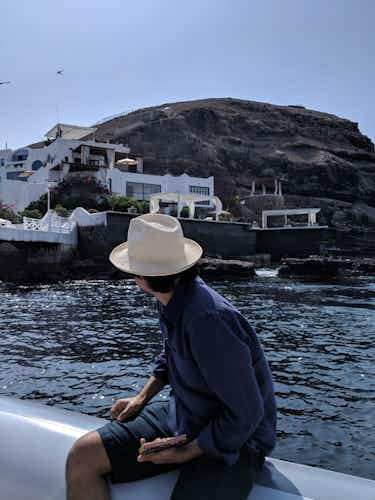 You can see Dance Therapy in Good Night: Energy Flash at Storage by Hyundai Card, Seoul, South Korea until 25 August 2019.
The T.E.O.F manifesto was published last week, and can be found at the Radical Reading Room at the Studio Museum in Harlem. The essays underpinning the manifesto are Death is the Qualifier, The Economics of Movement, The Bias Matrix and The Balance.
Anderson will present the ​"crescendo" of T.E.O.F at Sheffield Doc Fest (6 – 11 June 2019), where she is hosting the first video art lead symposium, The Lovers Table Never Forgets, alongside Rashid Kazim.
And Brexit is still ongoing.

More like this