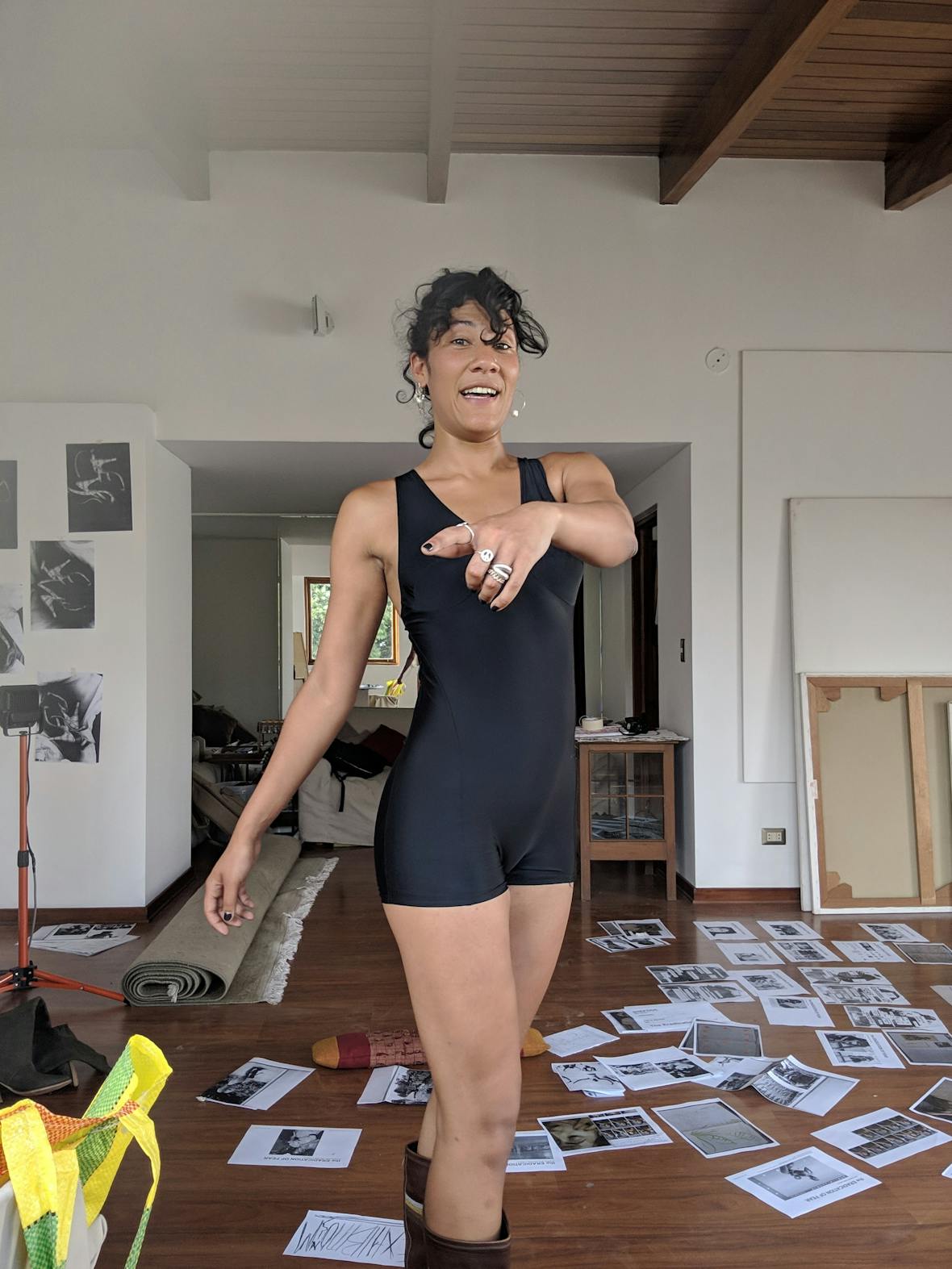 7

days in Lima with Lotte Andersen
Lotte Ander­sen is an artist who was born, lives and works in Lon­don. Recent­ly, she trav­elled to Lima, Peru to escape what should have been the month that Britain left the EU: a top­ic she tack­led in the final iter­a­tions of her suc­cess­ful Lad­broke Grove club night, ​"MAX­IL­LA."
In her work, Ander­sen always tries to raise aware­ness about the real impli­ca­tions of socio-polit­i­cal issues, dis­cussing how they affect her per­son­al­ly, but also the city and coun­try she grew up in.
"Mak­ing work is lis­ten­ing in with­out bias, check­ing the air and mir­ror­ing what is hap­pen­ing. The ear­ly months of 2019 felt rife with a rip­pling xeno­pho­bia and a class/​race/​gender war with­in the cre­ative com­mu­ni­ty in Lon­don, which sim­ply mir­rored inequal­i­ties hit­ting a zenith across the coun­try," explains Ander­sen. ​"We were all fight­ing. Time to get out."
So she head to Lima, where Ander­sen hoped to make friends and sink into a new cul­ture. Upon arriv­ing, she expect­ed to encounter the pol­i­tics she had seen and heard of Peru – its set­backs like any coun­try; the extreme gap between rich and poor; the dan­ger women face, not for­get­ting where the coun­try stands in terms of gay/​trans rights accep­tance (gay mar­riage is still ille­gal). Instead, she was over­whelmed by a num­ber of things: ​"Kind­ness, gen­eros­i­ty of spir­it, time and the warmth of the peo­ple I met," she says, ​"cou­pled with excite­ment with which they throw them­selves into cre­ative endeavours."

Lima allowed Ander­sen to tack­le a new body of work titled The Erad­i­ca­tion of Fear or T.E.O.F. Orig­i­nal­ly a col­lec­tion of essays the artist start­ed writ­ing in 2016, she was able to final­ly con­dense her thoughts ​"into cre­ative expres­sions which take var­i­ous forms. This could be film/​video instal­la­tion, sound, col­lage, per­for­mance, or ​'what­ev­er I need to get the job done' as I some­times say."
Peru opened up a cre­ativ­i­ty for Ander­sen that she felt had been sti­fled. The fol­low­ing snap­shots, cap­tured in the build up to her new work, are described by Ander­sen as ​"inci­den­tal moments, almost like snip­pets of a diary of me working."
Day 1: Deci­sions (a great num­ber of for­mal choic­es with­in my prac­tice are dom­i­nat­ed by my character)

"Lis­ten­ing to these on loop think­ing about hip hop and paper col­lage and how they relate and fit … tro­jan horses."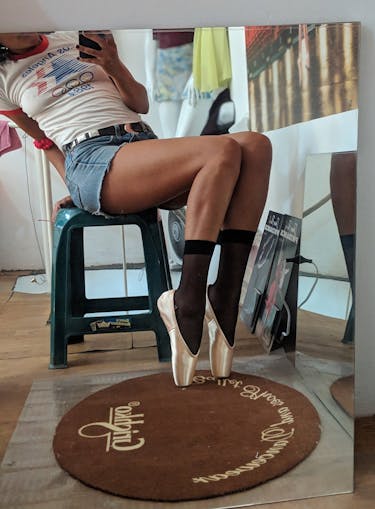 Day 3: Free content
"The Erad­i­ca­tion of Fear is a man­i­festo for just that. Sen­sa­tion­al­ist, absurd, pop, full body, free, rad­i­cal and above all fueled by love. The essays from this are The Body Politic, Death is the Qual­i­fi­er, The Bias Matrix, The Eco­nom­ics of Move­ment and The Bal­ance.
These are col­lec­tions of diary entries, notes, lists and def­i­n­i­tions copied and past­ed main­ly from open source search engines (like Wikipedia) that pub­lish free con­tent. I love that they are there­fore based on col­lab­o­ra­tion through a mod­el of con­tent edit­ing, work­ing with the group, screw­ing the hier­ar­chy and also invit­ing mis­takes and the human hand.
These essays exist as man­u­als in this case for the pro­tec­tion and the preser­va­tion of the body, my body, a body, any­body; but pri­mar­i­ly a black, queer, female, body in move­ment and final­ly the erad­i­ca­tion of all fear. Some type of 21st cen­tu­ry guide to emancipation."

Day 4: Beau­ti­ful resilient women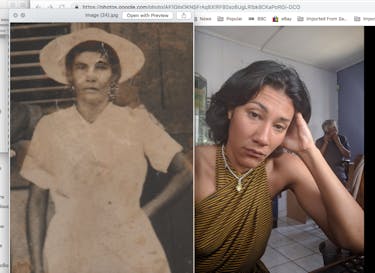 "This is an image of my great great grand­moth­er. She was born in Domini­ca and is from what I know as the Kale­na­go or Carib tribe. My mater­nal grand­moth­er (For­tu­na Esprit) relayed the hor­ri­fy­ing tale of her being sold in a mar­ket. I am pic­tured next to her in an inter­net cafe, behind me is a man on the phone. There is an odd dark humour to this man, uncon­cerned and get­ting on with his day to day, in this shared pub­lic space, next to my melan­cholic expression.
It struck me this was where I gained my face… I am pic­tured here feel­ing a weight of ances­tral trau­ma and pro­cess­ing her pain, not mine; I am the ves­sel. The works I made here serve to clear these hor­rif­ic atroc­i­ties and poten­tial­ly attempt to move beyond and for­give any and all oppressors.
I am such a sim­ple girl; the research I do takes many shapes. The tex­tures of these become feel­ings, the work is the pro­cess­ing of this inter­nal strug­gle. I find this inter­nal strug­gle of my white fam­i­ly, Anglo Indi­an and white South African, in rela­tion to my black fam­i­ly, a com­pli­cat­ed mess.
The resilience in her face is bal­anced by my qui­et, exhaust­ed, sad­ness. In the eye of the storm you don't break, if fam­i­lies are trees. I would love to offer up my priv­i­lege as a free woman, my sad­ness for her expe­ri­ence of the world."
Day 5: Audi­ence as opposed to the view­er. Can cul­ture be cap­tured? What is more impor­tant, doc­u­men­ta­tion or ownership?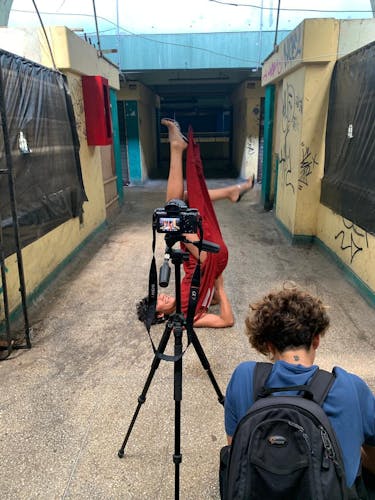 "I think about own­er­ship when mak­ing pho­tographs and film work: infor­ma­tion on the inter­net and own­er­ship, sam­pling, and copy-past­ing and col­lage cul­ture. But ulti­mate­ly when I set up a sit­u­a­tion where a body is being cap­tured, how I set up that exchange counts. Whether it be self-timer, an all-female team, the peo­ple in the copy shop who you invite into the con­struc­tion of your work ulti­mate­ly implies and leaves an impres­sion on the [work's] intention.
In Lima, when film­ing and pho­tograph­ing on loca­tion I worked with two women col­lab­o­ra­tors, Janine Cos­ta, Isis Mur and a male col­lab­o­ra­tor, Ian Duc­los. The women han­dled all the cam­eras while I set up and work. In this exchange, no man touched any cap­tur­ing tool (cam­era, film cam­era). This was impor­tant as this aspect of the work in Lima (part 1) specif­i­cal­ly relat­ed to the real­i­ties of what it is to be a woman mov­ing in the world, our fears, our tears, our pain our strength. The women there­fore have per­mis­sion to cap­ture my image, all male gaze is sup­port­ive and there­fore removed from the appa­ra­tus set­ting up a safe space for a sin­gu­lar­ly female expres­sion and dia­logue. This is the bal­ance of trust, bound­ary and respect.
Ian record­ed and mixed the ini­tial sound per­cus­sive works made in the stu­dio pic­tured on day one."
Day 6: Black and white Xerox prints, made in the copy shop (with the help of the shop keepers)
"In Peru, I set up mul­ti­ple stu­dios. My prac­tice is cur­rent­ly quite col­lapsi­ble, as I archived and packed down my per­ma­nent stu­dio in Lon­don dur­ing the final months of 2018.
In Lima, the essays and ini­tial col­lage were made in a tech com­pa­ny. Book and lay­out for pub­li­ca­tions were made in stu­dio at home. The video instal­la­tion I installed at Good Night:Energy Flash for the lat­est iter­a­tion of Dance Ther­a­py in Korea in the gar­den. The body­work and rehearsal work hap­pened in a dance stu­dio. I record­ed sound in my friends' hous­es. All scan­ning and print work I like to make in pub­lic spaces.
I love the thrill of work­ing with peo­ple who don't usu­al­ly make art breath­ing down my neck, the pres­sure and fun of it often push­es you to cre­ate in dou­ble time. Bound­aries are super impor­tant with mak­ing. For instance, with the MAX­IL­LA posters and prints, the finan­cial bound­ary of work­ing with pho­to­copiers birth excit­ing conclusions."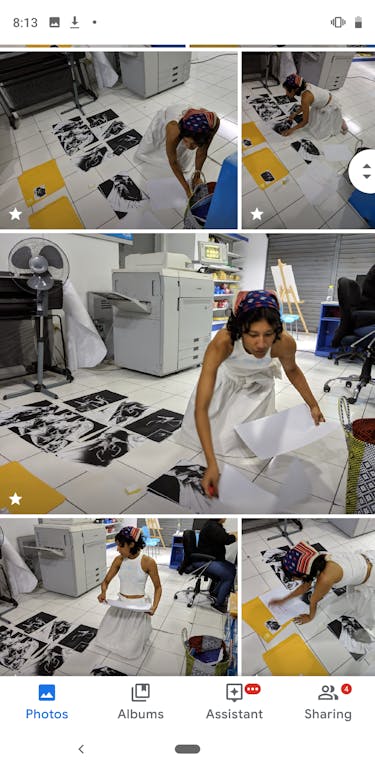 Day 7: Love is the fuel, bias the obstacle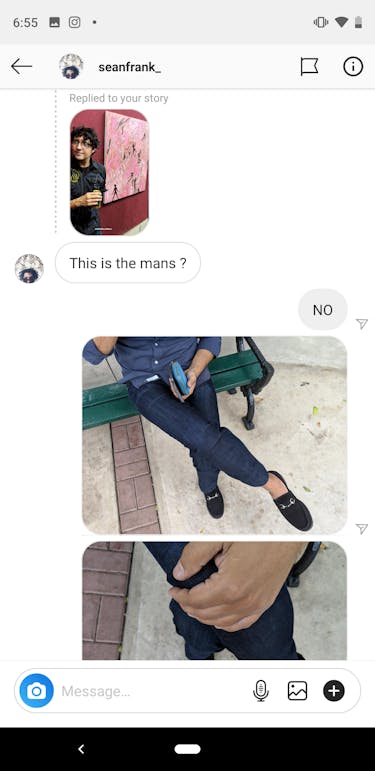 "I ded­i­cate this work to Alon­so LV, who taught me to check my bias in pub­lic, uncon­scious­ly bind­ing me to the words I wrote. The sup­port and shared stu­dio space we had in Lima facil­i­tat­ed the dance sketch­es, help­ing me devel­op the exter­nal ele­ments of The Erad­i­ca­tion of Fear, per­form­ing on the sound for the piece, along­side my foot for per­cus­sion and Mateo Majluf on bass.
Thank you, Lima, and thank you Peru, for help­ing me scrape fear away with food, kind­ness, love and care. Thank you fear for giv­ing me dance, my most ded­i­cat­ed act of resis­tance. Joy my con­stant act of defi­ance in over­com­ing grief, time my anx­i­ety and my qualifier."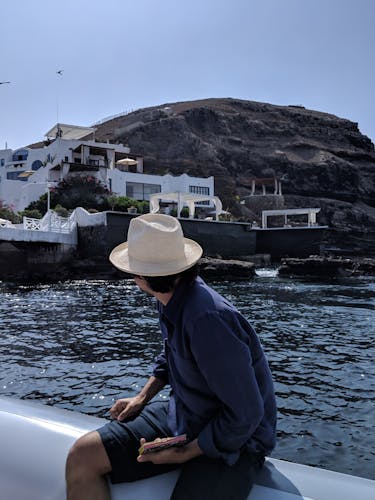 You can see Dance Ther­a­py in Good Night: Ener­gy Flash at Stor­age by Hyundai Card, Seoul, South Korea until 25 August 2019.
The T.E.O.F man­i­festo was pub­lished last week, and can be found at the Rad­i­cal Read­ing Room at the Stu­dio Muse­um in Harlem. The essays under­pin­ning the man­i­festo are Death is the Qual­i­fi­er, The Eco­nom­ics of Move­ment, The Bias Matrix and The Balance.
Ander­son will present the ​"crescen­do" of T.E.O.F at Sheffield Doc Fest (6−11 June 2019), where she is host­ing the first video art lead sym­po­sium, The Lovers Table Nev­er For­gets, along­side Rashid Kazim.
And Brex­it is still ongoing.
---