The Euphoria of Angus Cloud
Digital cover: Is Fezco the secret weapon in the award-winning HBO teen drama? Fame-phobic Angus Cloud, who plays the show's coolly charismatic drug dealer and friend-of-Rue, would never say that. But we might.

Once again, Twitter's going off on one about Euphoria.
Since the second series of the HBO teen drama launched in early January, we've furiously debated whether Sydney Sweeney's Cassie is a victim or the bad guy. Scratched our heads at why Barbie Ferreira's Kat has featured in significantly less storylines this season. Wondered if Alexa Demie's Maddy is the sole reason why the bodycon – a relic of the British high street graveyard – is making a triumphant return.
Created by showrunner Sam Levinson from an original Israeli TV show, it's arguably this generation's most-loved, most controversial show. We're living out the soap opera week-by-week as if it's an antidote to our own sad, boring lives.
After shuffling about on Zoom for a few minutes, wiggling his camera into focus, Angus Cloud – aka the sloe-eyed, sleepily charismatic drug dealer Fezco – snaps into view. Hair buzzed, sipping from a bottle and wearing a zip-up Adidas track jacket, he addresses the latest Twitter hysteria: people are losing their marbles that he's posted a fresh selfie, beardless.
"It was for a movie, man," he mumbles in a speaking voice familiar from the show. ​"I'm pretty bummed about it."
Fezco opened the second series in rip-roaring, cinematic style. The first episode laid out his backstory, deepening the characterisation of a figure who played a bit more of a backseat role in the first series.
Young Fez's early life was difficult, mired in the seedy underbelly of suburban Southern California at far too young an age. His on-screen grandma, Marie O'Neill, played by Italian-American actress and real life badass Kathrine Narducci (The Sopranos, A Bronx Tale), was an anti-hero drawn from a Quentin Tarrentino fever dream, a drug dealer who dressed like a spaghetti western cowgirl.
In a stunning pre-opening credits sequence, she calmly struts through a stripclub, long blonde hair swaying behind her, until she finds grandson Fez's babydaddy, receiving head in a private room – and shoots him in both thighs.
As the backstory progresses to the present day, it becomes painfully apparent why Fez is Fez: quiet, tough, vulnerable. Fez gained a de facto brother when an infant Ashtray (Javon Walton) appears, left by his mum as collateral for a drug deal, and then abandoned. Later, as his grandma's health deteriorates, leaving her collapsed on the bathroom floor and then bed-ridden, Fez is forced to look after her, Ashtray, their drug biz and the off-licence store-slash-cover-up – all before his 16th birthday.

I've heard you've been watching Euphoria week-by-week like the rest of us. Is that true?
Yeah. I mean, I've been busy the last couple weeks that it came out. I just feel blessed to be a part of it, really. It's such a cool piece of art. It's undeniably well-made and it's beautiful, so it's an honour.
We're seeing more of Fez in action this season. Do you feel like he's developed since the first?
I'm not sure, bro. I think he's always doing what he's doing. He's just not always on the camera.
What do you like most about playing Fez?
I like the freedom of being able to work with the cast and the director and… yeah. That part.
Do you see parts of yourself in the character you play?
I mean, we talk the same way and whatnot.

Understatement of the year. Differences between Angus and Fez are few and far between. They both speak in slow sentences broken up with ​"yaknowwhatimean?". Their answers are straight to the point. They're both undeniably cool and both very, very private.
Online, there's not much about Cloud's personal life, and most sources claim that he rarely divulges anything about his family, upbringing or even his age. When asked if he's 23 – as his Wikipedia profile suggests – he replies nonchalantly with ​"something like that".
Before Euphoria, Cloud had no plans on becoming an actor. Aged 18, he was working at a restaurant in New York City and, one day, when walking down the street, a woman approached him.
"Some lady asked me to come to a casting studio," he says. ​"She gave me her phone number, so I called her, I went, they had me do a couple auditions and whatnot, and then I flew out to film the pilot in LA."
For any teenager, that must have been a pretty weird experience, I suggest. But chatting to Cloud, he brushes over that head-spinning experience and goes straight into what he wants to talk about: his inflight beverages on that NY-LA red-eye.
"I got some orange juice and champagne. I was going to save the champagne for when we took off on the flight. I was like, ​'I'm going to save this for lift off', you know what I'm saying? But they were like: ​'You've gotta drink that before we even start moving the plane away from the gate,'" Cloud remembers with a slight frown. ​"You ain't gotta tell me twice!"
So, to sum up, Angus Cloud was 18 and approached by a stranger to be in a show no one had heard of yet. Did you find that weird? Not especially, it seems.
"When it happened, I thought she was just making stuff up. But I like to listen to people's hustle. I respect all hustles. If you've got a good story, I'll hear you out. Maybe it's worth a dollar or two. And in my case, it worked in my favour, because it was a true hustle."
As he says this, a hand appears in the corner of the Zoom screen, which Cloud shakes before it quickly disappears. His roommate here in his apartment in LA, Cloud explains.

What did you want to do with your life before getting cast?
I didn't have much plans for myself, man. I just wanted to go with the flow and figure it out. I don't know exactly how to put it, but I just like doing whatever I feel like doing at the time. I like to do whatever I feel is right, and just doing what I want.
I read that you were planning on moving to Ireland just before you got the Euphoria gig – true?
I wouldn't say I was planning. But it was definitely an option for me because I've got a bunch of family out there that I love, and I've only got to see them a couple times because I've not got out there that much.
What was your upbringing like?
I used to ride skateboards, man. And I used to wild out and do stupid stuff with my friends and get into shenanigans. Skip class and whatnot. Stuff like that.

Chatting to Cloud, you get the impression that his teen years were bliss. Maybe even the sort that Larry Clarke cooked up for Kids, his controversial 1995 film about teen skaters running riot around Manhattan. As best we can tell, the actor spent a few years in New York before Euphoria, living in the projects in Fort Greene, Brooklyn, before moving down the road to Rockaway Avenue.
And then Hollywood bumped into him on the sidewalk.
He emphasises his need for freedom and, as he said, how he's hellbent on doing whatever he wants to do. Whether or not that will work with his newfound fame is a different story.
"Freedom. That's what life is all about," he muses. ​"Sometimes I'm jealous of people who know exactly what they want for themselves. I'm like: ​'Damn, I wish I knew what I wanted for my future.' But at the same time, there's a lot of freedom to just figure it out."
As each new episode of Euphoria has dropped since the start of this year, Cloud has become more famous, almost by the hour. He admits to getting stopped in the shops, which he finds funny.
"I always have to say: ​'Hello, my name is Angus.' And they're like: ​'We know!' You lose that proper introduction that you would normally have with a person. I'm still getting used to that. It's strange."
It doesn't help that Cloud is smack-bang in the middle of one of the most Instagrammable TV shows out there. The young cast members are all digital poster boys and girls for this most tech-savvy generation. Not a line goes by without it being tweeted and dissected. Memes are made within minutes of a show airing.
In other words, there isn't really much room to hide – no matter how much he wants to.
"I hate that people are trying to detective work into my past, it bothers me," Cloud says, his face, well, clouding. ​"But it's, whatever, I haven't got anything to hide." That said, he adds, ​"those motherfuckers found my old Facebook – we didn't even know how to use Facebook back then!"
He stops to laugh.
"They must have pulled up some shit from when I was like 10 years old. I said [in a post]: ​'I hate Mexican food.' I'm like, bro, I probably had bad Taco Bell, like, two seconds before I posted that. Stop trying to stretch this shit out. Whatever," he says with a shrug. ​"Haters gonna hate, it is what it is. That's their job and I feel bad for them."

What are you eating there, Angus?
A cookie.
How do you feel about fans seeing you as a sex symbol?
I think it's weird. It's hella weird. If they would have taken a picture of me the day I was cast as Fezco, I still look the same. Nobody would have given a fuck. But the TV thing… It's a subconscious thing, like: ​"Oh, he's on TV. He's a celebrity, he's rich, so he's sexy." If Spider-Man walks in the room, everybody's going to be trippin, but Clark Kent… That's Superman's name, right?
Yeah, Clark Kent.
If he comes in, it's nothing. That's how I relate it to.
So you just want to be normal?
Yeah, I don't like being special. I don't want to be special. I like being regular. I don't want people to open doors for me like I'm like a prince or some shit. I do really appreciate it, though.
A lot of young people in Hollywood want to be treated special.
I open doors for people, too, you know? But it's getting to a point where I'm uncomfortable with special treatment. I'm not comfortable with it. I'm just a regular dude, man.
So you aren't fond of red carpet events and the like?
I mean, the red carpet part of the job. But I don't like the famous part, to be honest with you. I don't want to be a celebrity. I don't like people recognising me.
Not even your fans?
All the fans are great. If you see me and you want to say ​"what's up?", I'm happy to see you. I love everybody, man. It's all love from me. Come say what's up!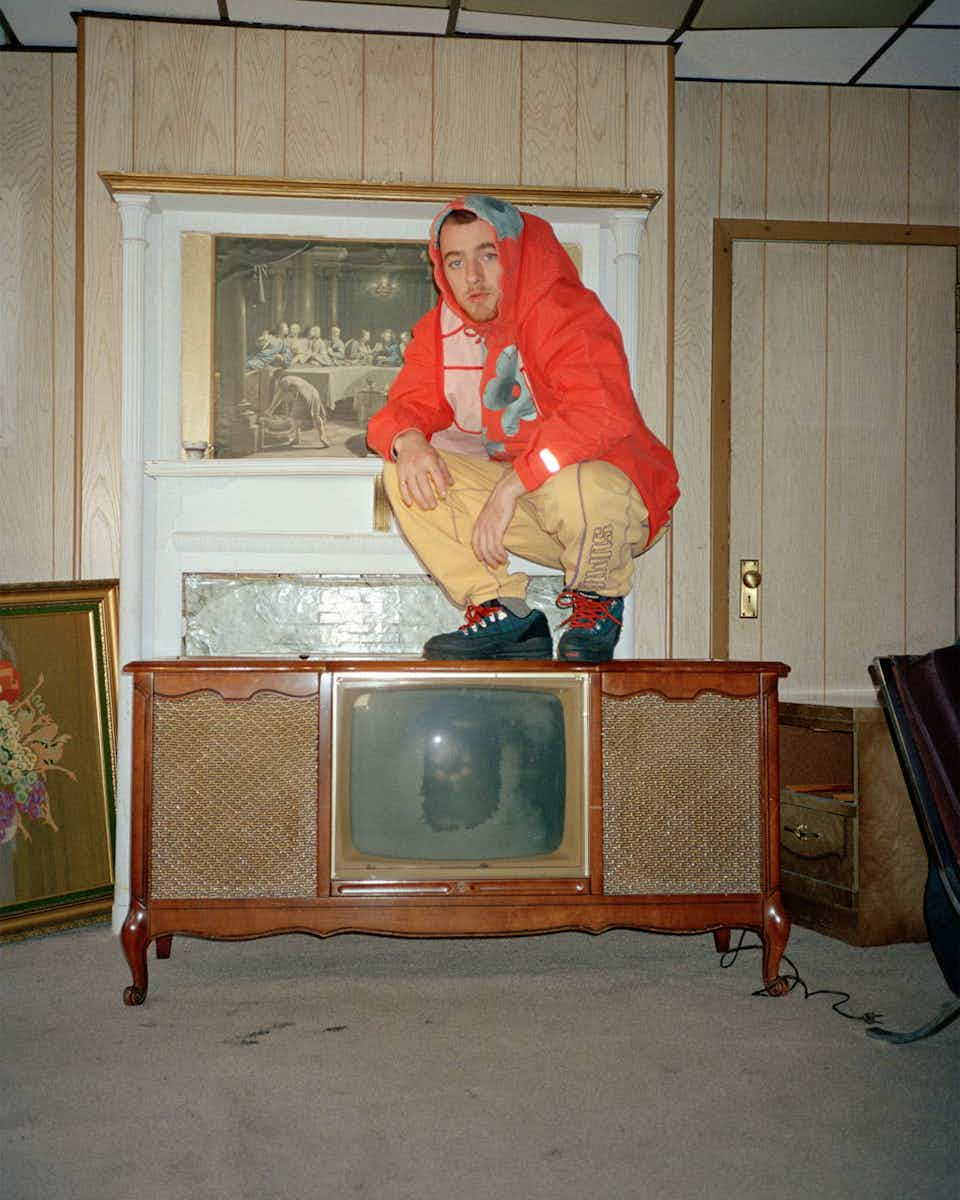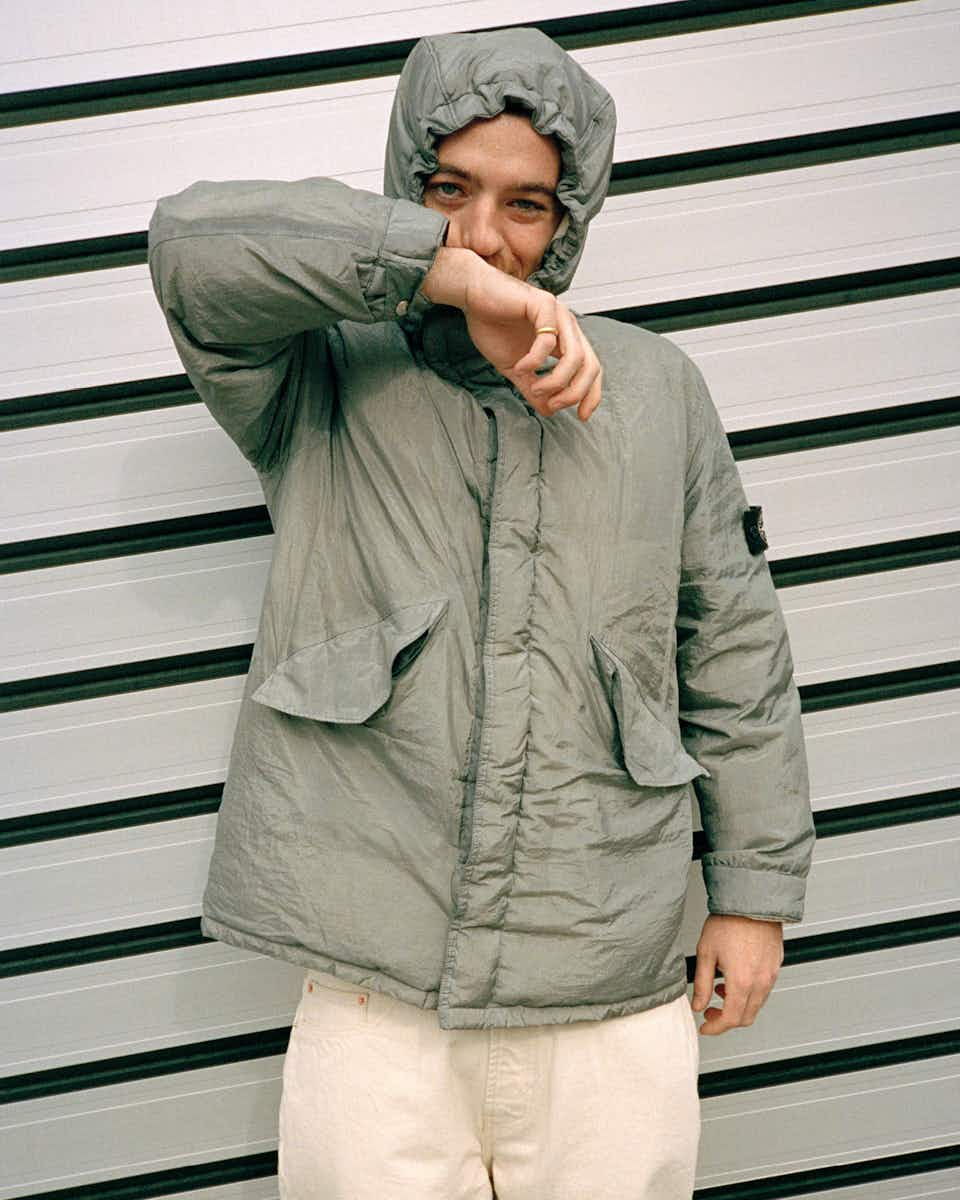 As series two of Euphoria has unfolded over the past few weeks, Cloud has shown his love and support for his co-star Zendaya. In one particular episode, Stand Still Like the Hummingbird, Cloud tweeted: ​"Zendaya is an incredible fucking actress. Holy Fuck." Then, an hour later, ​"GIVE ZENDAYA HER EMMY NOW!"
The episode focused on Zendaya's character, Rue, hitting rock-bottom. It was a deeply poignant episode as she grappled with the repercussions of her drug addiction: a violent fight with her mum and sister, stealing from her friends, stealing from a random house, running from the police, almost getting killed on a highway, being trapped in a drug dealer's house before narrowly escaping.
Fez and Rue have it out, too, with Fez throwing her out of his home for attempting to steal his grandma's medication. It was hard to watch – up until that point, the pair's on-screen relationship had been loving, even if Fez would occasionally roll his eyes at Rue's erratic behaviour, often in the backseat of his car. But it's the type of unbreakable relationship brought on by genuine love.
"We're friends for sure. We're close and I consider her family. That's my sister," Cloud says of their off-screen relationship. Meanwhile, on-screen, ​"their relationship dynamic is crazy because it's all based around addiction. That's a huge topic in Euphoria – how it makes people change, how it's hard to deal with the people that you love who are dealing with that addiction.
"It's this internal struggle with [Fez] who feels guilty. But at the same time, [Rue is] still going to be doing this or that without [him]. As he sees it, the friendship is a case of ​"I love them, so I should be there for them because I have their best interests. But it's a double-edged sword. That's the real beauty of that kind of relationship." Nonetheless, he recognises that ​"a lot of people give up. Most family members can only take so much, until the person really gets clean."


Euphoria receives a lot of praise for its portrayal of addiction. Do you think Sam Levinson has done a good job?
Yeah, I'd say so. It deals with the kind of addiction where it's one person dealing with the violence of having to keep it a secret from everyone else. It started from a young age, and that's super real for a lot of people. And it's a scary situation when you're ashamed of it, because no one is there to help you if mistakes were to be made – or something bad [happened], God forbid.
More conservative observers have criticised the show, saying that, for example, it glorifies drug use.
I really appreciate how it doesn't glorify it. Drugs aren't cool, they're nothing to play around with. It definitely shows that. This is serious business. And right now, with Fentanyl, the number one killer in the United States, it's insane. I've lost people to it.
Is that something you feel passionate about?
Yeah, for real.
Personally, I think the best thing Euphoria does is raise awareness.
Yeah, for sure. When you're in that position, you feel like you are the only one that has ever felt this way in the world. But there are people that feel the exact same as you. There are a lot of people dealing with really similar issues. We can really help people out. That community is very important, and it's out there.
Do you have a strong community around you?
Hell yeah! If I didn't have my family and friends that I knew were down for me when I didn't have shit, then I'd be fucked right now. It's a strange world. Hollywood's strange. There are a lot of cool people out here, too, though. But thank God for my friends and family. I love them to death and without them I wouldn't be talking to you, probably.

Right now, Angus Cloud is living in LA. He hasn't got a car so doesn't really go out much.
"When my homies come out here and they want me to be a tour guide and whatnot, I don't like that because I don't have much to show you. Sorry, my friend."
Understandably, little about this weekend's final episode of Euphoria is known. Cloud, like the rest of us, watches it week-by-week, so he genuinely has no idea, either.
But rumour has it that there's a big moment creeping up for Fez. Will he regret not wearing that tie with the shirt in last week's episode? Could the death of rival drug dealer Mouse (killed by ​"little brother" Ashtray) be about to catch up with him? Might his budding relationship with Lexi become Instagram Official?
Whatever his fate, it's undeniable that Angus Cloud has become a fan favourite this season. The emotion he puts into his character feels natural, brought on by a genuine desier to be there on set, and an appreciation for where life has taken him. While there's not a great deal known about his past, there's no denying Cloud has a stellar future ahead of him.
"So long as I can make cool movies, I want to keep doing this," he says with as much emphaticness as the horizontally laidback guy can muster. But, like most actors, he has a slight case of imposter syndrome. ​"I'm not that confident with my acting. I feel like I suck. But apparently, everyone else doesn't, so if a director wants to make some good stuff happen, cool. I'm just self-conscious, still getting used to it – and don't know what I'm doing sometimes."

I think we all feel that from time to time, though.
Yeah, man. You know that.
What are you hoping for Fez's future?
I don't know! I really can't imagine what Sam's cooking up.
What if it was up to you?
Maybe he'd open a bakery or something. Or win the lottery.
Thanks, Angus!
Bless your heart, man.
Grooming: Amy Komorowski, Photo assistant: Mark Custer, Production: Camera Club, Special thanks: Picture House

More like this