How The Gate became the home of outsider art in London
The free local arts centre in Shepherd Bush, London provides a space for adults with learning disabilities to come and express themselves through art, music, fashion and film. Right now, they're taking measures to ensure their artists have access to their usual creative outlets during the pandemic.

"I like leather," Jason Gore grins at me. ​"I like leather trousers on ladies!" I'm discussing fashion with Gore in the hangout room of The Gate's HQ in Shepherd's Bush pre-lockdown. He's a member of the music and art collective, who collaborated on the cover for The Face Vol.4, Issue 2. When London isn't on lockdown, Gore visits almost every weekday to take part in art and music sessions and watch horror films like Texas Chainsaw Massacre or Friday the 13th on Youtube.

Founded in 1992 by the social care and housing company Yarrow, The Gate is a space for adults with learning disabilities to come and express themselves in whatever way they like. There are art, fashion and film classes and various music sessions where they learn about its history and rehearse songs written for the bands formed at the centre. There's even a makeshift studio in the back where they can mix their own music and record their weekly radio show for Resonance FM, Gate Kicks. Gore's pleased about the leather trousers he made making an appearance on the Face cover, his real passion is illustration – particularly drawing cartoons like American Dad and Family Guy. Painted on the wall behind us is a large, cosmic-looking ball sprouting black tadpole shaped blobs. ​"We did this together," Gore explains as he sits to have his picture taken next to it. This particular style of interior design is specific to The Gate. The centre is dominated by the members' work, walls painted in each of their signature styles and art packed on to every possible space.
The Gate's day-to-day running is a little different than that of similar organisations. Being a permanent space, it works as a drop-in centre. People can come and go as they please and do whatever they like unrestrained by the time limits usually placed on peripatetic groups which rely on loaned spaces. Given this freedom, projects tend to be led by the artists at The Gate and staff are employed to facilitate and support their work. Although this laissez-faire approach can feel chaotic, it's clear they've got a system that works for them. You just need to get onto their wavelength.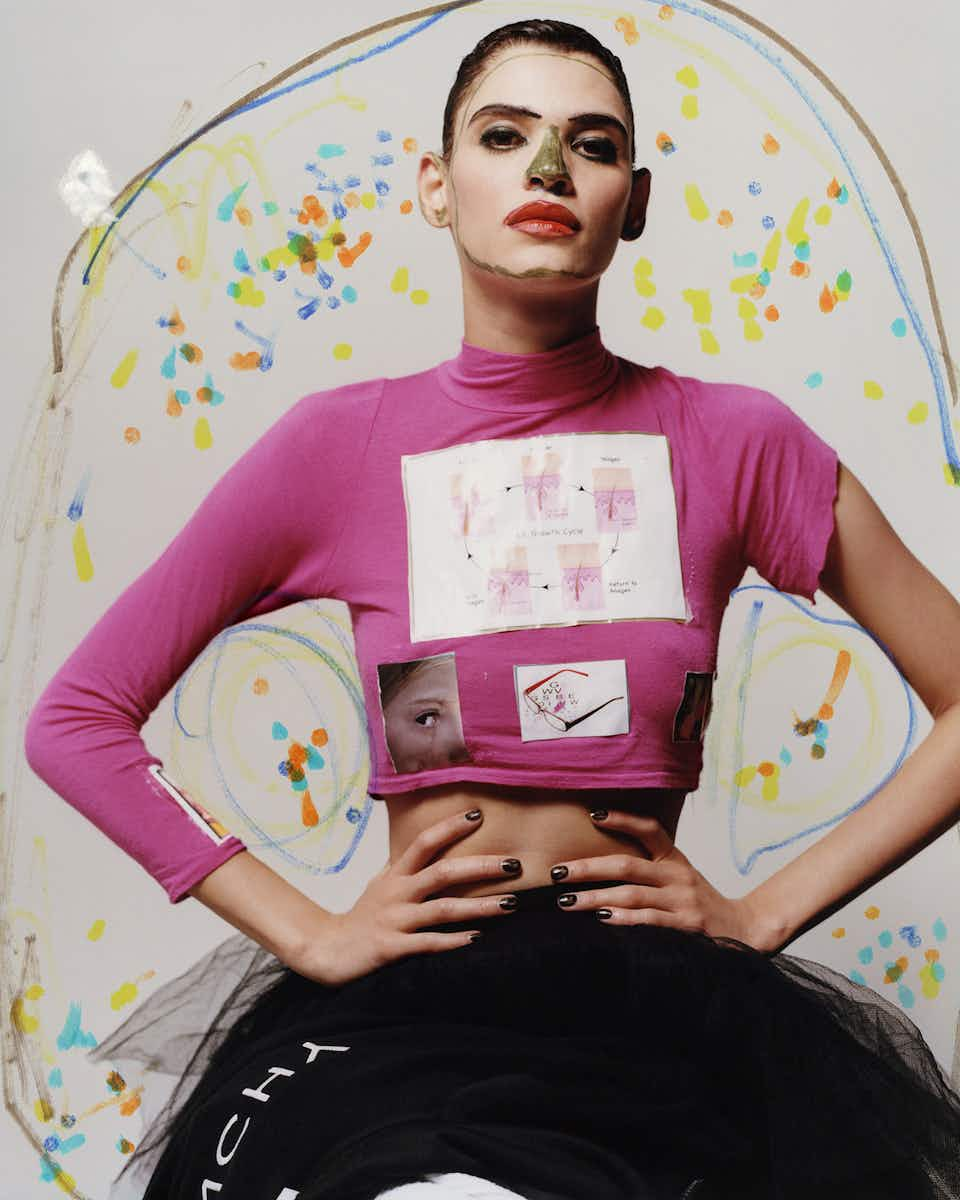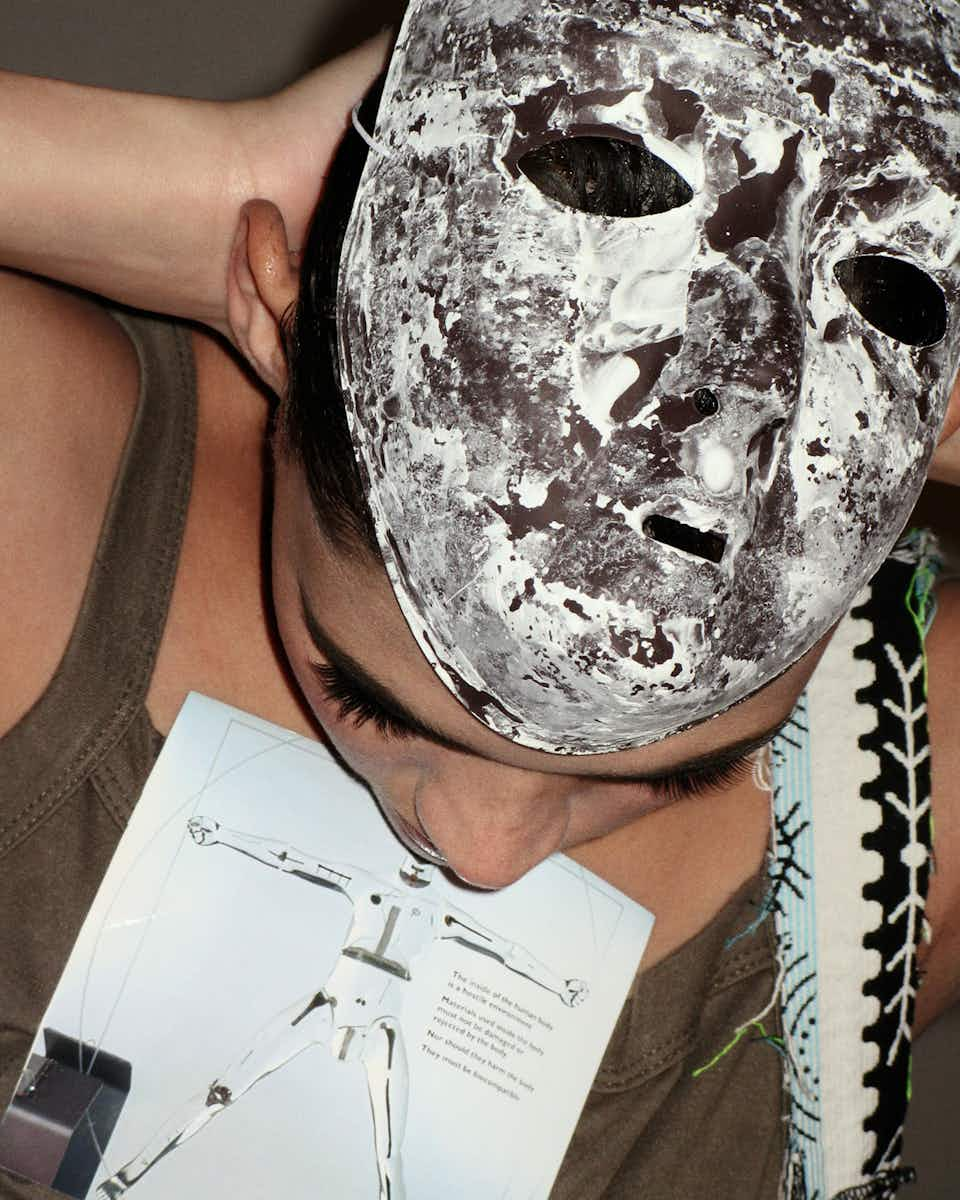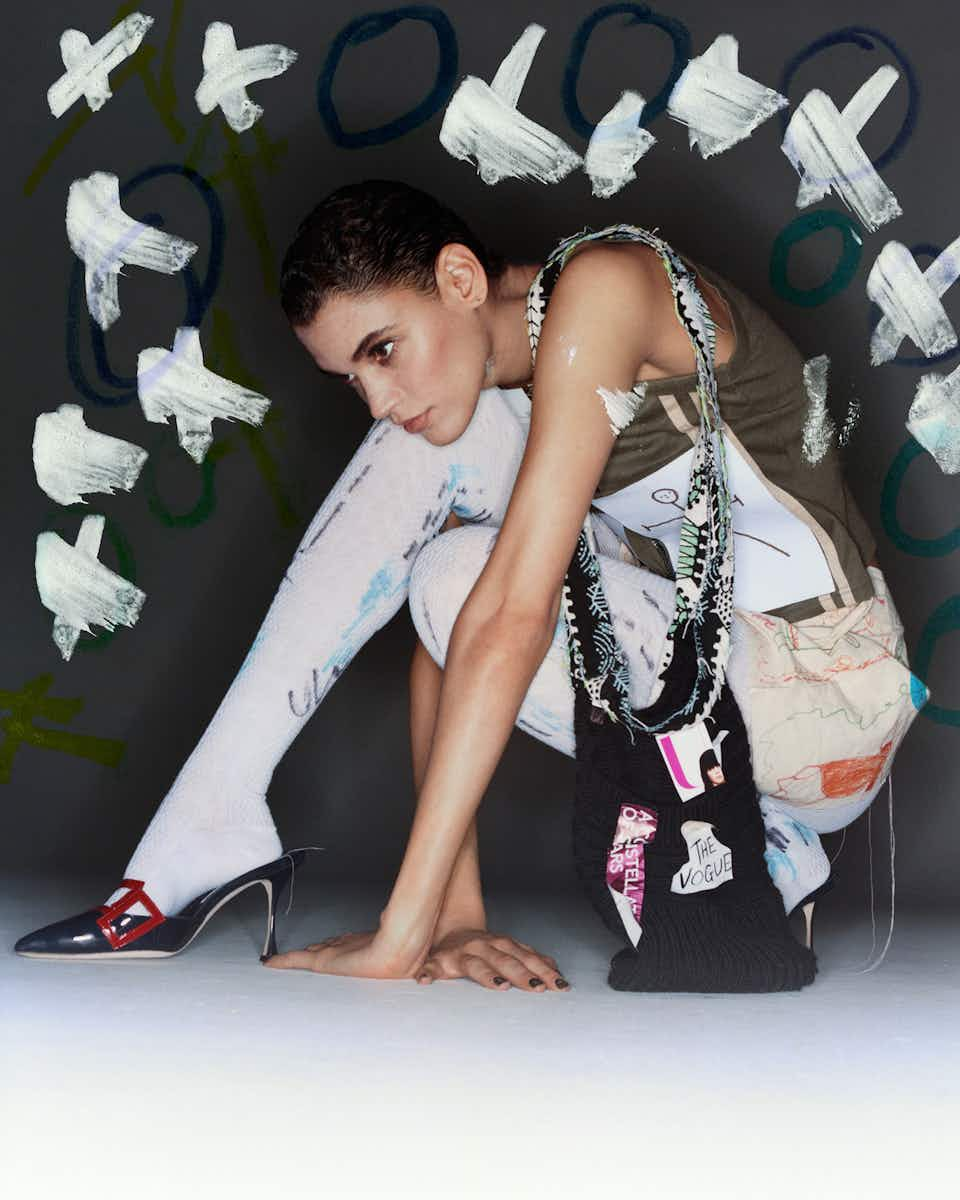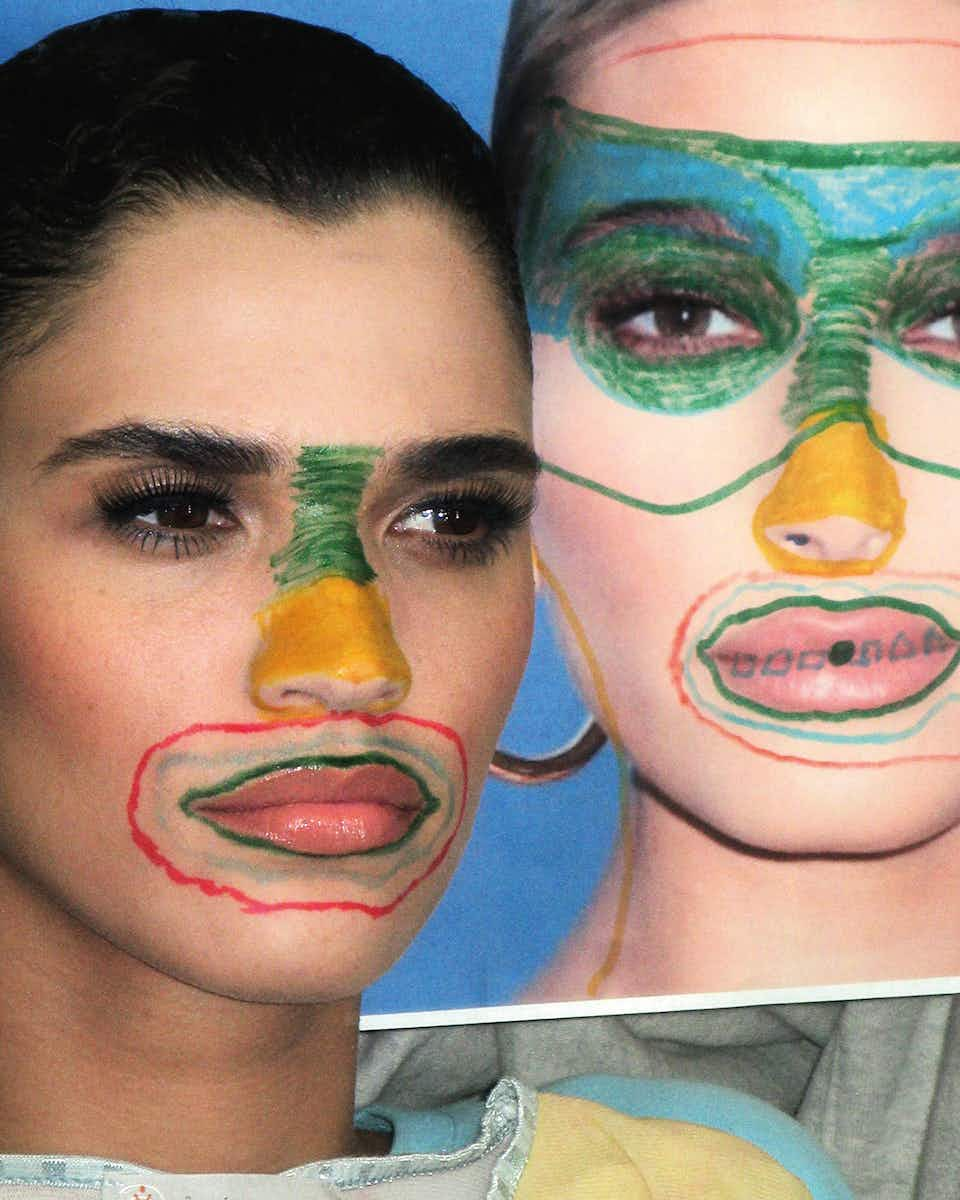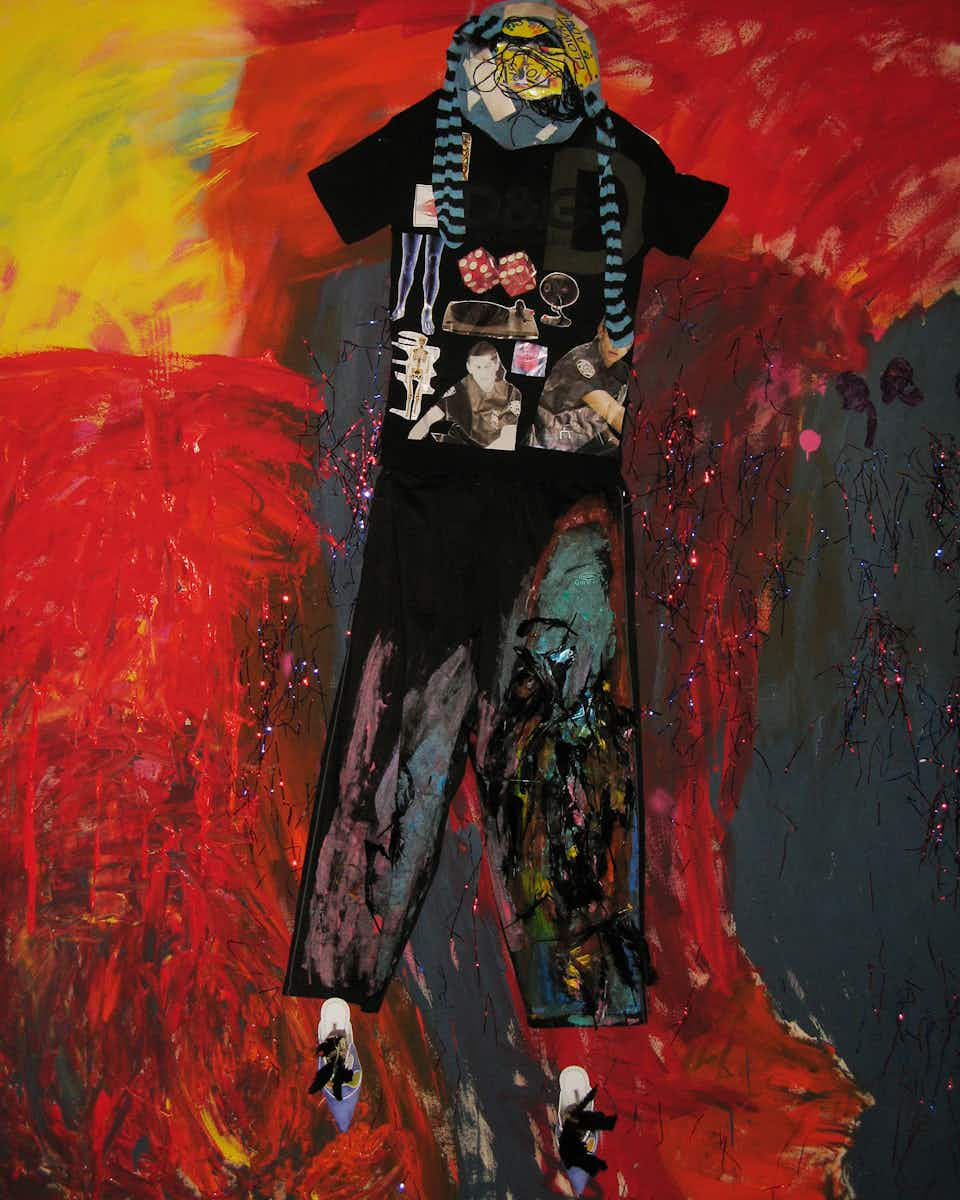 Josh Negus, who loves death metal and apes, sometimes finds it difficult to communicate with other people. But when he came to The Gate, things felt different. ​"The atmosphere, the art centre, the instruments, studio, the community, there's so much to do here." Negus lists what he loves about the place, ​"I've been to other centres and youth clubs but this is the most interesting yet".
"It's a proper little community here," says Arlo Yates, manager of The Gate for the past five years. Yates' job is mainly to do ​"admin and the like" and organise the group's various trips across London and further afield to perform. He started off at Yarrow 14 years ago as a carer, but gravitated towards the art- and music-focused side of things at The Gate. Under his watch, the centre has expanded its public profile and collaborated with heavyweight arts institutions in London like the V&A, ICA and Tate Modern.
Right now, like many, Yates is adapting to the Covid-19 pandemic with The Gate closed and its artists locked down without access to their usual creative outlets and social networks. Yates and his team are taking measures to ease the effects of isolation and to promote the wellbeing of their artists by providing them with art materials and other necessities that enable them to document their time in lockdown via a donation-based lockdown fund.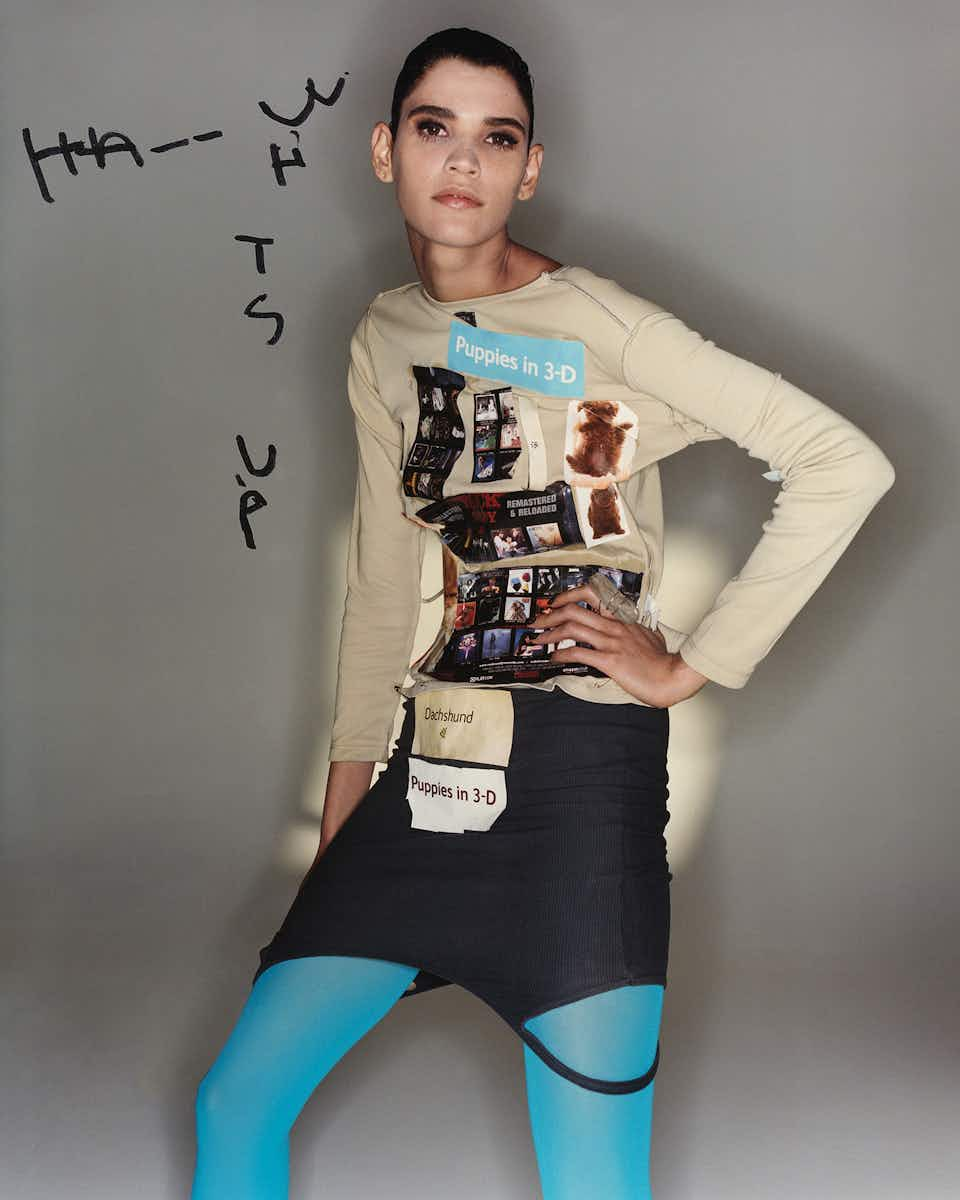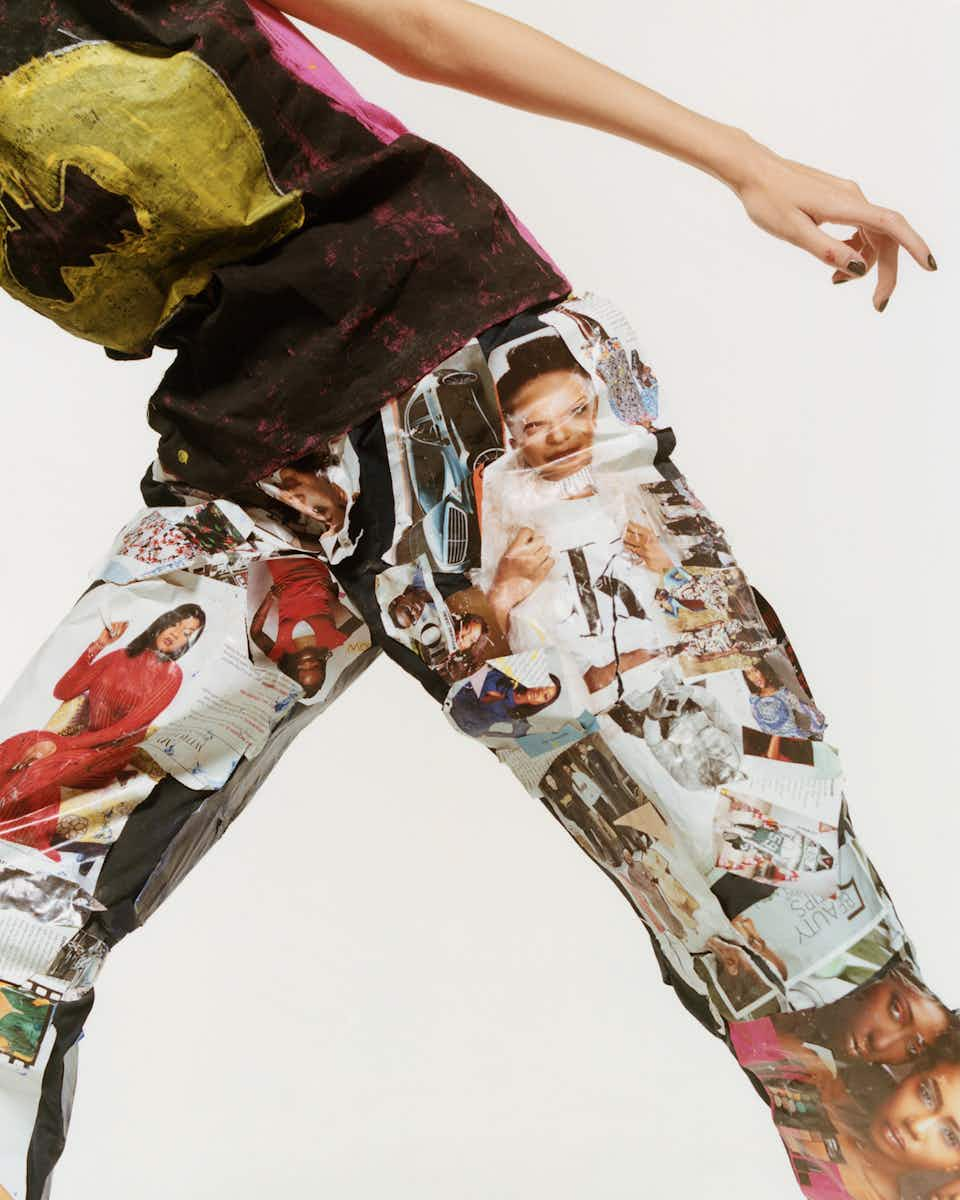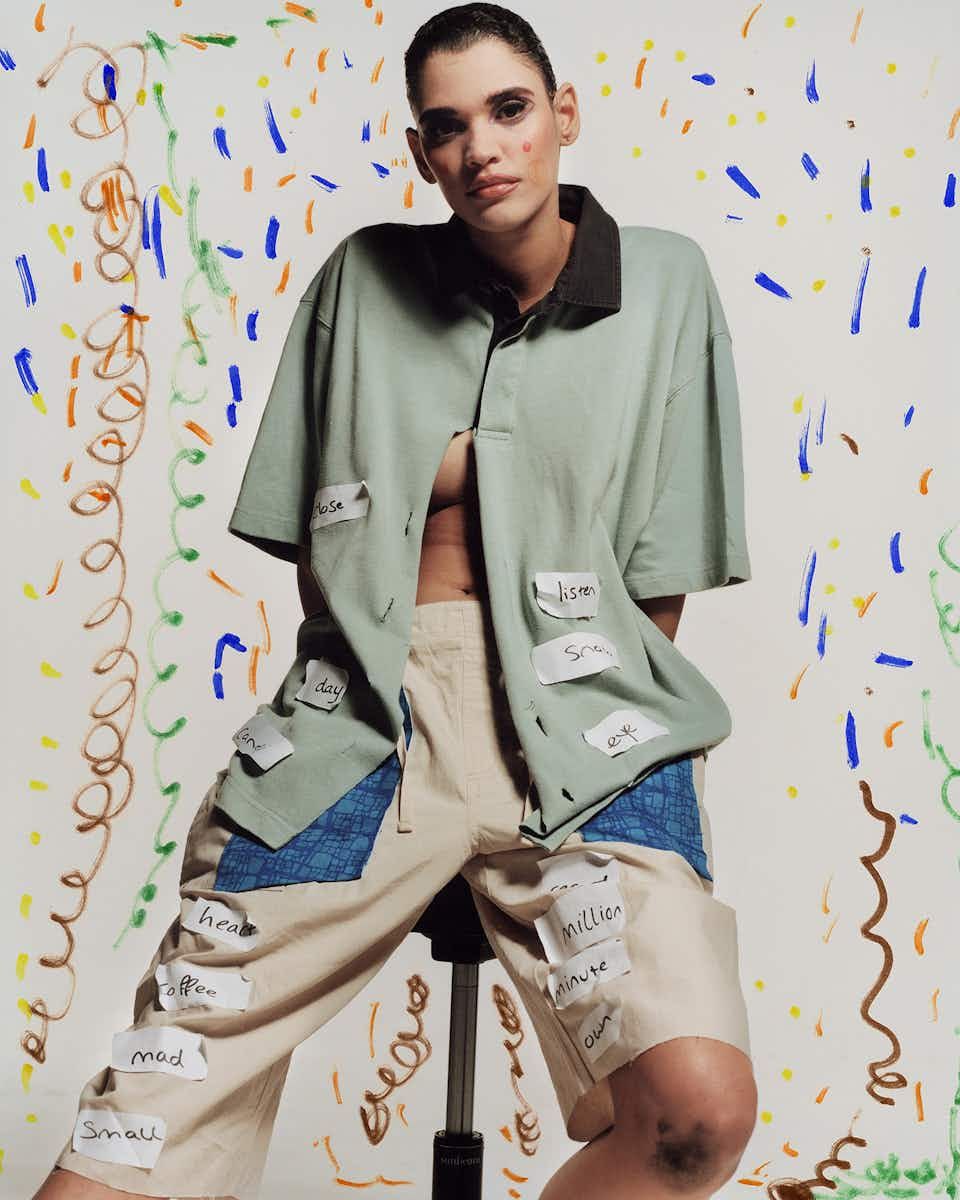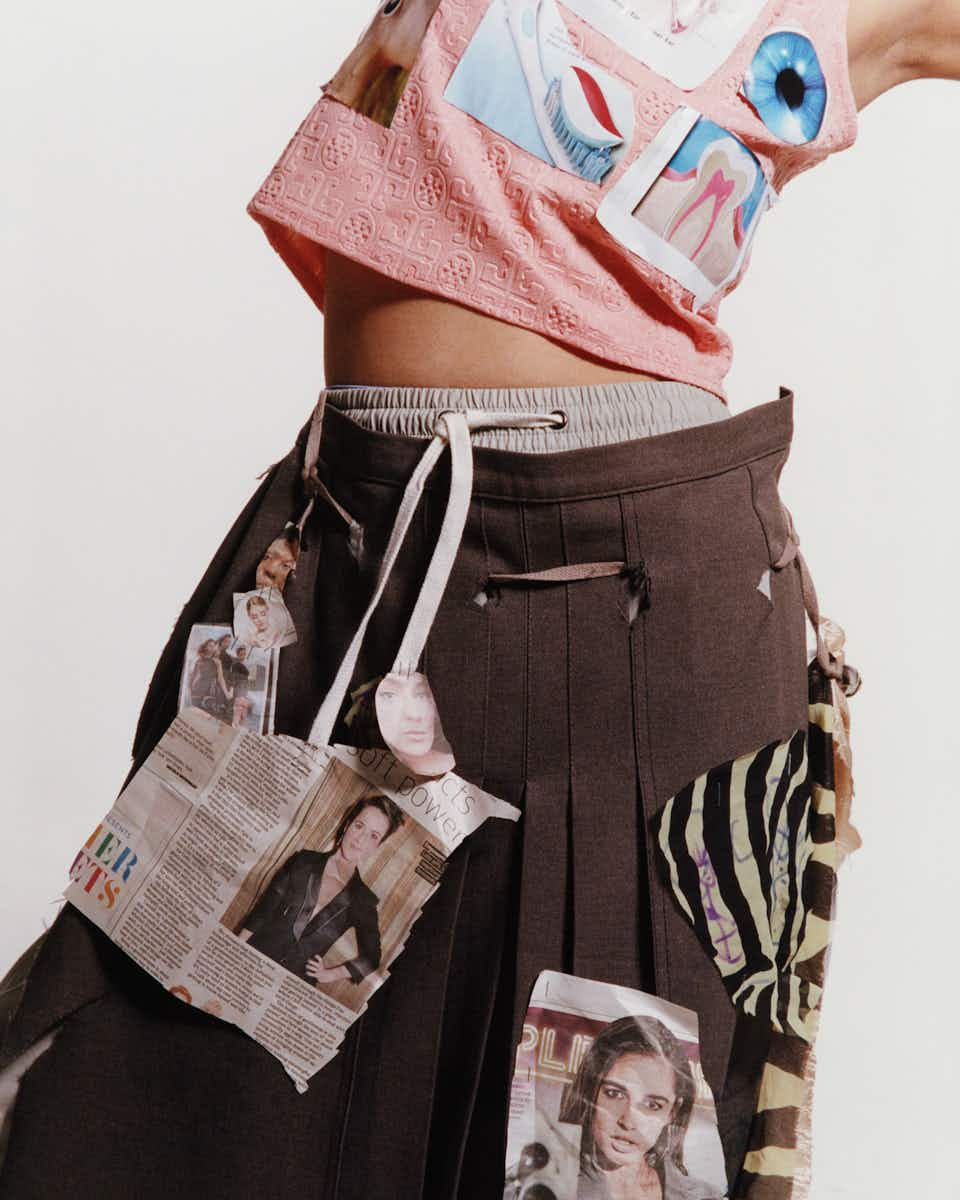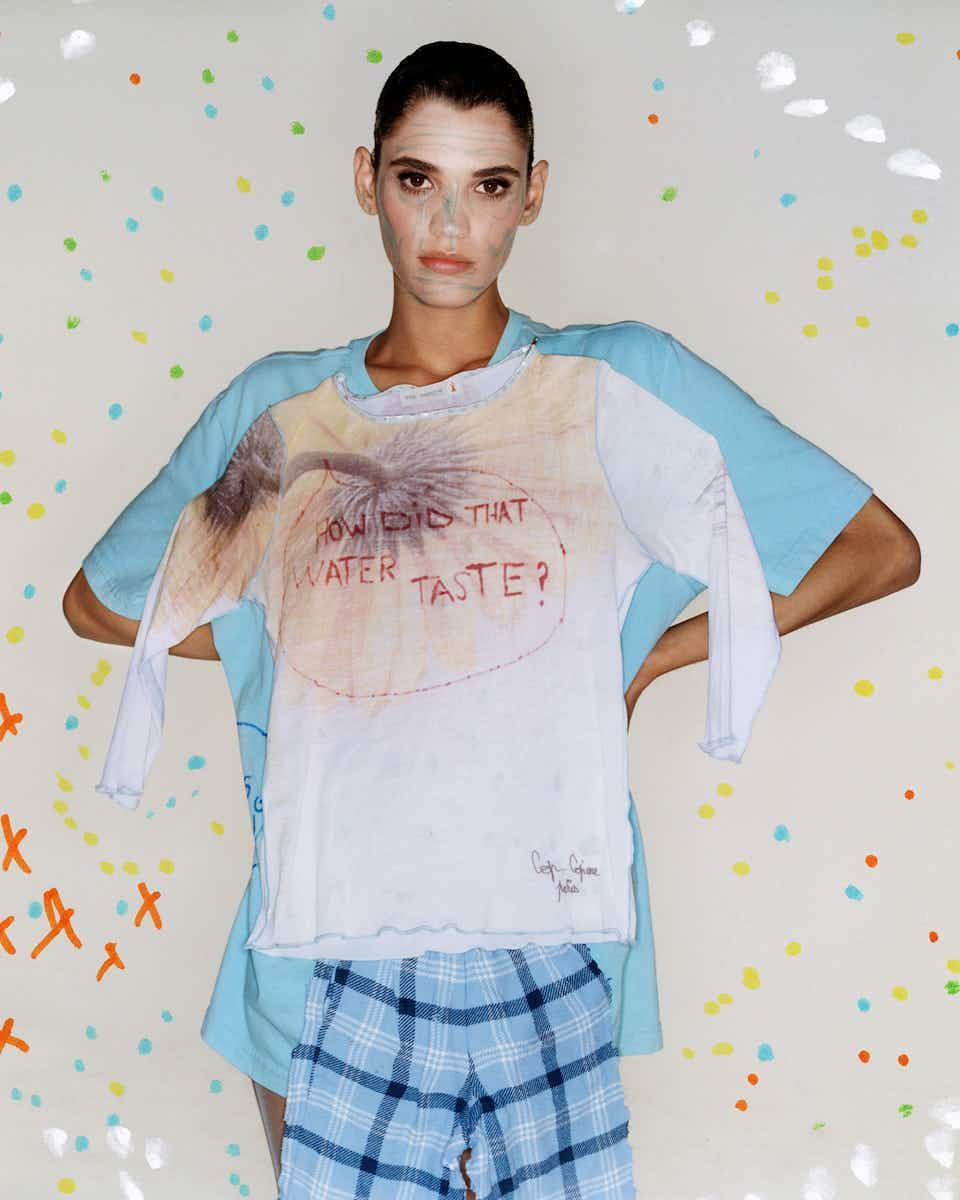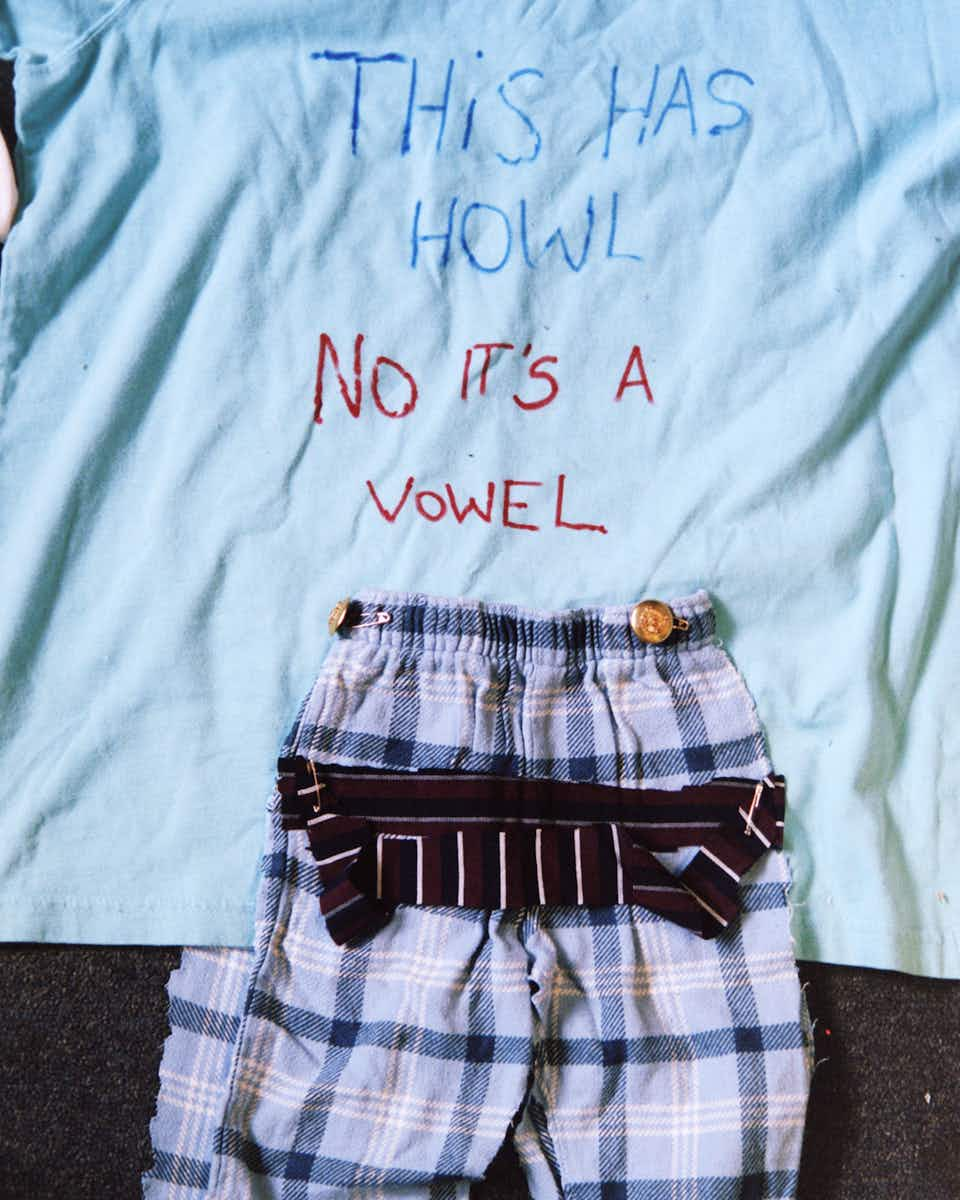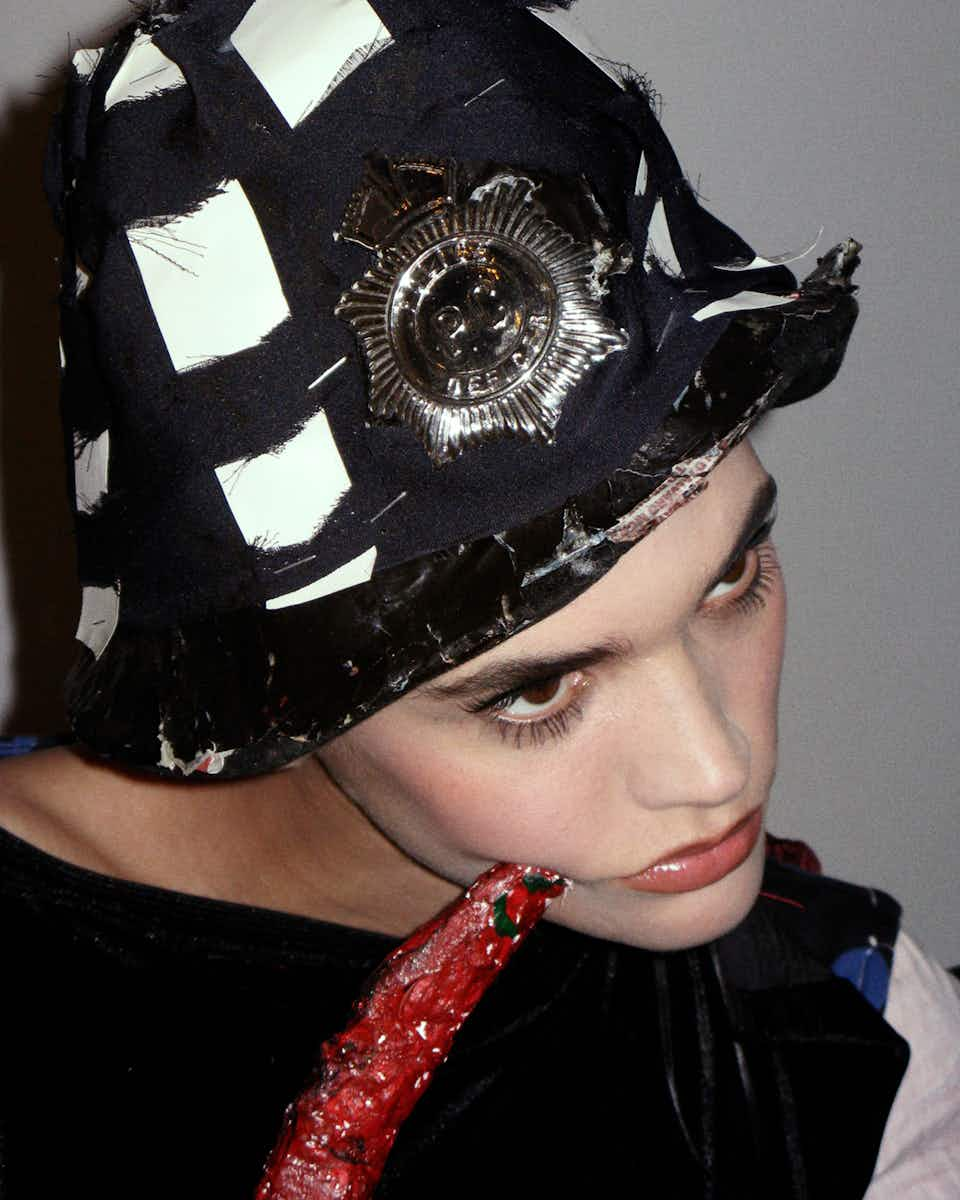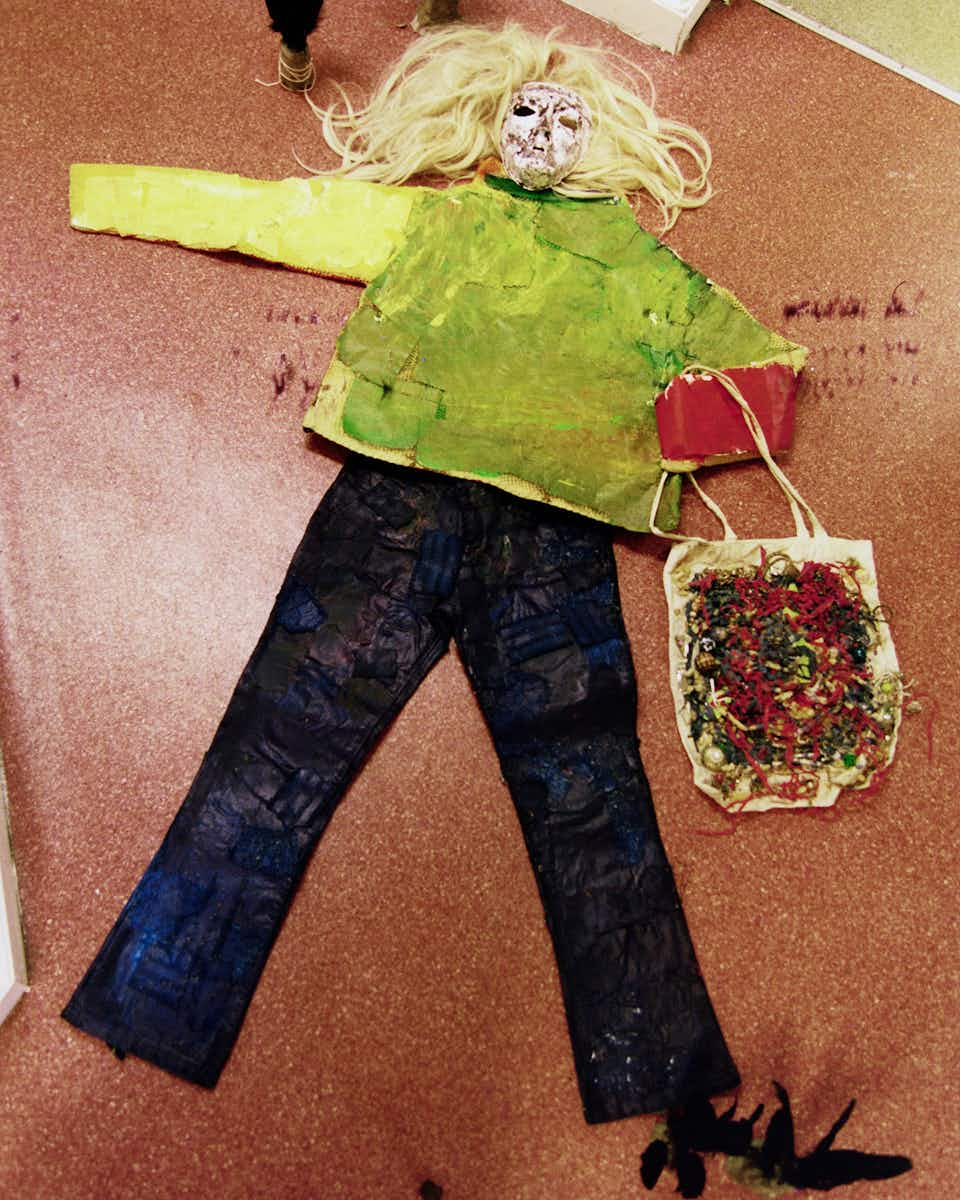 I first encountered the collective in March 2017 when they put on their first fashion show at Stanley Picker Gallery. Each look was handmade and modelled by the designers and a handful of young artists, each taking turns to walk a makeshift runway lined with onlookers. The Gate's fashion has a certain uncomplicated sincerity to it which has subsequently made them something of a cult brand. Plastic figurines are pasted on to t‑shirts, pieces are ripped up and put laboriously back together with PVA glue, safety pins or intricate stitching. Garments given The Gate treatment are stripped to their component parts and reimagined as new wearable items; t‑shirts are treated as blank canvas to cut, paste and draw and alterations feel instinctual rather than formally aesthetic.
Charles Verni, a musician and bank worker at The Gate, rehearses with and organises the musicians when preparing for gigs. ​"Working at The Gate has definitely influenced my own work" he tells me. From working collaboratively to approaching music-making without being overly precious about making mistakes, Verni is just as affected by the musicians he works with as they are by him.
"The way that it is in here, people can build relationships with the people that use the service" Yates explains, ​"and that shows in the stuff that comes out of it". Ex-facilitator Matthew Hawkins spotted a need to make music more accessible for the musicians, so he created a range of stringed instruments and ​"Noise Makers" – metallic objects like baking trays, bolts and chains with contact microphones attached. Continuing his legacy, The Gate have most recently made their ​"Custard Phone", crafted from a saxophone mouthpiece, vacuum tube and plastic vase.
Creating these instruments has allowed three fully-fledged bands to form at The Gate: Jamaica!!, an experimental improv group who describe their sound as a mix between American composer Harry Partch and the Art Ensemble of Chicago; The Gate Custard, a somewhat more traditional band who write and perform their own songs; and Two Decks which acts as the backing group for Gate musician Darren ​"Two Decks" Peregrino-Brimah's music. Jamaica!! have performed at the ICA, The Iklektic Horse Festival and Cafe Oto and when I visit, they're preparing for two gigs, one in Bristol and the other at Counterflows, the critically acclaimed festival of international, underground and experimental music in Glasgow.

"We just make it up and it sounds really good" Leon Moody (stage name LM Dubz) describes playing in Jamaica!!. ​"It's like when you walk into a busy shopping centre and there's all these record shops and they're all playing something different".
But The Gate aren't just a music and art collective, they're politically involved too. Through their advocacy group Sound Off!! they go to demos and invite politicians to come in to be ​"grilled". The last time I'd visited back in 2017 they were just about to host Marsha de Cordova, the Shadow Minister for Disabled People. ​"Yeah it was good" Yates laughs, ​"these guys do have quite a lot to say".
"Some of the people that we work with here have been affected by cuts," Yates explains, ​"and as a result of that, in order for them to be able to come we really do rely heavily on donations". At the moment, the centre runs predominantly through outside financial contributions and, given the political climate, it's becoming harder for some of the artists at The Gate to afford to come here. ​"There is a crisis in social care in general and that does impact on the people here " he continues. There's no guarantee that they'll be able to function how they do right now in years to come.
On their blog, The Gate state that they think there should ​"be a Gate on every street corner, for everyone". It's not a huge ask but the future isn't looking too bright for social care, particularly in light of the global pandemic. If you can't contribute financially, there's numerous ways to support The Gate, by sharing their social media posts, going to their shows when London is back up and running and buying their art. For now at least, The Gate is here to stay.

Shoes worn throughout Manolo Blahnik. Model Kerolyn Soares at IMG. Hair Cyndia Harvey, Makeup Anne Sophie Costa at Streeters using Les Ornaments de CHANEL and CHANEL Sublimage Cleansers, Manicure Saffron Goddard at Saint Luke using CHANEL Le Vernis Deepness and CHANEL La Crème Main, Set design Arthur De Borman, Photography assistance Alessandro Tranchini and Tomo Inenaga, Styling assistance Borys Korban and Hollie Williamson, Set assistance Max Randall, Producer Rosanna Gouldman, Production manager Katherine Bampton. With thanks to Roots and Shoots, Arlo, Morag, Lena, Seb and all members of The Gate.

More like this