Bone Soda is the think tank capturing talents on the ascent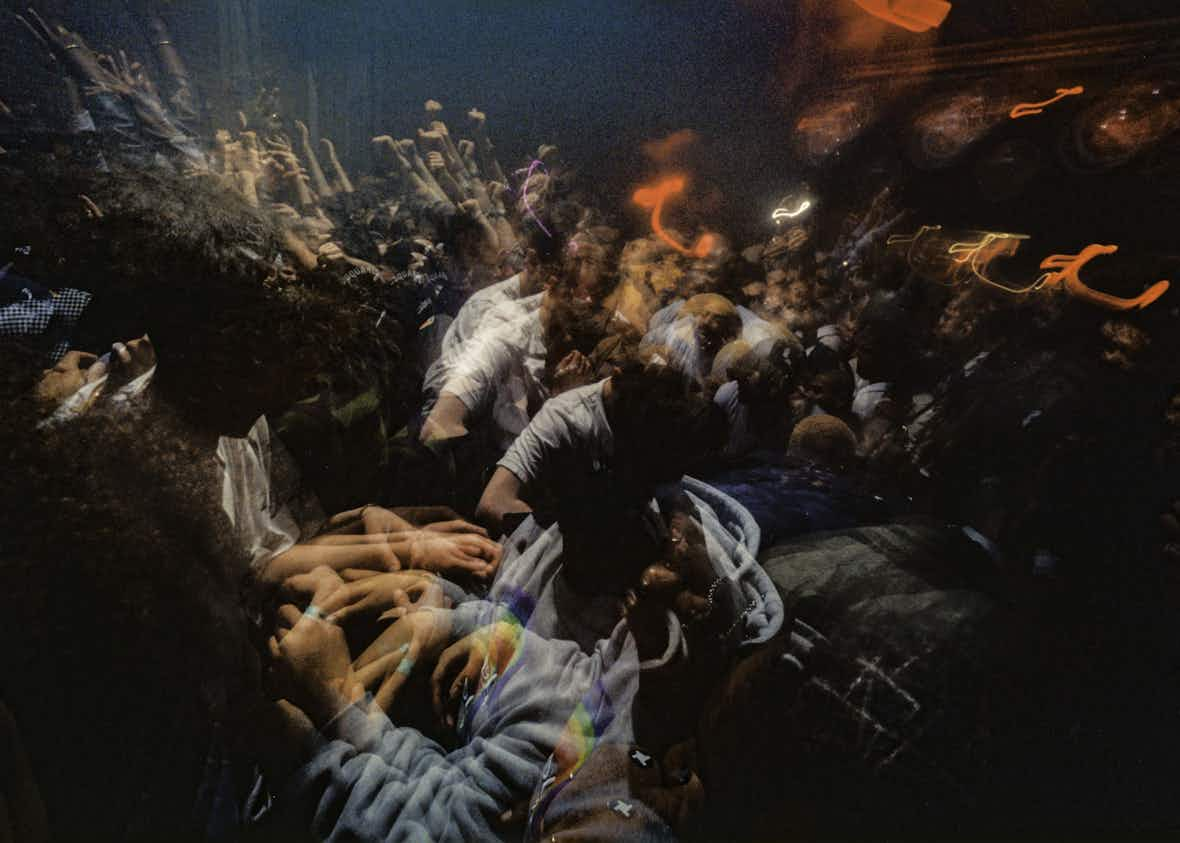 In celebration of our New Energies series with DICE, we caught up with Bone Soda at their Fabric, London night to capture the energy of the club and their community.

DICE believes that going out makes us feel good. THE FACE agrees – so we've joined forces with the discovery and ticketing platform for a series titled ​"New Energies", where we'll unearth the work of collectives who are creating a more diverse, progressive and equitable nightlife space. Dive into part three…

Bone Soda is many things: a record label, a creative studio, a group of friends throwing some of the most on-it parties in London. With so many strings to their bow, you might be tempted to describe them with the ​"c" word but they'll put a stop to that: ​"Stop calling us a ​'collective' – it sounds naff!"
Today, they're calling themselves a ​"think tank". Formed in SW9 six years ago, the Bone Soda team – initially the ​"three amigos" of Skinny Macho, Truce Susan, and Sofie, and today including and today including Crash Tracy, Jyrrel, Debbie, Ivy, Xing Xing and Sean Kim – formed with a fairly simple goal. ​"Doing things we like, in spaces we're not meant to exist in," they say. ​"Entertaining and educating simultaneously, powered by music lovers."
Since then, Bone Soda has thrown parties that just so happen to capture the best talent on the ascent, whether they're bringing over Nigerian rapper Rema for a London show, hosting an afterparty with Face cover star PinkPantheress, throwing all-nighters in Johannesburg, or putting on exhibition events with skatewear designer Slawn. For all their globetrotting, their home is London, where they've built a loyal following of impeccably dressed fans and partygoers. And with their ear to the ground it wasn't long before they started a record label, putting out early releases by slowthai, Sofie, and Bekah CC.
When Bone Soda first formed, the team were bored with London's club scene. ​"It was sterile," they say. ​"We just wanted to hear something different. Not reinvent the wheel, [we] just needed our own music therapy. Listen to a mixture of tracks in whatever format, done with grace. No frills, no pressure, for anyone who wants to come. Put together whenever we feel like it, accompanied with a good sound system. That in itself set the scene for the folk we had play. Not everyone who plays is a ​'DJ' but we trust their taste, music lovers. No pass. And it has remained like that." They cite Sounds of Blackness's Optimistic and Babyfather's Meditation as tunes that encapsulate their spirit, but you can hear the group's own tastes on their monthly NTS Radio show (their current faves, they say, includes everything from Chilean reggaeton artist Tomasa Del Real to ​"anything amapiano").
The team recently hosted a three-room party at London's iconic Fabric nightclub, with DJ sets from the Bone Soda family, a live headline performance from Lancey Foux, and guest sets from Baba Stiltz and MoMA Ready. The Face and DICE went along for the ride, and followed two partygoers on their night out, from their pre-drink rituals to the taxi home, to capture the energy of the club and the community surrounding Bone Soda.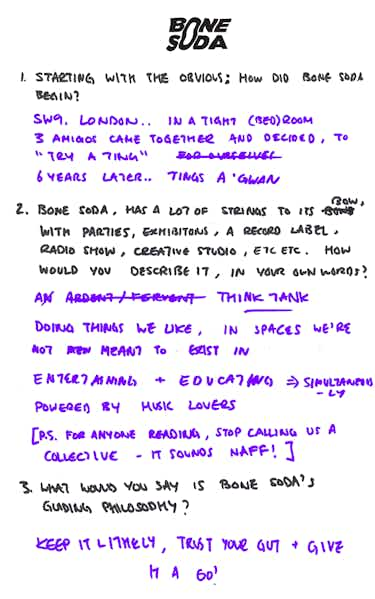 I'm seeing family in Italy [right now]. I'm a bit sleepy. I was gonna go directly [to the airport] from the club, but I didn't pack in time because I was drinking too much at pre's. So I got back from the club, threw the weirdest assortment of clothes in my bag, then went to Milan – much to my horror this morning, when I looked in my bag like ​'What have I packed?' None of it makes any sense. I don't have any pants or socks. It's awful. But the sign of a good night out, I guess.
For my pre-going out ritual I like to have a shower, because you don't know how long the night is gonna last, then slowly start doing my make-up – I hate being rushed doing make-up. Then I get dressed into about five different outfits, hate them all, go back to the first one, decide it was the best, and then I've wasted another hour of my life. Then I'll call around, see where everyone is, then go meet them.
I had a film premiere to go to before, [but afterwards at the club] I wore a Missoni knitted halter neck backless top with, then a brown knitted Nicole Farhi skirt – which is an odd choice, to wear that much knit to a club, but that's what we were doing – and then black Camper boxing boots, and jewellery.
I went with my best friend, my boyfriend, two other best friends, and then a lot of my boyfriends' friends were there too. One of my friends was also in a knit dress, another was in leather – normal London party-going outfits. We all had pre-drinks at mine around 11, then got an Uber down (I forgot to order an UberXL). The queue was hectic. It was so bloody long. I chatted to some boys behind me. Can I remember what they even looked like? No. I just remember the concept of chatting to them; some words were exchanged.
Fabric was a maze with no signal. It was steamy and dark. I've been to Bone Soda nights before and there's usually a good energy – people aren't embarrassed to move and dance. I was excited to see Crash Tracy, he's a great DJ. I spent most of my time in Room 1, which was loud but not obnoxiously so; I could feel the bass. There was a point in the night where it went a bit more old school.
I made one good joke and someone laughed. [I can't remember the joke,] all I remember is the validation of someone finding something I said funny, that's the sad life I'm living in. I saw a different group of friends who I didn't even know were gonna be there by the bar. Though I think they were put off by the camera crew. Like, ​'Hi, we can chat right now, but if you don't want to be in the photos then please leave right now.' I drank loads of tequila and was flicking my hair while dancing. The problem is my hair is really long, so I was jumping and dancing, jumping and dancing – but the repetitive motion of throwing your head, if you drink a lot of tequila and shake yourself up, you eventually feel more drunk than you actually are. So I was so slow after that, I wobbled about. I left at 3am. I think I fell asleep in the Uber. Then I packed all my stuff, got an Uber to Heathrow Terminal 2, then somehow stayed awake to catch my flight, and woke up in Milan.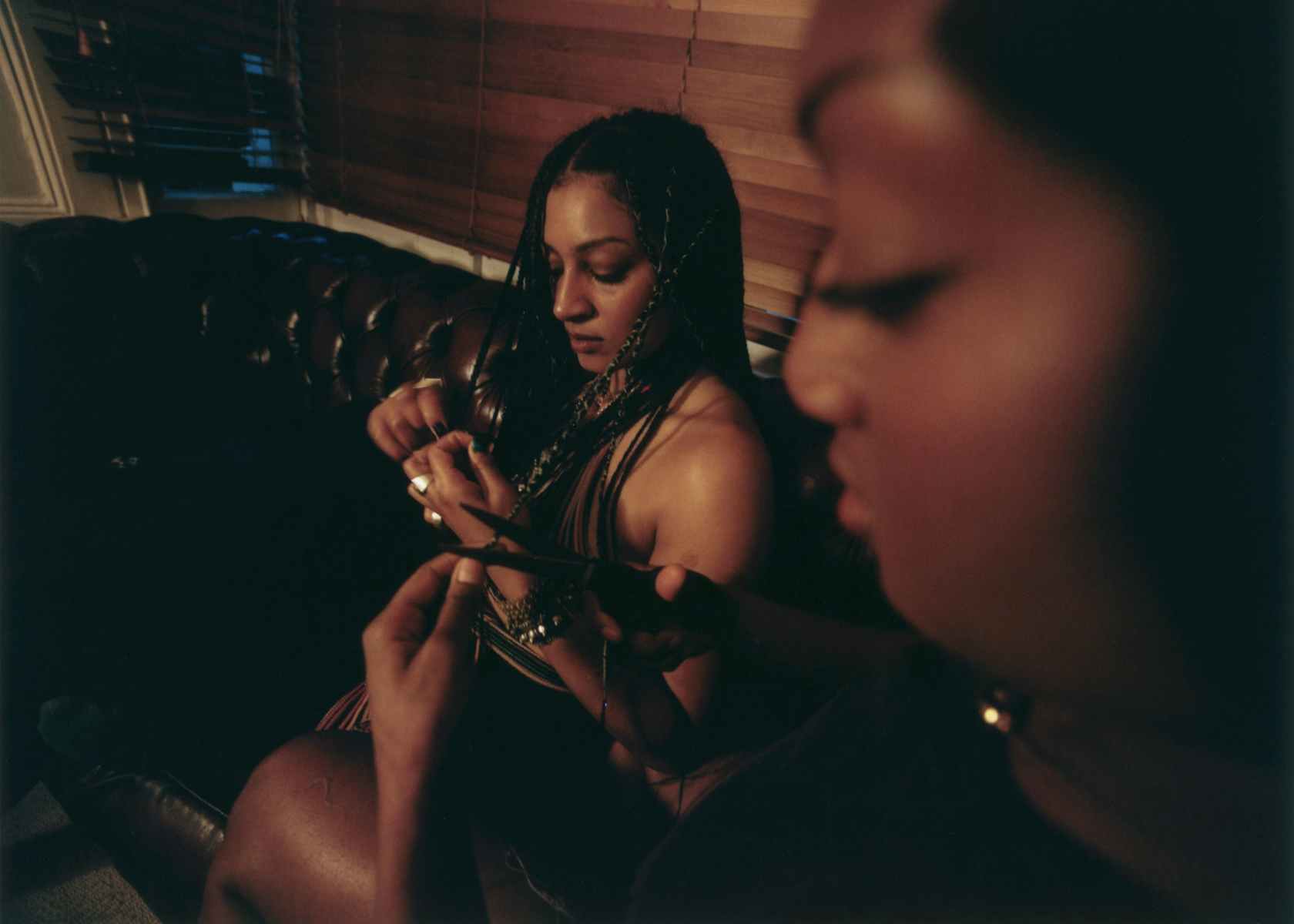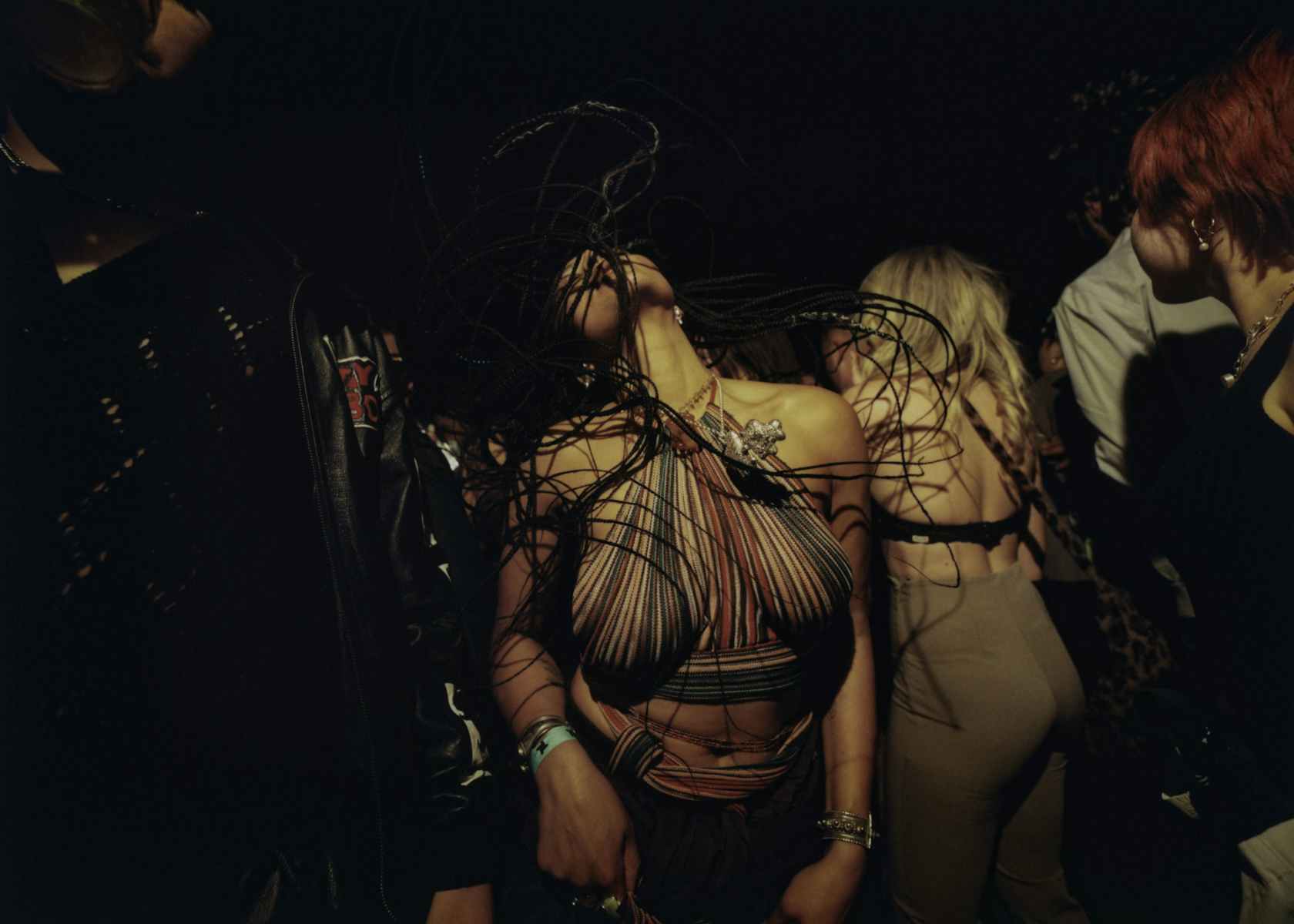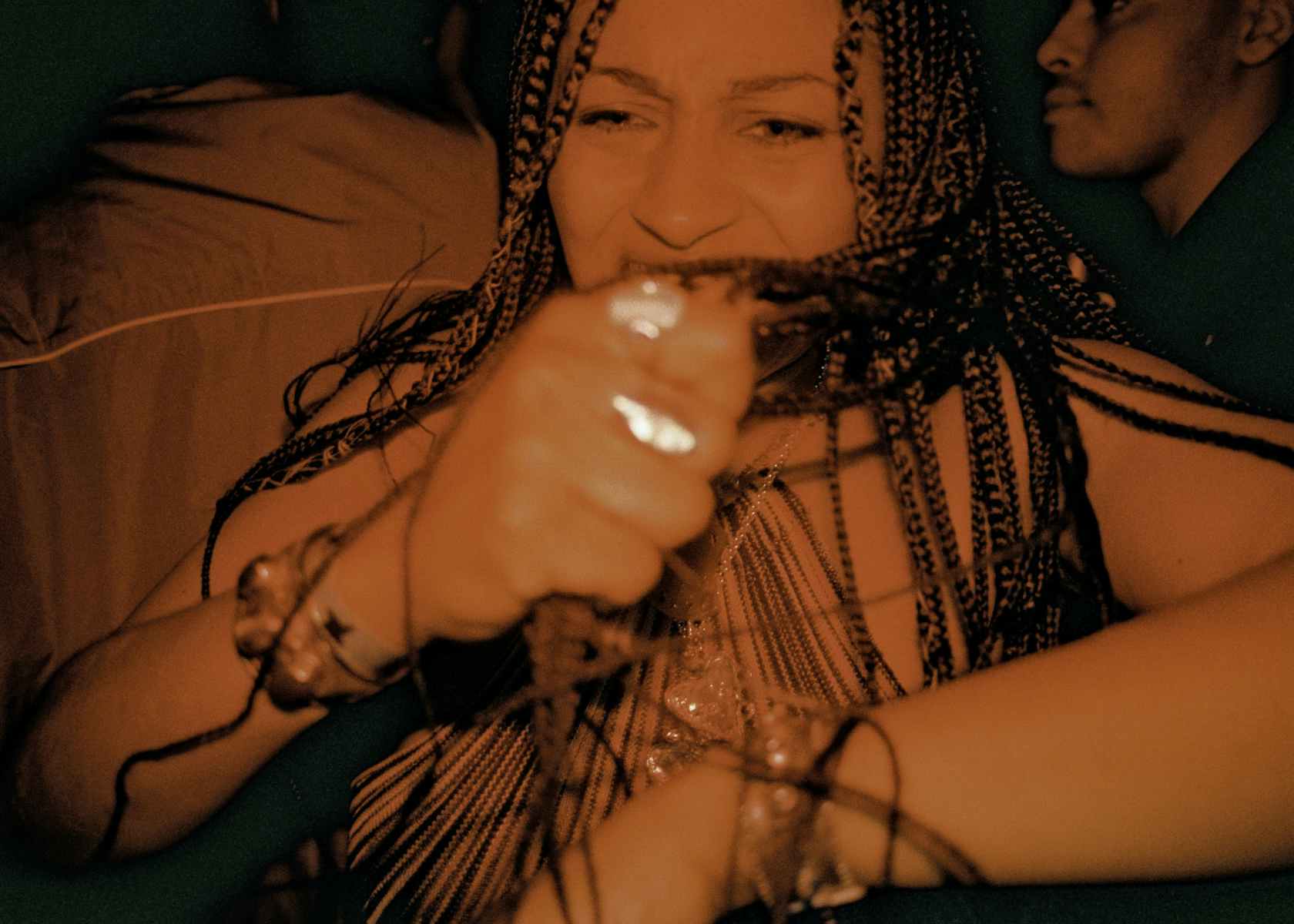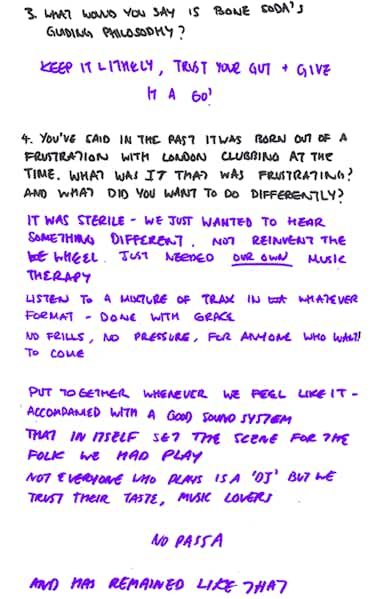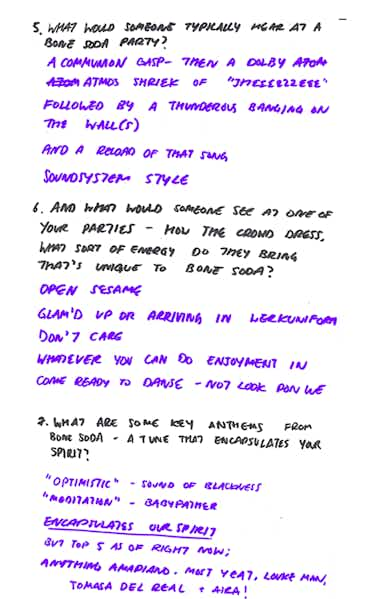 Usually before going out, I'll spend time choosing what I'm gonna wear, then meet up with my friends and head to the venue together – maybe get some drinks on the way. Last night was a bit different. I was DJing at O2 Islington before the event, so I was pretty in it. I was tired, but it was worth it to go out after.

I was wearing Stüssy Air Forces, some Always joggers – that's Always Do What You Should Do, an Australian brand – and a Stüssy Cactus Flea Market t‑shirt that came out a couple of years ago. Then some jewellery that I had at home.
There was four of us in the taxi. I was with Ayesha and Lakz, pretty much my best mates. We got there just after midnight. The queue was massive, it went down the street for ages. It took a while to get in, so we got in around 1am, maybe even 1.30. There was a lot of trendy people in the queue, everyone was checking each other out. There was one guy who came from Bordeaux in France. I was like, ​'Oh, shit.' I don't think he even knew Bone Soda, he was just there for a good time.
It was my first time going to Fabric. When I got in there was a low ceiling and orange lights. It was like out of a movie, it was really busy and there was loads of different levels and floors to go on. We went to the cloakroom firstly, then straight down to Room 1. Music was blaring out, the lights were flashing strobes, and the DJs were proper on it playing some good tracks. Everyone was dressed accordingly – there was obviously a lot of Stüssy, a lot of trainers, Nikes, joggers. Everyone was loving the music, there was no bad vibes chatting to random people there.
It was totally different to Bone Soda nights I'd been to before because it was on a bigger scale. They had three rooms, so you could literally walk around and hear whatever type of music you wanted to, and capacity-wise there was so many people there; it was packed. I went to one at Phonox which was a lot more intimate because everyone was facing the DJ at the same time, and one at this venue on Shaftesbury Avenue a few months ago where everyone was chilling.
We stayed in Room 1 the whole time. We did check out the other rooms, but the music was more to our taste there. Keyrah had a really good set, she played some bangers and the mixing was great too. Debbie [Debbiesthuglife] was sick. It felt like people was waiting for Lancey [Foux] to come on, and he was crazy when it came to the performance. The most memorable tune was Unknown T and Digga D ​"Went Jail" – I played that track at my night before too, so it was nice to hear it again, and the speakers at Fabric are 10 times better. When we first got there it was a hip hop/​rap/​bass thing, and towards the end of the night it was a progression of techno, some drum and bass, some beats.
I saw some people I've met at other Bone Soda nights, but there was also people just there to turn up. Fabric is a well-known venue, so people were just there to check it out. You need a mix of people who are actually fans of the promoter or artist and people who are just there for a good time.
We left at ten to five. It was my friend Ayesha's birthday, and her dad was like ​'I'll get you a cab home.' She dropped me off in an Uber, which was nice. I don't know how I'd have got home otherwise.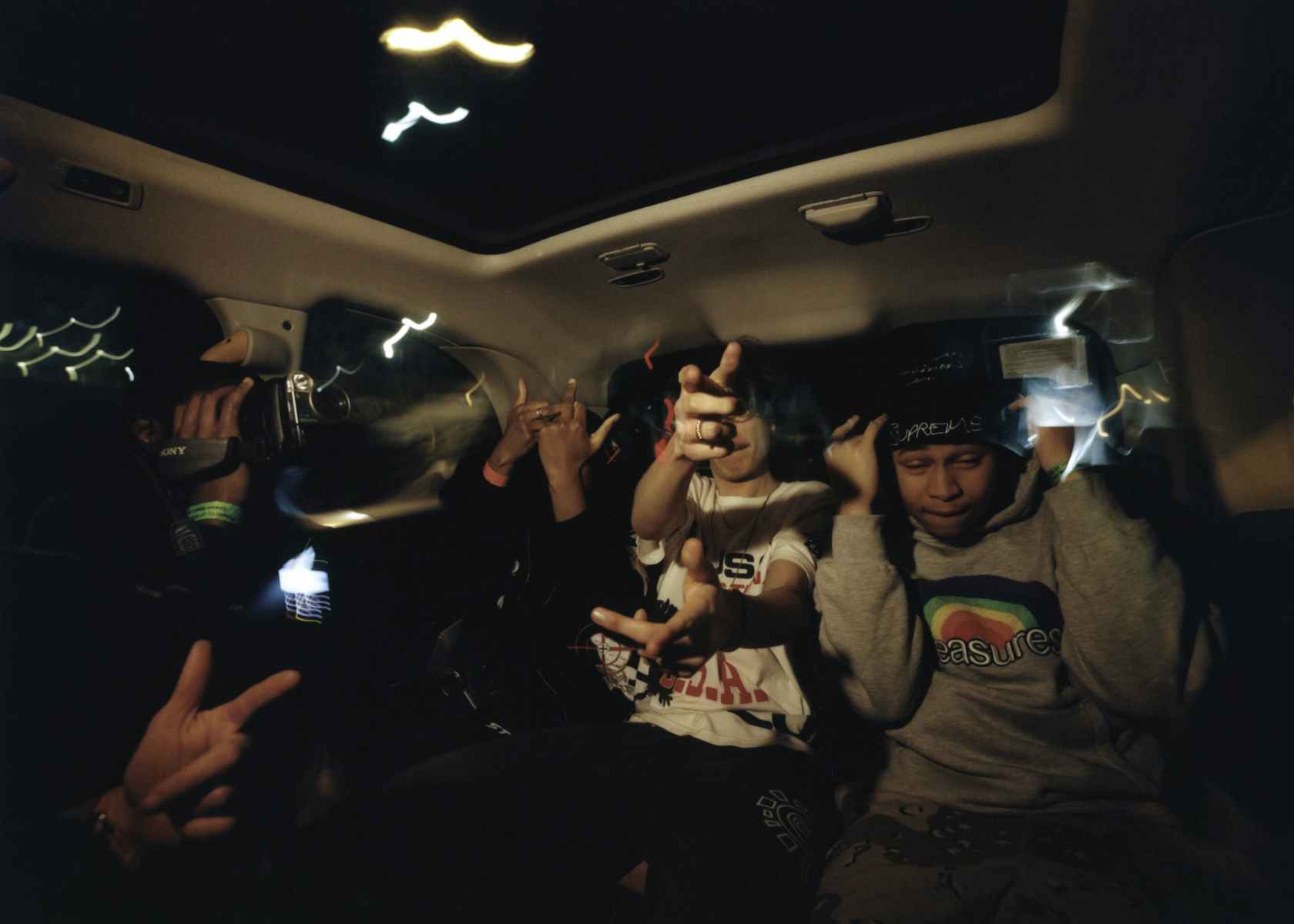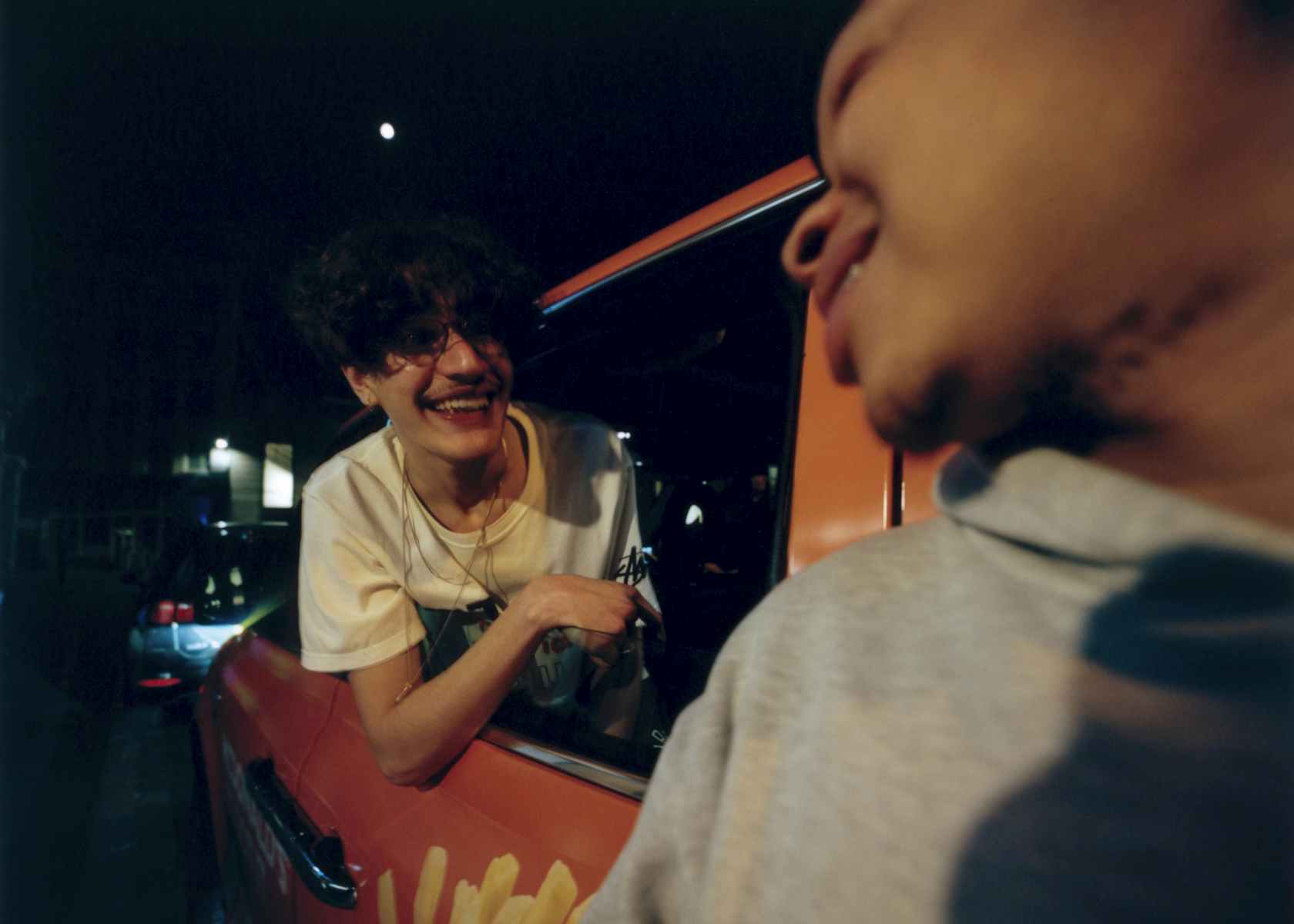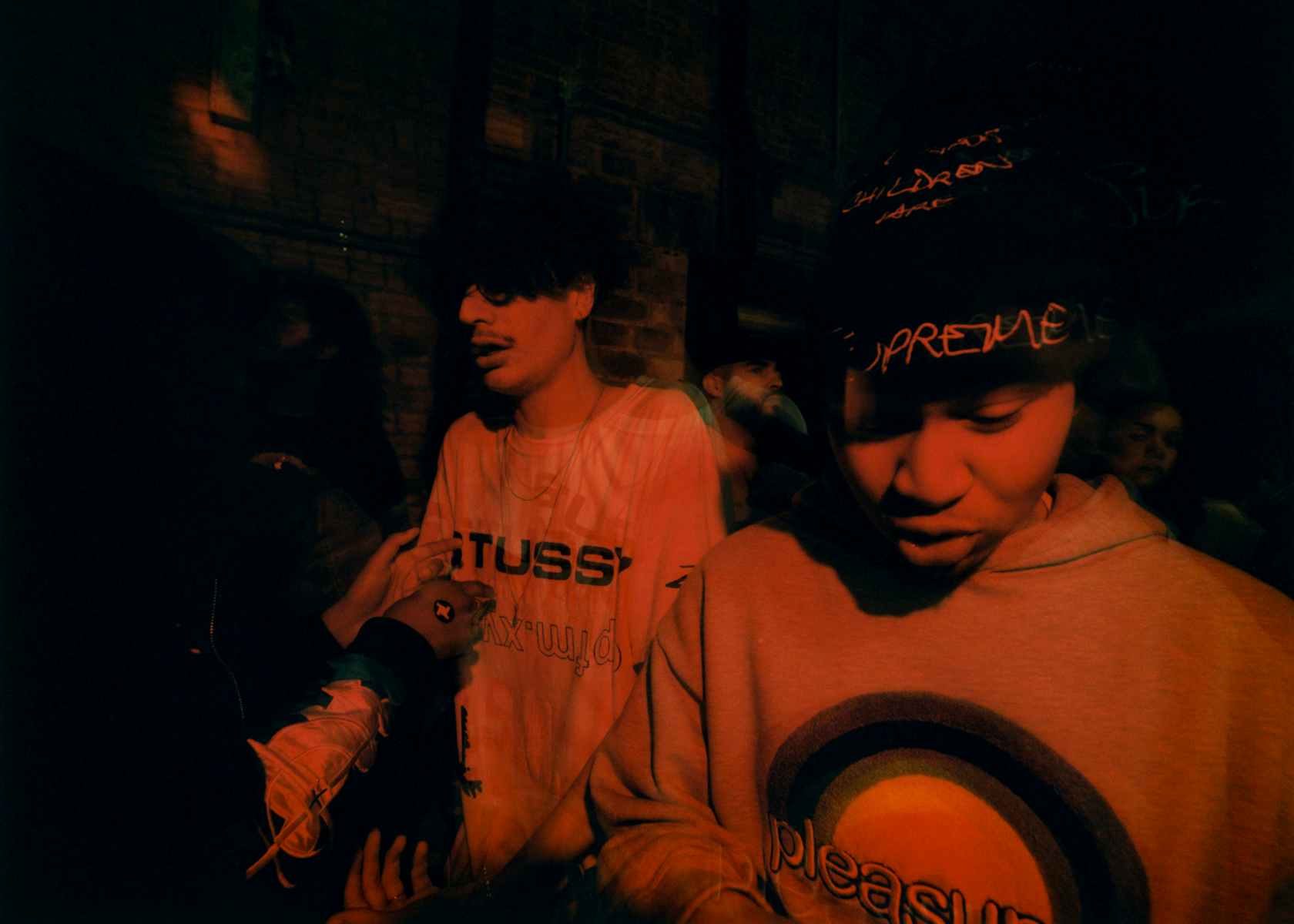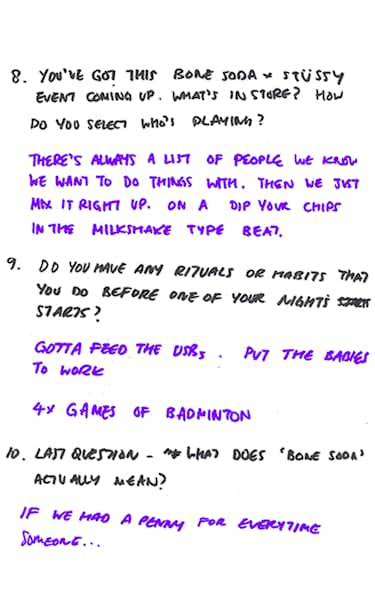 BONE SODA'S BOTTLE POPPERS
Talent: Lea Ogunlami, Kieran Rushton
Photographer: Sophie Jones

1st Assistant: Damian Flack

2nd Assistant: Alexandra Brannan
Associate Creative Director: Clara Goodger

Creative: Cassandra Joseph

Producer: Katherine Bampton

Project Manager: Victoria De Zanche