Welcome to the Slawn club

He was the hottest skatewear designer in Lagos. Now he's the hottest artist in London, with a following of thousands who will literally fight each other to own one of his paintings. But is Olaolu Slawn just taking the piss? (A little bit, but we're into it.)
Taken from the new print issue of THE FACE. Get your copy here.

It's nine o'clock on a Friday morning in London and 20-year-old Nigerian skateboarder, designer and self-proclaimed ​"scam artist" Olaolu Slawn is slipping his arms into a T‑shirt.
In a flat overlooking the Regent's Canal in Camden, where he lives with his girlfriend, Tallula, his belongings are mostly in boxes (he's about to move), save for the occasional fluorescent canvas propped up against the furniture. A larger-than-life cutout of Taylor Swift​'s top half adorns the far wall. ​"That's my love," Slawn says, deadpan. ​"I want to pick her mind. There's something off about her – but that's why I love her. She's bookie like Beyoncé."
Unpacking one of those carrier bags printed with smiley faces – the kind you get from a Proper Corner Shop™ – he pulls out a can of Febreze, a carton of Minor Figures oat milk and a loaf of Kingsmill sliced white bread. He's lighting the gas hob and trying to find cinnamon to make a sugary, spicy paste that he assures me tastes great on bread that's been fried with butter and sliced into triangles.
He's out of luck, but quickly switches his attention to the Nerf gun resting on the sofa, firing a foam dart at Taylor before offering me a go.
Before becoming the buzziest new artist in town – his debut exhibition at Brick Lane's Truman Brewery this September saw the likes of designer Mowalola, model Iris Law and, oh yes, THE FACE in attendance – Slawn spent his mid-to-late teens immersed in Lagos' nascent skate scene.

He worked as a shop assistant at Wafflesncream, Nigeria's first skate shop, and cites the company's founder, Jomi Marcus-Bello, as the person who most widened his cultural horizons.

​"I went to a Wafflesncream pop-up and I thought it was sick," he says. ​"Jomi hit me up to chill. We went to this fucking weird rave thing – I didn't know raves happened in Nigeria. They were doing this night called Vibes and there were bare adults drunk in this dark-assed place. I was like: ​'What the fuck is going on?'" Although the scene was small, it was growing rapidly, powered by the DIY energy permeating its way through Lagos' wider creative community.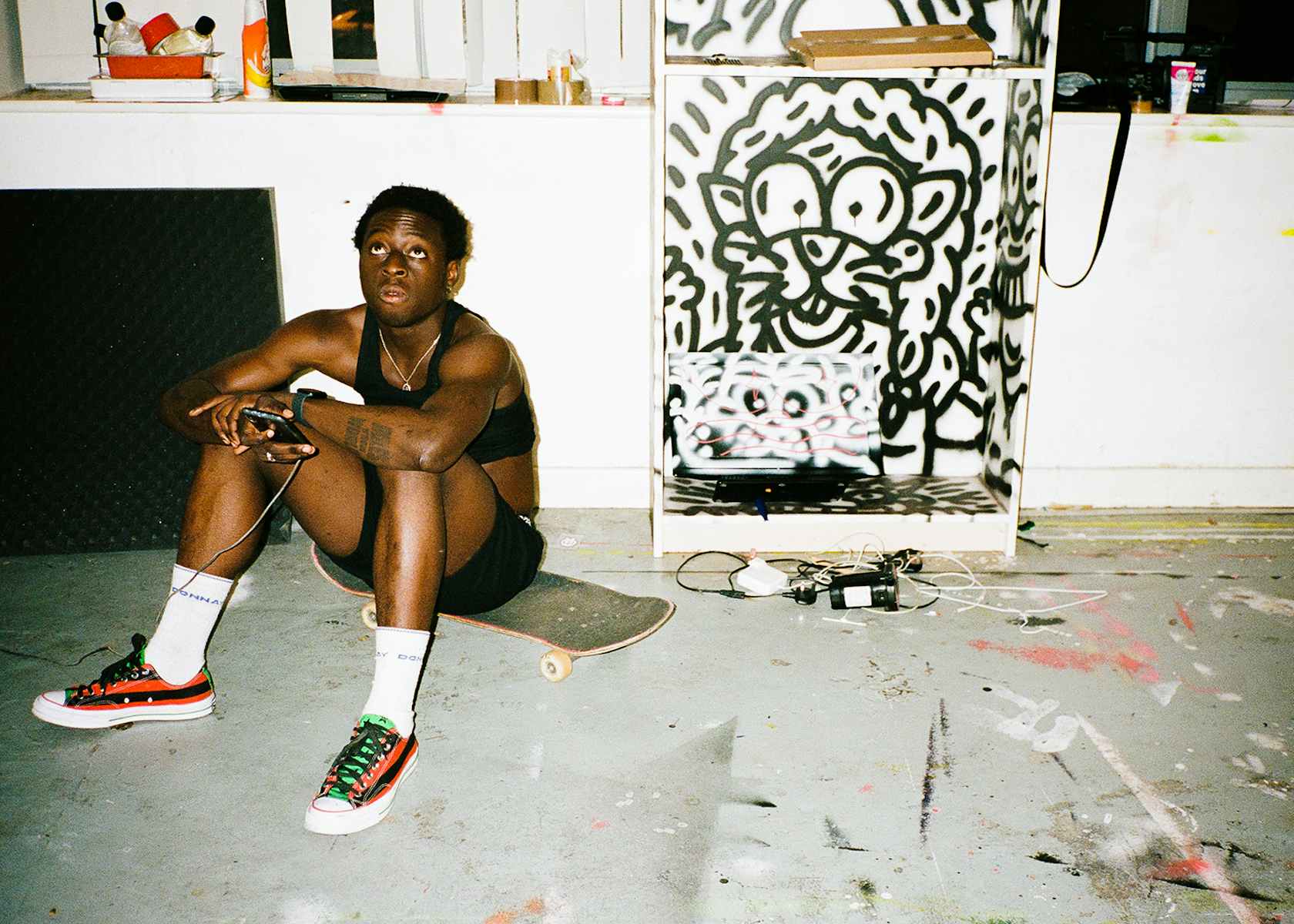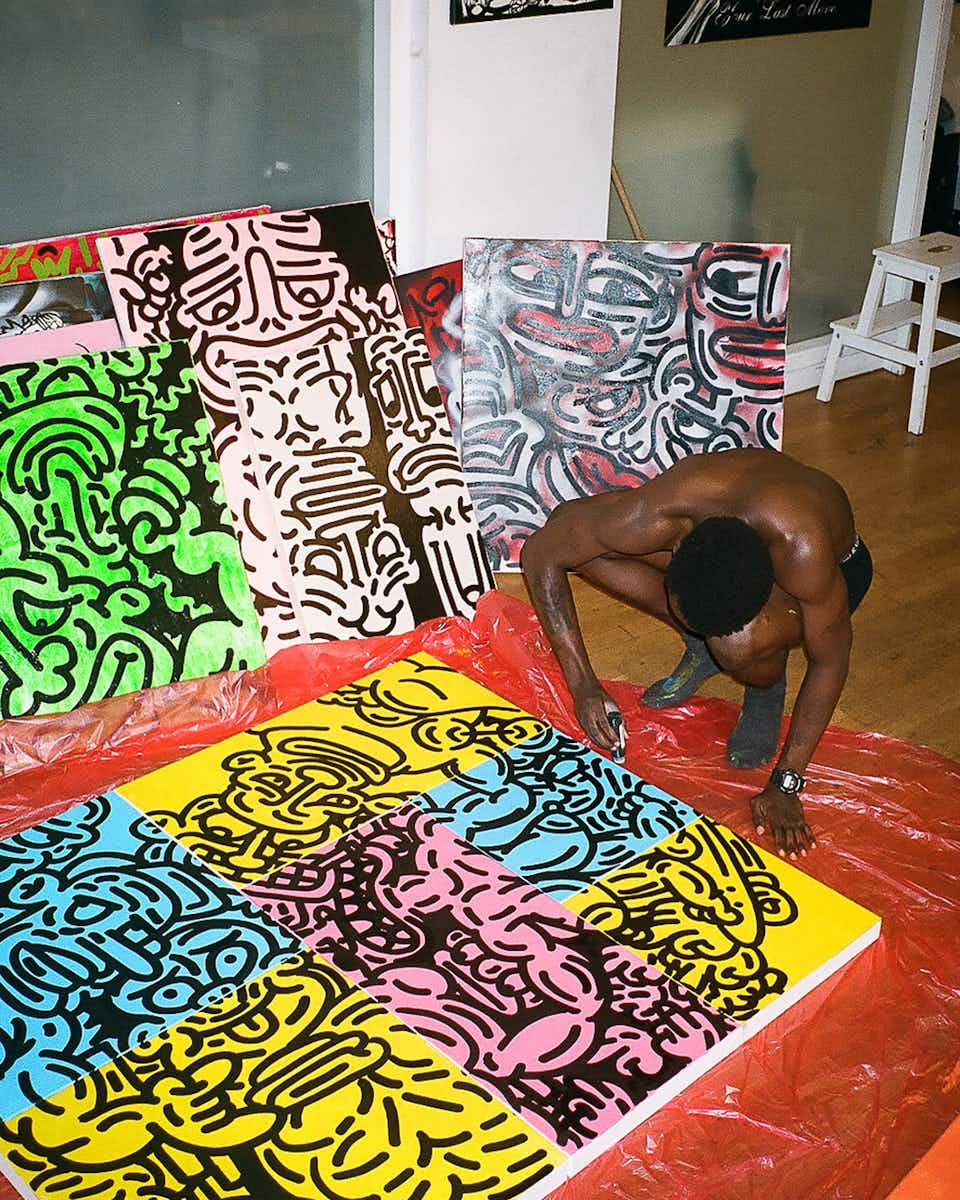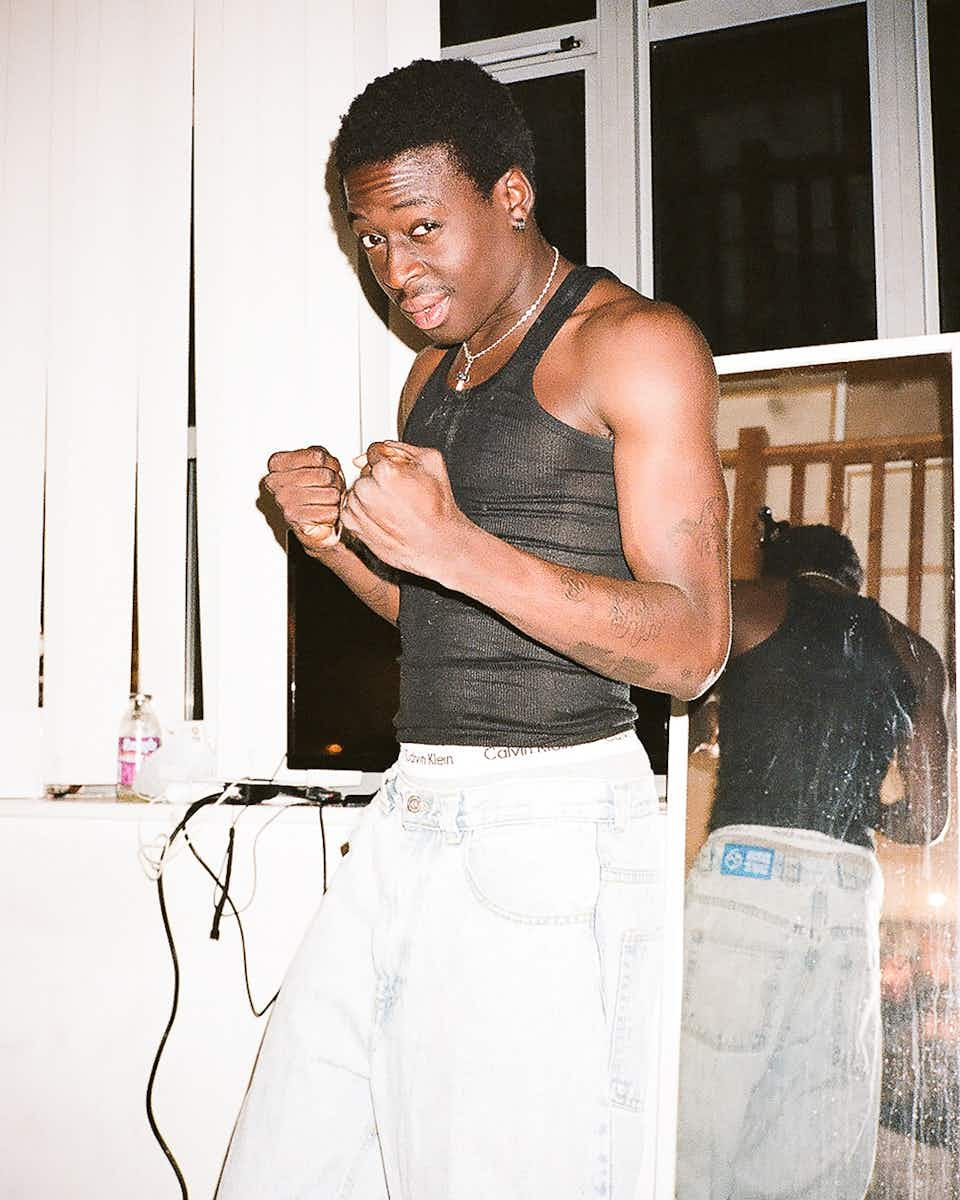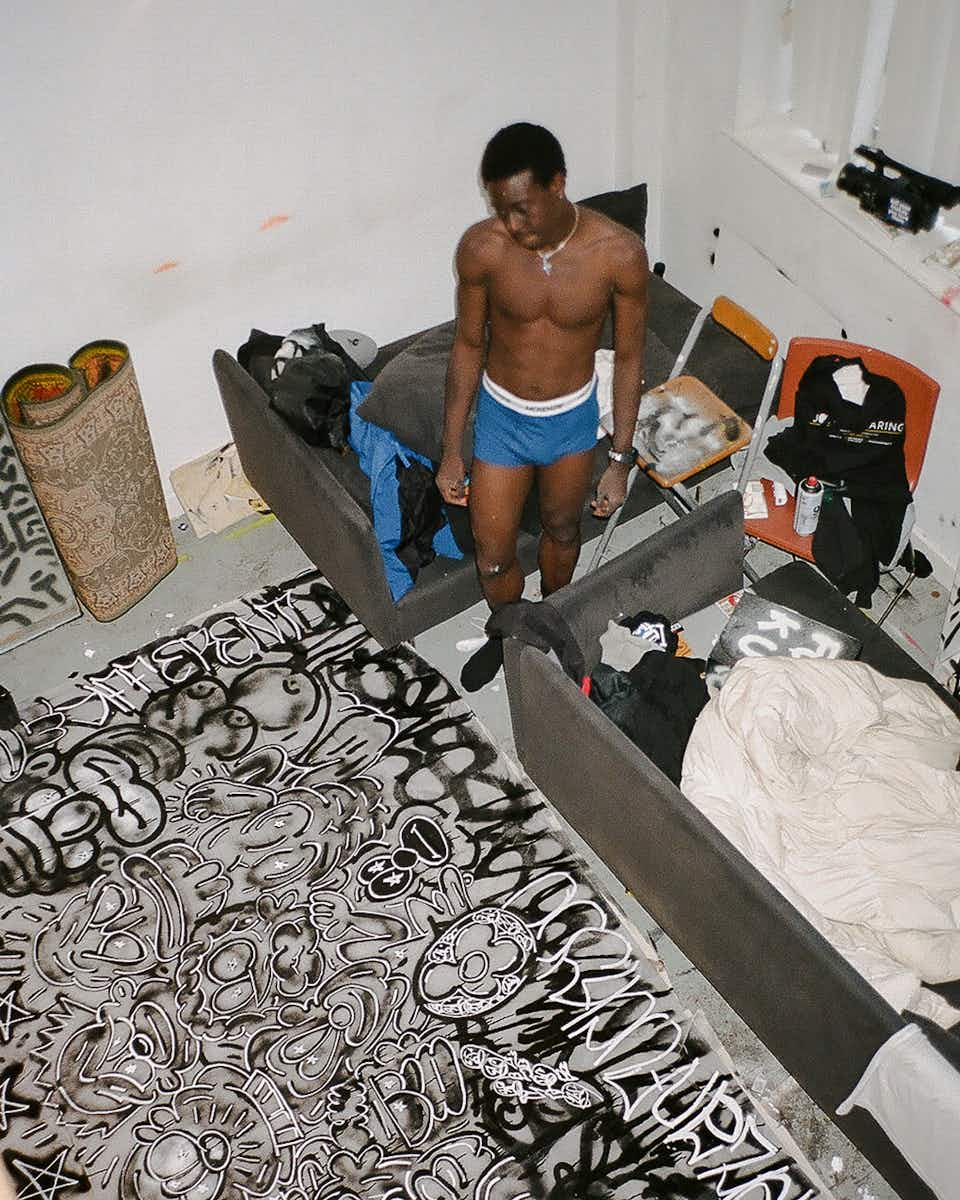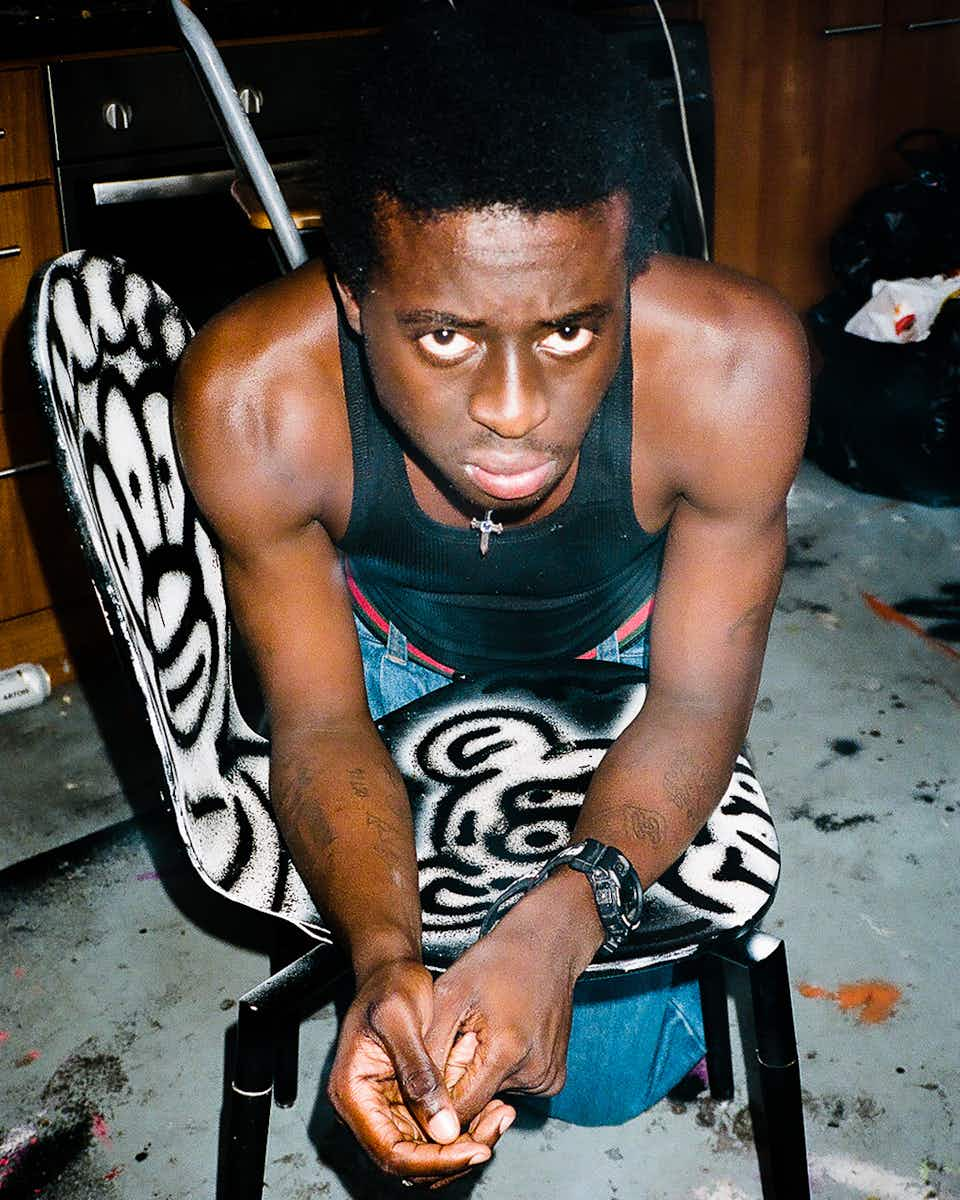 "Jomi gave us a hideout. There were bare pictures of editorials on the walls and Supreme decks. I'd go sit there on my laptop and work on a bunch of designs for the day, go skate after, then get fucking drunk. It was nuts. We were allowed to do anything in the shop," he explains, grinning ear to ear. ​"Anything," he repeats, stretching out the word. ​"Get drunk, have sex, fight security guards, smoke weed. It was sick."
Within two years, North American labels such as Dime, Supreme and Julian Consuegra's Stray Rats had started sending the Wafflesncream boys decks and clothes to wear, although ​"none of that stuff really gassed us up". Next, they were shooting editorials for trendy London-based publications.
"After a lot of playing around we realised we had to do the work," Slawn says. That meant starting his own apparel brand, Motherlan, with fellow skaters and friends Leo and Onyedi, which has become known for its bold graphics, animated characters and slogans such as ​"join the cult".
The kids in Nigeria were excited about having access to home-grown streetwear and wearing something made in their country. Virgil Abloh was an early fan and Motherlan has since gained worldwide recognition, with apparel being stocked by Farfetch and Browns. Slawn has never been fazed by the attention, but he knows success when he sees it.
"We just wanted to make stuff to get the money to buy the shit we needed to skate. It was just a means to make capital – but we sold so much stuff!" he says, clearly still in genuine disbelief. ​"It was always about freedom: the freedom to sell tees, to make money. The freedom to go get a hotel to fuck up.

​"I've always been a troublemaker," he adds, matter-of-factly, when I ask him what he was like then versus now. ​"It's the same as what I'm doing now. I've always done what I felt like doing."
What he feels like doing now is art. He moved to London in 2018, enrolled at Middlesex University to study graphic design in 2019 and started to paint during the first lockdown.
"I think I was coming down, I felt shit," he remembers of the start of his creative ​"process", as we might describe it. ​"I went to the art shop and bought a couple of canvases with my friend Petr. He helped me paint this bright yellow background that I did my first piece on. It felt straight."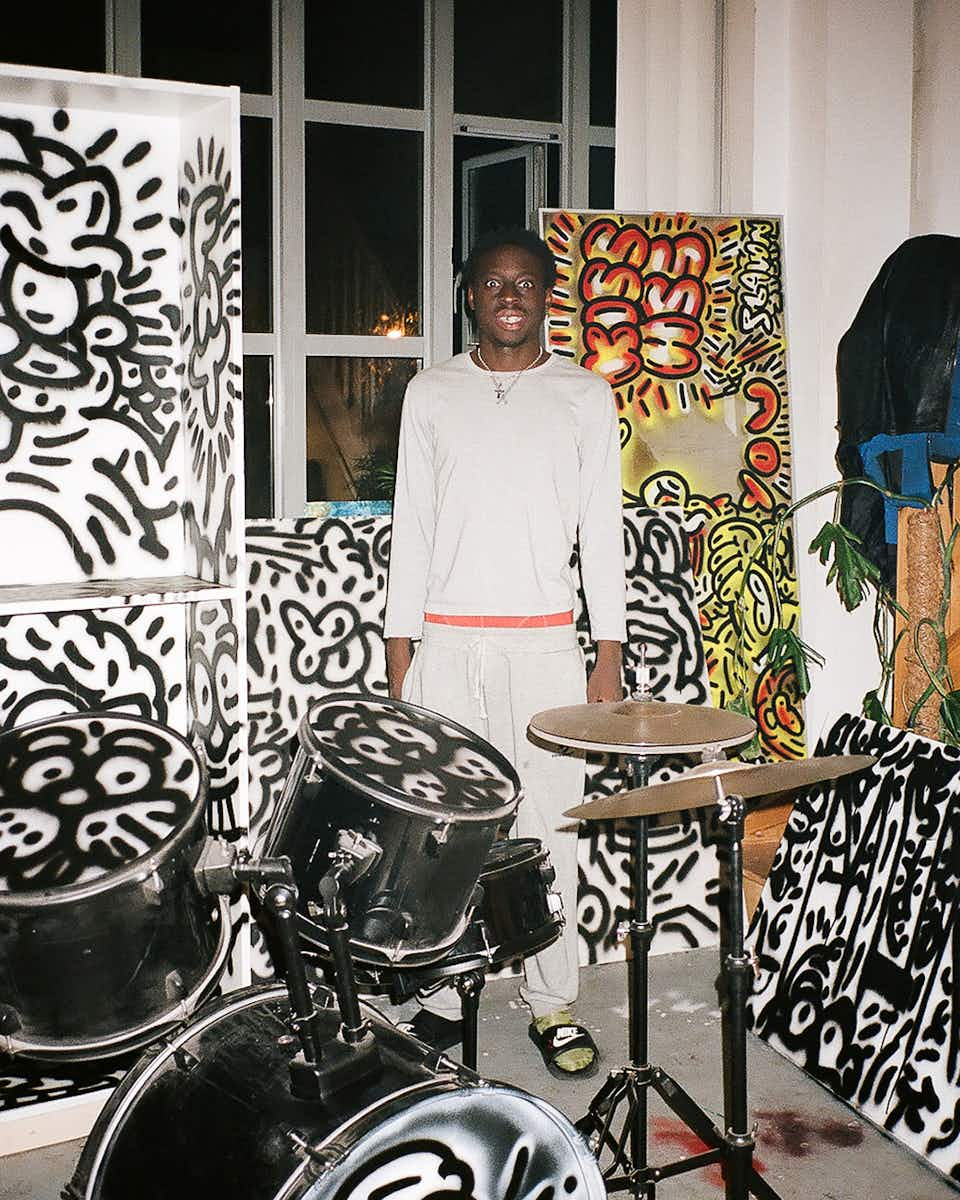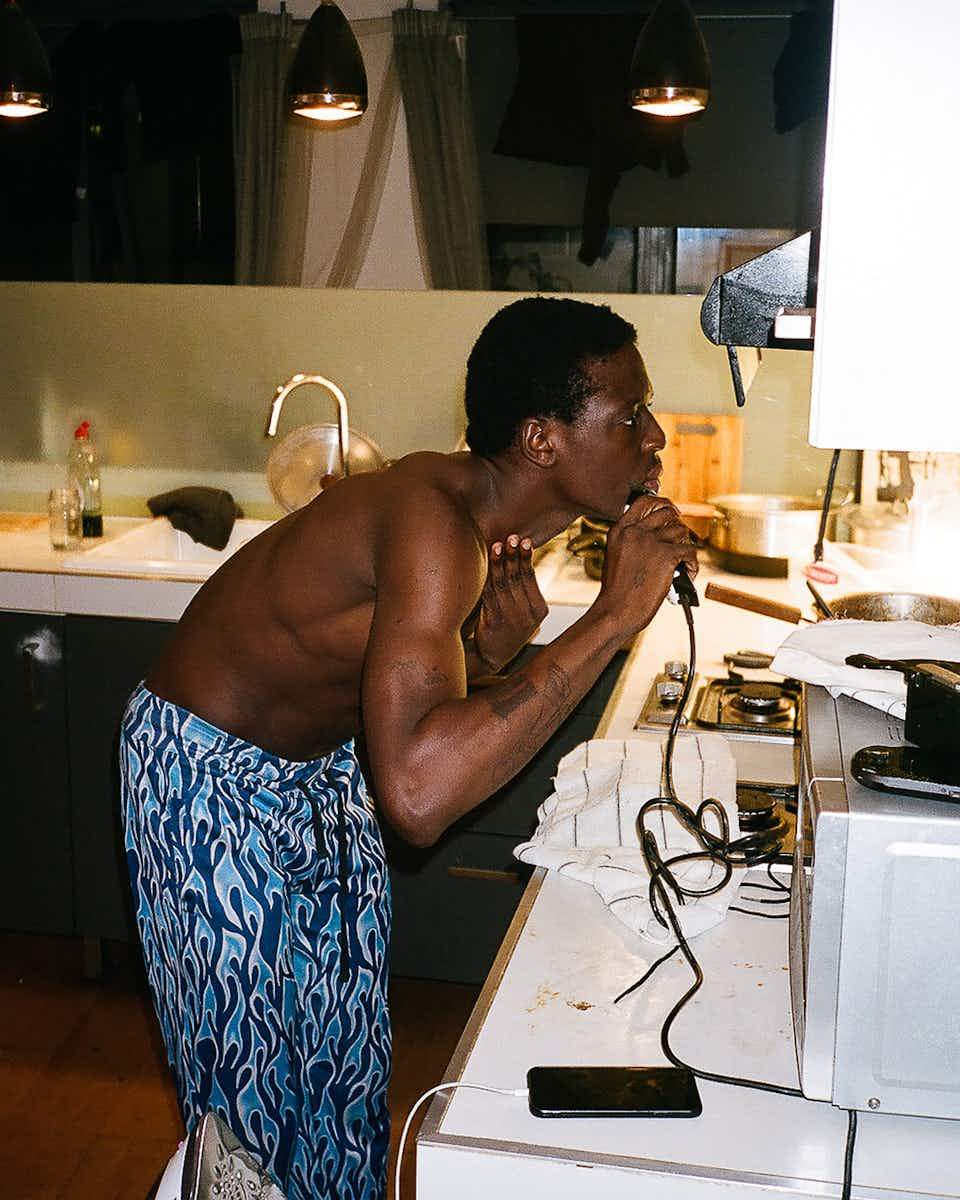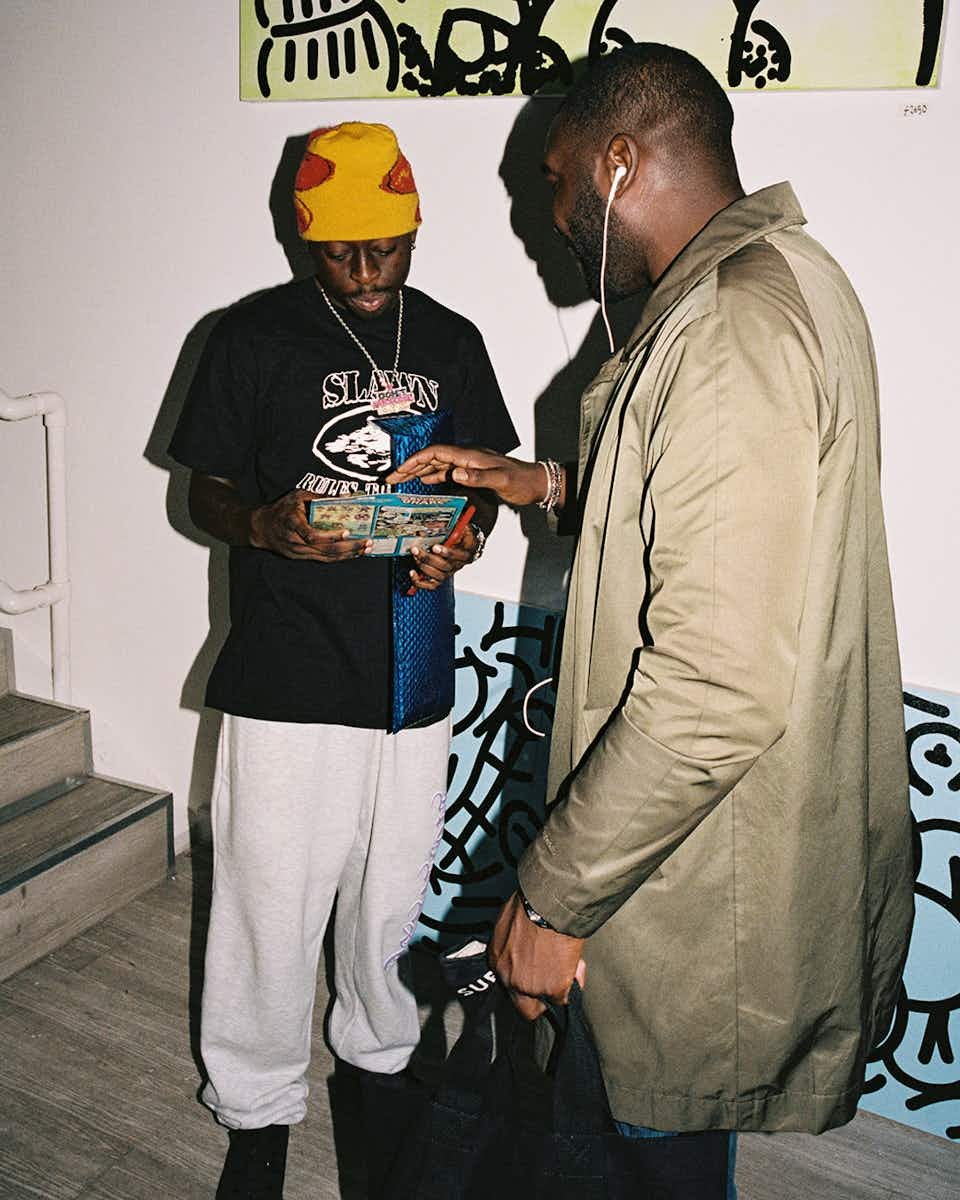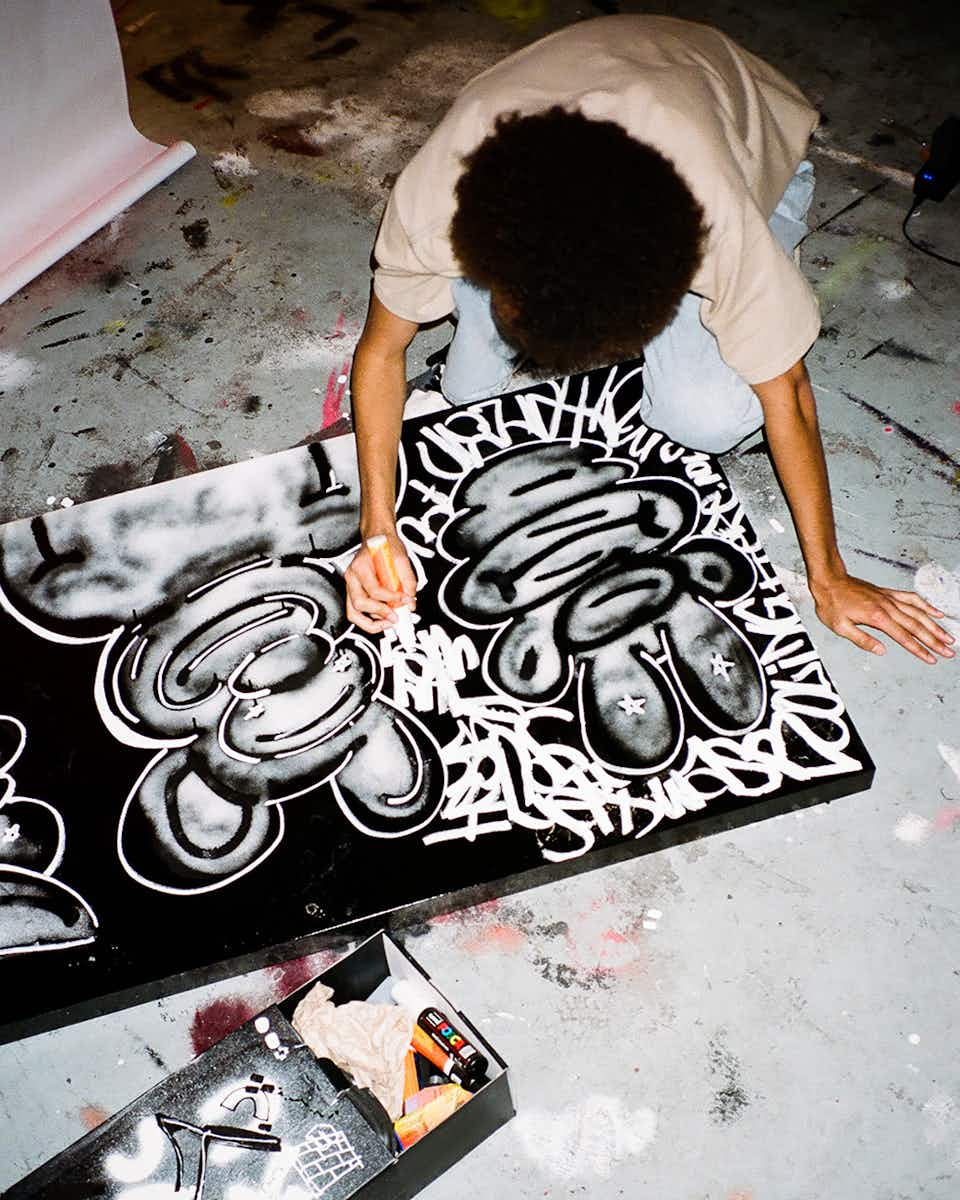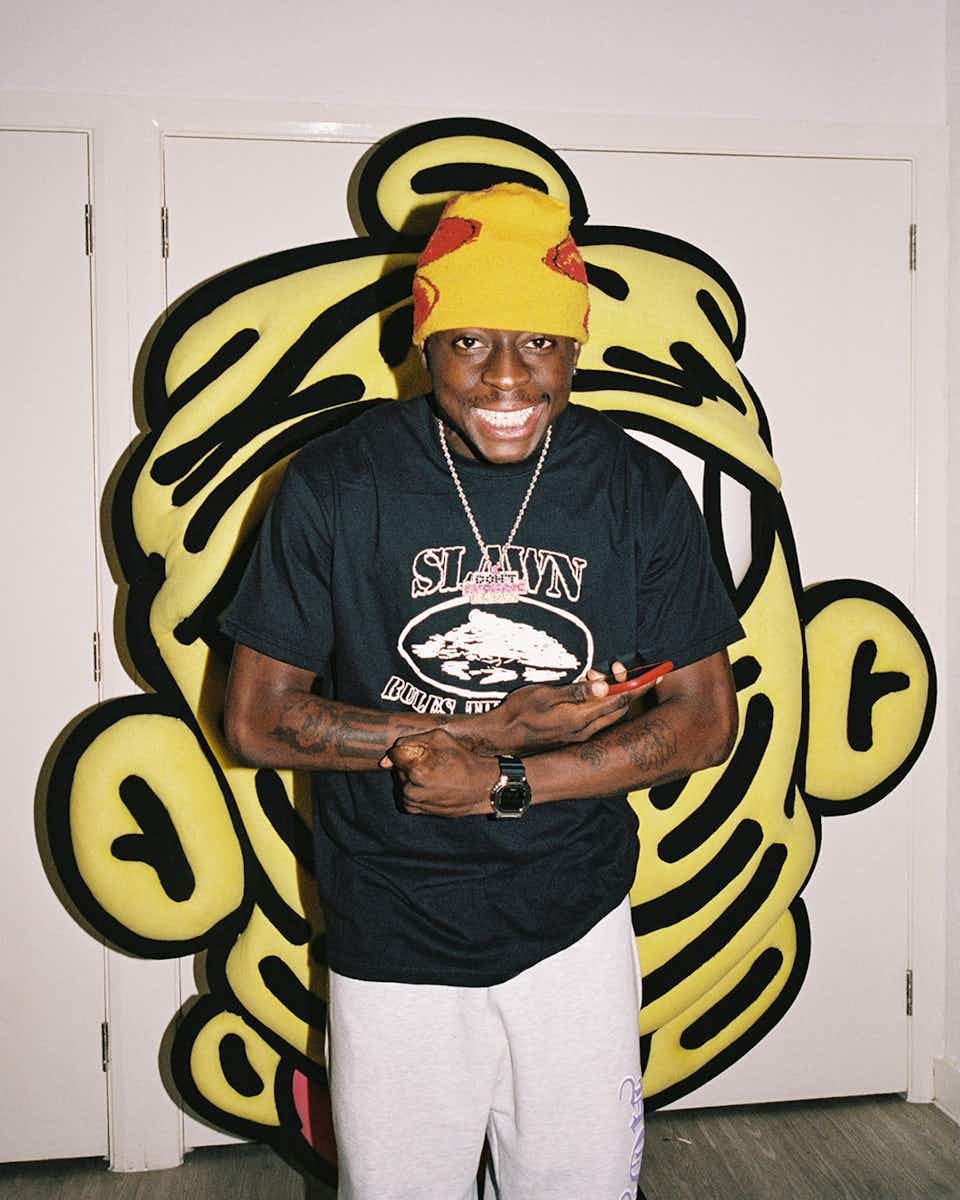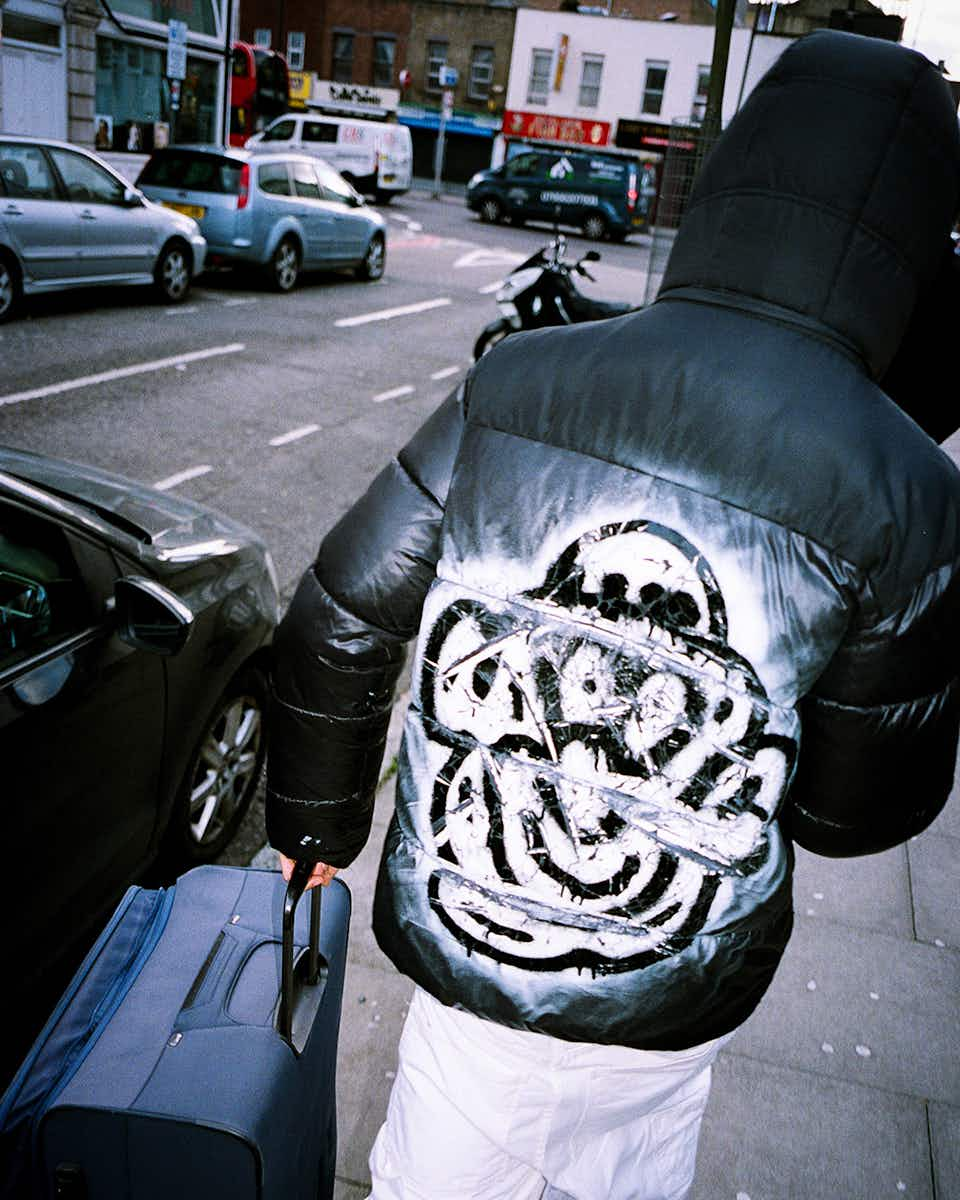 He decided to put some time into it as school ​"wasn't happening" (he admits that ​"my girlfriend does all my university work for me. She's a gem.") and a Covid-stricken reality was feeling ​"a bit mad". Initially, the work was just for his own pleasure. That is until he started handing them out at parties.
"I'd be like: ​'Do you want a painting? Take one! Take one!'" he says, acting out a frenzied exchange. ​"So a few people took them and put them up in their houses and people started asking where they were from."
Slawn's work is irreverent: a vivid blend of cartoon characters and trippy stylised shapes painted onto large-scale canvases using marker pens and aerosol cans. But you get the impression he's more interested in the human psyche, the mechanics of the hype machine and the psychology of price inflation than he is in his own art.
"This shit is expensive!" he says, now waving the canvas around – already, one of his pieces can sell for up to £3,000. ​"I don't know how the price went up. Actually I do, but I'll act like I don't. It's just all down to planning and plotting, and how people see your Instagram."
Slawn's retail model varies. Sometimes he releases paintings via his Instagram Stories, where people can bid for them. Other times he invites people to turn up at a specific location unveiled on the day to complete a challenge in return for a piece – for example, shaving off their hair or sinking some extra spicy wings. He's also seen people fight for them.

Fight for them?

​"It came about from two people being in my studio and I said to them: ​'If you don't want to buy [a painting], then you can fight for it.' And they were like: ​'Fuck yeah, I'll do that!'"
The live art installation-cum-Wrestlemania has seen men and women voluntarily step into his studio to go head-to-head with one another. Nobody goes home empty-handed and he claims some of his paintings even feature blood spilt in pursuit of his art. ​"See?" he says, gesturing towards a stain on a canvas.

Videos of similar challenges have been reported and removed from Instagram. ​"I think it's the art world," he concludes. ​"They might as well kill me because I'm not here to do things their way."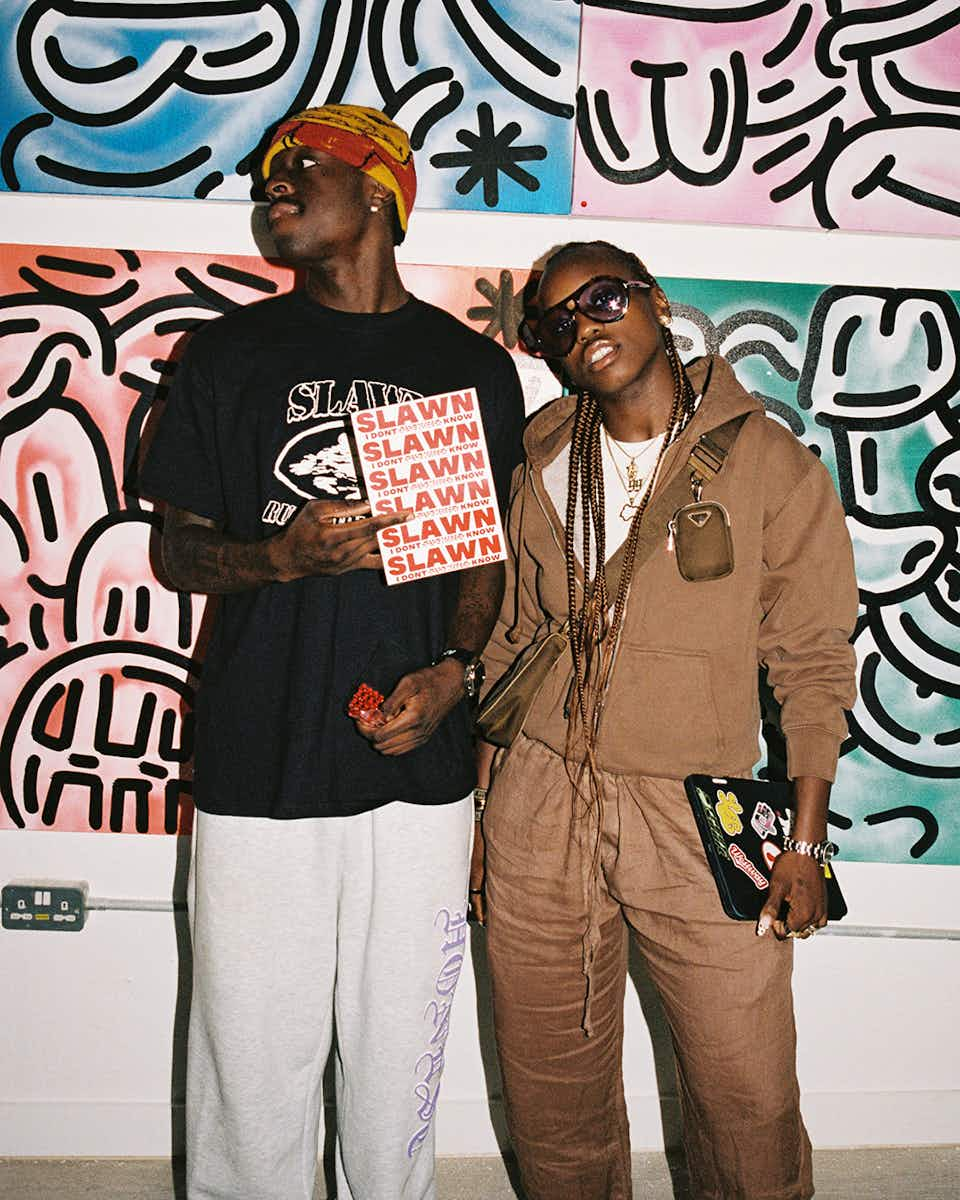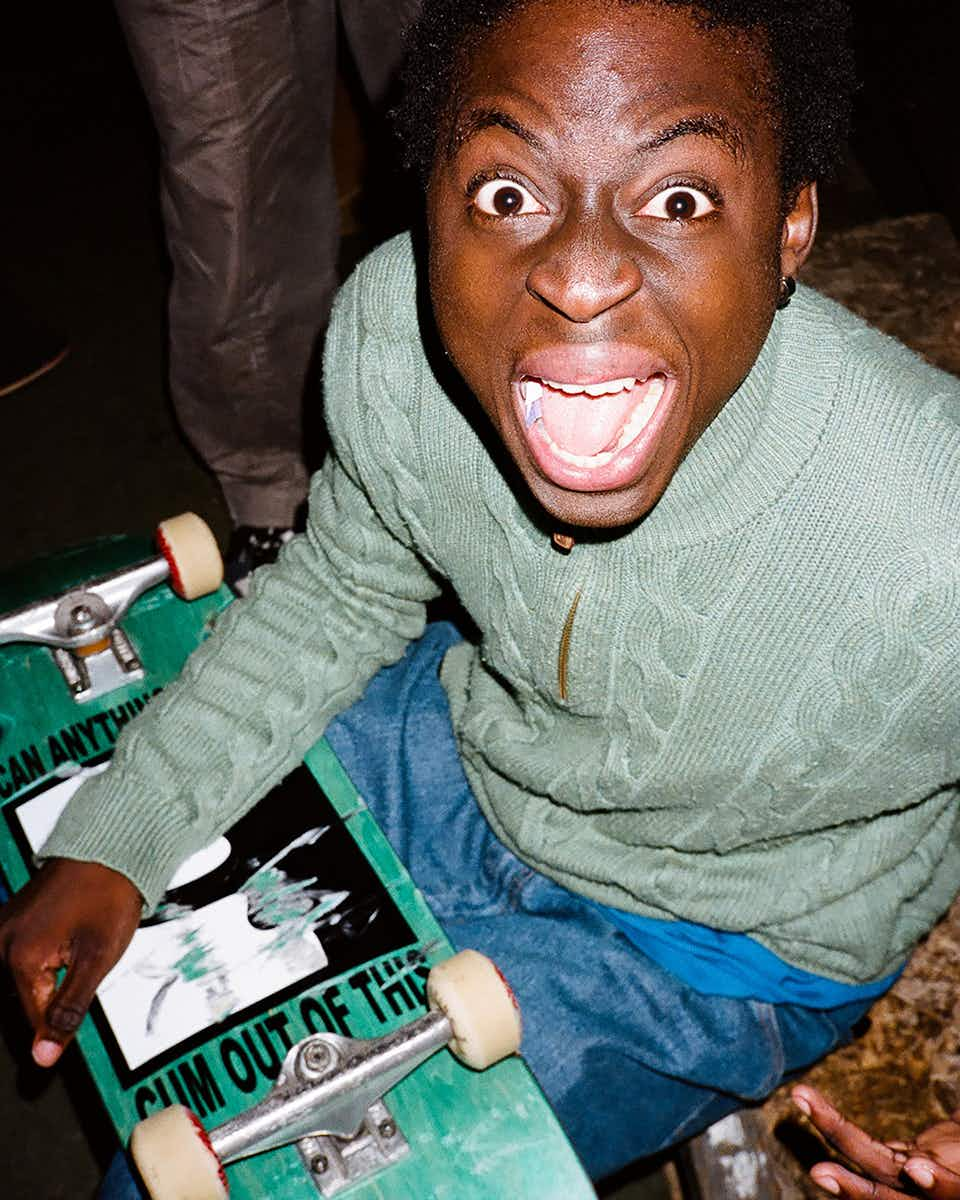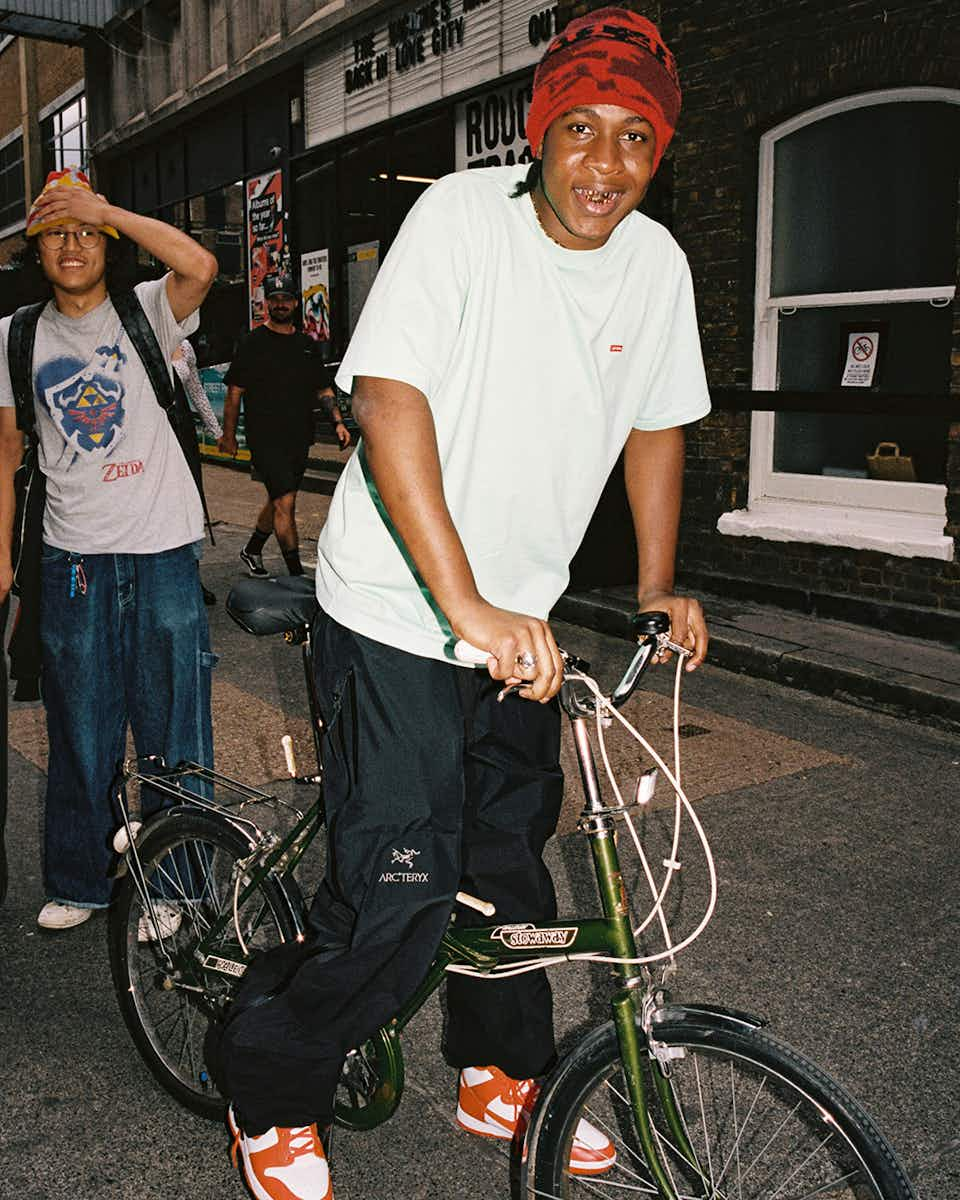 It's just another step in a journey that has seen Slawn break free from the constraints of canvas. He bought his own digital billboard in Shoreditch in September. It read ​"I spent a lot of money on this billboard for no f***ing reason" because he wanted to see how far he could push things while promoting his exhibition.
He recently painted a Mercedes. ​"Shout out to Seb [Downing] and [his creative network] ForeverGood – he actually let me fuck the car up." And he'd be up for doing a Tesla, too, if only he could get his hands on one. ​"Someone should tell Elon Musk! I need to find a way to reach him!"
This, then, is the world of Olaolu Slawn. Is he an artist, or is he a piss artist? Is he deliberately making art that's provocative, just to get a reaction? Or to upset the art world? A big kid who's always in search of the next thing to, as he puts it, ​"fuck up"? An inquisitive skater who can't believe people buy this shit, in both senses of the phrase? All – or none – of the above? I'm not sure even he knows.
"I don't even know why people want this shit," he admits, puzzled. ​"I wouldn't buy this shit. I just have no interest in my art. I make it so I can fuck about."
He's staying tight-lipped about his next move, but is willing to offer one anecdote that suggests the sky's the limit: he wants to collaborate with an airline.
"I want to put a huge dick on an aircraft. I have a couple of friends who have a private jet – good friends to have just in case I need to run away," he says, laughing, very clearly not joking.
"Honestly?" he continues. ​"I just want to get to a place where people feel comfortable with stuff that's taboo. If I can manipulate their mind into thinking it's cool, then that's cool. That's what I'm trying to do."
Ladies and gentlemen, please keep your seatbelts fastened for Olaolu Slawn's wild ride. Your next destination: absolutely fuck knows.

More like this