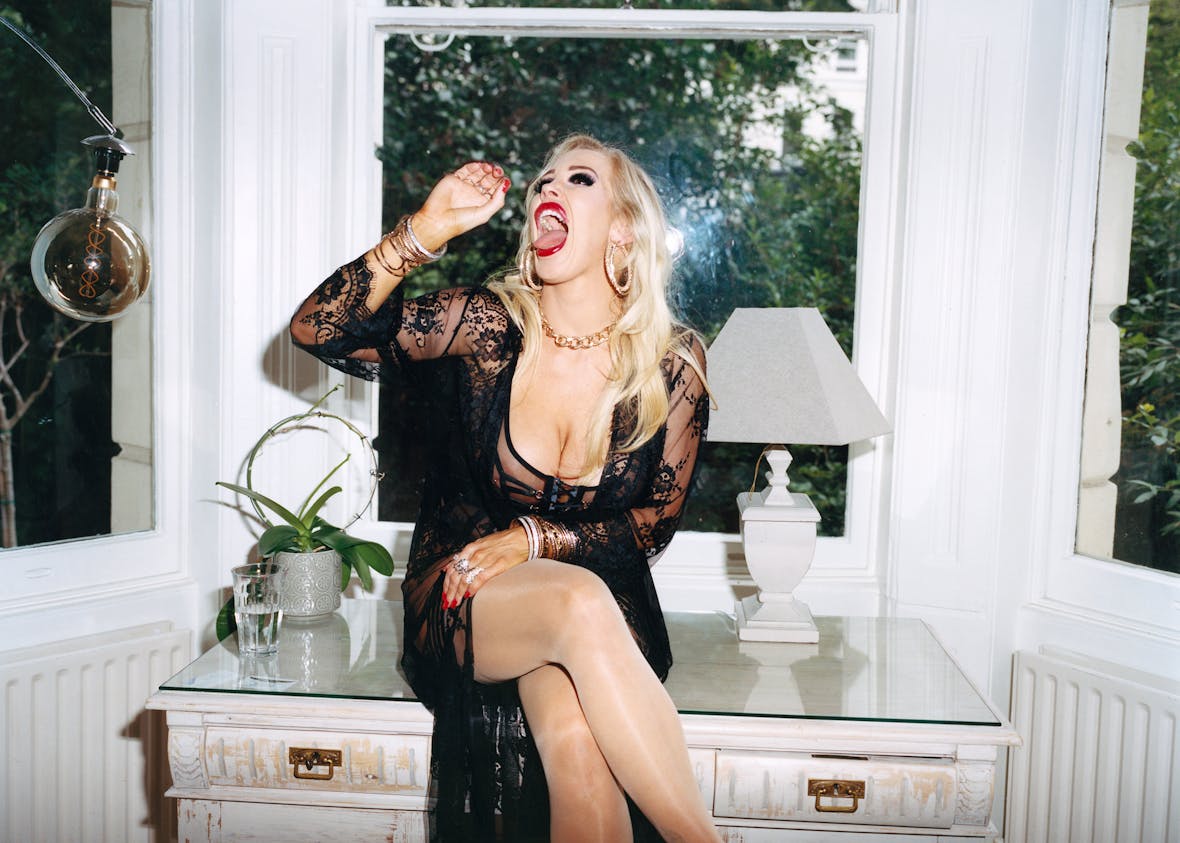 Cock Destroy­er: how Rebec­ca More went from meme to the

UK

's most loved adult star
It all start­ed with a gang bang. Well, two gang bangs, actu­al­ly. The day Rebec­ca More went viral, she'd just fin­ished co-host­ing a lux­u­ry gang bang at London's St James's Hotel in Novem­ber 2018 with fel­low adult per­former Sophie Ander­son. Tick­ets for the morn­ing gang bang – priced at £300 – had sold out, but tick­et sales for the after­noon ses­sion were slug­gish. So they decid­ed to record a pro­mo­tion­al video to drum up interest.
Hi guys, says More, mas­sag­ing her 800cc fake tits. Look at these love­ly big tits.
Ander­son comes into shot. Do you know what we are? We're fuck­ing cock destroyers.
Cock fuck­ing destroy­ers, Ander­son agrees.
We love to just get your dick and despunk them fuck­ing balls. MMMM.
Let's get these fuck­ing balls in your mouth and we'll tea bag you, Ander­son says.
Muaah­ha­ha­ha­haa­ha, More cack­les. They kiss.
More already had a size­able and engaged gay fan­base, who delight­ed in her sassy the­atrics and meme­able pro­mo videos. But this was elec­tric­i­ty; liq­uid light­ning. By the end of the day – and large­ly thanks to gay Twit­ter, who dis­sem­i­nat­ed the video so far and wide it even end­ed up get­ting picked up by the BBC, they were viral stars.
And like that, the Cock Destroy­er was born.

When she worked as a strip­per in the noughties, More hat­ed her breasts so much she'd go into the bath­room and cry at work. ​"They were like the most hideous tits," she says, clomp­ing around the AirBnB rental in London's Not­ting Hill she's using for an adult shoot lat­er that evening. Lis­ten­ing to the audio back after our inter­view, the thud of More's heels make her sound like a giantess.
It was back then that she learned to per­form. ​"I worked out this way of fak­ing a per­sona to make myself feel good about my body," she says. After a year of strip­ping, More earned enough mon­ey to have her first boob job (she has had two). The morn­ing of the oper­a­tion felt ​"as emo­tion­al as hav­ing a baby. It meant so much. When I came around and I actu­al­ly had these boobs, I loved the fact that it had been such a strug­gle to get them."
Like Clark Kent spin­ning in a phone booth, the 500cc implants (she has since upgrad­ed) changed More from a meek, aver­age­ly-per­form­ing strip­per into the Cock Destroy­er. She bounces her chest for me. ​"It changed my life! I was like, yeah, here I am! I've got fuck­ing tits, and I'm going to show these fuck­ers off."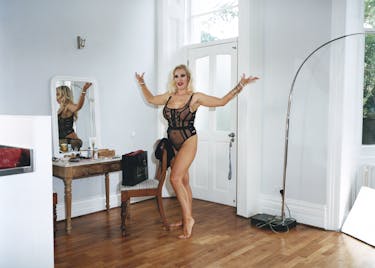 In per­son, More is a kind­ly, mater­nal pres­ence. She's imme­di­ate­ly like­able, and far less fright­en­ing than her Cock Destroy­er per­sona would sug­gest. You also sense that, on her set, she's the boss. I arrive as she's prepar­ing for a point-of-view-shoot with an adult per­former lat­er that evening. Every­thing, down from the sto­ry­board (More is a horny wife who bor­rows a cup of sug­ar from her neigh­bour), to the choice of male per­former, loca­tion, and wardrobe, is More's choice. She's run­ning things, with the help of male assis­tant Dar­ren, who has worked for More for five years, and whose job respon­si­bil­i­ties could best be described as ​"var­ied". ("All the girls love Dar­ren," Rebec­ca explains, ​"because he doesn't want to fuck them.") Dar­ren shoots and edits the footage More uploads to social media, takes her glam­our pho­tog­ra­phy, and offi­ci­ates at gang bangs. ​"There's always one dom­i­nant male at those things," he tells me. ​"You want to make sure that every­one gets an equal amount of Rebec­ca." For his sins, some­one once spunked on Darren's shoe.
More than any­thing, Rebec­ca More is a brand. She under­stands her audi­ence, which con­sists of gay and straight men. For the gays, she'll film com­e­dy skits that will cir­cu­late wide­ly on social media. (Shoot­ing porn on the loo in Heathrow air­port; giv­ing a cheeky blowie on a First Great West­ern train, that sort of thing.) Recent­ly, she traipsed around Canary Wharf hold­ing a tele­phone she'd ripped out of the wall in her hotel room, pre­tend­ing to make a call. ​"I'm shout­ing, I ordered ten dicks, but only three turned up," More says, laugh­ing like a drain. She doesn't make mon­ey from these skits – they're ripped from her mem­bers-only Only Fans page, for which she charges £12.99 a month for orig­i­nal con­tent – but it's all good expo­sure, and helps build her gay fan­base. For the straight men, she'll upload orig­i­nal adult con­tent like today's shoot to her Only Fans page, as well as host­ing live events like gang bangs.
More won't work for oth­er adult con­tent providers, apart from Brazzers, because they pay loads, and she has strong views on how the UK porn indus­try exploits up-and-com­ing female tal­ent. ​"The indus­try in the UK takes the fuck­ing piss," More says, sit­ting at a van­i­ty table in a cloud of hair­spray. ​"Being on set all day for £300?" She wish­es she could advise girls to know their worth – More her­self won't get out of bed for any­thing less than £1000 a shoot. ​"It piss­es me off that they take advan­tage of new girls. It real­ly angers me… they offer you £300 and an extra £100 for anal. And you're not get­ting any roy­al­ties from that con­tent? Fuck off!" Again, I see flash­es of a mater­nal warmth, tem­pered with feroc­i­ty. More is Peg­gy Mitchell throw­ing a dis­re­spect­ful punter out of the Queen Vic; she's the woman in a night­club toi­let who'll lend you a tam­pon and call you ​"dar­ling", but also throw a drink on you if you start on her friends.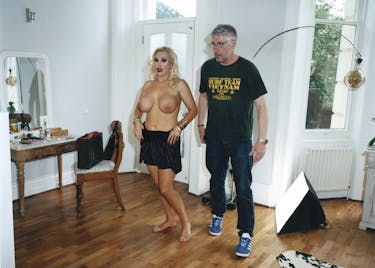 Grow­ing up, More was a tomboy. Because she had a boy's hair­cut, she'd play with the oth­er lads in her home­town of Taplow, South Bucks, until they got wise to it. Her dad was in the print indus­try, and she start­ed work­ing for the fam­i­ly firm at the age of 14. ​"I've been a right old grafter from a young age," she says.
More was always fas­ci­nat­ed by sex, and an ear­ly afi­ciona­do of web­cam­ming. After she had her son (More has two chil­dren – a son and a daugh­ter), she'd meet up with men she encoun­tered in chat rooms online while he was at nurs­ery for a bit of fun. She was work­ing at anoth­er print com­pa­ny by then, and in between work she'd be chat­ting to men online. ("I got bust­ed so many times!") Porn was on VHS back then, so she'd swap tapes with col­leagues at work and bring the car­ri­er bags home to watch, in her own time.
Lat­er, she had her sec­ond child, and moved to Swansea to study law. Things didn't go to plan – her part­ner had men­tal health prob­lems and the rela­tion­ship turned nasty. To escape, More moved into a women's refuge with her chil­dren, and then relo­cat­ed to Eal­ing, where she com­plet­ed her law degree at the Uni­ver­si­ty of West Lon­don. ​"I don't use my degree," she tells me. ​"I just tell peo­ple about it. It's pret­ty cool!" She worked for the Cit­i­zens Advice Bureau for a while, but the mon­ey wasn't good enough to pro­vide for her two chil­dren as a sin­gle par­ent. So she start­ed web­cam­ming, then strip­ping, then escorting.
Escort­ing helped More turn things around. The mon­ey was good – real­ly good. When she start­ed out, she'd earn £150 an hour, but by the time she got out she was charg­ing £800 an hour, and thou­sands for overnights. ​"My PA said, ​'You should put your rates up to £350, look at all these oth­er girls, they're shit com­pared to you. I remem­ber putting my rates up to £350, and I was still as busy, and I thought, ​'what a fuck­ing great move.'" Snap­ping gold ban­gles up her arm, More laughs. ​"Good old Kirsty."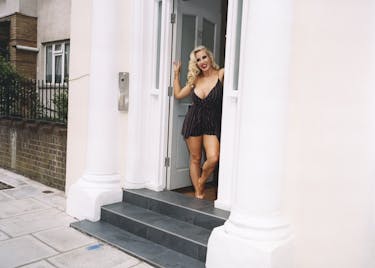 In addi­tion to the mon­ey being great, it was exhil­a­rat­ing. ​"Escort­ing – I used to absolute­ly fuck­ing live for it," she says. ​"Some of the par­ties we'd have." More loved ​"the free­dom of find­ing out what turned peo­ple on," the trav­el, and the mon­ey of course. But the actu­al sex was less reward­ing. ​"The truth is – I'll be real­ly hon­est – girls don't like their clients. Clients think they do. [They say], what turns you on, you lady? When you post the mon­ey through the door and fuck off! And any girl that doesn't say that is lying."
Clients were irri­tat­ing. The worst ones would wake her up in the mid­dle of overnight stays, demand­ing sex. That felt espe­cial­ly vio­lat­ing. ​"It's like, fuck off! Don't touch me. I don't even let my boyfriend wake me up in the mid­dle of the night." She stopped doing overnights a long time ago. ​"I don't give a shit how much they pay. I am hap­py to exchange mon­ey for sex­u­al ser­vices and that, but it's got to be on my own terms."
Besides, More was par­ty­ing too much, and feel­ing burnt out, and the stig­ma of escort work was start­ing to get to her. ​"I got into porn to get away from the stig­ma of escort­ing," she says, explain­ing that peo­ple treat you with more respect as a porn star. More start­ed shoot­ing porn at the age of 29 – she's 39 now – and ini­tial­ly she strug­gled to get a foothold in the indus­try. A throw­away com­ment from the moth­er of adult per­former Paige Turn­er left a last­ing impact on her. ​"She said to me, ​'Paige made it, but you nev­er did,'" More exclaims. ​"That bitch!"
Deter­mined to prove her wrong, More gave porn her absolute fuck­ing A-game: even before the Cock Destroy­er was born, there's a campy the­atri­cal­i­ty to her per­for­mances which makes for joy­ous view­ing. I watch an old clip of More hav­ing sex in the back of a black cab on Red Tube. Anoth­er car pulls up, and More lurch­es to the front of the cab and ducks. It's Fleabag-esque in More's sub­ver­sion of the con­ven­tions of script­ed porn; she all but breaks the fourth wall as she ges­tures to the cam­era with a Phoebe Waller-Bridge-like flour­ish. (More is, pre­dictably, a Fleabag fan.)
If most pornog­ra­phy is about ordi­nary men sus­pend­ing real­i­ty to imag­ine them­selves hav­ing sex with pneu­mat­ic god­dess­es, More upends the genre. She'll give you the cum shot, and slap her tits togeth­er and let you spunk on her face, but it's with a stagey wink, as if to say, how ridicu­lous this is. How ridicu­lous that you'd even think you could have sex with some­one like me. Even in her ear­ly work, the Cock Destroy­er is there.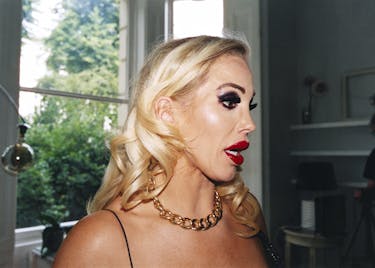 There's an asceti­cism to More that some might find sur­pris­ing. She's a veg­an, and tee­to­tal – she's been sober for three years, and attend­ed Alco­holics Anony­mous. She's also mad into fit­ness. The morn­ing of our shoot, More went to a hot yoga class, and then to the gym. She's also a mem­ber of ama­teur cycling club The Porn Ped­dlers, whose affil­i­a­tion was recent­ly revoked by British Cycling in a blaze of press. (Whis­per­ing, behind her hand, she tells me that ​"there's no such thing as bad publicity.")
More's work­ing hard at the moment, because she wants to get out of the game. Even Cock Destroy­ers have to retire some day. She wants to move abroad with her part­ner in the next few years and set up a busi­ness, although won't tell me what busi­ness it is. More doesn't want to shoot porn for­ev­er, and already she's start­ed slow­ing down. She won't do anal scenes any more, because after doing them for so long, they've tak­en a toll on her body. But there's still a lot she wants to achieve, like ful­fill­ing her dream of shoot­ing a gang bang by a swim­ming pool. ​"I want it to be awe­some!" she exclaims. ​"Full glamour."
More appears tak­en aback at times by her own fame – a meet and greet recent­ly with her gay fans at Manchester's G-A-Y had queues snaking around the block. Which brings me to the ques­tion – why do gay men love her so much? ​"It's every­thing about her," one 25-year old the­atre twink, who'd pre­fer to remain anony­mous, tells me. ​"Her sassy habits, her mis­chie­vous per­sona." He ref­er­ences some of More's icon­ic videos, like the time she said: ​"There will be a small fee to pay, but I'm sure you won't mind," in one pro­mo clip, or her obser­va­tion that ​"You're poor. That doesn't excite me at all."
But it runs deep­er than that. Gay men love More, because to be a Cock Destroy­er is to sub­vert the con­ven­tions of het­ero­sex­u­al mas­culin­i­ty. Cock Destroy­ers look at the phal­lus – that ancient sym­bol of patri­archy – and laugh. A Cock Destroy­er will take your mon­ey and destroy your cock with no fear. ​"It's the way she sub­verts and mocks the macho mas­culin­i­ty she so earnest­ly vows to destroy," the twink tells me. He thinks gay men respond so well to More, because of how she speaks to straight men like they're worth­less. ​"It some­how reminds me of the inter­nalised shame I, and oth­ers with­in the com­mu­ni­ty, have fre­quent­ly felt."
The char­ac­ter of Rebec­ca More, the Cock Destroy­er, is also extreme­ly drag adja­cent, from her make­up to the over-the-top­ness of her per­for­mance. (In a piece of meta-the­atre, there are now drag trib­utes to More her­self, and RuPaul him­self endorsed Ander­son and More in a recent tweet.) ​"To a com­mu­ni­ty that spends so much time inhab­it­ing dream-like spaces, her sassy the­atrics are some­thing we real­ly iden­ti­fy with," the twink tells me. Rebec­ca More the Cock Destroy­er – as opposed to the Rebec­ca I meet in per­son, who is under­stat­ed and kind – is a per­former. I realise this as I watch her pos­ing for Darren's glam­our shots. More slips in and out of char­ac­ter with each shut­ter click. She'll be nat­ter­ing away about noth­ing in par­tic­u­lar, and then throw the cam­era a ham­my look as pre­cise as Roger Fed­er­er nail­ing a base­line serve dur­ing the final set of the Amer­i­can Open. And when she looks into the cam­era, More looks like she wants to rip your cock off and gob­ble it down.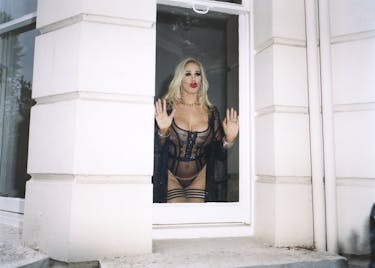 The best word to describe Rebec­ca More is, of course, camp. As defined by Susan Son­tag in her 1964 essay Notes on Camp: ​"the essence of camp is its love of the unnat­ur­al, or arti­fice and exag­ger­a­tion". You don't know whether you want to laugh at More's per­for­mances, or wank. The camp­ness, More says cheer­i­ly, comes nat­u­ral­ly. ​"It always did. I just can't help myself." And the Cock Destroyer's sex­u­al­i­ty is so fero­cious that men often turn up to her gang bangs fright­ened to meet her. ​"They're always like, ​'You're real­ly nice!'" she laughs. ​"But when I'm on cam­era, I act up." She tells me a sto­ry about a man ejac­u­lat­ing into her mouth dur­ing a gang bang. More stood up, and spat his own cum back into his mouth. The oth­er men cow­ered. ​"You're not going to do this to us, are you?" one asked.
Like Bruce Wayne and the Bat­suit, when More peels her­self into her PVC and lace, she feels the Cock Destroy­er per­sona set­tle over her. ​"Slow­ly, as the out­fits come on, I become this per­son, and even my voice changes. I can't help it," she tells me. The char­ac­ter of Rebec­ca More the Cock Destroy­er is ​"a bit over the top, a bit Dynasty… She's mar­ried, and a com­plete cheat, and is horny all the time. And of course I've got my own gimp." It's an absurd­ly exag­ger­at­ed – and occa­sion­al­ly grotesque – par­o­dy of the male gaze. The Cock Destroy­er asks men what they want, and then spits it back into their mouths. And when More and Ander­son are togeth­er in full Cock Destroy­ing flight, as they were in that orig­i­nal viral video, ​"we are fuck­ing sex­u­al ani­mals. We are the alpha females. If you come into our pres­ence, we are going to fuck­ing ruin you." More paus­es. ​"We're lit­er­al­ly going to feast on your cock like fuck­ing vam­pires." She laughs like a harpy.
In her essay, Son­tag writes: ​"camp is eso­teric – some­thing of a pri­vate code, a badge of iden­ti­ty even among small urban cliques". More gets recog­nised, and often. I tell her that there's a woman who wears a Cock Destroy­er t-shirt to my gym, and she laughs and told me she got stopped by a fan en route to the shoot. It's fair to say that Cock Destroy­ing has become a move­ment. ​"Be proud of who you are," More sums it up. ​"I think that's the mes­sage. Own it and be con­fi­dent. No shame at all.
"Being a Cock Destroy­er is fun. It's not tak­ing your­self too seri­ous­ly. Pos­i­tive ener­gy. Being who you want to be."
---