Isa Mazzei: ​

"

sex work was a form of therapy"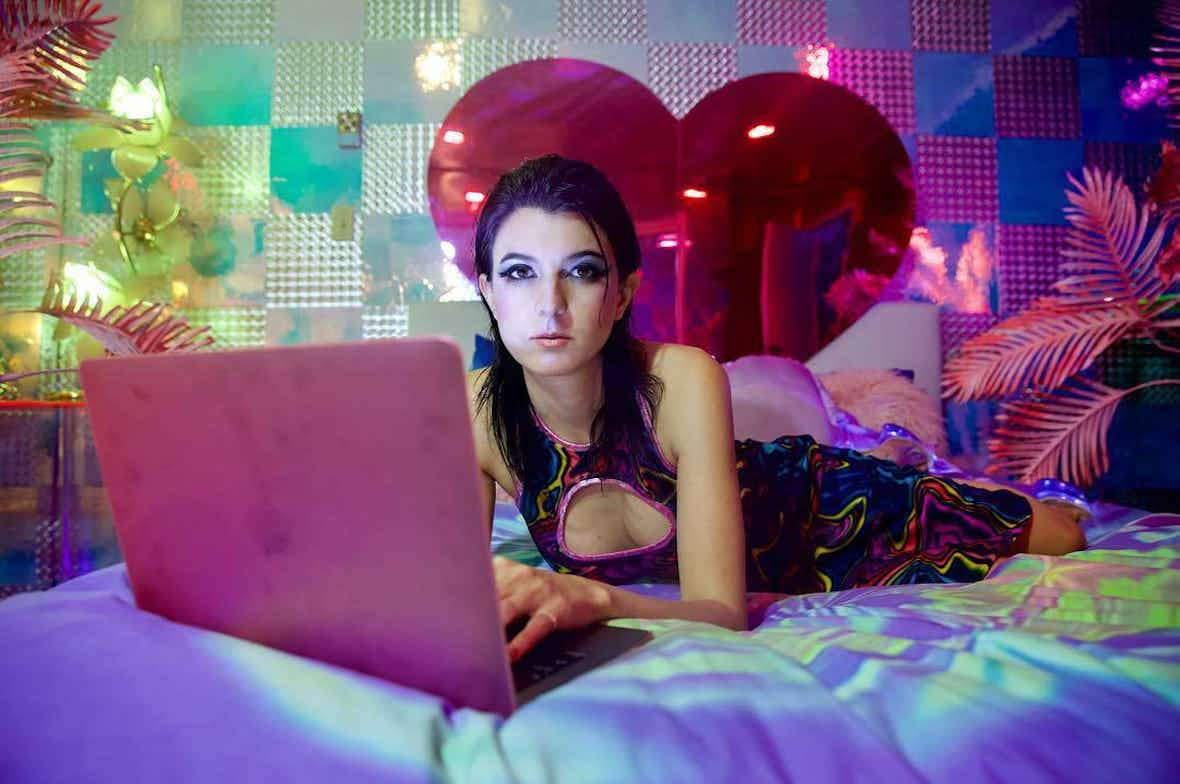 Writer of Netflix horror sensation Cam lifts the lid on her latest book Camgirl, an intimate look at life in front and behind the webcam.
There's a section in her upcoming memoir Camgirl, where writer and former sex worker Isa Mazzei asserts that for her, ​"sex work was a form of therapy". In a world that's quick to judge sex work as exploitative, this statement is – at first – pretty startling.
"Sex workers are just people who have decided to have agency over their sexuality, setting boundaries that they're able to monetise. I think that's an incredibly empowering thing," explains the 28-year-old from LA, the city she's called home for the past three years.
The former cam girl first entered Hollywood's stratosphere last year when she wrote the acclaimed Netflix horror Cam. Staring Madeline Brewer (The Handmaid's Tale, Orange Is The New Black), the psychological thriller follows a cam girl called Alice, AKA Lola, who discovers a dopplegänger posing as her online. With an impressive 94% approval rating on Rotten Tomatoes, the film earned Isa the Cheval Noir Award for best screenplay, critical acclaim and cult status as an authority on the digital sex industry (after our interview, she has a busy day of meetings and podcast recordings). Within all the positive reviews, though, one question kept popping up: just how much of the story was based on her own experience?
Camgirl is the answer to that question. A blistering read which charts her journey from broke college graduate to one of the top 50 cam girls on a site that had tens of thousands of performers.
The book opens with an account of her sexually disorientating adolescence; on the one hand, readers get the sense that she was pretty confident sexually (at one point she asks her mum to write ​"WHORE" on her 18th birthday cake) on the other, there's always a question of how much of her childhood experiences informed her attitudes towards sex.
"I was sexually abused as a child," she explains. ​"And beyond that, just growing up as a girl, I was never really told I could have boundaries. It was always, ​'Oh, hug your relative.' Or, ​'Oh, go let the boy kiss you.' Then you get into your teenage years and it's like ​'Oh, the guy kind of grabbed you in the bar, just let it go. Oh, your boss touched your ass, just ignore it,'" she explains.
Rather than seeing sex work as some kind of symptom of her abuse – a common narrative that she addresses in the memoir – she argues that the careful delineation of boundaries and discussions of consent gave her a sense of control she'd previously been missing. ​"Sex work was the first place where I could say, ​'If you want to look at me, this is how much it's going to cost you. If you want me to perform this sex act, this is how much it's going to cost you. These are the things I will do, and these are the things I won't do.'" Lines that were previously blurred became crystal clear, and Mazzei knew exactly how to stay within them.
She first started camming under the pseudonym Una in 2014 after a brief stint sugar babying. She became a sugar baby, she claims, because of the immortal words of Vivian Ward in Pretty Woman: ​"I say who, I say when, I say how much." Inspired to channel her innate knack for seduction into something she could profit off, she soon craved something that would allow for more creative license.
Enter: camming. On her first night on MyFreeCams she made $450, and the rest of her two year career was just as lucrative. At the height of it, Isa earned up to $15,500 a month through tips off the thousands of viewers who watched her strip, masturbate and perform BDSM on MyFreeCams. She also grew a committed fanbase, attending a porn convention to meet them (and even sleeping with one).
"Historically, society has tended to demonise women for their sexuality," she says. ​"There's this interesting dichotomy at play where as a society we have accepted the objectification of women more than we accept women sexualising themselves." As she points out, many are still quick to vilify a woman who takes ownership of her sexuality by taking and posting nude photographs but wouldn't object to men explicitly rapping about women's body.
Isa also points out that because some feel that they could never do sex work, they don't understand why anyone else would. That failure in empathy means that many develop a ​"saviour mentality" towards people in the sex industry. She finds questions like ​"But you went to college, why would you do that?", particularly annoying. ​"Such uninformed opinions showed me that people carry a lot of stigma towards sex workers."
Realising that what was needed was ​"more content from the sex worker's perspective," she wrote the memoir as an attempt to demystify the profession.
And the book does a pretty damn good job of adding a fresh narrative – one based on her experiences in the sex industry. ​"Often people still say to me, ​'Oh god, I wish I could just take off my clothes and make a million dollars.' And that's so disrespectful of the labour that goes into sex work." Stressing that just because something looks flawless and effortless, doesn't mean there isn't a ton of work going on behind the scenes to create that effect. From spending weeks obsessively watching other cam girls – noting the most popular manicure styles to the material of their bedsheets – to hashing out her online persona, to buying $964 worth of sex toys for her debut show, one thing stands out: just how much work goes into sex work.
When asked what else can be done to help eradicate unfair stigma, the author points to the fact that, ​"We've decided as a society that it's more shameful if you pay for your porn than if you consume stolen content." Stressing that, ​"If you're not paying for your porn, then you're harming sex workers."
This means you should either pay for a subscription to a site or, better yet, pay your favourite entertainer directly through their website. (Hot tip: Isa personally recommends Erika Lust's XConfessions if you're struggling to find a good platform.)
As long as it is considered taboo, society will always try and ascribe a narrative to sex workers that may have nothing to do with the people themselves. Mazzei is at pains to explain that yes sex workers can be exploited, but they can also be empowered – even healed – by their choices, it's just not up to people on the outside to make that judgment. At least not without properly listening to the experiences of sex workers themselves.
With two more films in development and an episode of Sam Raimi's 50 States of Fright wrapped, it seems that Isa Mazzei is set on making it even easier to educate ourselves on the intricacies of sex work.
Camgirl, is available from 28th November.

More like this