Gabi Butler: ​

"

I was basically cheering out of the womb"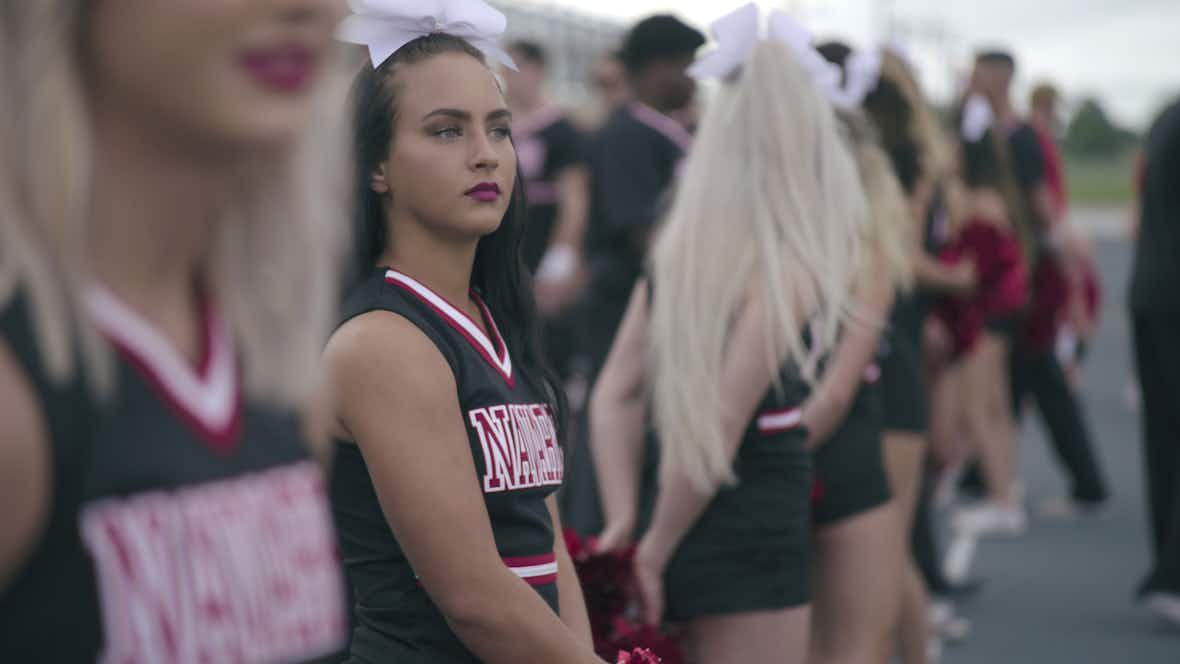 Winning is everything for the break-out star of Netflix's docuseries Cheer. The Navarro College champion weighs in on the dedication required to make it big in the high-risk, high-energy world of cheerleading.
To win ​"is the best feeling ever", says Gabi Butler, one of the break-out stars of the Netflix docuseries Cheer. ​"And if someone says, ​'Winning isn't everything' they're lying. Because the win – it just makes it amazing."
Butler is speaking from experience. Last year her cheerleading team, from Navarro College in Corsicana, Texas, won the US national championship – for the 14th time. Cheer tells the story of the tournament, and the Navarro team's punishing training routine as they prepare to defend their title.
Directed by Greg Whiteley, the six-part series has won widespread acclaim for its understated, muscly portrayal of the diverse personalities on the team and their feats of gravity-defying athleticism.
Butler is described as the squad's ​"rock star", so central to their routine that she seems above the question of whether or not she will ​"make mat" agonised over by most of her teammates.
"Cheerleading is everything to me," she says by phone from Corsicana. ​"I may sometimes be like, ​'Ugh, my body hurts', but it's something that keeps me going. It makes me feel alive."
Since starting cheer aged eight ("I was basically cheering out of the womb"), Butler has become a ​"cheerlebrity", known throughout the sport of her versatility and flexibility.
She even has an eponymous stunt, the ​"Gabi Butler needle": a sort of standing split, with one leg held vertical behind the head. You feel a twinge in your inner thigh just to look at it.
But since Cheer hit Netflix in January, Butler has reached a new audience, her Instagram following growing by nearly one million. ​"We didn't really know that the show was going to be as big of a hit as it was. I think just all of us were kind of in shock."
She notes, not without pride, the series' Rotten Tomatoes ratings of ​"like one hundred per cent", from both critics and audiences: ​"pretty unheard of".
Like Last Chance U, Whitley's four-season study of American football, Cheer is about much more than cheerleading, exploring how hope, fear, work ethic and team spirit guides these young people at a pivotal point in their lives.
But on another level, it is all about what one reviewer called ​"bone-crunching". Cheer has shredded stereotypes of cheerleading as a people-pleasing half-time entertainment, and its participants (as one commentator puts it in the series) as akin to ​"Playboy bunnies: pretty, popular and pleasant". Between the gruelling schedule and the ever-present risk of catastrophic injury, it is no sideshow for those on the mat.
As both flyer and tumbler in the Navarro team, Butler gets lifted into the air in stunts and does the showpiece gymnastics-style flips and twists. She says that ​"probably" her worst incident was two years ago: ​"I dislocated my elbow, and broke and tore everything in it." It took her three months to recover. ​"I thought at first that the bone was sticking out, it hurt that bad. Luckily it wasn't."
She does think about the long-term toll: ​"You're putting your body at such a high risk for injury – but I mean, honestly? You could get hurt walking down the street … I feel like life is about taking risks. Yeah, it's scary. But if it's something you love, why not?"
Butler was homeschooled for most of her life so as to leave her fully free to pursue cheer, joining teams across the US from her home town of Boca Raton, Florida. As Butler says in one of Cheer's few scenes to be set in a classroom: ​"Cheerleading is my major".
"I didn't really get a normal childhood because I basically moved away from home when I was about 14 years old," she says. ​"I left everything behind – I didn't really get to grow up with my family."
She became known in the sport by posting tutorials and behind-the-scenes vlogs on social media and starring in the long-running YouTube series Cheerleaders. ​"It started to get crazy, and people started to know who I was, when I was 13 years old.
"I was known to be this super-flexible little girl who can bend her leg behind her head, and do all this crazy stuff like tumbling that a lot of older people couldn't do."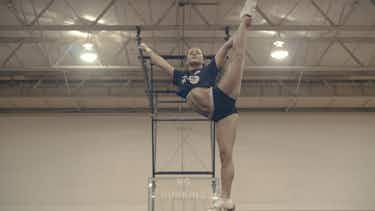 There's a particular scene in the first episode of Cheer that gives insights into the stakes and celebrities of competitive cheer when a throng of little girls in leotards say ​"everyone" knows Gabi Butler.
Butler is ​"definitely" conscious of being a role model: ​"When I was younger, it was easier because I didn't really think of it … Obviously I've grown up, and you know what happens – your patience starts getting a little bit out of whack, you start cursing. But for the most part, I've definitely kept it positive."
That's just part of cheer: ​"You have to be positive, one hundred per cent. Attitude is everything." A team's success depends on the bonds within it, Butler says: ​"You have to have trust in every single person that's on the mat with you, because if you don't, then you have absolutely nothing. I mean, you're literally talking about lifting people and throwing them in the air."
Training for nationals piles on the pressure. The cameras for Cheer seemed to capture Butler whenever she was at her worst, she says wryly: ​"All the crazy practices we were doing – two a day, every single day. I was like: ​'If I do another flip in the next two minutes, I'm going to lose it'."
At one such moment captured on Cheer, Butler sobs while supporting herself against the wall of the gymnasium: ​"I just really wanna quit". ​"You know you're not gonna quit," her teammate tells her, ​"you're not that type of person."
She says she found those scenes the hardest to watch back. ​"I was like, dang. I've always been very serious about what I do, but I think watching it just made me realise how serious I was. Like, you know – I don't have to be so hard on myself."
It's hard not to get the impression from Cheer that others are hard on her, too. Though the team adores their no-nonsense coach Monica Aldama, she pushes them to their limits; and Butler has more commitments than most. She brushes them off now: ​"The bigger you get, of course the more pressure you're going to have…
"Even though there are those practices that are absolutely draining and you're like, ​'I cannot physically or mentally do another thing' – it's worth it when you get the wins."
But almost as harrowing to watch as the mid-air acrobatics is Butler shivering through a nighttime fashion shoot, after a long day of training; she eventually gets to bed at 5am. Her mother's response, when Butler makes the most minor of complaints of exhaustion the following day, is to grill her on whether she has been ​"eating clean".
Butler's self-described ​"sticky" parents have come under fire on social media for their intense involvement in her career, prompting Butler to defend them on Twitter (as well as to clarify that money made from cheer went into her own separate account).
"It was just stuff like, ​'Gabi's parents are using her as their cash cow'," Butler says now of the backlash. Her father, a businessman, helps her to run her career in kind, she says. ​"I obviously don't mind, because he's my dad, and I need help. I couldn't do any of the things that I'm doing now without my parents."
She says she has never felt under any undue pressure, and found the criticism of them ​"a little upsetting". (Whiteley, for his part, said last week that he had misrepresented the Butlers and owed them an apology.) ​"We may come off as harsh sometimes, and some people may think ​'they're being too hard on her', but I feel like my parents are not the type to tell me something and lie to me to make me feel better," Butler says. ​"They'll tell me, like, ​'Hey, you need to be on this stuff', and honestly, I would rather that – because they care about me … Even though some people may not agree with the way that my parents do it, I mean – we would take a bullet for each other, and I'm very, very grateful."
Her drive to succeed comes mostly from within, Butler says. Now 22 years old, she has been a perfectionist ever since she was a little girl. ​"I strive for perfection. If I'm doing anything, I want to be the best."
But with few long-term paths in cheerleading, her future is uncertain. Butler has floated the possibility of becoming a stunt double or joining the Cirque du Soleil ("That would be a huge step, but I feel like it's something I could definitely do"), but is open to any opportunity.
For now, Butler is back at where she was at the start of the show: at Navarro college, training for nationals in April. That means practising cheer for three hours a day, sometimes twice a day – ​"However many we need to be successful."

More like this