Gilbert and George: ​

"

We don't believe in looking at sunsets"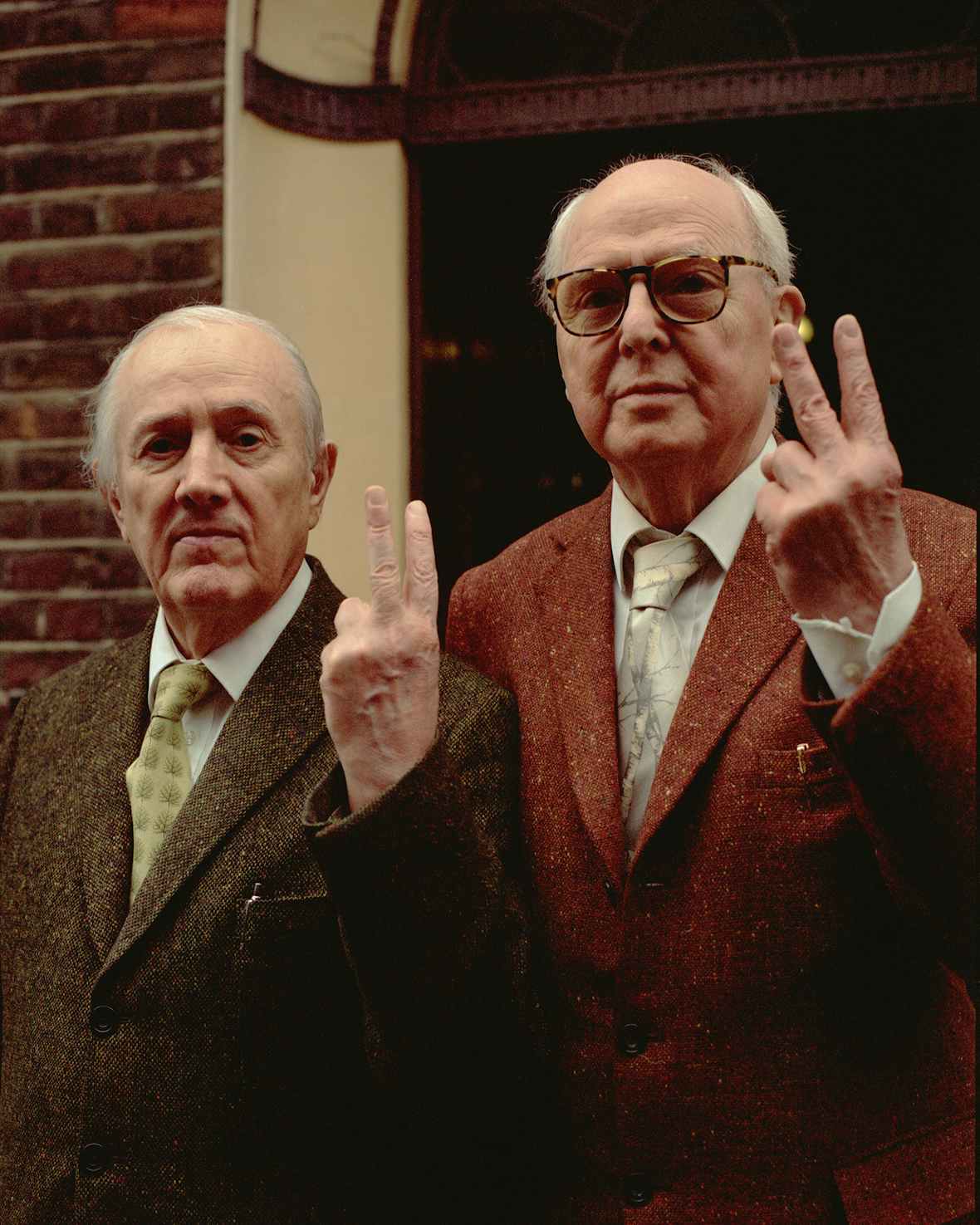 Fifty years of making pictures, upsetting the establishment and sticking two fingers at the easily offended is no easy feat.

Gilbert and George are ingrained in modern London life more than the sodding Santander bikes.
Sightings of the suited art duo striding around the East End generate a giddy buzz akin to spotting Bigfoot. ​"I saw them!", a co-worker at THE FACE would report back after a quick nip out to the Spitalfields Sainsbury's.
They've lived in the area since 1968, in the same 18th-century Georgian townhouse in which I meet them on a contrastingly grey Tuesday morning. ​"Contrasting" because a few hours spent with the provocateur painters is anything but grey. Rather, it's side-splittingly funny, often revelatory, regularly surreal and overall – in a wholly brilliant way – rather odd.
"It's our 50th year of making pictures this year," says Plymouth-born George Passmore, astonished and, at 79, the elder of the pair.
"Actually, we started out in ​'68 with magazines, sculptures and living sculptures. But for the pieces like the ones we are doing now, 50 years," clarifies South Tyrolean native Gilbert Prousch, slightly younger (and shorter) at 77.
We're talking at opposite ends of a table in their vast studio. Walking across the small grassless garden leading from their home, the duo politely suggest I take off my mask. They were vaccinated a few weeks ago, and George assures me that since then they've been to ​"very few illegal raves". They are, of course, dressed in their matching and sharply-tailored suits, the kind that has landed them on several ​"best dressed over 50s" lists in the past decade.
The pair are this week opening a major exhibition at the White Cube, first online, then in real life, providing lockdown guidelines ease. Their art is, as usual, ever-timely: the show is titled New Normal Pictures – a coincidence, they say, as they came up with the name and concept pre-pandemic.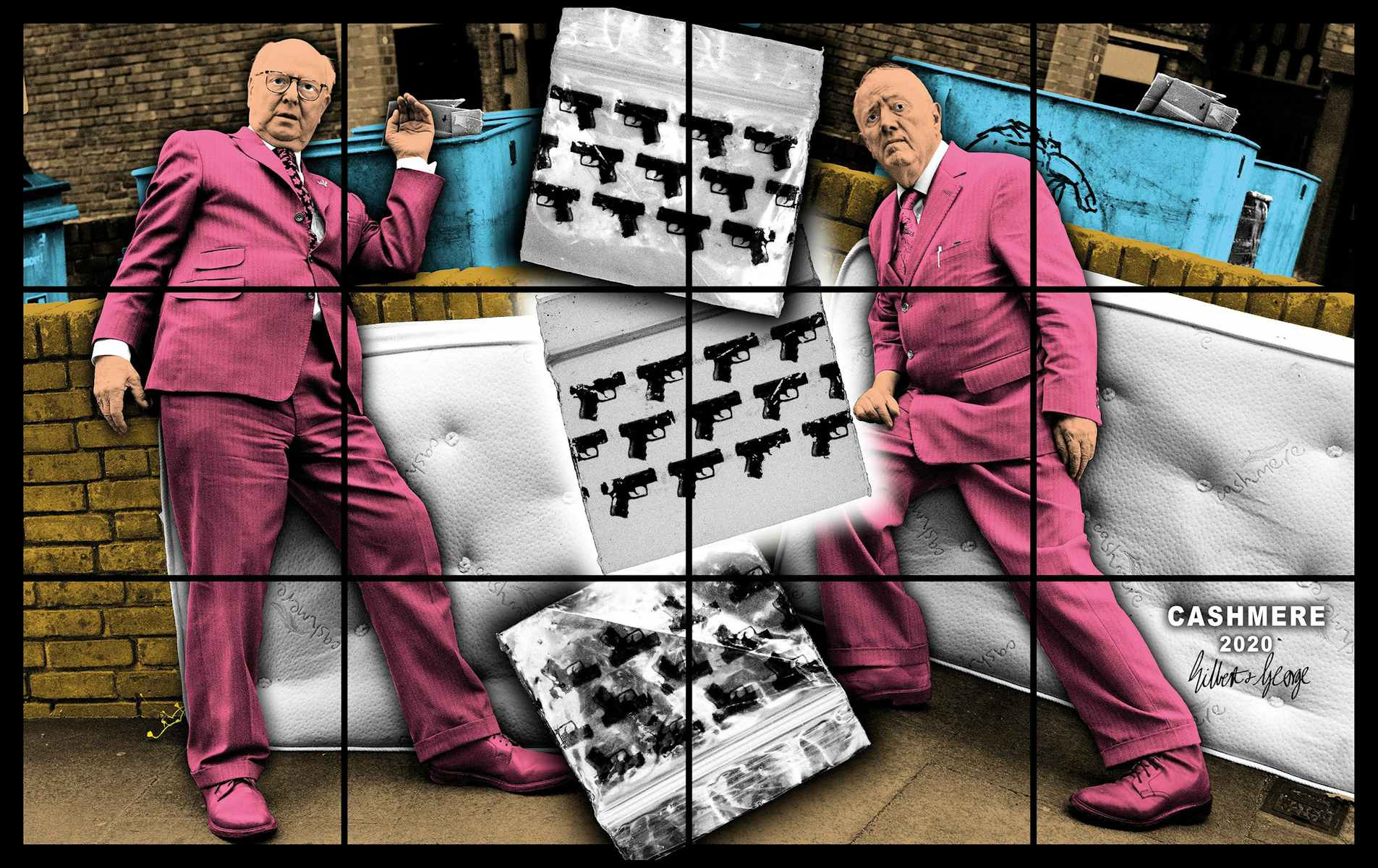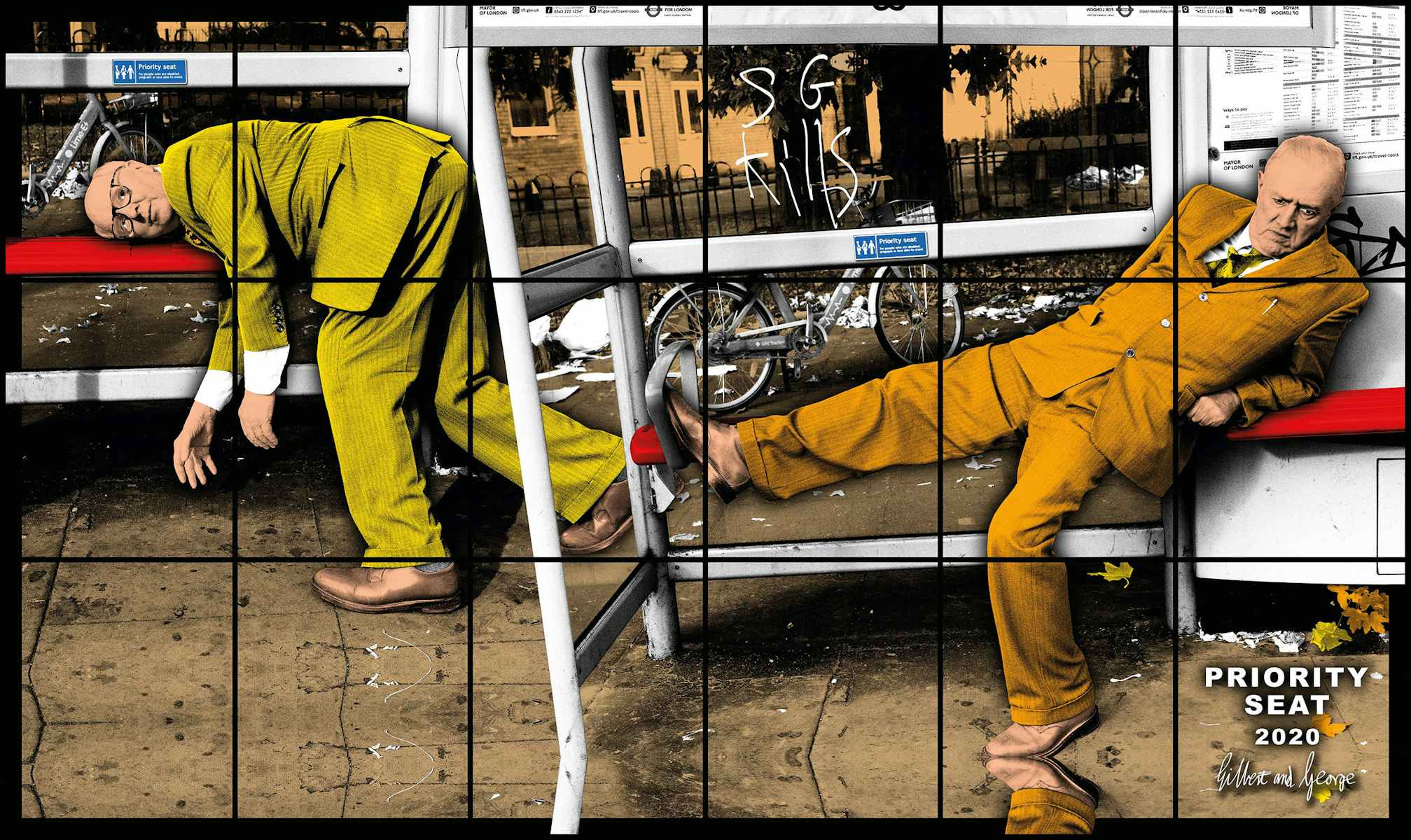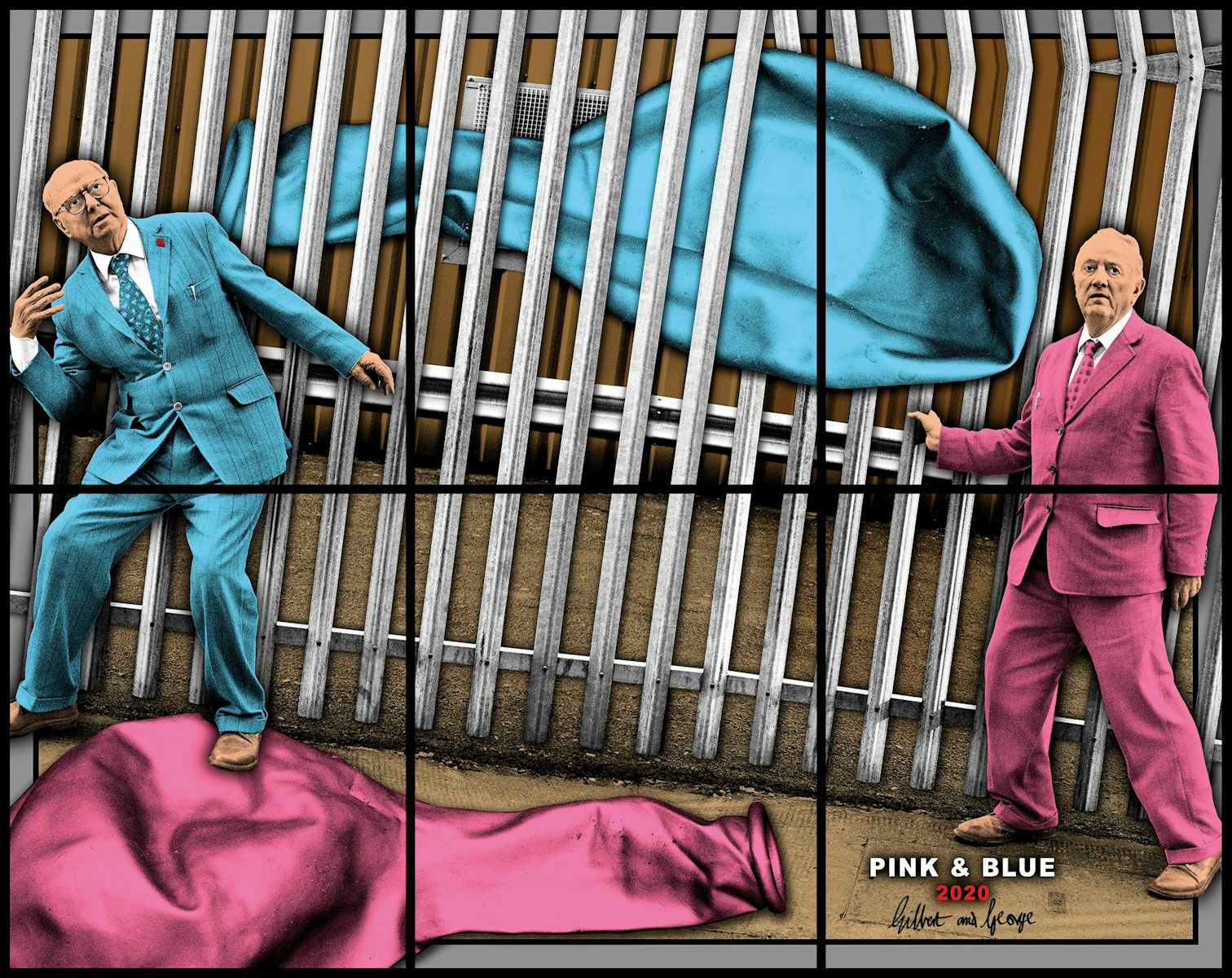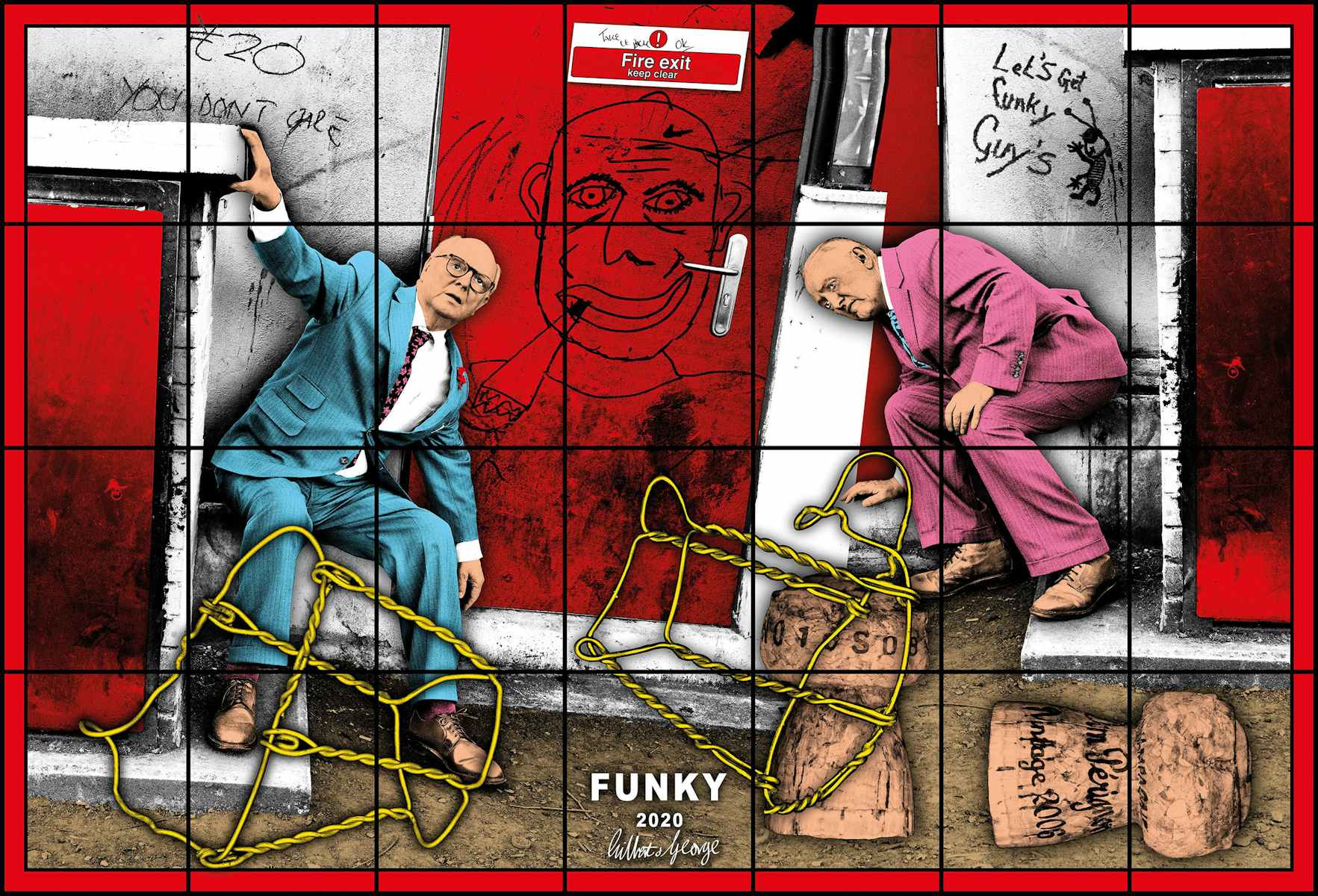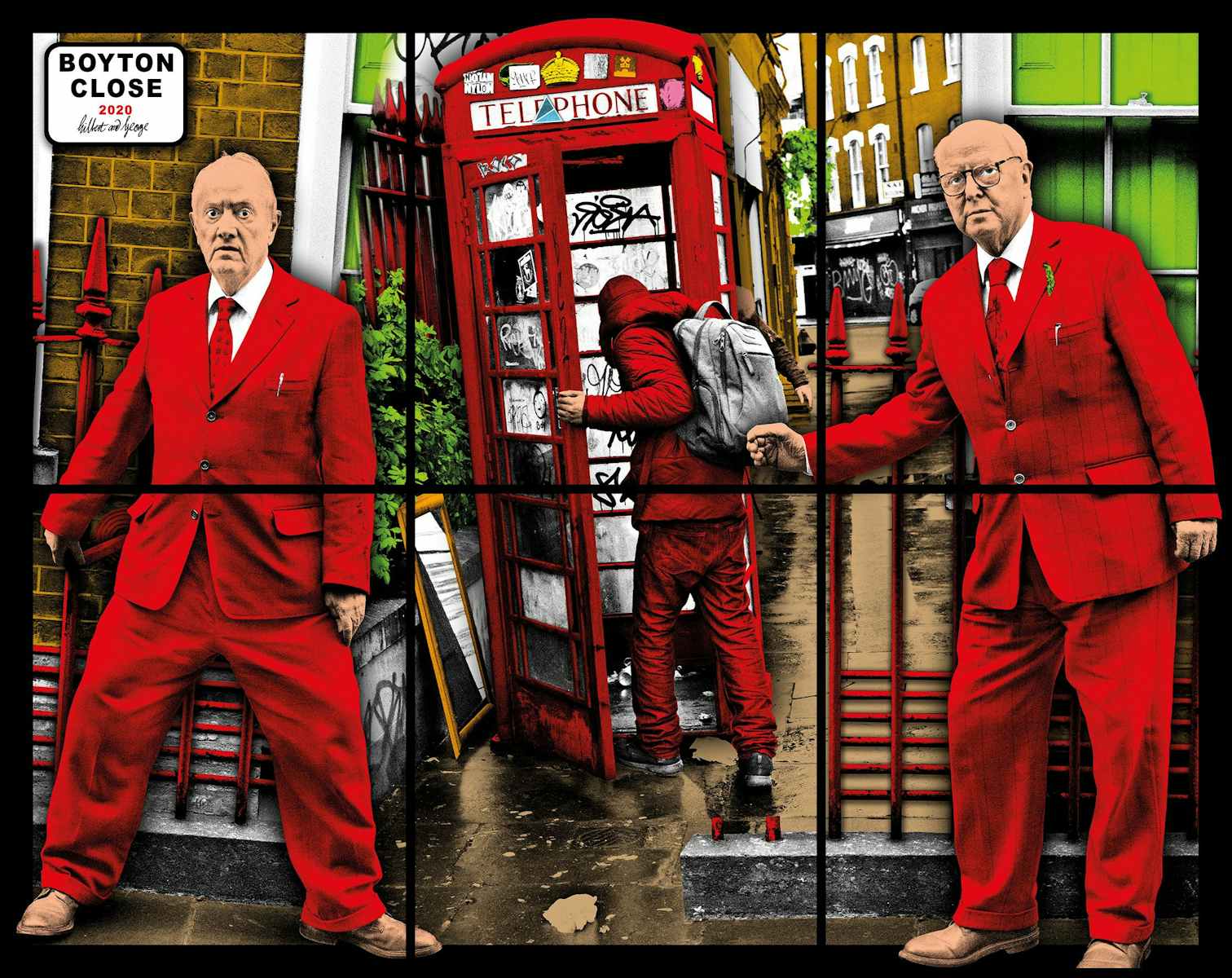 The 26 brand-new, large-scale paintings visualise the daily on-foot travels – which they refer to as their ​"Pilgrim's Progress" – the artists make from their home just off Brick Lane, up and through and all-round the fascinating mundanities of Shoreditch's backstreets. Drug baggies are scattered throughout, blown up in proportion, some bearing gun motifs with reference to Kashmir in the title Cashmere. An abandoned mattress lies limply against the wall, while a vandalised bus shelter and phonebox bring a brute realism to the paintings.
But it's the involvement of Gilbert and George themselves, a recurring image throughout their back catalogue of work, that adds the zonked-out humour. It's at once surreal and uneasy.
"We wanted to figure out what people mean when they use a foreign word thinking it's normal," George says of the exhibition's title. ​"Like when people say ​'existential'. Great, but what's that in English?"
"So we thought ​'normal' could be existentialism," Gilbert adds.
"The people who believe in existentialism thought that you had to do bad things to prove that you were a positive force," George continues. ​"They thought you had to go down to the river in Paris and kick the tramps. And it would change you, of course – you'd feel wretched forever."
It's a tough old job pissing people off for 50 years, but it's a knack Gilbert and George have developed, and perfected. They first met while studying sculpture at Saint Martins School of Art in 1967. It was love at first sight, with George being one of few people who could understand Gilbert's strong northern Italian accent at the time (he's held onto it).

After graduating, they quickly forged a democratic approach to art. The pair opted for the slogan ​"Art for All", a response ushered in by their disdain for the art world's ​"by the rich, for the rich" attitude which was especially prevalent in the 1960s.
Becoming household names was no easy ride, though. See, Art for All doesn't necessarily mean Art for All. Through their graphic, explicit works examining sex, drugs, cunts and twats, these impish provocateurs have rattled the Establishment, made fans on the Left, angered the elite, remained impeccably-dressed and became household names at the end of it all.
Works like The Dirty Words Pictures in 1977 had their ​"sophisticated friends" turn their noses up at the literal dirty words hanging off a gallery wall: FUCK, SUCK, POO. In 1983, logs of floating human shit made up the painting Shitted, which was followed by a mid-'90s faecal comeback with Spunk Blood Piss Shit Spit, a combination of taboos guaranteed to shock a viewer or three.
Gilbert and George's intention, of course, was to confront human objects universally unspeakable, to question the unquestionable.

​"It depicts a new world in some way. Believe in it or not, you have to deal with it because it is there. It's a new world," Gilbert explains, of their approach to art steeped in the ever-changing Britain, evident in their latest works, too.
"If we had done The Dirty Words Pictures in 1955, we'd be in prison," George says. ​"If we'd done The Naked Shit Pictures in ​'65, we'd have been in prison. We trust the way the world is moving, and the fact it's people doing it. Not stupid vicars, and not politicians."
For these joined-at-the-hip-and-heart partners, nothing was sacred. Their anti-religious stance has had them blasphemously reincarnating the Christian cross as a log of poo (clearly, a recurring theme). In 2015, for a mammoth retrospective at the Mona in Tasmania, a painting of a Muslim woman dressed in a traditional niqab sat alongside posters reading ​"the coming Islamic State for Britain". It enraged a Guardian journalist, to which George dismissively responded: ​"Your feelings got in your way."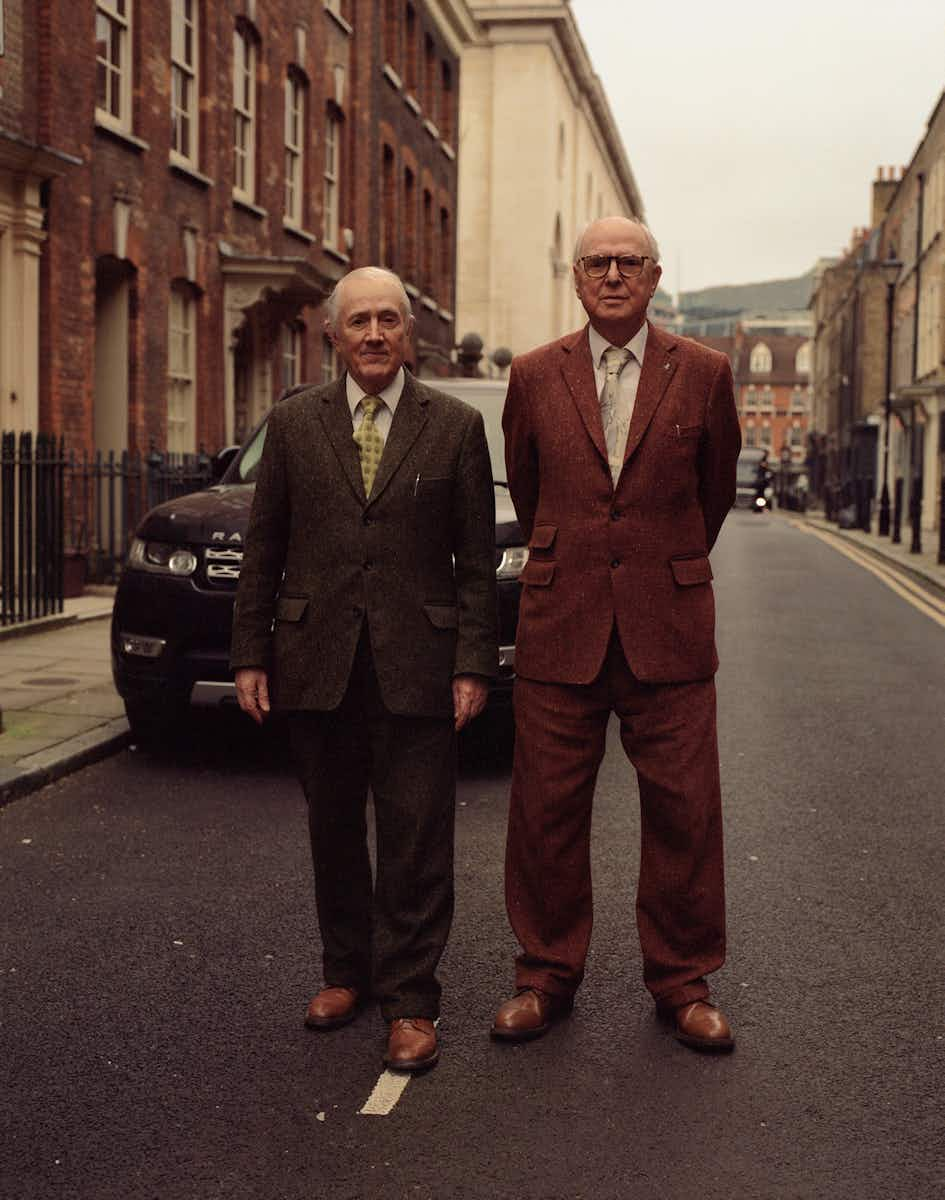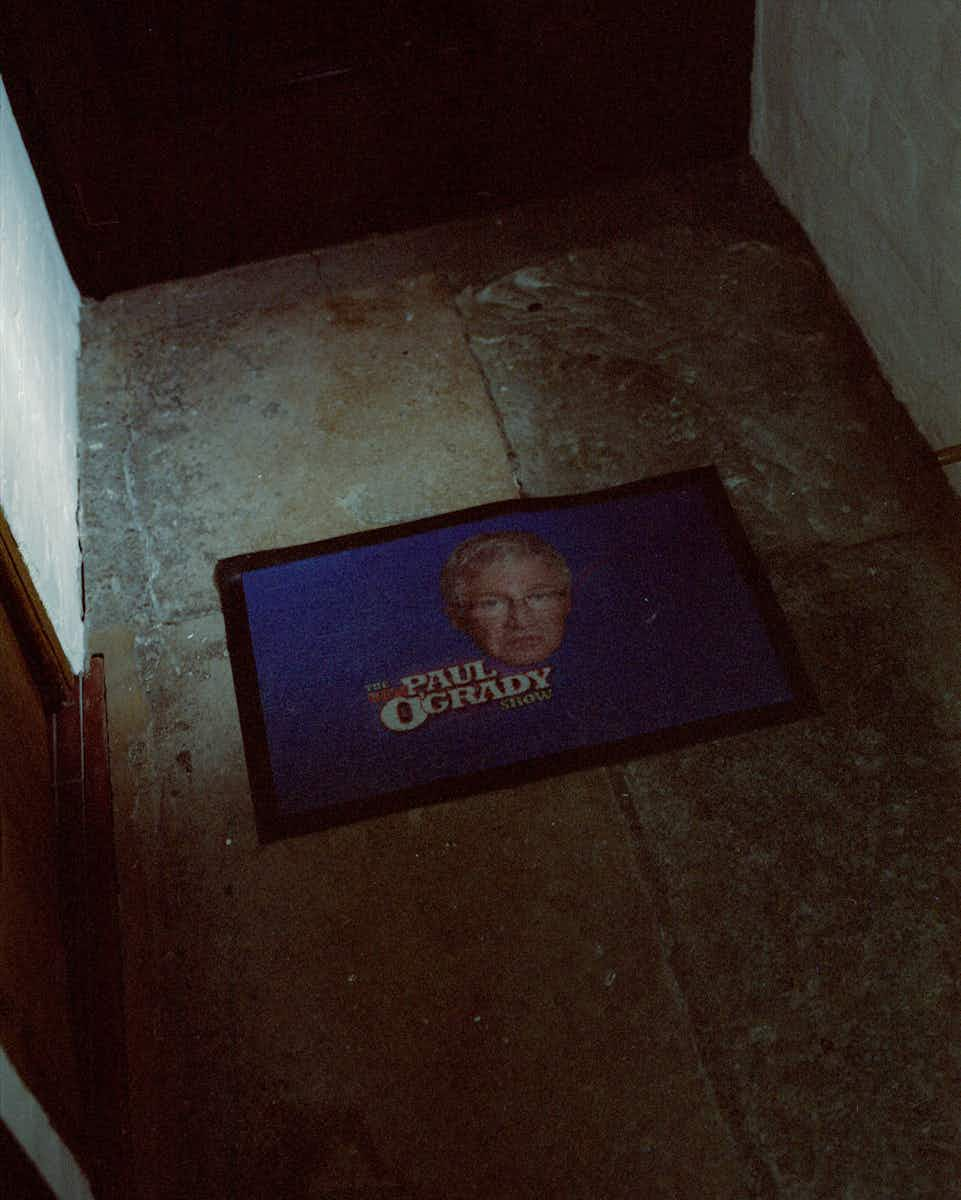 Their rationale is that these controversial hot topics are all a part of everyday life, and it's their job to raise the question marks. Positioned in the sparsely populated zone where punk anarchists meet dyed-in-the-wool Tories – something of which they're out and proud – it's surprising, then, that Gilbert and George wish to have nothing to do with politics when it comes to the art they make.
I wonder if that's really true, given how interwoven their brash topics are: sex, drugs, religion, assholes…
The pair – who sit stiff-backed, hands gesturing – are unmoved. ​"We always say art should have nothing to do with politics," says George. ​"It doesn't have to," Gilbert adds. ​"It's our feeling – what we feel. We never want to look at art as artists, it's all so old-fashioned. It means nothing anymore."
But, surely, I say, their work is intrinsically political, whichever way you look at it.
"Well, that's why we open the door to our house – that is what we are interested in. What's on Brick Lane? What is here? What is the global feeling?"
Half-a-century into their careers, do Gilbert and George believe art can be part of a revolution? After all this time, it would seem so. That's what their work is about at its very core: thrusting uncomfortable themes in front of the masses to generate controversy, all for the greater good of… well, conversation. And headlines.
"For us, art is an evolution," Gilbert demurs. ​"We call it a journey through life from the beginning, and being involved in something different."
Though many a spectator – from Goldsmiths art students to walking stick-shaking nans – have read their work as a defacing of a moral society, the two men sitting in front of me aren't anti-establishment at all. Certainly not in the manner I'd, perhaps selfishly, hoped. With a wry sense of humour and a mocking outlook at the world outside their multi-million pound, five-storey house, they certainly know how to push all the buttons. But that's not to say they are, shall we say, right on.
"We want to get away with it," George states simply. ​"We don't want to be the artists who are so proud that the police came into the show."
It is, notes Gilbert, about speaking a language that most viewers can understand. ​"What can you do, after all, with a brushstroke? [Artists] did it for hundreds of thousands of years, but we are able to speak in a modern way."
And therein is the nub the ​"artists of the people" label that has stuck throughout their naughty career: making art for ordinary folk to understand, even if some critics, professional and otherwise, think it's better off down the toilet, along with the ever-present poo.
Arguably, too, their work has consistently captured the British zeitgeist more than that of any other contemporary artist. Over five decades Gilbert and George have rigorously reflected and challenged the changing faces and attitudes of sexuality, gender, race, stereotypes and styles – in short, everything they encounter every day on their evening stroll.
"We don't believe too much in looking at sunsets – they say very little," Gilbert says of their realist approach. ​"You realise the reality is in the streets of London. Once a year we'll go up the hill to look at the sunset. But you have to come down to where life really is."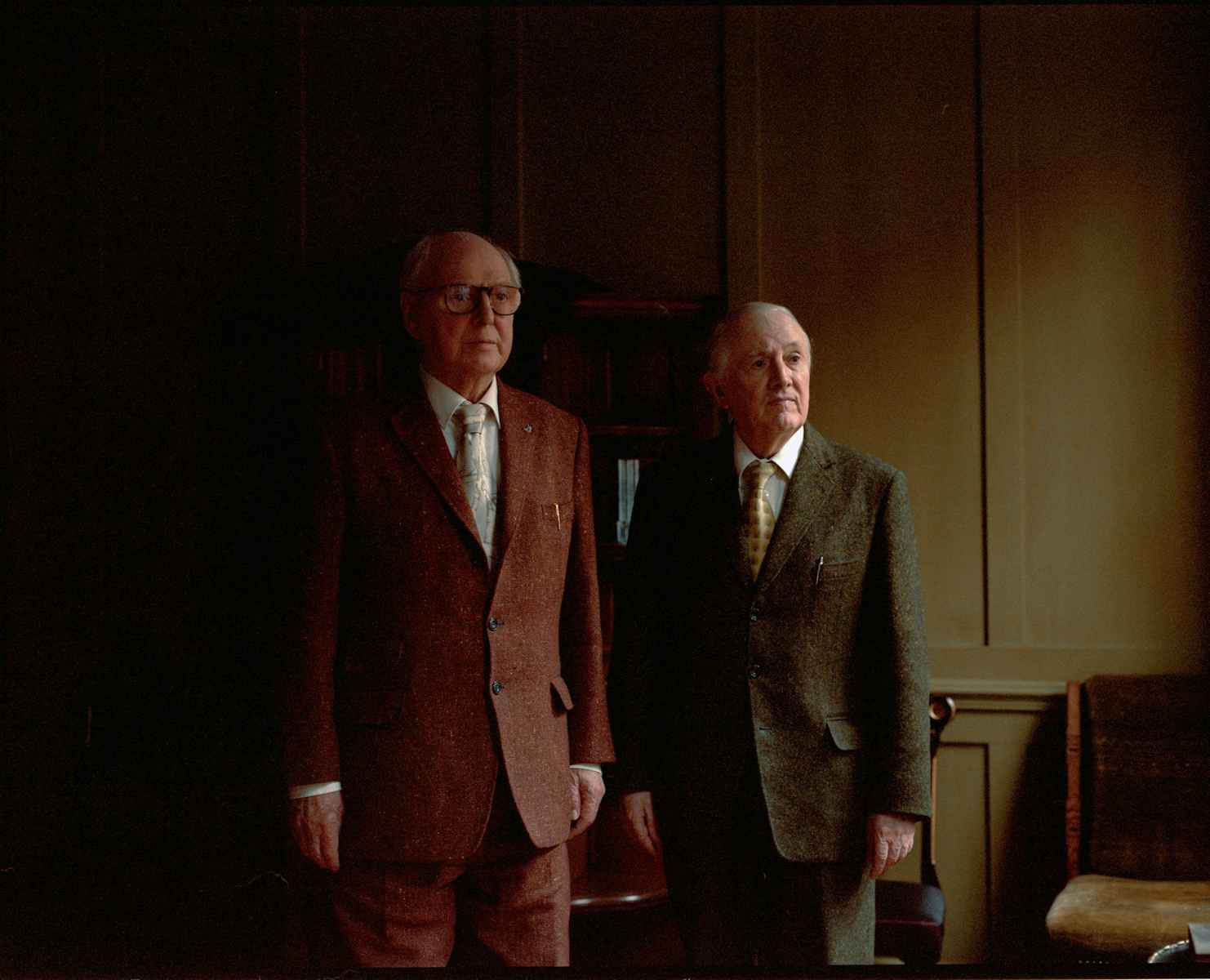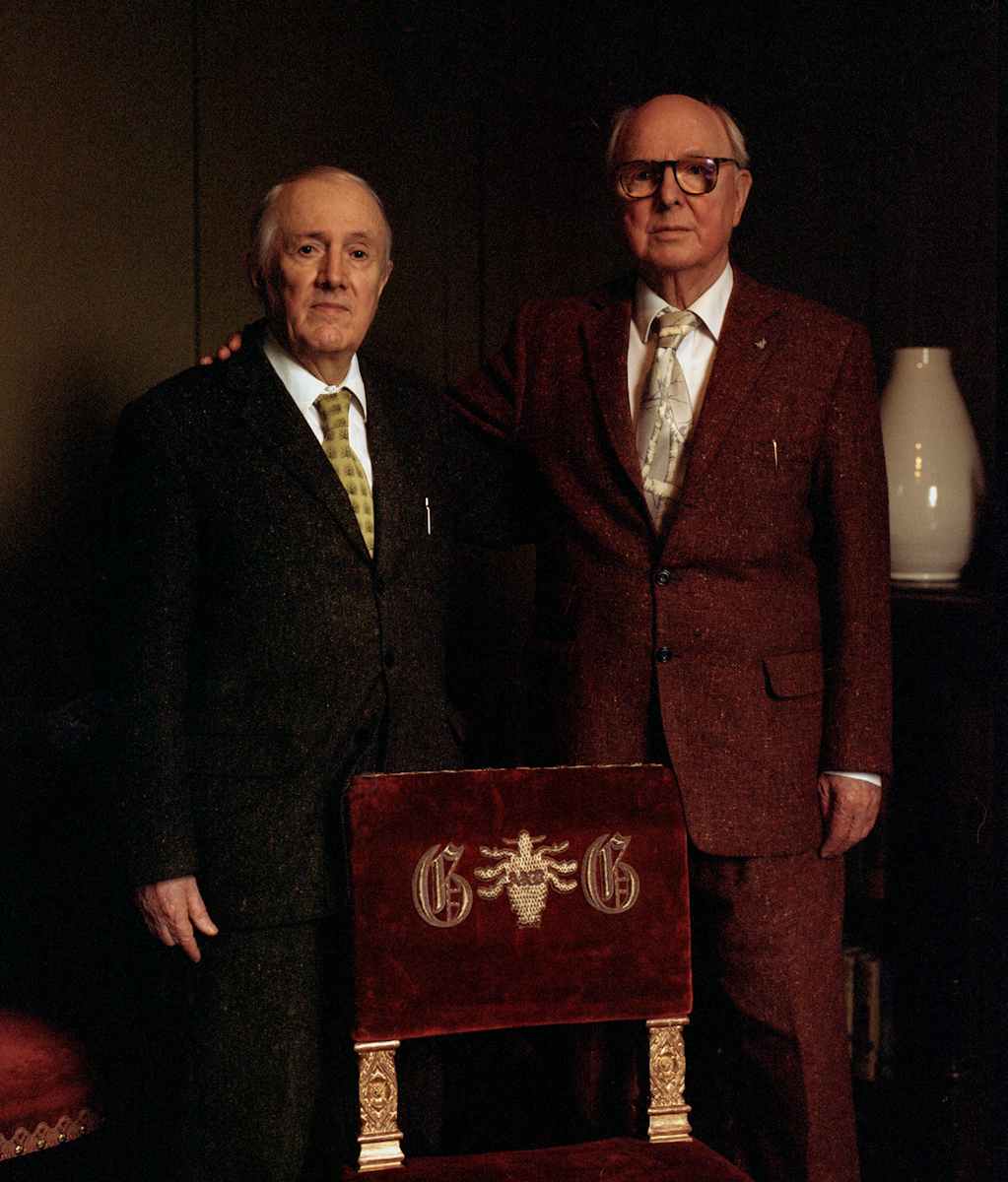 Unfortunately for these urban explorers, their daily routines, like all our daily routines, were halted over the past year. What have they missed most in lockdown?
"The waiters," Gilbert replies.
He's referring to the beloved team at Mangal 2, the Turkish restaurant a 25-minute walk up the A10 in Dalston that they've visited every single night for the past 30 years. Robbed of both their nightly peregrination and their repast, the couple have dealt with the strain of life without their lamb kebab-wielding evening companions by taking lo-fi photographs of the workers. They proudly show them to me printed out on A4 sheets of paper.
"We never ate in the house until lockdown," George sighs. ​"We live for going out in the evening, seeing and feeling the world, flirting with the waiters and having nice food."
Prior to the pandemic, these septuagenarians had never shopped for food nor planned meals – and, consequently, never had any washing up to do. For Gilbert and George, such quotidian domestic chores are the new abnormal.
"As a teenager, I read in my mother's magazine that the average housewife spends 27 years in the kitchen. What a nightmare!" exclaims George.
It's that same familiarity that has had Gilbert on George on a near-permanent UK staycation. A brief holiday to Italy in the ​'60s is classed as a one-off aberration.
As Gilbert puts it: ​"We don't need anything. We don't want anything. We are happy."
"Mangal's a holiday," nods George.
Gilbert and George, then: creatures of both habit and disruption. While they might not like to think of themselves as part of any revolution, as a big-time fan, I say they are.
In a career spanning every kind of sordid visual excursion, they've plunged the cocks, bums, piss, spunk and all of the city of London onto pristine white gallery walls, astonishing, shocking, provoking and repulsing along the way. In all the best ways, Gilbert and George are revolting.

More like this