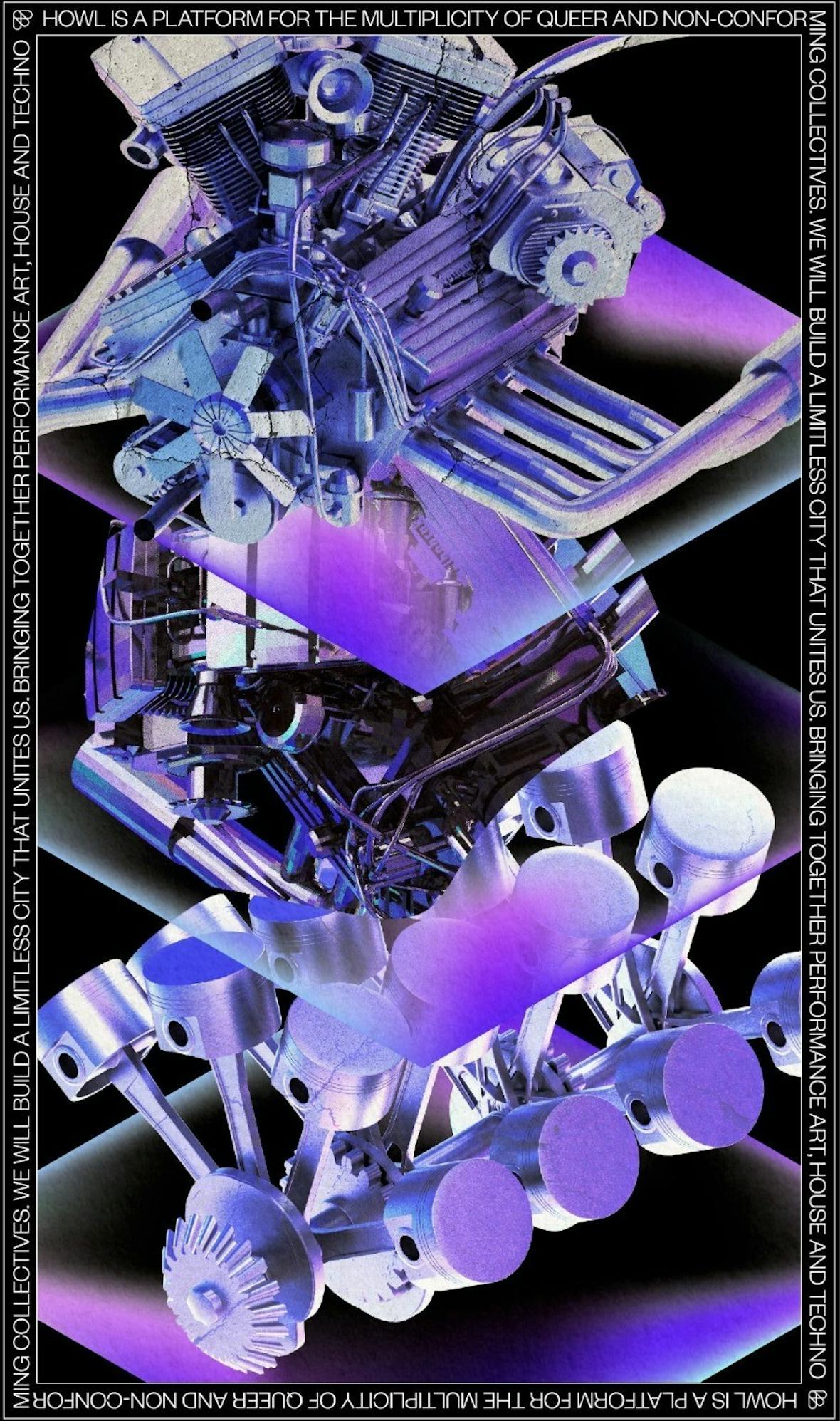 Can­cel your Sat­ur­day plans. You're going to a day-to-night knees-up in Tottenham
London's nightlife is in jeop­ardy. Clubs are clos­ing east, south and cen­tre. Call the police. Tell the coun­cil. Actu­al­ly, don't – they'll close more clubs.
Jokes aside, if we take a look at our Euro­pean sib­lings – Berlin, Ams­ter­dam, Lis­bon – Lon­don is com­par­a­tive­ly stuck in a vor­tex of nights at the pub end­ing with you crawl­ing back to your mate's liv­ing room and sesh­ing ​'til the ear­ly hours. Grim. At times, it's easy to for­get Lon­don birthed some of the great­est nightlife eras in his­to­ry. UK Garage, the New Roman­tics, even mid-00s indie gigs – they all found a home in Lon­don. But now? We're often left scratch­ing our heads won­der­ing where the fuck we should go out.
And then there's queer nightlife, which pos­es an even big­ger prob­lem. In dire need of a face-lift, ever-clos­ing nights and lack of spaces which cater to all make for an incred­i­bly lim­it­ed scene.
But while we've all been moan­ing and doing very lit­tle else, this Sat­ur­day Grow Tot­ten­ham – a 10,000 sq ft. com­mu­ni­ty gar­den – will play host to a day-to-night event by Howl – ​"a plat­form for the mul­ti­plic­i­ty of queer col­lec­tives to come togeth­er" in a major cel­e­bra­tion of dif­fer­ence with­in a new­ly emerged area. Col­lec­tives CAMPer­VAN (made up of Samuel Douek, Zoë Mar­den and Fion­tan Moran) and co-founders of BUM.P Nic­co Torel­li and Douek will join forces to ​"see what might hap­pen if we make a more con­cert­ed effort to bring queer nights and art events togeth­er", says Torelli.

"While great strides have been made in leg­is­la­tion for queer indi­vid­u­als, there has been a rise in attacks on queer peo­ple, which makes LGBTQ+ spaces all the more important"
Sounds great. Accord­ing to Samuel, the aim is ​"to build new con­nec­tions with­in queer com­mu­ni­ties that might not usu­al­ly over­lap", while artist Zoë says, ​"The cur­rent socio-polit­i­cal cli­mate is at its worst with Trump and Boris. It's almost as if all the progress we have made is being reversed. We can't let that happen."
And while it might all seem like fun and games, as Zoë points out: ​"While great strides have been made in leg­is­la­tion for queer indi­vid­u­als, there has been a rise in attacks on queer peo­ple, which makes LGBTQ+ spaces all the more impor­tant. Espe­cial­ly as so many have closed down over the past decade."
And she's right. Southwark's only gay club XXL, which has stood for 19 years, has been giv­en three months to close because of – shock – rede­vel­op­ments in the area. Then there's Madame Jojo's, Bar­code Soho, Can­dy Bar, The Joiner's Arms and Green Car­na­tion which all closed between 2014 and now, leav­ing London's queer nightlife feel­ing some­what hollow.
Nic­co, who co-found­ed night BUM.P (which orig­i­nat­ed at VfD and now has a per­ma­nent res­i­den­cy at Dal­ston Super­store), knows about the lack of queer nights in the City all too well. ​"While there are some great indi­vid­ual par­ties, it's becom­ing hard­er for sin­gle venues to cater exclu­sive­ly to a queer clien­tele, which makes the notion of a ​'safe space' hard­er to define," he says.
So this week­end, come down to GROW Tot­ten­ham and show some love. Even if a rave isn't at the top of your agen­da, get involved in ​"a dis­cus­sion host­ed by the polyamorous dat­ing app Feeld titled ​'Beyond the Nuclear'", says Zoë, or watch var­i­ous per­for­mances on the CAMPer­VAN stage by the likes of Otamere, Tana­ka Fuego, Shay Shay, Pierre & Baby, Awk­ward N'dure, Bimi­ni and Eve Stain­ton. And if all of that isn't enough, end your night with a set by Lon­don nightlife leg­end Jef­frey Hin­ton. Won­der­ful.

A GUIDE TO RAVE ETIQUETTE
Before you get overex­cit­ed and start run­ning toward the dance­floor, take a read through this list of rave eti­quette com­piled by those involved at Saturday's event. It might just save your ass.

1). ​"Be naked."
2). ​"Stay hydrated."
1). ​"Smile. Remem­ber that smi­ley rave face? It was the Sum­mer of Love, not the Sum­mer of Cunt."
2). ​"Have some moves. There's noth­ing worse than danc­ing that resem­bles a seizure."
3). ​"Smints, because you ain't gonna pull with dog breath."
4). ​"A Chick­en Chow Mein Pot Noo­dle for those after-par­ty munchies."

1). ​"Always bring back up shorts if sport­ing a leather/​PVC look."
2). ​"If you can't remem­ber their name for the 17th time, you can nev­er go wrong with ​'hun'."
3). ​"Sweat every­where but remem­ber to wipe down peri­od­i­cal­ly. Some­one else's kilt will suffice."
4). ​"Bring sweets, you'll thank your­self lat­er, oh and toi­let paper… you nev­er know."
1). ​"Be respon­si­ble for the ener­gy you bring to the space. Don't just come to the func­tion to con­sume. Add some­thing unique to the vibe!"
2). ​"Get a glam­orous bum­bag so you can store all your var­i­ous bits."
3). ​"When the dance floor is good it's going to be HOT inside, so be sure to drink plen­ty of water, and get an 18-inch hand­held per­for­mance fan because it looks fab­u­lous and you will need it!
4). ​"Bring some blue­ber­ries, so you can pack those antiox­i­dants in and look sick­en­ing and be nutri­tious too!"

---