How Nicholas Gal­itzine got into the mind of an addict
Nicholas Gal­itzine is gaz­ing through a bul­bous fish bowl so that his face, nor­mal­ly sym­met­ri­cal and mol­li­fy­ing, is stretched and dis­tort­ed. It's like the meet cute in Baz Luhrmann's Romeo + Juli­et where Leonar­do DiCaprio and Claire Danes lock eyes through a trop­i­cal fish tank. But this Lon­don-born actor – who was only two when that film hit the­aters – looks more like a young Matt Dil­lon than he does Leo. And in this case, the Claire Danes is me, an ugly jour­nal­ist. Much like DiCaprio or Dil­lon in his ​'80s hey­day, Gal­itzine has already been tagged with labels of ​"heart­throb." To date, his only sig­nif­i­cant roles have been as a gay rug­by play­er (Hand­some Dev­il) and a pan­han­dling vio­lin­ist (High Strung).
But here he is, at a pho­to­shoot for The Face, about to find him­self swim­ming around his own fish­bowl of fame. He is a phys­i­cal argu­ment for reviv­i­fy­ing the Matt Dil­lon-wor­ship­ping teen mags of yore like Tiger Beat Star and Super Teen, sole­ly so cen­ter­folds of Gal­itzine can be torn out and taped up on the walls of horny girls' bed­rooms. The 24-year-old is well aware of this – he knows the pow­er of this ​"demo­graph­ic," the girly groundswell that PR'ed the careers of Tim­o­th­ée Cha­la­met and Noah Cen­ti­neo to inter­na­tion­al suc­cess. This is why he pur­sued the role of Hardin Scott in the recent­ly released soft­core fan­f­ic-cum-fea­ture film After.
Though the role went to inchoate brood­ster Hero Fiennes Tif­fin (nephew of Ralph Fiennes), Gal­itzine was being court­ed for the part and updat­ed his 13.3K Twit­ter fol­low­ers through­out the audi­tion­ing process. So it came as quite a shock when, in July of last year, he tweet­ed, ​"After fans, time to let go. I tried to bring a soul to a char­ac­ter I believe had a lot of unex­plored depth and vul­ner­a­bil­i­ty, but my inter­pre­ta­tion wasn't what the team had in mind. Thank you for your con­tin­ued sup­port. It means a lot."

Listen now:

Nicholas Galitzine on playing an addict in Chambers
What he had want­ed to do with the char­ac­ter – like­ly bequeath him a per­son­al­i­ty, any per­son­al­i­ty, based on the slaugh­ter­house of crit­ic reviews – diverged from the more digestible inter­pre­ta­tions of the film's direc­tor. ​"I want­ed to try and speak to that [teenage] demo­graph­ic in a more authen­tic and human way, because I think you can only speak to them in a very basic way for so long before it gets tired and bor­ing and unin­ter­est­ing because, ulti­mate­ly, you've seen that same age-old love sto­ry time and time again," he says, before demo­c­ra­t­i­cal­ly adding, ​"I heard the film's doing real­ly, real­ly great."
I tell him that After was a box office flop.
"Oh, is it not [doing well]?" he says, gen­uine­ly con­cerned. ​"That's not [a loss] that I've come to regret or any­thing. Espe­cial­ly con­sid­er­ing it paved the way for me to do Cham­bers, which was def­i­nite­ly the best job of my career so far."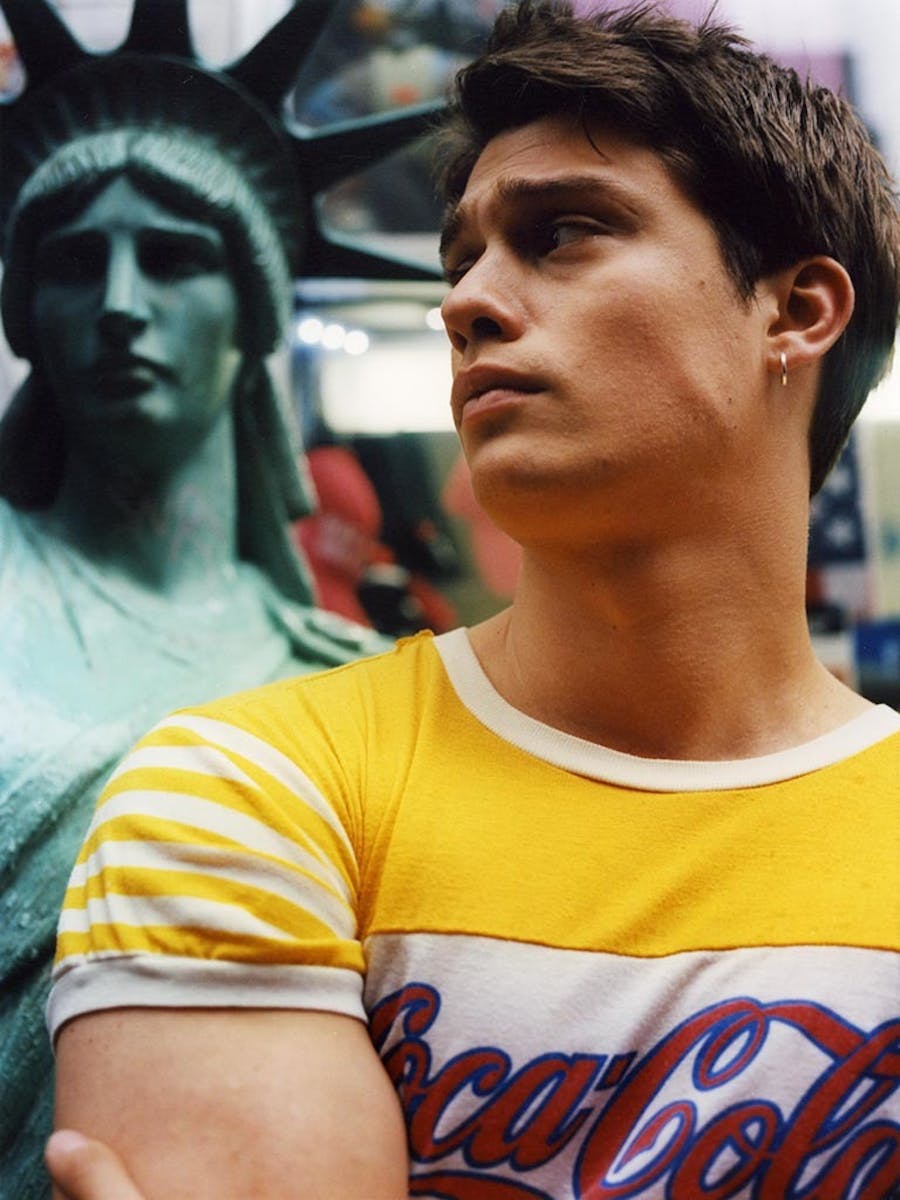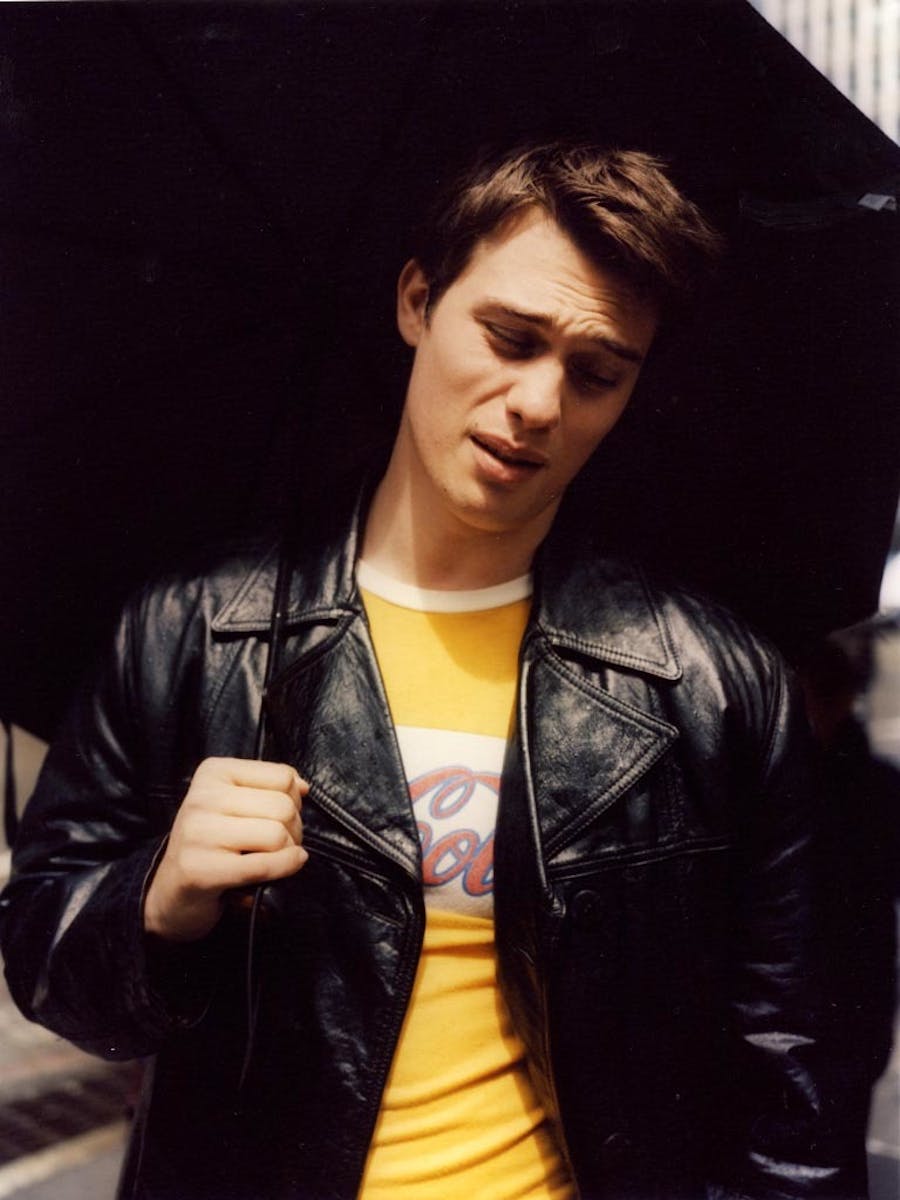 Gal­itzine stars in Netflix's Cham­bers as recov­er­ing hero­in addict Elliott LeFevre. In the show, he wears a kind of allur­ing, sunken John­ny Depp-at-The Viper Room look. He is son to Nan­cy (Uma Thur­man); broth­er to his dead twin, Becky; and all-around dis­af­fect­ed rich kid shacked up in a desert man­sion in the fic­tion­al, afflu­ent New Mex­i­can sub­urb of Crys­tal Val­ley. The psy­cho­log­i­cal dra­ma owes a small debt to Twin Peaks, with which it shares sev­er­al sim­i­lar­i­ties: ques­tions upon ques­tions, a slow cin­e­mat­ic murk­i­ness and the mys­te­ri­ous death of a high school blonde.
But it starts with an Apache girl named Sasha try­ing to lose her vir­gin­i­ty (Sivan Alyra Rose). Sasha has a heart attack mid-orgasm, and she is giv­en a new heart in an emer­gency trans­plant. That heart once belonged to Becky LeFevre. Post surgery, Sasha is as good as adopt­ed by the LeFevres – she's got their daughter's heart, after all. She trans­fers to Becky's school, wears Becky's old cloth­ing and vir­tu­al­ly resumes Becky's high school life.
For the remain­der of the series, Sasha attempts to unrav­el how Becky real­ly died and, in her attempts, grows uncom­fort­ably close to the LeFevre fam­i­ly. It gets sin­is­ter in an Ari Aster Hered­i­tary way with Uma's new age mom char­ac­ter fran­ti­cal­ly try­ing to com­mu­ni­cate with her beloved dead daughter.
Cham­bers is ​"def­i­nite­ly eerie and it draws you in in a par­tic­u­lar way," Gal­itzine mus­es between bites of a red apple. His char­ac­ter, Elliot, dis­miss­es the new age spir­i­tu­al­ism embraced by those around him as pre­ten­tious. He is his family's Daria Mor­gen­dorf­fer. There are ​"real­ly inter­est­ing com­po­nents to [Cham­bers], cer­tain­ly that I find inter­est­ing about these new age soci­eties. I'm obsessed with […] cults in gen­er­al, like, Sci­en­tol­ogy is such a fas­ci­nat­ing society."
We dis­cuss the Chil­dren of God cult briefly, which babysat, both lit­er­al­ly and fig­u­ra­tive­ly, one of Galitzine's favorite actors, Joaquin Phoenix. Phoenix's par­ents were card-car­ry­ing mem­bers of the cult, but left in 1978 when its leader, Moses David, began to encour­age young chil­dren to exper­i­ment with sex – some­times with adults (Riv­er Phoenix lost his vir­gin­i­ty aged four).
The most inter­est­ing part about Galitzine's char­ac­ter, how­ev­er, is that he is a recov­er­ing hero­in addict. To por­tray this authen­ti­cal­ly, the actor attend­ed a Nar­cotics Anony­mous meet­ing in LA and lis­tened in on more meet­ings online. ​"I don't know if I'll ever tru­ly be able to under­stand what it's like to be in the mind of an addict because I think there's a cer­tain dark­ness that comes with being in that place," he tells me. ​"So I def­i­nite­ly did some research into [hero­in] on the effects: what that would do to you physically."
Gal­itzine sat with how that would come across in his role as Elliott, who is most­ly just a dead-behind-the-eyes high school­er, but when Gal­itzine flips the switch for Elliott's more har­row­ing scenes, his inten­si­ty is like a shot to the arm. Watch­ing him jog­gle and quiver under the effects of drugs is arrest­ing. It's noth­ing like the sober, ​"shel­tered" life he lived play­ing rug­by as a teen at his board­ing school. ​"The Face exclu­sive," he says jok­ing­ly, ​"I've nev­er done crack!"

Listen now:

Nicholas Galitzine on his looks
Instead, he spent all his wak­ing hours on the rug­by pitch, prac­tic­ing to be a pro. ​"I was com­mut­ing hours a day to get to school," he says. ​"After school I was dri­ving into the coun­try­side at night time to train for the acad­e­my I was at. I would play rug­by on the week­ends for my local clubs." Then, dur­ing a reg­u­lar game, he got injured. He dam­aged his rota­tor cuff ​"beyond repair." His rug­by career was osten­si­bly over in the pop pass of a Gilbert.
John Wayne played Amer­i­can foot­ball at USC, but lost his schol­ar­ship due to a col­lar­bone injury. So he became an actor. Burt Reynolds, too, was a half­back at Flori­da State in 1954, but a knee injury took him off the field and into the the­ater. He met an act­ing teacher who cast him as the lead in Out­ward Bound, his first pro­duc­tion. So real­ly, Gal­itzine is kin­da lucky he dam­aged his shoul­der. ​"That injury almost coin­cid­ed with a creep­ing paral­y­sis that I wasn't meant to do [rug­by] as a career, which was going to be a very hard thing to admit to myself or to my fam­i­ly," he says. ​"There was this huge void in me and a huge jeal­ousy of watch­ing my friends play. Then one day, act­ing just fell on my lap and it was like, ​'OK, this is what I was miss­ing my whole life.'"
Not even sev­er­al months ago could he have known he would be sit­ting in the passenger's seat oppo­site his child­hood crush, Uma Thur­man. ​"I have a one-on-one scene with her in the car and I'm like, ​'Nick, you're sit­ting in a car with Uma Thur­man.' How did I get to this point? I feel like I almost had, maybe not my sex­u­al awak­en­ing, but she was one of my crush­es when I was younger. Which is so hilar­i­ous­ly Oedi­pal as well because you're [think­ing] like, she's play­ing your mom."
Soon, shar­ing top billing with act­ing leg­ends and crush­ing on co-stars could turn into the norm for this kid on the rise. Gal­itzine next appears in direc­tor Pip­pa Bianco's Share as A.J., a teenage boy who is thought to have sex­u­al­ly assault­ed his class­mate, Mandy. The entire film is a fic­tion­al think piece on rape cul­ture, but def­i­nite­ly makes clear how accu­sa­tions can turn out more pun­ish­ing than help­ful for a rape vic­tim. He pulls off his role with aplomb – it's hard not to loathe his smug, hood­ie-wear­ing char­ac­ter. More­over, he's hot (he's cur­rent­ly signed to Storm Models).
Though it's trite to point out, his unique look is ver­sa­tile. He can play the hot guy, sure, but good luck pigeon­hol­ing him as some assem­bly line internet's boyfriend. ​"I've decid­ed to divorce myself from my own ego in terms of my aes­thet­ics and just live for the char­ac­ter," he says, when I ask him how he feels about his looks. ​"Looks are such a sub­jec­tive thing. I was a very inse­cure kid grow­ing up, real­ly bad self-esteem and I always thought I looked quite fun­ny. I have a cou­ple of moles on my face. I remem­ber say­ing I want­ed to laser them off. My nose is a lit­tle bro­ken from play­ing rug­by and I want­ed to change that… But I think I learned to feel more com­fort­able in my skin doing this. I feel hap­pi­er with myself now than ever before."
No mat­ter what he does on screen, you sim­ply can't look away. The con­cept of fame, he says, is ​"ter­ri­fy­ing," but – despite any rug­by scrum knocks – Nicholas Gal­itzine seems to have kept his head. He's man­aged to avoid the pit­falls of tak­ing a role whol­ly to cur­ry favor with a fan­dom and is con­tem­plat­ing every offer thrown his way with uncom­pro­mis­ing scruti­ny. He's already made the move to Los Ange­les, but Cham­bers could be just the thing to put his per­fect mug in front of more eyes. ​"My suc­cess so far has been just by rid­ing the wave, as it were. I'm just excit­ed to keep doing what I'm doing and see where it takes me."

---