How Nicholas Galitzine got into the mind of an addict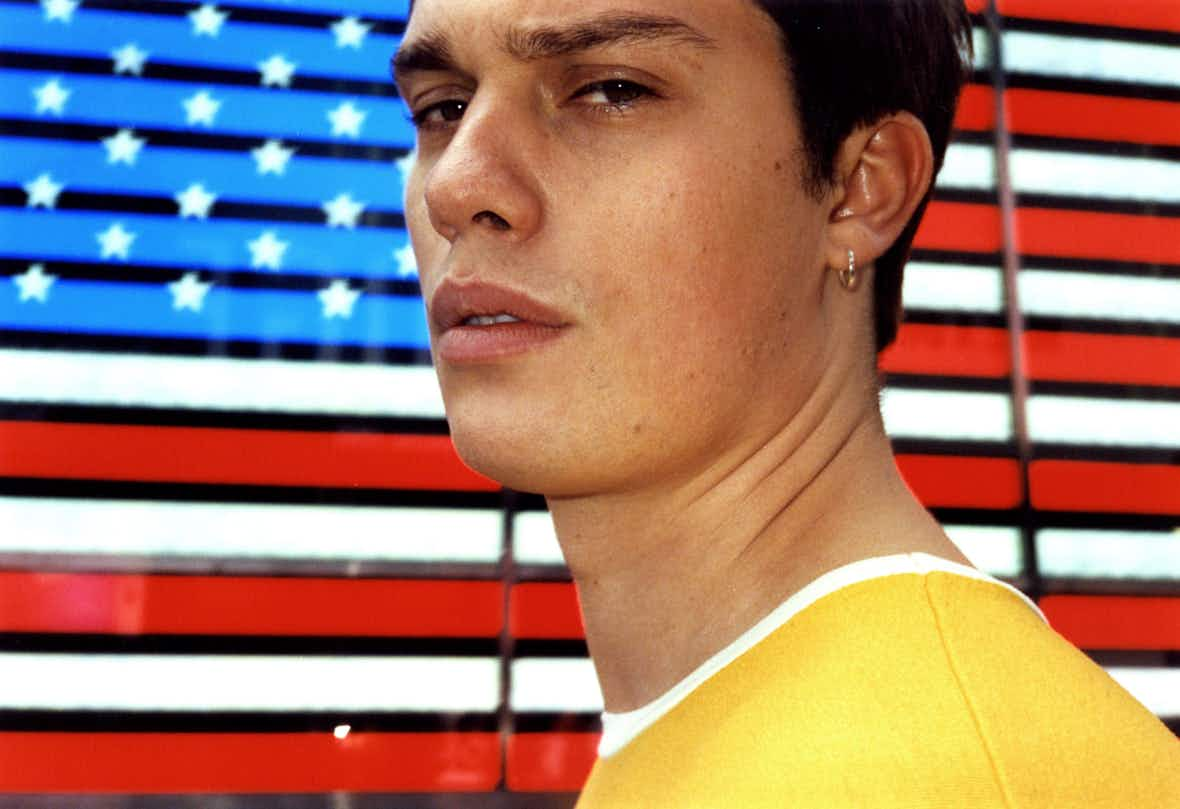 The actor convincingly plays a recovering heroin addict in Netflix's new Twin Peaks-inspired psychological drama Chambers.
Nicholas Galitzine is gazing through a bulbous fish bowl so that his face, normally symmetrical and mollifying, is stretched and distorted. It's like the meet cute in Baz Luhrmann's Romeo + Juliet where Leonardo DiCaprio and Claire Danes lock eyes through a tropical fish tank. But this London-born actor – who was only two when that film hit theaters – looks more like a young Matt Dillon than he does Leo. And in this case, the Claire Danes is me, an ugly journalist. Much like DiCaprio or Dillon in his ​'80s heyday, Galitzine has already been tagged with labels of ​"heartthrob." To date, his only significant roles have been as a gay rugby player (Handsome Devil) and a panhandling violinist (High Strung).
But here he is, at a photoshoot for The Face, about to find himself swimming around his own fishbowl of fame. He is a physical argument for revivifying the Matt Dillon-worshipping teen mags of yore like Tiger Beat Star and Super Teen, solely so centerfolds of Galitzine can be torn out and taped up on the walls of horny girls' bedrooms. The 24-year-old is well aware of this – he knows the power of this ​"demographic," the girly groundswell that PR'ed the careers of Timothée Chalamet and Noah Centineo to international success. This is why he pursued the role of Hardin Scott in the recently released softcore fanfic-cum-feature film After.
Though the role went to inchoate broodster Hero Fiennes Tiffin (nephew of Ralph Fiennes), Galitzine was being courted for the part and updated his 13.3K Twitter followers throughout the auditioning process. So it came as quite a shock when, in July of last year, he tweeted, ​"After fans, time to let go. I tried to bring a soul to a character I believe had a lot of unexplored depth and vulnerability, but my interpretation wasn't what the team had in mind. Thank you for your continued support. It means a lot."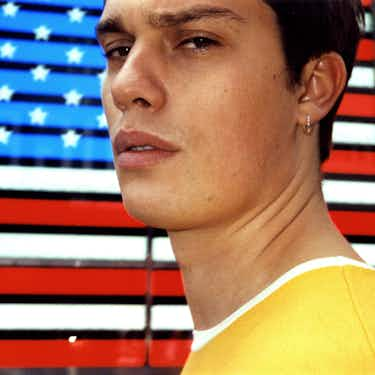 Listen now:

Nicholas Galitzine on playing an addict in Chambers
What he had wanted to do with the character – likely bequeath him a personality, any personality, based on the slaughterhouse of critic reviews – diverged from the more digestible interpretations of the film's director. ​"I wanted to try and speak to that [teenage] demographic in a more authentic and human way, because I think you can only speak to them in a very basic way for so long before it gets tired and boring and uninteresting because, ultimately, you've seen that same age-old love story time and time again," he says, before democratically adding, ​"I heard the film's doing really, really great."
I tell him that After was a box office flop.
"Oh, is it not [doing well]?" he says, genuinely concerned. ​"That's not [a loss] that I've come to regret or anything. Especially considering it paved the way for me to do Chambers, which was definitely the best job of my career so far."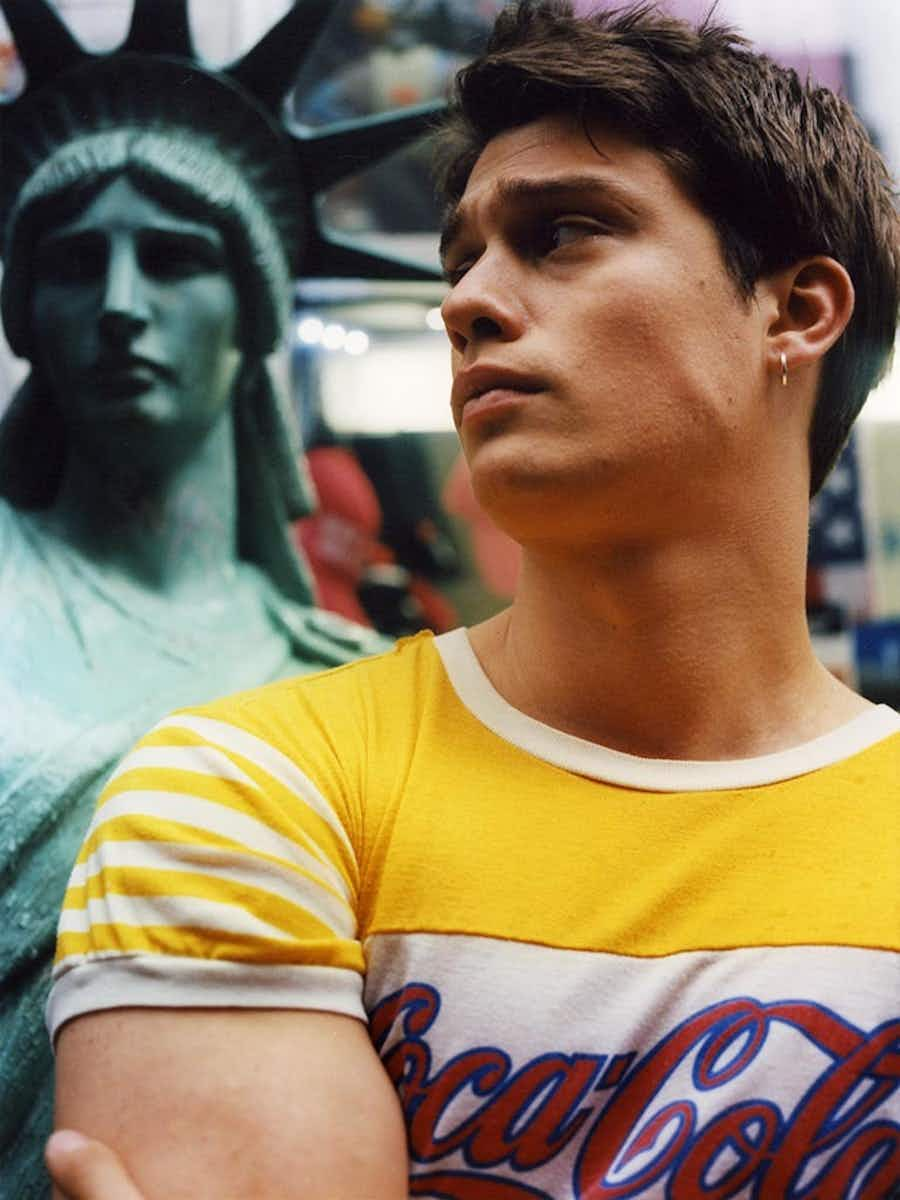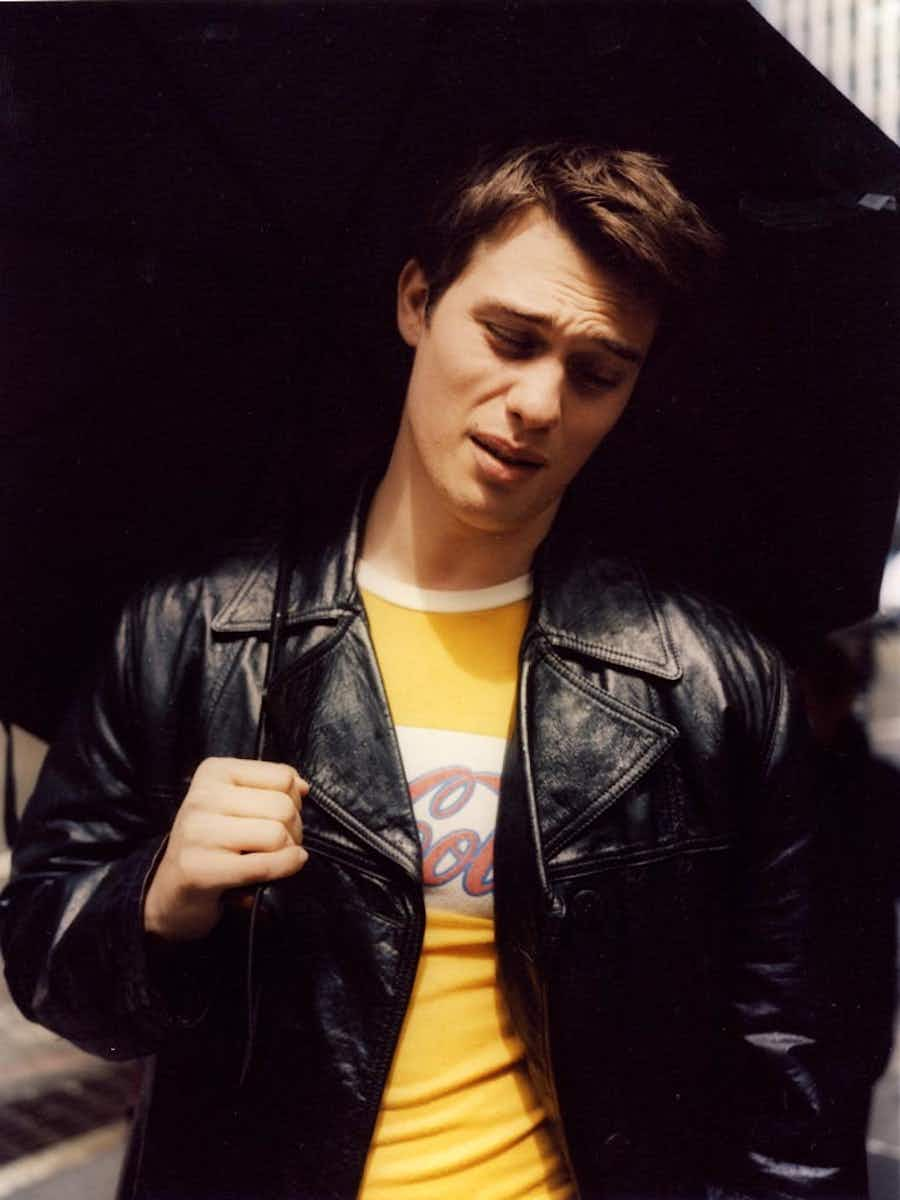 Galitzine stars in Netflix's Chambers as recovering heroin addict Elliott LeFevre. In the show, he wears a kind of alluring, sunken Johnny Depp-at-The Viper Room look. He is son to Nancy (Uma Thurman); brother to his dead twin, Becky; and all-around disaffected rich kid shacked up in a desert mansion in the fictional, affluent New Mexican suburb of Crystal Valley. The psychological drama owes a small debt to Twin Peaks, with which it shares several similarities: questions upon questions, a slow cinematic murkiness and the mysterious death of a high school blonde.
But it starts with an Apache girl named Sasha trying to lose her virginity (Sivan Alyra Rose). Sasha has a heart attack mid-orgasm, and she is given a new heart in an emergency transplant. That heart once belonged to Becky LeFevre. Post surgery, Sasha is as good as adopted by the LeFevres – she's got their daughter's heart, after all. She transfers to Becky's school, wears Becky's old clothing and virtually resumes Becky's high school life.
For the remainder of the series, Sasha attempts to unravel how Becky really died and, in her attempts, grows uncomfortably close to the LeFevre family. It gets sinister in an Ari Aster Hereditary way with Uma's new age mom character frantically trying to communicate with her beloved dead daughter.
Chambers is ​"definitely eerie and it draws you in in a particular way," Galitzine muses between bites of a red apple. His character, Elliot, dismisses the new age spiritualism embraced by those around him as pretentious. He is his family's Daria Morgendorffer. There are ​"really interesting components to [Chambers], certainly that I find interesting about these new age societies. I'm obsessed with […] cults in general, like, Scientology is such a fascinating society."
We discuss the Children of God cult briefly, which babysat, both literally and figuratively, one of Galitzine's favorite actors, Joaquin Phoenix. Phoenix's parents were card-carrying members of the cult, but left in 1978 when its leader, Moses David, began to encourage young children to experiment with sex – sometimes with adults (River Phoenix lost his virginity aged four).
The most interesting part about Galitzine's character, however, is that he is a recovering heroin addict. To portray this authentically, the actor attended a Narcotics Anonymous meeting in LA and listened in on more meetings online. ​"I don't know if I'll ever truly be able to understand what it's like to be in the mind of an addict because I think there's a certain darkness that comes with being in that place," he tells me. ​"So I definitely did some research into [heroin] on the effects: what that would do to you physically."
Galitzine sat with how that would come across in his role as Elliott, who is mostly just a dead-behind-the-eyes high schooler, but when Galitzine flips the switch for Elliott's more harrowing scenes, his intensity is like a shot to the arm. Watching him joggle and quiver under the effects of drugs is arresting. It's nothing like the sober, ​"sheltered" life he lived playing rugby as a teen at his boarding school. ​"The Face exclusive," he says jokingly, ​"I've never done crack!"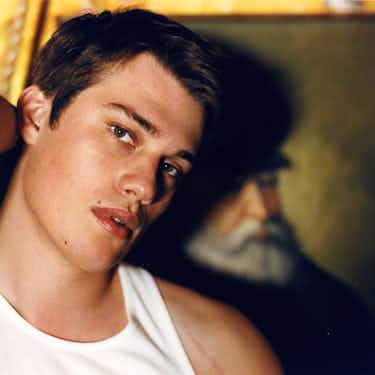 Listen now:

Nicholas Galitzine on his looks
Instead, he spent all his waking hours on the rugby pitch, practicing to be a pro. ​"I was commuting hours a day to get to school," he says. ​"After school I was driving into the countryside at night time to train for the academy I was at. I would play rugby on the weekends for my local clubs." Then, during a regular game, he got injured. He damaged his rotator cuff ​"beyond repair." His rugby career was ostensibly over in the pop pass of a Gilbert.
John Wayne played American football at USC, but lost his scholarship due to a collarbone injury. So he became an actor. Burt Reynolds, too, was a halfback at Florida State in 1954, but a knee injury took him off the field and into the theater. He met an acting teacher who cast him as the lead in Outward Bound, his first production. So really, Galitzine is kinda lucky he damaged his shoulder. ​"That injury almost coincided with a creeping paralysis that I wasn't meant to do [rugby] as a career, which was going to be a very hard thing to admit to myself or to my family," he says. ​"There was this huge void in me and a huge jealousy of watching my friends play. Then one day, acting just fell on my lap and it was like, ​'OK, this is what I was missing my whole life.'"
Not even several months ago could he have known he would be sitting in the passenger's seat opposite his childhood crush, Uma Thurman. ​"I have a one-on-one scene with her in the car and I'm like, ​'Nick, you're sitting in a car with Uma Thurman.' How did I get to this point? I feel like I almost had, maybe not my sexual awakening, but she was one of my crushes when I was younger. Which is so hilariously Oedipal as well because you're [thinking] like, she's playing your mom."
Soon, sharing top billing with acting legends and crushing on co-stars could turn into the norm for this kid on the rise. Galitzine next appears in director Pippa Bianco's Share as A.J., a teenage boy who is thought to have sexually assaulted his classmate, Mandy. The entire film is a fictional think piece on rape culture, but definitely makes clear how accusations can turn out more punishing than helpful for a rape victim. He pulls off his role with aplomb – it's hard not to loathe his smug, hoodie-wearing character. Moreover, he's hot (he's currently signed to Storm Models).
Though it's trite to point out, his unique look is versatile. He can play the hot guy, sure, but good luck pigeonholing him as some assembly line internet's boyfriend. ​"I've decided to divorce myself from my own ego in terms of my aesthetics and just live for the character," he says, when I ask him how he feels about his looks. ​"Looks are such a subjective thing. I was a very insecure kid growing up, really bad self-esteem and I always thought I looked quite funny. I have a couple of moles on my face. I remember saying I wanted to laser them off. My nose is a little broken from playing rugby and I wanted to change that… But I think I learned to feel more comfortable in my skin doing this. I feel happier with myself now than ever before."
No matter what he does on screen, you simply can't look away. The concept of fame, he says, is ​"terrifying," but – despite any rugby scrum knocks – Nicholas Galitzine seems to have kept his head. He's managed to avoid the pitfalls of taking a role wholly to curry favor with a fandom and is contemplating every offer thrown his way with uncompromising scrutiny. He's already made the move to Los Angeles, but Chambers could be just the thing to put his perfect mug in front of more eyes. ​"My success so far has been just by riding the wave, as it were. I'm just excited to keep doing what I'm doing and see where it takes me."


More like this