How the cast of Yellowjackets became behind-the-scenes besties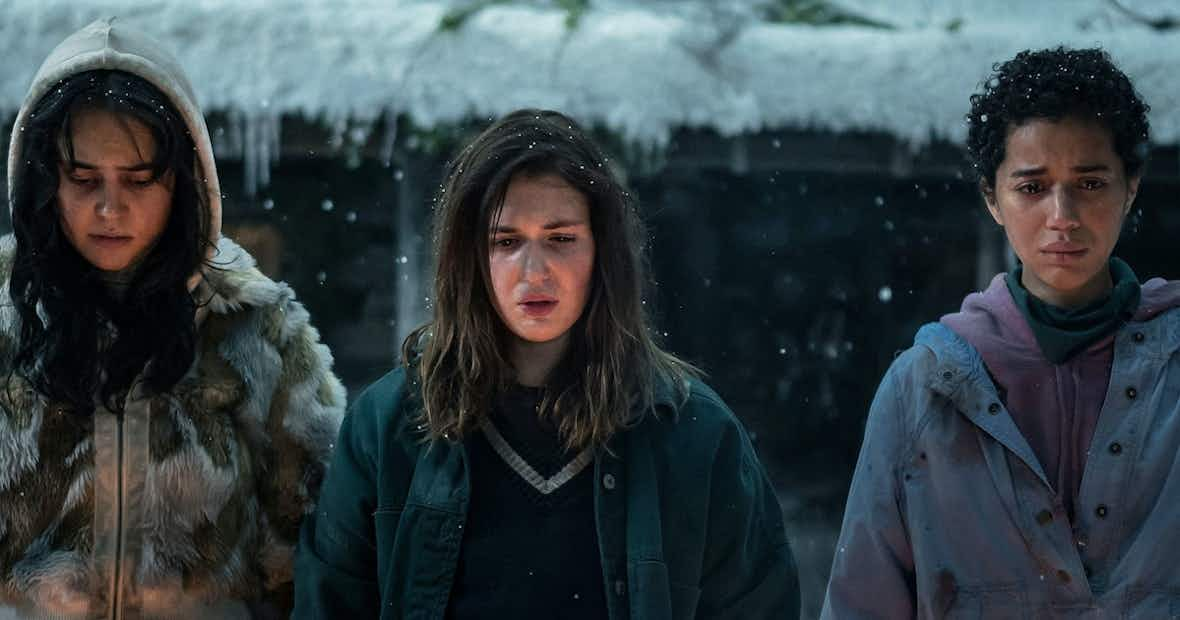 From nights out to watch M3GAN to impromptu trips to Disneyland, the Yellowjackets gang explain how their unique, off-screen bond strengthens their cannibalistic chemistry.

Work relationships come in all shapes and sizes. Some people might form deeply-rooted connections with their co-workers, while others are content with a brief water cooler conversation. But when your job involves spending several months in the Canadian wilderness feigning the desire to eat your colleagues, well, those work relationships look very, very different.
As is the case with the cast of mystery thriller series Yellowjackets, which tells the story of a girls' soccer team who find themselves stranded in the forest after surviving a plane crash – not a great start to the season, eh? With a supernatural undercurrent akin to The Blair Witch Project and a cast including screen icons Juliette Lewis, Christina Ricci and Melanie Lynskey, the show was always destined for success. After hitting screens last year, the show went on to receive six Primetime Emmy nominations.

Flicking between the present day and the ​'90s – with plenty of blood-soaked bomber jackets for Halloween inspo – the series follows the teen iterations of the characters as they try to survive, while their adult counterparts face the repercussions of the tragedy in the present day. It's a masterclass in ensemble acting, portraying dynamic and intense relationships as the characters navigate everything from teen pregnancy to cannibalism (look away, vegans), all while expertly capturing the hysteria of a group of individuals united by disaster.

But it's their unique, tight-knit friendship off-screen that helps to sell the story. Behind the scenes, the entire cast has created a special bond, a chosen family so to speak, that comes to life when they're in character. This is especially true of the younger cast members – Samantha Hanratty, Jasmin Savoy Brown, Courtney Eaton, Sophie Thatcher and Liv Hewson – who you'll often spot hanging out together on Insta stories, escaping the blood, guts and gore of the show with a good ol' fashioned BBQ.
As they gear up for series two of Yellowjackets to drop this Sunday, the young cast explain how they bonded while screaming through a fake plane crash during COVID, then sealed the deal at karaoke.

Jasmin Savoy Brown (Teen Taissa)

"Our off screen chemistry isn't too far off from our onscreen chemistry – some are out for blood and the rest run and hide. Just kidding! Off screen, we are constantly cracking jokes, exchanging memes and going out to dinner. One of the things I value most about friendship is laughter. Life is full of difficult seasons and having people that love you to bring levity to those moments is worth more than gold. For example, [while filming] season two, a bunch of us went and saw M3GAN.

Samantha [Hanratty] and I sat next to each other, and she kept making jokes about episode eight of our show and tying it to things happening in M3GAN. I can't tell you what she said or it will spoil the episode, but I can say that I hadn't laughed that hard in a really long time. Looking into the future, I see our bond strengthening. 90 per cent of what we shoot is traumatic, so we have to deeply trust each other to go to those dark spaces. We balance this with laughter, but we also really care for one another."

Sophie Thatcher (Teen Natalie)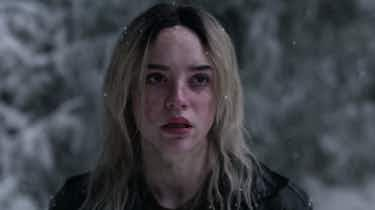 "We truly feel like a family. It's a hard show thematically so naturally we all leaned on each other, gave each other comfort and would lift each other up when needed. They're an incredibly supportive, empathetic and encouraging group of people; all of us are vastly different but complement each other in the best ways.

Chemistry is such a fragile thing to create when the connection isn't there. We all became close very fast because we were all put under strange circumstances in the first season and, in our own sense, were ​'surviving' [the pandemic] together. Given this is a soccer team, they would have that closeness, friction and complex layers to unfold in their relationships, and I think withstanding season one together during extreme covid times helped build that formidable foundation.

We also did lots of karaoke, which helped! I was huge on karaoke the first year and would bring people over to my Airbnb. Everybody has heard me sing Common People by Pulp and Rainy Days on Mondays by Carpenters an embarrassing amount of times. I ended up with noise complaints because of it – deeply worth it. Given everything we've gone through together, we're bonded for life to an extent. We've made jokes about getting matching tattoos together."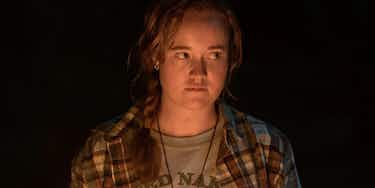 "We shot the pilot in late 2019, so we've been in each other's lives for three years now. I trust them all and I love them all. We're a team, you know? After the show had been picked up, for the first two days of filming season one, we just shot the plane crash sequence. It was two straight days of screaming, crying and clawing our way out of a plane and into the forest together. Hell of a way to start!

I definitely felt then that we were all in it as a unit. In scenes together and in between takes, either one-on-one or in groups, we walk up to each other and say, ​'Do you need anything from me? Do you want to try anything different? How is this feeling?' I love that, it means a lot to me. Friendship is the central force that makes the world go round. Dramatic? Yes, but true! I'm so excited to see how everyone grows and develops, not just in this show, but outside of it. When any one of us thrives, we all thrive. Not to brag, but this is one of the most exciting ensembles of actors out there, in my humble opinion. We hype each other up and we're right to do it."

Courtney Eaton (Teen Lottie)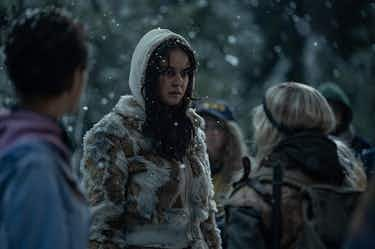 "During season one, we formed this almost immediate ​'trauma bond' as we were brought together during the pandemic. We realised quickly that we all really relied on each other for so many reasons. This show is a marathon to film. We all hit our breaking points at different times, given the heavy material, and needed to separate from our characters. It's nice to know that we all have each other's backs and conversely know when to give space to each other. We really do function as a beautiful, dysfunctional family, in the best possible way. I realised pretty early on when we filmed the pilot that this cast was special.

I remember sitting in the cast tent and we all started opening up to each other in this really vulnerable and beautiful way. We always give a warning when we do interviews as a whole cast because we can become this untamable ball of insane energy. On set that energy was what brought levity to what we were filming. There's some heavy material in season two – most would think we would be distraught after filming such intense scenes, when actually we'd usually be trying not to laugh or make eye contact because of a joke. Something funny usually goes down while we're all covered in blood, which really makes me question our sanity!"

Samantha Hanratty (Teen Misty)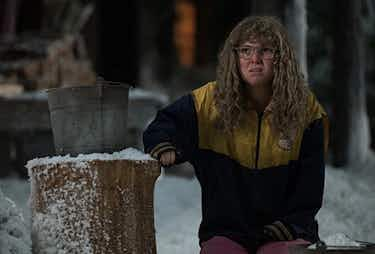 "While we were on set, we had to really rely on each other and be there for each other, so we all became pretty close. I think you need to be able to be vulnerable with each other and be able to have respectful relationships, especially when working with such delicate material. It's also good to socialise outside of work. A group of us had a week off and flew to California to go to Disneyland.

It was so much fun being out of costume and running around just being ourselves. Some of us hung out together all the time, so just sitting around playing video games could be a hoot and a half. I invited them all to my wedding so I definitely see us still being connected [in the future]. I've been acting long enough to know that some people stay closer than others due to schedules and other factors, but I definitely have made some lifelong friendships."


More like this