Jess Alexander is The Little Mermaid's shining femme fatale
Jess Alexander plays the human form of Melissa McCarthy's temptress Ursula in Disney's live-action version of The Little Mermaid. The South West Londoner does her own stunts, goes claw-to-claw with Halle Bailey's Ariel, and is the "definition of a sexy female villain".

Taken from the new print issue of THE FACE. Get your copy here.

Jess Alexander has been waiting more than three years for The Little Mermaid to come out. More importantly: she's been waiting for more than three years to tell the world about her breakthrough Hollywood moment. That's a long time to keep secret the fact that you've been cast as renegade water-witch Vanessa, the human form of Melissa McCarthy's Ursula, in the live-action remake of Disney's classic animation. It's all a pretty big deal, especially considering Alexander was only just starting her career at the time.
"It was the first film I was ever offered, back in 2019," the 23-year-old says in a husky voice, over a latte in a West London coffee shop. ​"They really took a chance on me because I had nothing to my name. I wasn't a proper actor when I got this role." Featuring last issue's FACE cover star Halle Bailey as Ariel, the trailer was viewed 108 million times in 24 hours when it dropped in April. So, yeah, Alexander is fairly certain she's been a part of something momentous.
"I'm so grateful to be even a small cog in this huge machine of a film," she says, shrugging a wool coat off her shoulders. But just as we're about to get started proper, Alexander's publicist pops over to go through a list of spoilers she absolutely must not make any reference to during our interview. Once appropriately briefed, she scrapes her hair back, thick gold earrings swinging back and forth. Alexander's ready to dive in. So how did an unknown actor from Richmond, in suburban South West London, bag herself a gig in a sure-to-be smash hit with hardly any experience under her belt? The answer: a knack for acting that started when she'd barely begun primary school.
"I started going to cute drama clubs when I was about six," begins Alexander, who lives between her parents' place and her partner's in Battersea. ​"Then I went to an all-girls' private school," she says of Putney High, ​"which gave me a brilliant education. I was very lucky to be there. But it wasn't catered to creative people at all. I thought: I'll do all this GCSE and A‑Level bullshit, get the fuck out and get myself an agent." In the end, she didn't have to do that legwork. ​"They found me when I was 14, after they came around scouting a bunch of schools."

Alexander was a tenacious, ambitious kid. Her first gig was on The Favourite director Yorgos Lanthimos's arthouse short Necktie in 2013, but she didn't land any other jobs until five years later. At that point, she was all set to study politics and international relations at university, but sacked it off when Disney comedy Penny on M.A.R.S. came knocking at her door. ​"I was basically the budget [version of High School Musical​'s] Sharpay Evans in that," Alexander says, laughing. ​"But it was an acting job, and that's all that mattered. We filmed in Italy, I got to be away from home, learn to be a grown-up. That was my training."
Naturally, her parents were sceptical, but Alexander was determined to make it work, choosing to defer her uni spot indefinitely. Scouted (again) by Select, she began working as a model to make survival cash, or as Alexander calls it, ​"making some money being a coat-hanger at Asos, which was character-building to say the least. I was often in the tomboy category – they had me in bucket hats and baggy hoodies. I was like, ​'OK, fine, I will sell your fanny pack!'"
This short stint modelling, though lucrative enough to get her through a lean period, meant that Alexander has since been pigeonholed as a model-turned-actress rather than the other way around.
"It really irks me. People take you less seriously because they think you weaselled your way into acting. Please give me some credit!" Alexander had developed a thick skin by then, anyway. As she's never had any acting lessons, that often meant brutal feedback was handed out by the bucketload at auditions. In her mid-teens, though, that wasn't always easy to take.
"It was a bit of a dark period, because I knew there was one thing I was really good at doing. I was being told: ​'Yeah, you're good, but not good enough.' But if you quit [because you] can't handle rejection, you'll never make it. And by that, I don't mean getting a star on the [Hollywood] Walk of Fame. I mean earning enough money to have a house and a dog. That's my big aspiration!"

In 2020, Alexander landed her first proper role, as bully-battling schoolgirl Olivia Hayes in BBC teen thriller Get Even. The show wasn't renewed for a second series, but every cloud: by then, she'd decided she'd had enough of being cast and categorised as the ​"hot girl", a label that her modelling side hustle had helped perpetuate. ​"I've always struggled with my sense of self," she admits. ​"I go through identity crises often, and acting is such a great exploration of the self, as knobby as that sounds.
"The roles I'm taking now, especially moving into my adult career, have been really intense, dark and gritty. I get to fight, kick, punch, scream, yell, draw blood, vomit, all these visceral things, pushing yourself to extremes but in a safe environment."
When the pandemic hit, Alexander chopped off her hair and dyed it jet black. Two weeks later, she was offered a role in Ruth Paxton's 2021 indie horror A Banquet, starring alongside Bridgerton​'s Ruby Stokes. She played Betsey, an anorexic teen who refuses to eat but whose weight remains the same, and becomes convinced she's possessed by a demon. It was exactly the kind of role Alexander was craving. In one scene, Betsey endures an exorcism. ​"Bitch, that shit was so real," Alexander says excitedly, before revealing one of her top tips for, well, if not acting, then at least sending a rush of dopamine through your veins.
"I don't think people understand the power of screaming," she continues. ​"As adults, we never scream. But I scream into pillows." She emotes in other ways, too. ​"I'm a professional, so I cry in my trailer, not on set," she clarifies, laughing. ​"I put my headphones on, stick on my emotional playlist. When I'm done crying, I get a pillow and scream into it as hard as I can. Then I have a cold shower and I feel like I'm on top of the fucking world. Everyone should scream more. If there's one takeaway from this interview, let it be that," she concludes.

Meanwhile, long before she'd undergone any self-appointed screaming therapy, or even starred in Get Even, Alexander had bagged the Little Mermaid gig. After submitting a couple of audition tapes, director Rob Marshall (Chicago) and his partner, producer John DeLuca, wanted to see her perform in person. That is: not just acting, but singing, too, for which she took vocal lessons. Before that, ​"I could sing, but not like Disney [style]. I have a jazzy voice, low and slow."
For the live audition at Pinewood Studios in Slough, Alexander wore a white satin skirt, a leather corset and a purple Afghan coat – the opposite of turning up as a blank slate, as her agents had recommended. ​"Rob asked me to look down the lens of the camera, as if it was the mirror in my bedroom, pull up some fake stockings and dress myself like I thought I was the most beautiful person in the world. I kind of blacked out after that, but I must've served because I heard John whisper to him: ​'I think that's the best we've ever seen it.'" A few weeks later, the job was hers.
Alexander describes Vanessa as ​"a seductress, a temptress, the definition of a femme fatale and a sexy female villain." In the original Little Mermaid, it's immediately obvious that she's the bad guy; in the new iteration, Alexander promises a much slower burn in terms of how her true, evil self is eventually revealed. And then, Vanessa isn't afraid to get her claws into Bailey's Ariel – literally – in what sounds like a pivotal scene.
"When Vanessa turns back into Melissa's Ursula, I was growling and screaming," she recalls, her eyes lighting up. ​"Me and Halle were pulling each other's hair, yelling all over the palace. Halle is sweet on the outside, but that girl is tough. We did loads of stunt rehearsals – it's important you see Ariel giving Vanessa a beating. She's coming for her man!"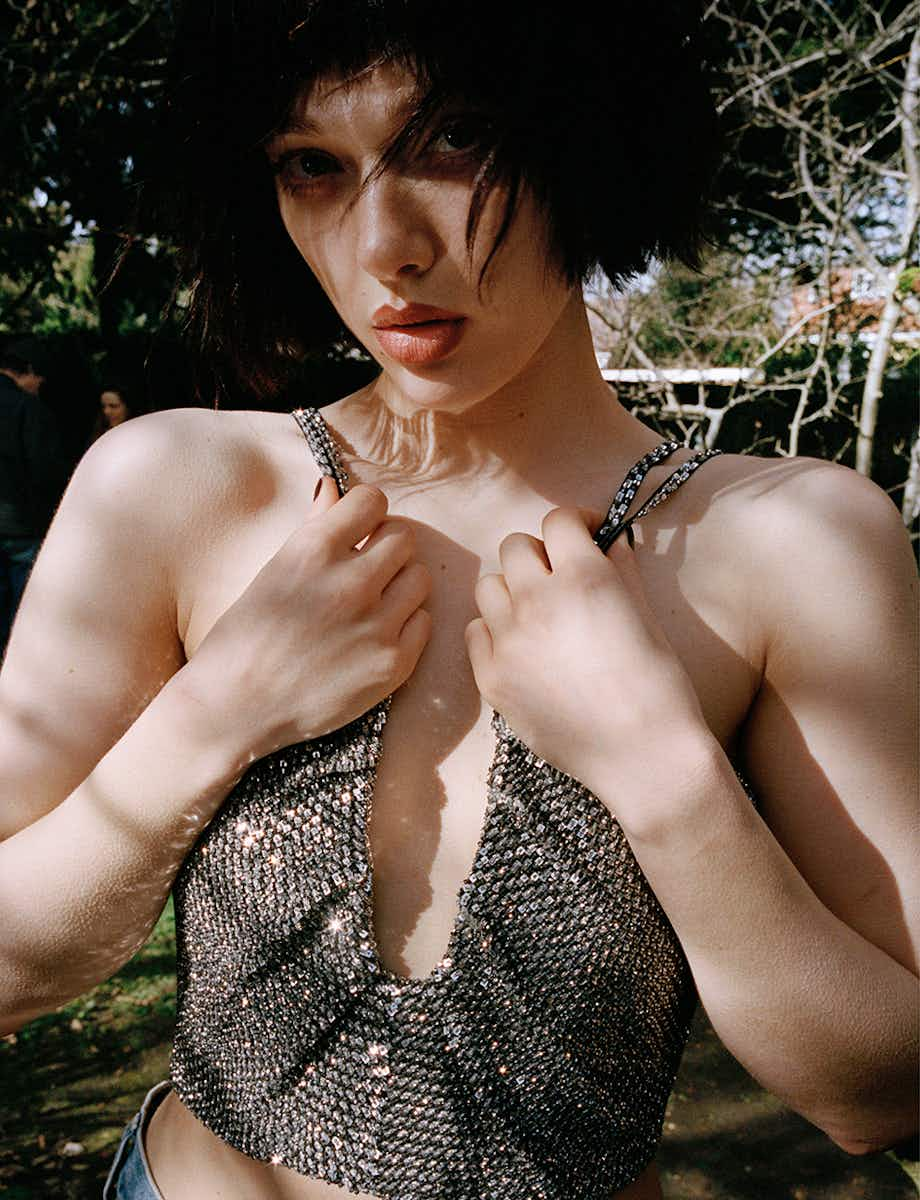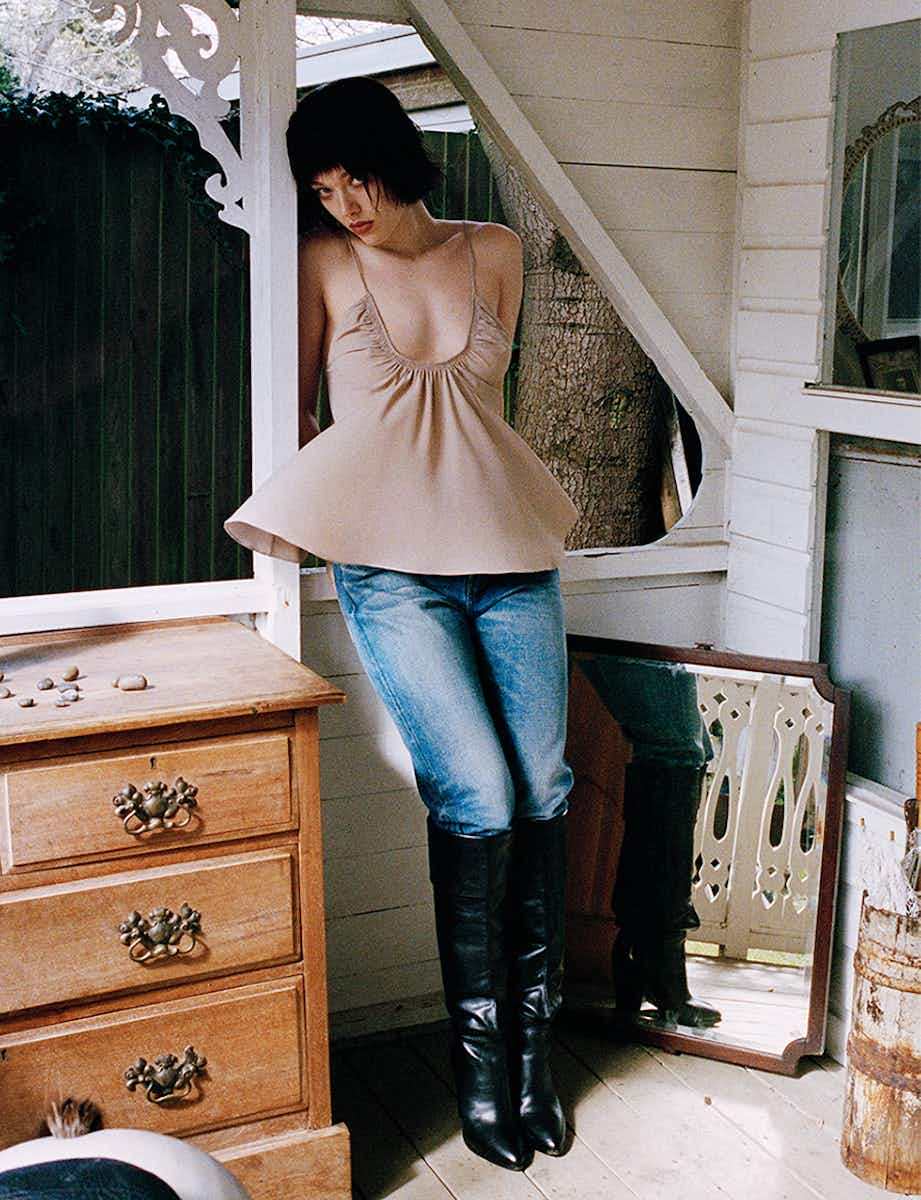 Although stuntwomen were on standby, Bailey and Alexander filmed the whole fight sequence themselves, dressed to the nines in super-tight corsets with hair down to their waists. It's a significant departure from the original movie, where Ariel is saved from Ursula's clutches by her dad, Triton. This 2023 little mermaid has agency, and she gets her own back.
It's an important point that spoke loudly to Alexander. ​"I don't think everything needs to be remade, but it's important to give films like The Little Mermaid an updated point of view, especially when it comes to female stories. Old Disney movies are great, but their lead characters can be a bit subservient. There's still a lot of beauty to those stories, but it's fun to bring the modern woman into them. I loved Ariel growing up but, my God, do I love Halle's Ariel way more."
Although she's aware of the film's magnitude, Alexander downplays the possible effect The Little Mermaid will have on her career. ​"People's attention spans are really fucking short," she says with a shrug. ​"There are loads of actors out there and there's not anything particularly special about anyone. I earned the role of Vanessa, but a big part of this is also luck, because a big Hollywood producer took a chance [on me]. Being an actor, your fate is so often in other people's hands, so I'm just trying to live in the moment."
For now, Alexander's still auditioning. As almost 10 years in the business has taught her, the most important thing is making it to the next job. Next up: the lead in a TV adaptation of Lauren Kate's bestselling fantasy novel series Fallen, which she wrapped filming in Hungary a few months ago.
"I did a lot of stabbing men, which is my favourite thing to do on screen," she says, cupping her cheeks with both hands and propping both elbows up on the table. ​"Hmm, it seems I keep playing unhinged women, doesn't it?" Alexander adds a little mischievously, as if recognising a pattern for the first time. ​"I'm into it. I think that's going to be my brand."

THE LITTLE MERMAID released May 26th 2023

HAIR Kim Rance at LGA using Authentic Beauty Concept MAKE-UP Laura Dominique at Streeters using Laura Mercier MANICURIST Sasha Goddard at Saint Luke's PROPS STYLIST Josh Stovell TALENT Jessica Alexander PRODUCTION Lock Studios PRODUCERS Louise Bolze and Amelia Heffernan RETOUCH IMGN LIGHTING ASSISTANTS Emma Ercolani and Ed Philips STYLIST ASSISTANT Florence Armstrong HAIR ASSISTANT Laura Swaine PROPS ASSISTANT Angus Whitehorn PRODUCTION ASSISTANT Zaneta Zukal

More like this