Kerwin Frost: everyone's favourite entertainer is influencing for change

Frost and his pals Jaden Smith, Lil Nas X, and A$AP Ferg (among others) are hosting a telethon to raise money for Colin Kaepernick's Know Your Rights Camp.
After the fallow months of quarantine, the murder of George Floyd on May 25th lit a fire under everyone's ass to emerge from isolation, hit the streets, and demand change. And while the mainstream media may no longer be covering the protests, they are indeed still ongoing, and activists have continued to work. Renewed as well is the energy of the creative class – the artists, musicians, fashion designers, and more – and their desire to put their talents to use. ​"I was just like, I gotta do something," says Kerwin Frost. ​"Just putting out a T‑shirt and reposting a bunch of stuff isn't enough for me. I've got to really step up to the plate and use my power as a storyteller to construct up a beautiful moment that can also teach and entertain."
Entertaining, after all, is something Frost does naturally. Dubbed the ​"jester of the fashion-streetwear royal court" by Dazed, the Harlem-born, multi-hyphenate DJ, comedian, and designer is notorious for his outlandish style and sartorial stunts. Coming up in the SoHo scene that gave rise to New York figures such as his friend Luka Sabbat, Frost formed a creative collective called the Spaghetti Boys and initially gained renown by collaborating on a collection with Off-White and Heron Preston in 2015. Later, he'd become known for wearing giant angel wings to a Dior runway show, a ghillie suit to The Weeknd's birthday party, and a Santa costume to the Kardashian-West's otherwise posh Christmas party. Nowadays, he hosts a radio show on Apple Music and a talk show on YouTube, and is hard at work on a collaboration with adidas.
To ​"step up to the plate," Frost landed on an eccentric solution that could only have been dreamt up by someone with his eclectic sense of humour and pencil face tattoo: Kerwin Frost's Telethon Supershow. Not your average fare from the ​'70s and ​'80s, Frost's 12-hour variety show will feature live acts such as Anderson .Paak, Lil Yachty, Mac DeMarco, and more. Perhaps the most exciting performance, however, will be from the neon coloured monsters of hallucination-turned-children's‑TV-show Yo Gabba Gabba!, off the air for five years and resurrected just for the occasion.
Donations from viewers will be given to the Know Your Rights Camp, the organisation founded by Colin and Nessa Kaepernick that has worked not only to educate and empower underprivileged kids, but also to provide legal aid for those without access to it, and raise money for the communities of colour affected disproportionately by Covid-19. In addition to donating, viewers can also purchase merch made in collaboration with much-hyped streetwear brand Cactus Plant Flea Market or bid on memorabilia grails made available by some of Frost's famous friends. All proceeds will go towards Frost's goal of raising five million dollars for KYRC. Ambitious? Yes. But Frost is confident that it will be met, and if it isn't, he has a plan. ​"If the telethon doesn't work, if I don't get the five million," he says, ​"then I'm going door-to-door right after."
To see what's in store, we caught up with Frost ahead of the telethon, which will stream on YouTube, Twitch, and TikTok on Sunday, August 16, from 12pm to 12am EST (5pm to 5am GMT).
How did you come up with the idea for the telethon?
I grew up a big fan of the Jerry Lewis telethons. It seemed like a no-brainer, a random thought. Me and my wife were shooting random ideas back and forth on it, and that's where we landed.
The killing of George Floyd was a huge thing. I had never seen anything that horrid and had never felt more disgusted in my entire life. It's hard. It's hard to think of other things, and see the green grass on the other side, or what the next step is, or how things are going to change or be after this. I don't think I'm going to solve everything [with the telethon], but if I can enlighten people and educate a little bit, that would really be amazing. I know we have a five million dollar goal, but for us it's much more [important] to raise awareness and teach people and inspire. Inspire other people – because I've never done anything like this, but you can do a lot with your resources, no matter who you are.
All the proceeds are going to the Know Your Rights Camp. Have you done any work with them before?
I hadn't done work with them before, but we were doing research on what charities spoke most to us, and they're really amazing. They have day camps for kids; they have a Covid-19 relief fund; they teach financial literacy. They're just really empowering and I love what they do the most.
Have you talked at all with Colin Kaepernick?
Yeah, I have actually! [The KYRC] has been very supportive from the very beginning, when it just sounded like a crazy idea. I super commend them for going on that ride with me. I send them everything as I make it, and they like the storytelling and the videos I've put out so far. They're really cool, because they're a husband-and-wife team as well, so we relate to them in a lot of ways.
The lineup that you've announced so far for the telethon is pretty stacked. You've even got Yo Gabba Gabba!
Yeah, it all seems really random when you look at it at once. What I love about Yo Gabba Gabba! – it's my daughter's favourite show as well – is that it's a very inclusive show. They've had a lot of really amazing black artists, from Erykah Badu to Mos Def to Biz Markie as a recurring guest. They're just really funky and cool. I think we definitely all need some Gabba right now.
You've also got a line of merch and an auction with some exclusive items.
We weren't planning on doing any merch, but when we put our heads together [with Cactus Plant Flea Market], it really looked amazing and appropriate, and we wanted to put it out there. I feel like the auction itself could be its own show, just with how jam-packed it is.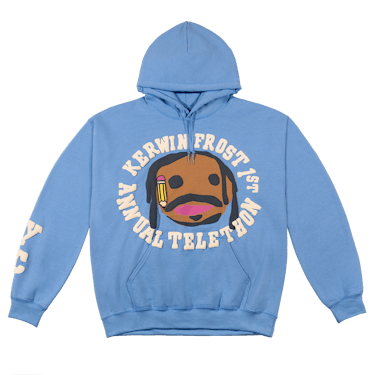 You're auctioning off the ring that Adam Sandler wore in Uncut Gems and Post Malone's dress from his Nirvana tribute. What is some of the other stuff you have?
Yeah, we have so much. Jeremy Scott is doing all the Longchamp bags that he would only do for the people who went to his shows. There's like 20 of them, from every show from beginning to end. A lot of my friends are putting in samples. God dang. There's some experiences. It's a lot. It's super hard for me to even think right now, [laughs] but it's really well put together and curated.
What else have you been up to during quarantine?
We've been in LA for the past two months, and then one month in New York before that just cleaning it out. What else am I working on? It's really hard to work on anything else, but my adidas collaboration I've been working on. That should be out very early next year. And then just being a father. Any time I do something, I really have to have my heart in it for me to do it, because I really love being around my daughter.
Speaking of your daughter, Waffle, she just turned one recently!
Yeah it's crazy! She knows how to walk and run now. She speaks when she feels like it: she has a couple of ​"doo dahs," if you know what I mean. She says a couple of words. The way she's advancing is really crazy. I kind of really don't have anything to complain about with my life: I feel very blessed.
She's super energetic, but at the same time will run for the extension cord and try to chew on it. I feel my energy flowing through her very early [laughs]. She's a very happy baby, though: she's smiling all the time. The hardest is when I have to get to work: that's almost the only time she cries. It really breaks my heart. I'm just like ugh!

More like this