How Kylie Jefferson danced backwards into ballet drama Tiny Pretty Things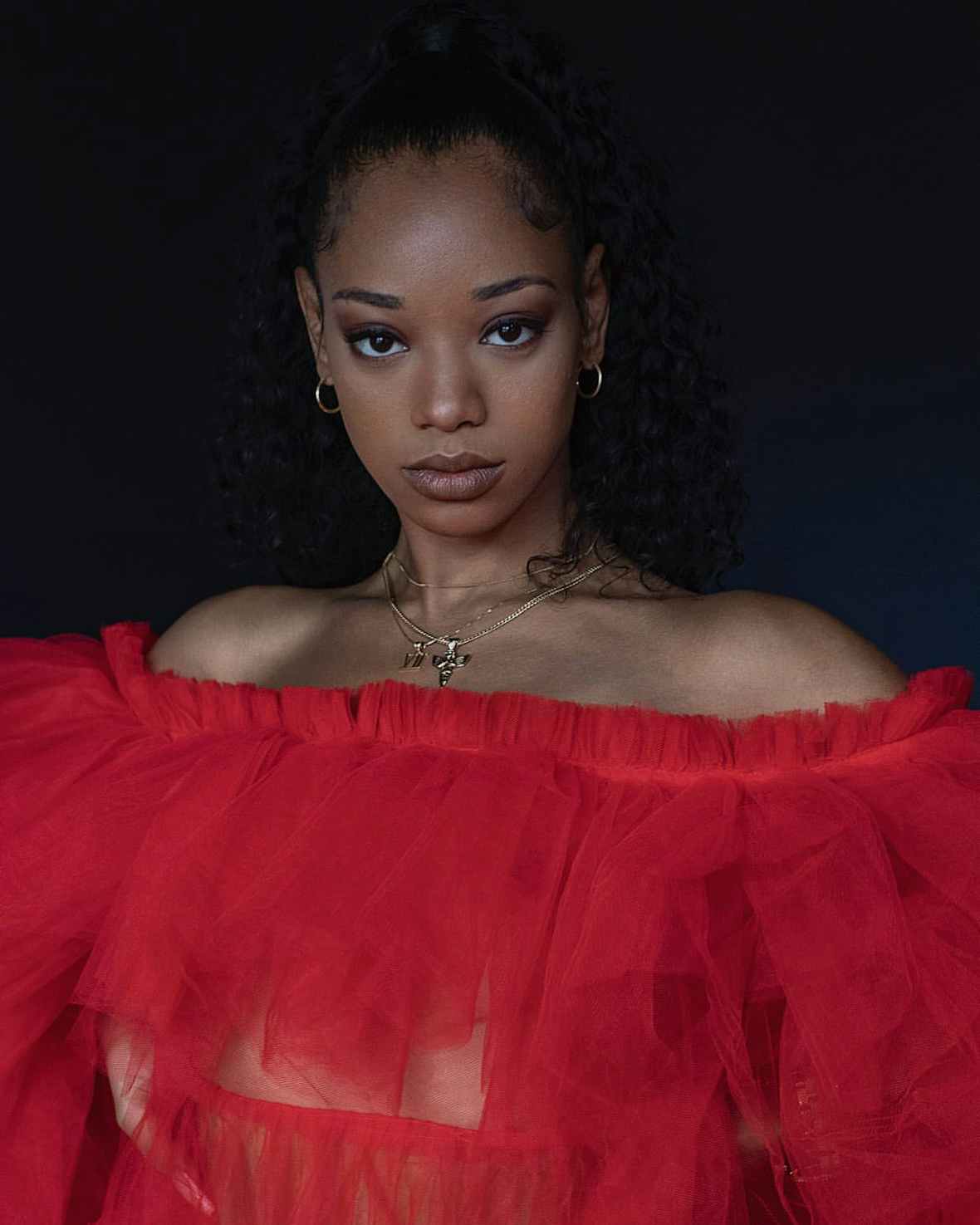 Before stepping into the lead in the Netflix Black Swan-esque series, the actor had to schlep as a corporate assistant before taking centre stage.
LA native Kylie Jefferson was the youngest dancer ever to be accepted into the lauded Debbie Allen Dance Academy at age six, where she perfected her pas de deux. She later trained at Boston Conservatory, and upon graduation joined Complexions Contemporary in New York and embarked upon a national tour with that company. Then, she fractured her rib.
Jefferson was broken, and she moved back to LA and was ordered to rest for a sobering seven months. Despite finding post-recovery success – choreographing a music video for ScHoolboy Q (Chopstix) and appearing in another for DJ Cassidy (Your Honor) – dancing full-time, she learned, just wasn't going to pay rent. So in 2018, Jefferson gigged as a dancer on the side and signed up to a 9‑to‑5 as a personal assistant to an executive at the high-powered Hollywood talent agency CAA.
However, she wasn't cut out for a job tethered to a landline, and so seven months in, with nothing to fall back on, she quit. If Jefferson was going to ​"make it", she'd have to be the main character. When she found out Tiny Pretty Things, a Black Swan-adjacent ballet drama based on the book by Dhonielle Clayton and Sona Charaipotra was being adapted for a Netflix series, she laced up her pointe shoes and got to work.
Her character, Neveah, hails from Compton. She is offered a scholarship to join the elite academy mostly for optics – her entry is merely a ruse, a PR-manufactured distraction to help cover up the death of a former student. A once-in-a-lifetime opportunity quickly turns sour, as the curtain lifts exposing class struggles, bitchy, bullying peers, and a murder investigation. But just like Jefferson herself, Neveah believes in a grit-n-grin approach, which makes her all the more worthy of centre stage.
Tell me about this corporate assisting thing…
I was dancing professionally in LA, but I got to a point where I was like, let's get real about life. I had to be mature and understand that being creative – being a dancer and auditioning – may not be the most financially stable. I started to look into other things, and I ended up getting a job assisting an executive at [Hollywood talent agency] CAA.
You were doing that while also dancing?
I did it for a few months and I was even able to take on dance jobs like [dancing on The Late Late Show With] James Corden, or I got called to choreograph a video for ScHoolboy Q called Chopstix. So in the midst of being an assistant – which was such a hard job – something in me was really starting to knock on the door, like, ​"Girl, what are you doing?" You can show up to work, smile, force it. I was trying to force myself into this life [of assisting], but after a few months we graciously parted ways, and my boss could tell. I remember his last thing [he said to me] was, ​"I want you to follow your immediate dream." Honey, I had no idea what that meant. I knew what the intention was, I totally received that, but I didn't know what my immediate dream was. It seemed like everything I wanted to do in life was so grand and all over the place, I didn't understand how any of it could really come together at the time.
How did you get put on to Tiny Pretty Things?
Tiny Pretty Things was the first thing that came my way, via a few different avenues: from my agent, from my own research, word of mouth. I definitely teeter-tottered, trying to scare myself out of it. I was like, ​"You've not been dancing." [Then] I was like, ​"You're skinny right now, you might as well! You've got nothing to lose." All that I knew was that I would have dialogue, that I'd be dancing, and that I'd be in every episode. Beyond that, I did not know who Neveah was.
Did you quit your assistant job then audition for the role?

I quit the job, and when I tell you I had nothing lined up… I had nothing! I was like, ​"Wow girl, you're really going on a limb here!" It was just time to move on. Worst case scenario I was just gonna have to do what I had to do, right? Even with the job for Tiny Pretty Things, I get there and realise I have no acting experience compared to the rest of these beautiful people! But that didn't mean I wasn't willing to work for it, and I did. When you want it, that's what you do, especially when you know you're the least experienced in the room. Everything I've been through in my entire life, when I got to Toronto [where the series was filmed] I was like, I really went through everything to get me here.
What a good feeling!
It brings tears to my eyes. And that's why I was like, I wanna keep acting. When something makes you feel like that… You gotta chase that and work for it, because it's worth it.
How similar was Neveah's experience of entering this prestigious dance academy to your own?
It was very similar, and that's something that I really liked. I remember saying that in my audition. [The casting team] were like, ​"Is there anything you want to say to us?" I'm like, I want to say this girl is me, whether I get this part or not. I'm just really happy to know that this type of Black girl and dancer and woman is on someone's mind. And that was, for me, everything.
This show is going to be on Netflix in 190 countries. So many Black girls will see you and see themselves in Neveah, as you did. How does that make you feel?

I don't think there's a word for it. I say this all the time, especially since Tiny Pretty Things [wrapped]: words do not suffice. However, whether or not there's a whole slurry of African American girls that have seen a ballet dancer in a show or not, anybody who has something that they want to go for knows that it takes every emotion in you to pursue… Especially if you're a dancer, there are so many different colours to the story with all of us. To feel seen in ways that you cannot verbally express is such a powerful thing.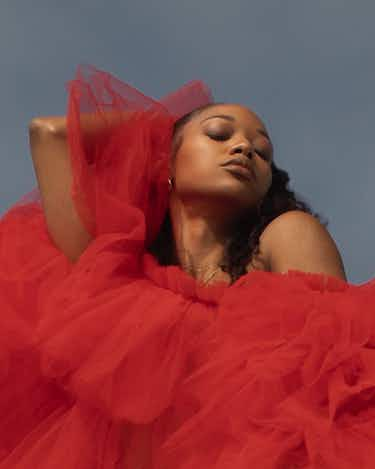 It's interesting how it comments on racism within sports. I'm sure you've been through experiences that you might not have even realised were coded or racist.
What's interesting is what ballet reveals about people. Growing up, I had no real understanding of racism in that way. At my dance studio, we did all types of dance so everybody had a chance to shine.
When I got to college, it was different. I remember on my first day, someone said, ​"You're the prettiest Black girl I've ever seen!" And I was just meeting her, so I was like, ​"Oh thanks, nice to meet you too girl!" But that stayed with me, because I was [thinking], baby, you're from New York. You've seen Black women before. That comment stayed with me, it really started to sink in, like, what are you saying? Maybe I'm a pretty girl, that's fine. I look like my mom and that's enough for me. But are you telling me that you don't see us as pretty?
My time at the Boston Conservatory, comments were made about the parts that I was getting, that I was only getting them because I was Black or that I self-segregated myself. When you get comments like ​"you're the prettiest Black girl I've ever seen" and ​"you don't deserve that part…" People were in the dance director's office trying to get parts taken away from me, do I self-segregate? No, honey, I'm focused.
You're classically trained in ballet – what other dance styles?
African, jazz, contemporary, Dunham, hip-hop, tap. I've done Bollywood, I really enjoyed that.
How did you go from Boston Conservatory to choreographing ScHoolboy Q videos and dancing on James Corden?
Upon graduating, I joined Complexions Contemporary ballet and moved to New York. I fractured my rib while we were on tour, so I went back home and I was out for like seven months. I wasn't dancing at all, and then I'd just get random calls from people that I knew in the industry who were choreographing and needed a ballet dancer. It was right before I'd gotten cleared to dance when I got a call from Ava Bernstein, a choreographer. She was like, can you come here for this, it's not even an audition, he just wants to see you move. It was for DJ Cassidy featuring Lil Yachty. I hadn't danced in months, I was like, ​"I need to be there." And that kept happening, every few months or weeks.
The ScHoolboy Q stuff, all that just came sporadically. I'd never choreographed before, that wasn't my thing. I felt like more of a vessel type of dancer.
Was it a music video?
For his song Chopstix featuring Travis Scott. I pulled all of my childhood dance friends together, some of them are still dancing, some of them are dancing but not doing ballet. I was like, ​"Please just put on your shoes for me!"
What do you think of TikTok?

I love it. I have videos of myself that I've not posted, I kind of do it as a no-pressure acting exercise. I'll be with my little ring light stand on, sitting here, giving all these different characters. The TikTok dances are a little difficult. I have to switch up the choreography sometimes, but I definitely enjoy doing the challenges.
Do you have any thoughts about the fact that in a few months you'll be beamed into homes worldwide?

I just hope people are nice to me. People can be very harsh. I want people to love Neveah, to love Kylie, to resonate and see themselves. I can be a Black girl all day and all night but I'm still a human being. We all have human emotions. We all get jealous, we all love, we all want to feel needed. I just hope that with the show coming out, that people can recognise that and love on it.

'Tiny Pretty Things' is available to stream on Netflix 14th December

More like this