There's a lot more to Imelda Marcos than her colossal shoe collection

Lauren Greenfield's revealing documentary The Kingmaker explores the extravagant life of the former first lady of the Philippines and matriarch of the Marcos political family.
Lauren Greenfield is no stranger to wealth (and that isn't a reference to her personal financial status). The photographer-turned-filmmaker has carved out a niche chronicling excess, as demonstrated in 2012's The Queen of Versailles, a film about billionaire couple David and Jackie Siegel, and 2018's Generation Wealth, a story of modern materialism and the human cost of capitalism. Materialism, inequality, extravagance and abundant wealth are what she does – and well.
It's opportune, then, that her latest film The Kingmaker documents a woman who's quite possibly the most extravagant in recent history, Imelda Marcos: the 90-year-old former first lady of the Philippines, who's widely known for her colossal collection of shoes. But as Greenfield discovered first hand during the making of her 100 minute documentary, there's a whole lot more to Marcos than that.
Here's the backstory: Imelda Marcos married politician Ferdinand Marcos in 1954 and became First lady in 1965 when he became President of the Philippines. She remained in this position until 1986, as 70,000 people were incarcerated, 34,000 were tortured, and more than 3,200 were killed under his grave dictatorship.
Ferdinand Marcos ruled with martial law. Under his regime human rights were gravely violated, the media was silenced and people were forcibly detained, tortured and killed. All this while Ferdinand and Imelda Marcos lived an ostentatious lifestyle by stealing billions from the people of the Philippines.
They were exiled in 1986, when Ferdinand Marcos lost his bid for re-election and both the people and the army turned against him. Ninoy Aquino served as Senator of the Philippines next, until he was assassinated at Manila International Airport in 1983. His death revitalised opposition against the Marcos family, and Ferdinand later died of ill health in Hawaii in 1989.
Imelda Marcos returned to the Philippines in 1991 with over 70 criminal and civil charges against her and was granted bail. Her husband's embalmed body did not return until many years later when he was eventually allowed to be buried in a military cemetery in the Philippines, to much controversy.
The Kingmaker warns viewers of the dark dangers of political dynasties and the realities faced when those in power have the strength to rewrite history.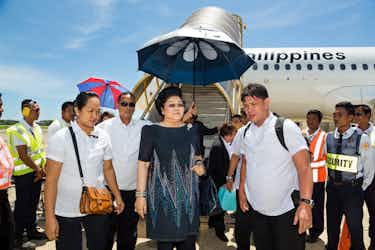 Greenfield's fascination with Imelda Marcos began when reading an article by British journalist William Mellor that talked about her being alive and kicking, having returned to Manilla and living as a congresswoman. ​"Imelda Marcos had always lived as this iconic reference but I never thought I would actually get to meet her," says Greenfield over lunch in The Hospital Club, London. ​"She'd been thrown out of the country for stealing five to 10 billion dollars, how could she be back and back in favour with the public?"
It was in the same article that Greenfield first learned of Calauit Island, part of the Philippine archipelago, from which Marcos had evicted 254 families in 1976 to make room for her own private zoo. ​"The shoes are chopped liver compared to depopulating an island's indigenous population and then bringing in animals on a boat from Africa," says Greenfield. ​"It was so over the top that I actually thought that was the film … about what had happened to these animals."
Despite her initial interest in Calauit Island, Greenfield soon found herself immersed in the current day political story surrounding Marcos. She reached out to her and was able to lock in an interview.
"I didn't know what to expect but I was completely thrilled. She was very charismatic, very generous and very kind – the way she describes the other dictators," recalls Greenfield before explaining that Marcos' staff served her ​"mounds of American fast food. Hamburgers on a plate all wrapped with paper and hotdogs with mustard and ketchup put on. I guess that's what she thought we would like."
As expected, Marcos was an incredibly engaging storyteller.
"She spoke for a long time and there was nothing she didn't want to answer. But I finally got the nerve towards the end of the interview to ask her if she was responsible for the assassination of Ninoy Aquino. Without batting an eye she just said: ​'Why would I do that? People said that, but why would I do that? I had nothing against him except that he talked too much.'"
"Even the way she talks about the Aquino assassination. She has a kind of candour, it's a strange mix between certain talking points that she repeats over and over again that are rehearsed, and then these moments of incredible candour."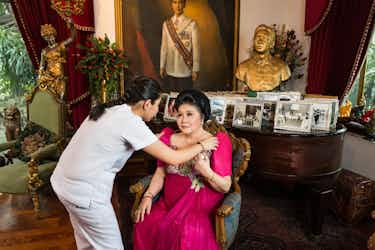 At the time Greenfield didn't foresee The Kingmaker being an investigative story, instead she thought it might be a redemption story for Marcos.
"She would come out with these spontaneous admissions," says Greenfield. ​"Like when she was complaining about the government sequestering all of her stuff. That line where she says: ​'I had my money in 170 banks and I can't get to it.'" Greenfield happened to be in the company of Andy Bautista – the head of the PCGG [Presidential Commission on Good Government] tasked with going after the Marcos family's ill-gotten wealth – when the film premiered. ​"His mouth just dropped open at that line and he was like: ​'I didn't know that. I could have used that as evidence.'"
Having heavily researched the Marcos family's history, and learned of the stolen fortunes and the destruction that occurred under their rule, Greenfield set out to question how much Marcos was responsible for versus her husband.
"It took me a while to figure out that even though she seemed to be a good person, she had no remorse, she had no character development, she showed no signs of change. In fact, she was digging in and leaning into the story."
In May 2016, while filming The Kingmaker, Imelda Marcos' son Ferdinand Marcos Jr, known as ​"Bongbong", was the frontrunner to become Vice President in the national elections (despite eventually being beaten to the post by Leni Robredo). It was while following him on his campaign trail that Greenfield realised that the Marcos family were strategically sharing – and rewriting – their history. ​"That was a surprise to me," says Greenfield. ​"Bongbong was educated in the west and he's a very contemporary, forward-looking politician, so when I interviewed him I thought he would try and separate himself from the ills of dictatorship and martial law."

"When I first went to his office there were just pictures of his parents everywhere in the palace and a wall full of memorabilia from that time. When we talked about martial law he said he did question his father about that, but that his father explained and he thought that made sense. I realised, especially coming in to the election, that they made a decision not to apologise for anything."
Astounded by this realisation, Greenfield realised that the family needed to be held accountable for their actions: ​"I knew the audience needed to know the truth."
"There was one really remarkable interview where a reporter asked [Bongbong] if he's going to say sorry for martial law and he said: ​'If I hurt somebody I'll say sorry, but what do I have to say sorry for? Do I say sorry for the roads that were built, the infrastructure that was built?' It was very Trumpian. You know, just never say sorry. Just plough forward."
And so Greenfield made it her mission to seek credible storytellers – survivors of human rights abuses of the Marcos' leadership – to provide them with a platform to speak out, while educating the wider world in a political climate in which the truth is not even taught in schools.
Through candid conversations that retell the horrors of the Marcos era, The Kingmaker lifts the lid on the brutality, tragedy and sheer extravagance of the Marcos reign. As for the outcome, it's all in the name. As Greenfield explains: ​"The kingmaker is actually more powerful than the king."

More like this