Magdalena Eriksson and Pernille Harder: the footballing couple that wins together

The Chelsea couple's 2019 FIFA Women's World Cup kiss was a powerful symbol of where football, and its culture, should be heading. Now the pair are looking to the future.

Magdalena Eriksson and Pernille Harder are still processing that the world's only openly gay top-tier men's footballer has come out.
The Chelsea Women FC teammates, real-life couple and outspoken LGBTQ+ advocates had been certain it wouldn't happen anytime soon. That is until Josh Cavallo's video went viral on 27th October, making him only the second active top-flight male footballer since Justin Fashanu in 1990 to take that momentous leap forward. Elated, the Swedish defender and Danish forward tweeted their heartfelt support to the Adelaide United player.
"I'm so impressed by his courage," says Eriksson, 28, sitting beside her girlfriend, also 28, when we Zoom a few days later. ​"By taking this first step, Josh took the weight off a lot of people's shoulders. He may have to represent the whole group and not everyone wants to do that."

Eriksson and Harder are happy to fly the flag for the LGBTQ+ community. Having opened their social media DMs on Valentine's Day for fans who were struggling to come out, the duo were inundated with more messages than they could reply to.
That ​"eye-opening" experience only heightened their determination to use their platform to give back and help normalise LGBTQ+ identities. Especially as Harder's own coming out was, as she puts it, ​"really good and easy. I was with a boy before and then I fell in love with Magda and couldn't put those feelings away. It was a huge relief [to embrace] my new identity and I felt so much support from my friends and family." When she told her grandfather, he replied, ​"As long as you're happy" in Danish, which is now tattooed on her arm.
Both players joined Sweden's Linköpings FC in 2012 and got together in 2014 after Harder made the first move. Their relationship became long-distance when Harder, Denmark's all-time top scorer, joined Bundesliga's Wolfsburg and Eriksson, double Olympic silver medallist, went to Chelsea in 2017. Separated for three and half years, the couple reunited when Harder, a two-time UEFA Women's Player of the Year, made her £250k transfer to the Blues last year, becoming the world's most expensive female footballer in the process.
"We're really comfortable in who we are. We're privileged because we [come from] Scandinavia where [LGBTQ+ rights are] accepted and we're white," Harder says. ​"We're also really feminine. It's not that people who are gay have to be feminine but we don't get that much shit for being gay. So we can make a change for people who don't have the privileges we have."
Signing up to Common Goal, a charitable movement run by streetfootballworld to support and tackle social issues around the world, was the first step after Eriksson and Harder's own viral moment at the 2019 FIFA Women's World Cup: a positive way to leverage the unprecedented attention that the photograph of their on-pitch kiss in the wake of Sweden's 1 – 0 win against Canada garnered globally.
As members of the Common Goal movement, the 28-year-olds pledge one per cent of their income to the Play Proud project. As a result, coaches and mentors across Europe, Asia and Africa are trained to provide invaluable LGBTQ+ inclusive football programming for disadvantaged young people.

"Both of us have the ambition to get out there more but it's difficult to combine everything at the moment," explains Eriksson, who's also a Chelsea WFC skipper. ​"Later on in our careers or even after, these are the things we want to work on and keep pushing for."
A few years later, Harder and Eriksson's kiss is still a powerful symbol of where the game and its culture should be heading. A future where footballers are just footballers regardless of their gender and sexuality. It arguably paved the way for their Chelsea WFC teammate Sam Kerr and Kristie Mewis' tender on-pitch moment at this summer's Olympics to be met with unbridled joy and hilarious ​"Stacey, they're lesbians" memes.
But off the back of that and the overwhelmingly positive response to Cavello's announcement, do the couple truly believe that football is more accepting of the LGBTQ+ community in 2021?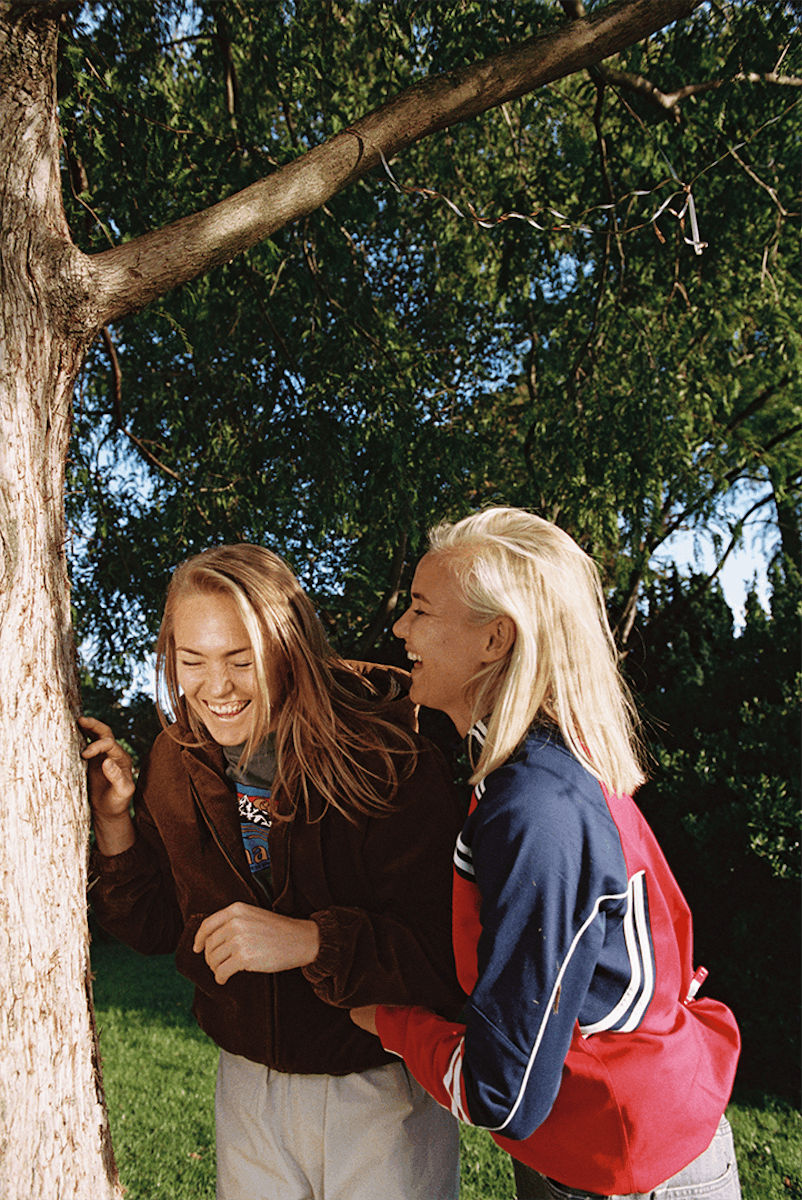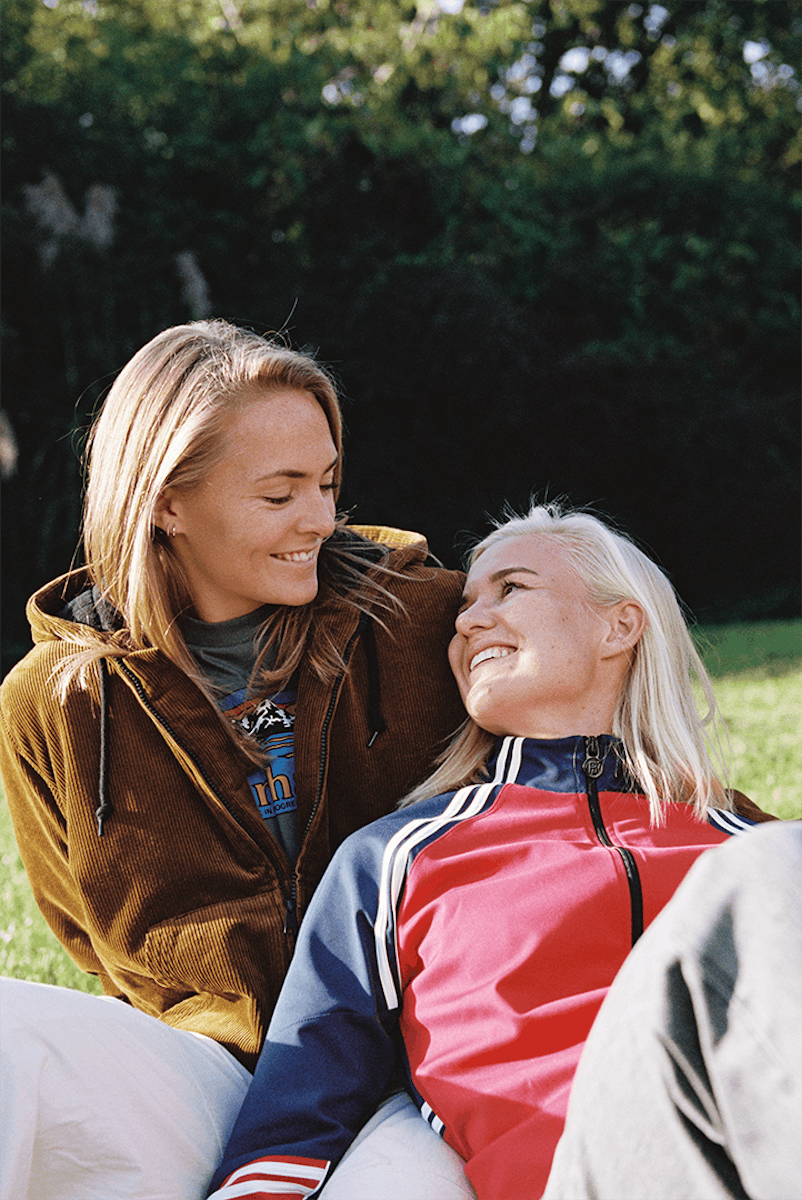 "I feel it's now at a point where if someone comes out and they get criticism or someone writes something bad, people will react," Harder notes. ​"That [negative] person is a shit and that's a really good direction."
In other words, yes, but there's a long way to go. Openly gay footballers of all genders are still in the extreme minority and it's a heteronormative minefield out there – one wrong word or move and it still feels like a career could be blown to bits.
Most importantly for these two elite athletes, their joint ambition to win as many major trophies as possible hasn't been derailed. Eriksson and Harder have won major titles at every professional club they've played at – only the UEFA Women's Champions League eludes them and both are losing finalists.
"Last year, I was really proud that we won the FA WSL because I don't think there's ever been as many stars and tough teams to beat in the league," Eriksson shares. ​"I think it was really impressive how we kept winning games in different tournaments without getting too frustrated or emotional about things," continues Harder.

Even without factoring in the destruction Covid-19 caused and the lack of fans, the title race went right to the wire and Chelsea WFC beat Reading 5 – 0 on the final day to secure it.
That trophy and the Conti Cup they also won last season live under Harder and Eriksson's bed with the rest of their collection. They're not on display because Eriksson maintains that space is limited in their apartment.
But I also wonder if it's because the serial winners prefer to focus on the present rather than past glories. ​"That's pretty accurate," the Swede agrees. Both of them value their integrity much more than the accolades. "[Another part of] the legacy I want to leave behind is that I worked really really hard. Nothing is taken for granted," Harder stresses.
"I think our thing is how we can see each other's perspective and just be there for each other," Eriksson continues, revealing that while the couple converse in Swedish, she's currently taking Spanish lessons. ​"It's a tough industry with a lot of pressure so having someone to support you, wish you all the success and push you to new limits – it's really nice."

Magdalena wears trousers SAGE NATION T‑shirt and jacket CARHARTT WIP trainers NIKE
Pernille wears top MARTINE ROSE jeans ACNE STUDIOS shoes DIEMME MAGGIORE


More like this