Marcus Nelson's art is tackling men's mental health head on
The artist's debut solo exhibition, Scar Tissue, explores hypermasculine environments and the pressures that come with them. His advice? Let's get talking.
Artist Marcus Nelson was close to losing his eyesight last year, a result of too many concussions from his boxing and martial arts extracurriculars. ​"I got diagnosed with a really serious eye injury in both eyes," he says. ​"Basically, the top of my eyes had come off and it's now closed into my vision – I have tonnes of floaters all over the place."
Having just graduated from the BA Fine Art course at Central Saint Martins, Nelson has had a side-hustle for the past few years. He and his girlfriend, Brooke Wilson, helm of Boys Don't Cry, a collective of artists, all men, who talk openly about their mental health. His work has always carried a deeply personal message throughout: that men suffer and they need to talk.
Now, the 25-year-old artist has just revealed his debut solo exhibition. Titled Scar Tissue, it was spurred on by Nelson's eye injury, but, in keeping with the running theme in his work, is also an exploration of mental health amongst young men and the pressures of achieving a masculine ideal.
When Nelson was given an ultimatum by the doctor to give up contact sports or face losing his vision, it was a real fork in the road moment for him. ​"Boxing and training has always been a really big part of my identity," he says. ​"It got me out of a lot of trouble growing up, but the whole situation forced me to look at myself and why I was putting myself in those situations."
He came to realise that it was down to insecurity about his sense of masculinity. ​"It has always been a thing," he says. ​"I've always been very unsure of myself, so martial arts and boxing was a way for me to sort of get some confidence back."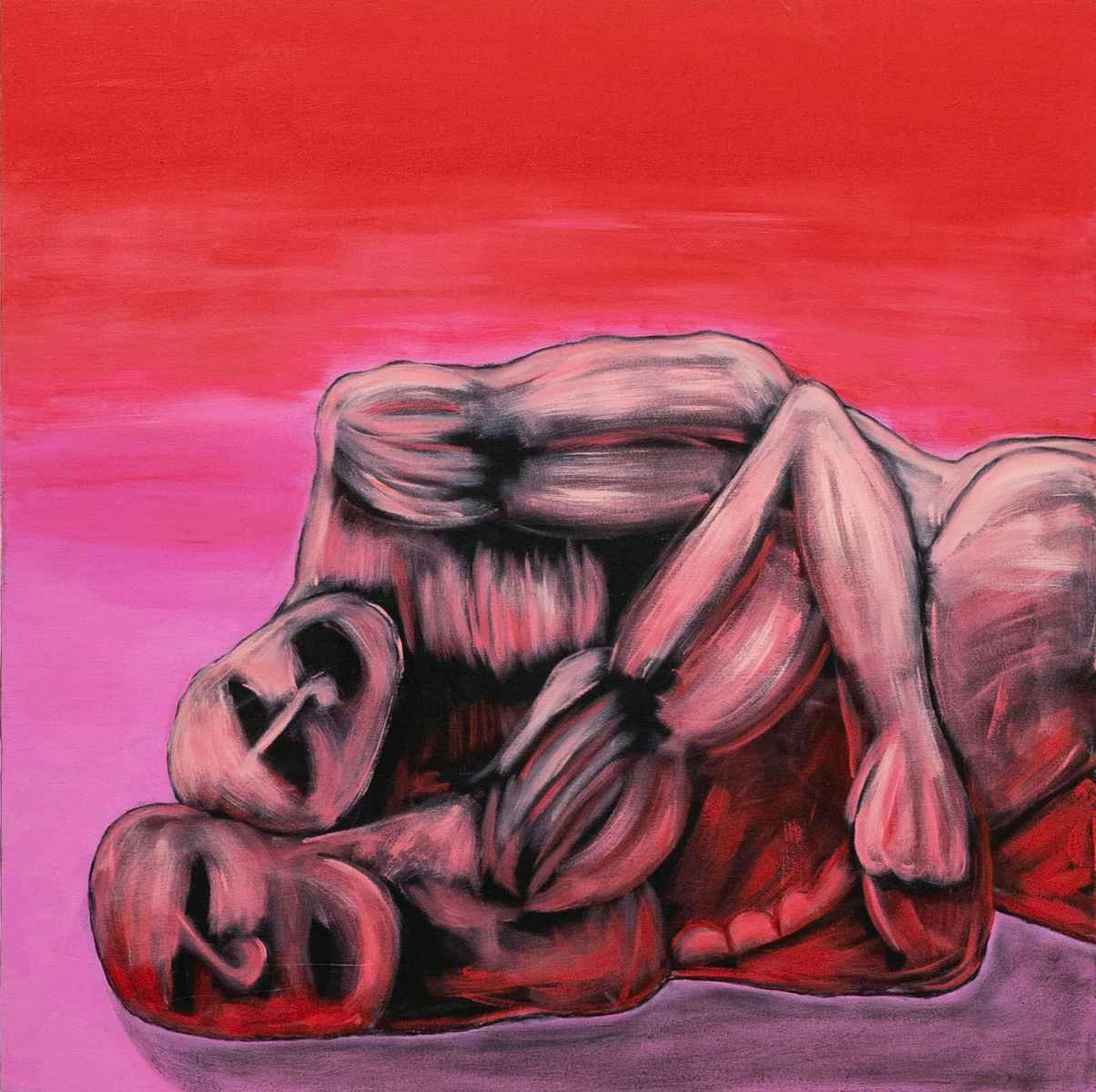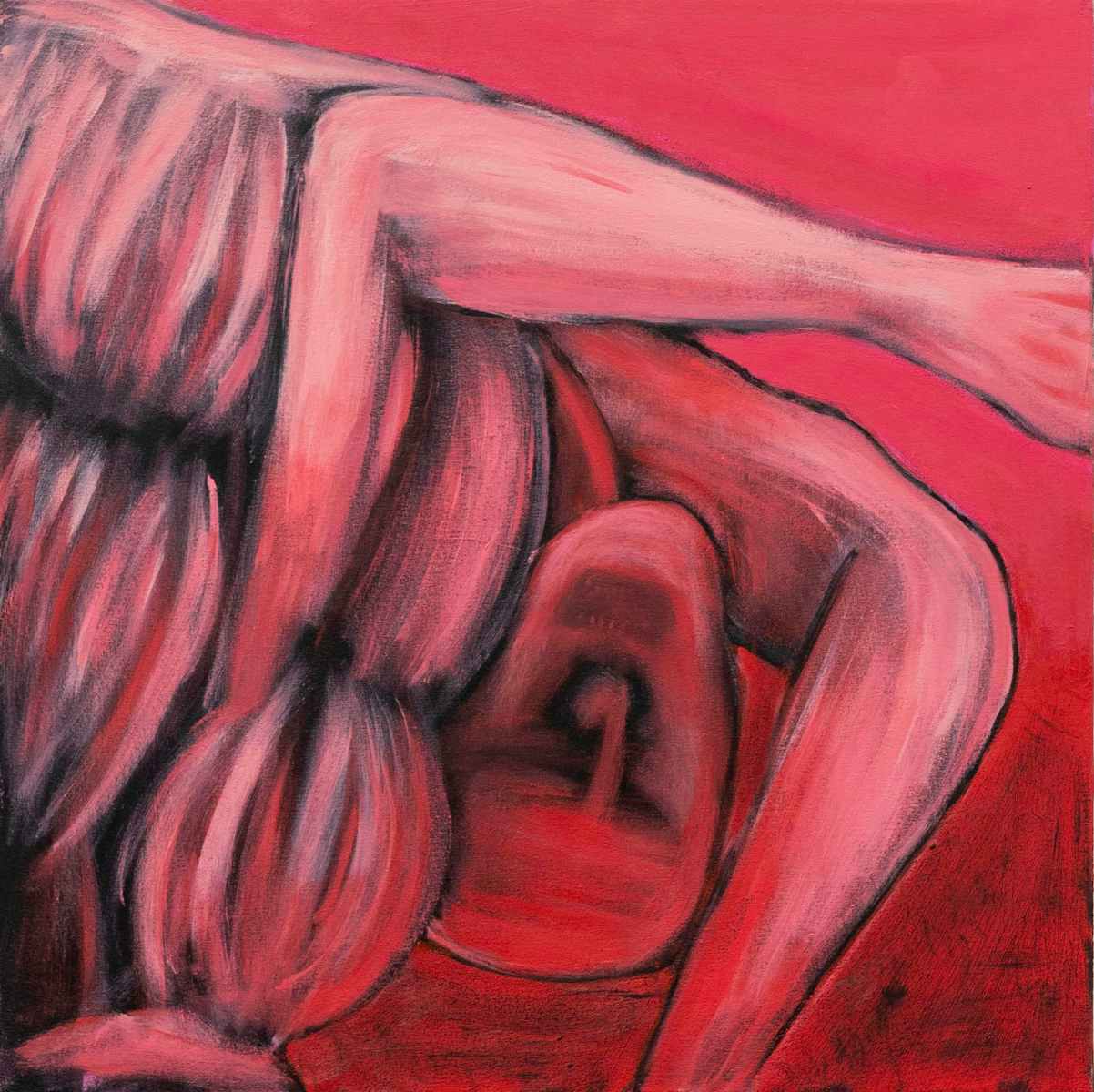 Nelson's new work, then, has the kind of butch, muscly figures that are dominant in contact sport environments painted onto large-scale canvases. ​"I decided to give the figures this anatomy that I never had done before," he says. In Nelson's past work – which also drew heavily on distortion – figures were often skeletal, conjoined and nightmarish.
"I've often dealt with body dysmorphia and feeling insecure about the way I look," he admits. ​"My work's been quite androgynous [in the past] and that was intentional because I was talking about this sense of duality, so I wanted to have a vagueness to the figures, not being able to place them as male or female."
Giving up contact sport sparked a whole chain of events that led to the show. He started looking at martial arts references, going on YouTube observing fights, and going to the gym and taking pictures of bodies. ​"Most of the compositions are taken from Greco-Roman wrestling, where you see the guys embroiled in this intense struggle," he says. ​"But when you pull the image back, there are little moments of intimacy, and it flips between that and reality."
Admitting his work has always been about duality – a dream-like reality – Nelson hopes this new work can feed into a wider conversation about men's mental health. ​"Masculinity is a really fragile thing at the moment," he says. ​"It's being discussed in some really interesting ways and I'm hoping the show can generate some moments to pause for thought in the wider sense of masculinity today."

Through his work with Boys Don't Cry, does Nelson think we're moving in the right direction? ​"It's a tricky one," he says. ​"I feel like it's a bit of an echo chamber in the art world, it's hard to know whether things are changing.
"When I leave the art world, where there are really big changes happening, and go to the gym, it's not the same. As much as there has been really good work done, especially in cultural circles, I think in the wider, hypermasculine environments there's still a lot of work to do."
As open as he has been through his work, Nelson still gets a lump in his throat when he talks to his mates about his mental health, which has him wondering how ​"Joe Bloggs down the road must feel", who isn't running a men's mental health art collective. With so much work still left to do, the answer could just be this:
"There needs to be more men who are being honest," he says. ​"That's the only way we can break down cultural barriers – by talking more and normalising it."


More like this