Tottenham F.C. fans in all their glory
Photographer Martin Andersen spent five years capturing the highs and lows of the Premier League team. Now you can see it all in his book, Can't Smile Without You.
Martin Andersen's rite of passage to The Beautiful Game was the 1978 World Cup final [Argentina v Holland] at the age of six years old: ​"I remember taking an instant liking to the Argentina kits, the blue and white stripes and the black shorts," says the 47-year-old Danish photographer. ​"I was blown away by the atmosphere and celebrations – I instantly fell in love with football."
The following summer while still living in Denmark and armed with a newfound love of the sport, Andersen began following the English games that aired on Danish TV. When the previous year's World Cup winners Osvaldo Ardiles and Ricardo Villa signed to Tottenham Hotspur F.C., Andersen pledged his allegiance. ​"I decided Tottenham was going to be my team. I watched as many games as I could on TV before I finally moved to London in 1993 and was finally able to visit White Hart Lane on a regular basis," says Andersen.
His affiliation to the team, paired with a roving eye, led him to begin capturing fellow Spurs fans back in 2013. The compendium of images is now available in Can't Smile Without You – an extensive book featuring over one hundred images taken throughout a four-year period. Its title refers to the 1978 Barry Manilow song, which fans adopted as the club's anthem. The driving force, Andersen says, ​"Was to capture different generations of fans, the camaraderie, the banter, the songs in the pubs [and] the madness."
The black and white fly-on-the-wall photos document the melting pot of fans from all different ages, races, religions and classes: an older toothless fan is caught belting out a song in the back of a car, junior Spurs fans walk side-by-side with their parents and a drunk punter shows off his round belly in a pub. Meanwhile grittier moments – fans setting off flares on the streets of Tottenham post-match, and stand-offs with walls of policemen – live side-by-side with the lighter, heartwarming shots.

​"I was interested in capturing characters, emotions and expressions and also the dynamics of the group," says Andersen, before going on to reveal the process of taking photos without pissing people off: ​"I kept an instinctive approach throughout and often shot from the hip. Nothing was planned or staged – it was all about capturing those little moments."
The collective feeling throughout the book is of a tribe with one thing on their mind: glory. The photographs are like a time-warp, and if Can't Smile With You leaves you feeling one thing, it's the moments of pride, solidarity and shared excitement felt by football fans worldwide. (Yes, even you Gooners.)
"On a philosophical level, it's the basic need for us to belong, be part of a group and part of a tribe," says Andersen, ​"to feel protected whilst you are conquering and to be entertained, to be part of the club's history, to dream about winning. To be a champion."
Andersen talks us through a selection of photographs below.

"Swansea City away in 2015. It was an early start and after hours of drinking and singing in the pub we all jumped into taxis to get to the ground I ended up in this taxi with a guy called Paul who is a regular and whom I have known for some years now. We were in good moods and singing on the way to the ground. I caught him mid-action."

"This is ​"The Tottenham Rabbi" as he is known amongst the Tottenham boys. The Rabbi is a real old school character who has been going to Spurs regularly since he was a kid. This photo was from our final against Chelsea at Wembley back in 2017. Before the game, we all went to this place called The Crystal Rooms and The Rabbi took to the stage as he often does and performed a couple of Tottenham songs to get the crowd going."

"This is from our Champions League trip to KAA Gent away in 2017. There was an incredible atmosphere before the game and a couple of the lads set off flares in the market square before the game."


"Arsenal away 2015. After an early start of drinking in The Dolphin pub, Kings Cross we were all escorted to the Emirates Stadium via a rowdy tube journey to Highbury & Islington. This picture is taken just outside the station and shows all the Spurs boys flowing onto the street. Moments like these are some of my favourites purely down to the excitement, chaos and anticipation."


"This is an early one from 2013. Chelsea at home. I can't actually remember what happened here. There was quite a lot of commotion on Park Lane and I remember a few people getting arrested. I like the composition and framing of the shot."


"This was a great moment. Aston Villa away in 2014. We had been behind 1 – 0 since the 15th minute and then first Chadli scores in the 84th minute, followed by a very late goal from Kane in the 89th minute. Some of us had left our seats and were heading home. This picture was shot downstairs in the concourse of the stadium just after we scored. I like how the flash lights him up and it almost looks a bit like an iconic image from a World Cup final."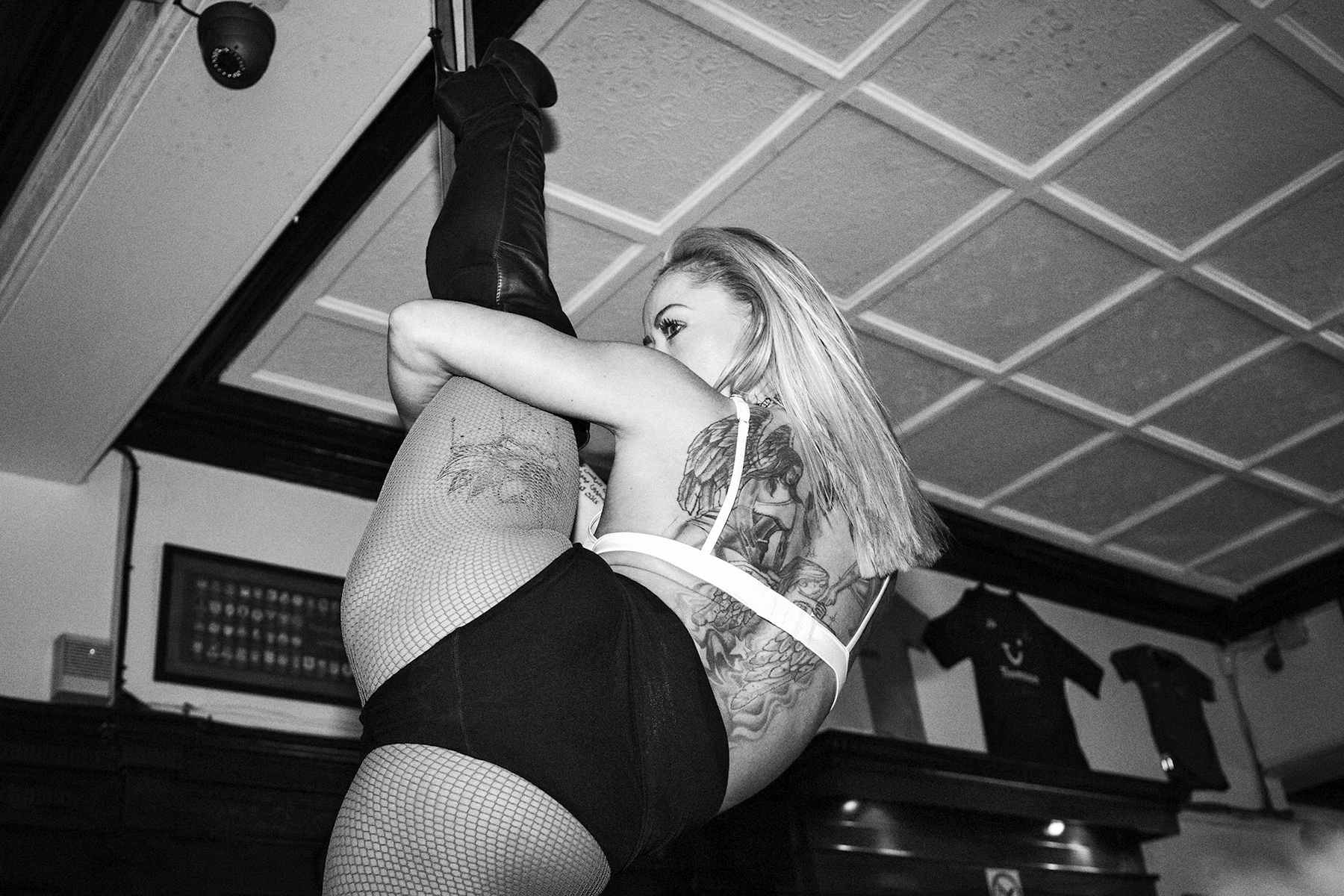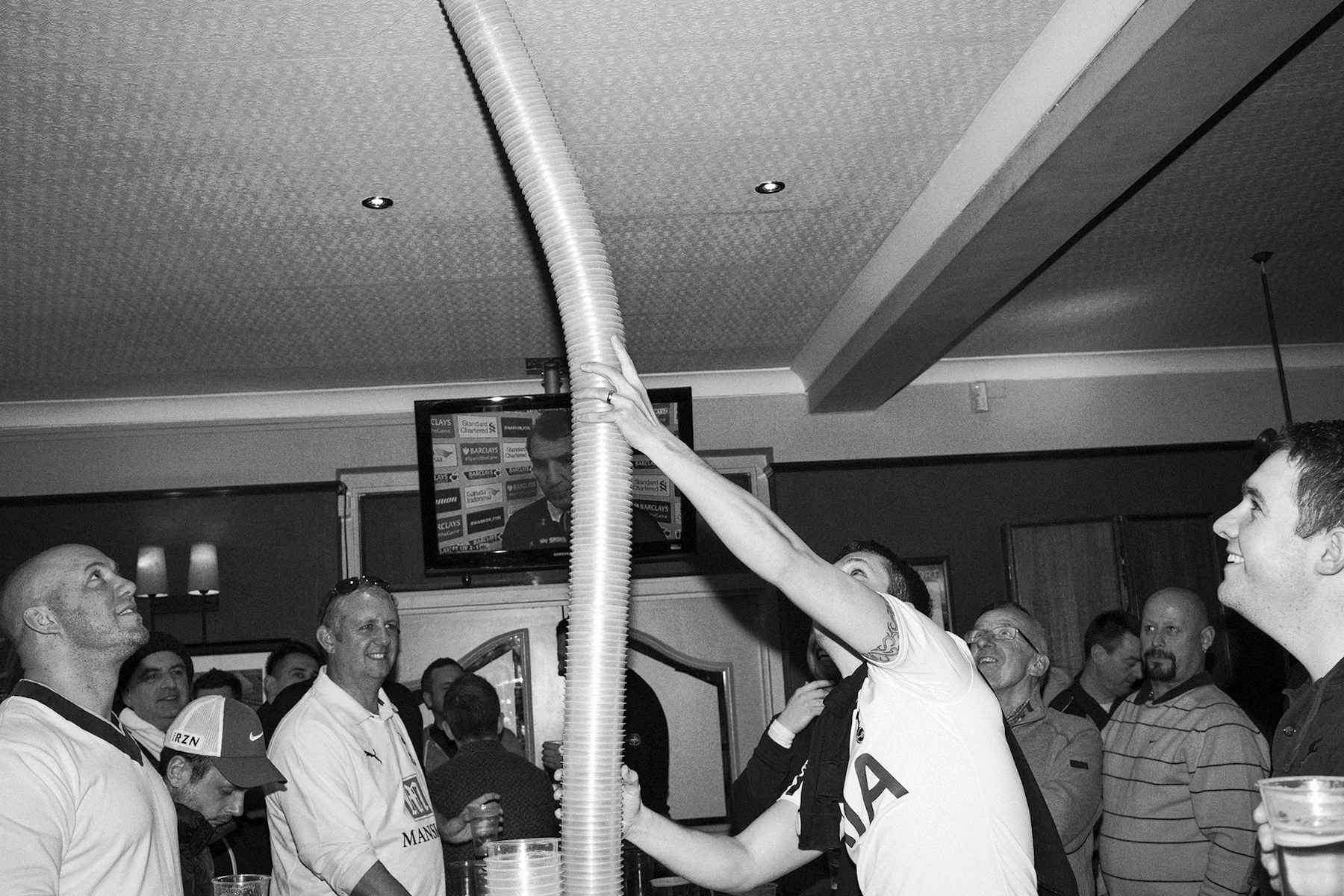 "The image on the left was shot in the Bill Nicholson pub near the stadium before we played Arsenal at home in April 2017. They often have pole dancers before the games to entertain the crowd. I liked how her bra creates a pattern similar to the ceiling patterns and she has a striking tattoo on her back.

​"The image on the right was shot in The Torch, a pub close to Wembley, some hours before our League Cup final against Chelsea in 2015. This guy started collecting all the plastic cups and put one cup inside the other creating this giant pole of beer plastic cups. Together the images suggest a play on male testosterone."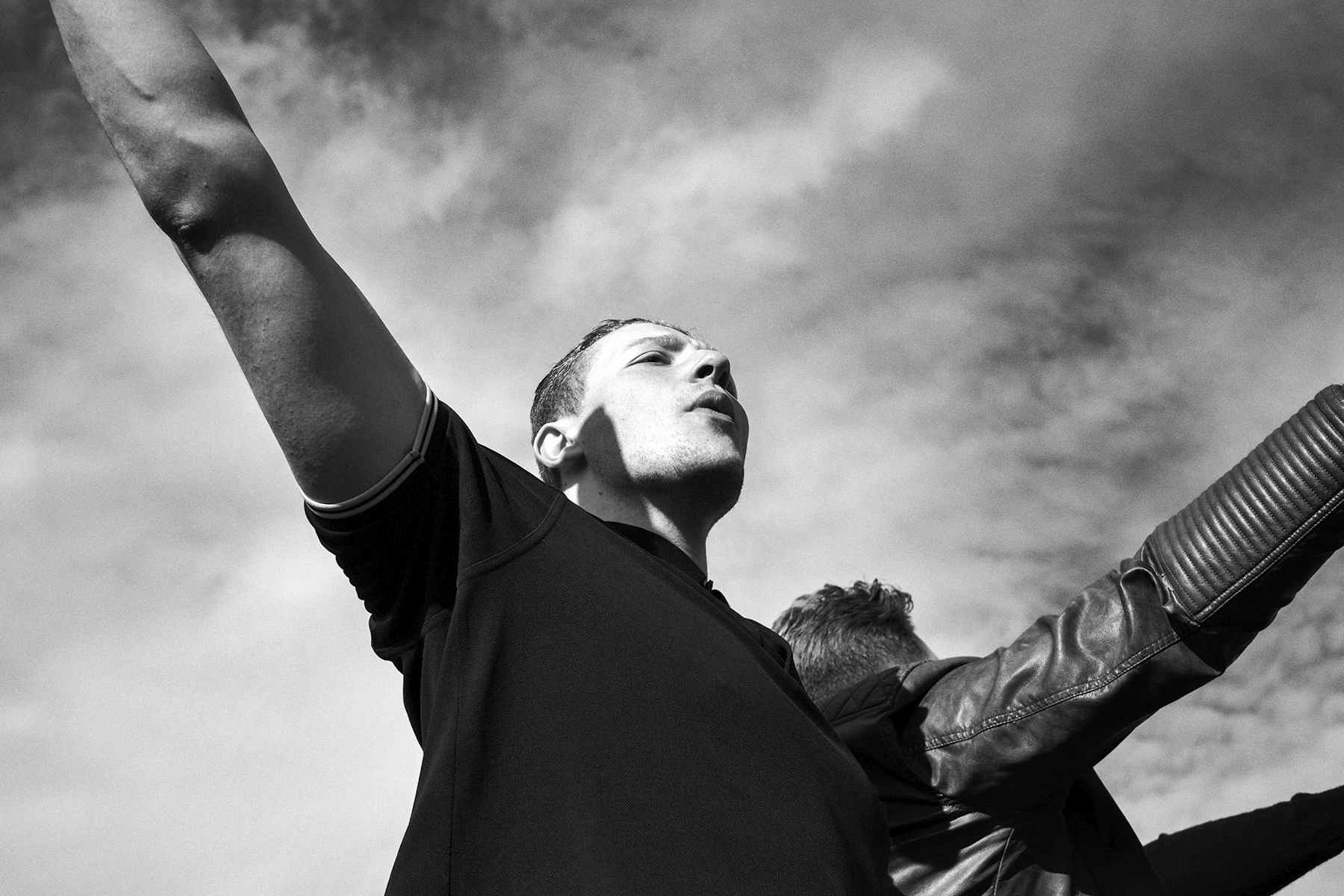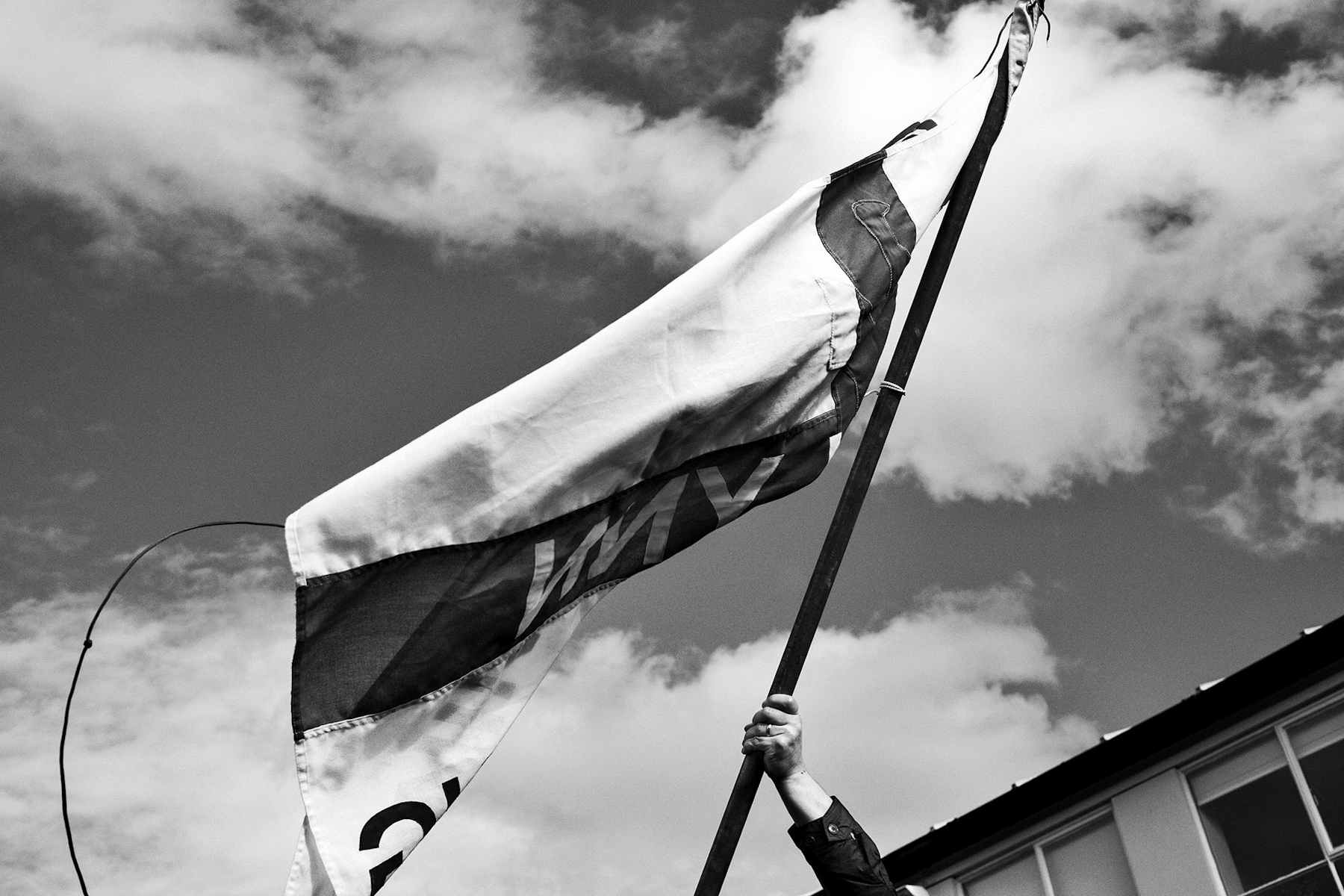 "These two images are from the same series of images I shot at The Torch before our League Cup final against Chelsea in 2015. It was a beautiful warm sunny day and everyone was in great spirits hoping for a first trophy in many years. I shot the images from below to make them feel more iconic. I like how the pairing of the two images create a dynamic angle, which almost [gives] the feeling of old political propaganda imagery like the work of Leni Riefenstahl."


More like this