Tense, mad, surreal, beautiful: is ​

'

Monos' the film of the year?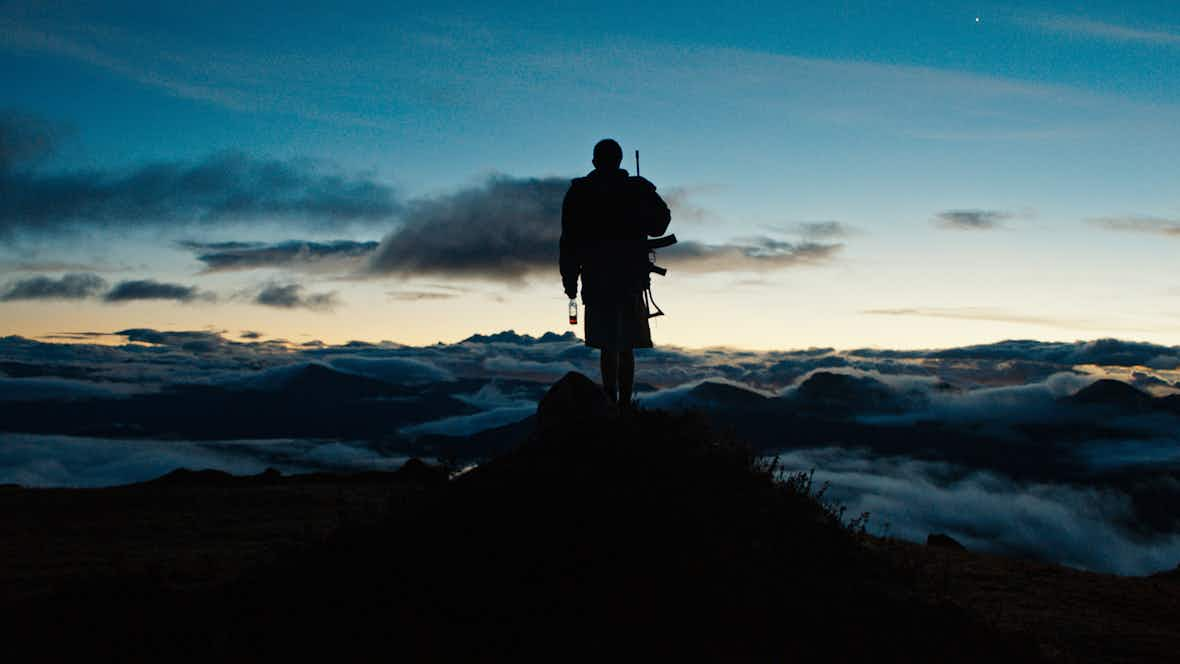 Review: Alejandro Landes' survivalist thriller follows a group of teenage soldiers guarding a hostage in the South American wilderness.
Rat­ing: 5⁄5
High on a hillside somewhere in a Latin American mountain range, a group of teenagers – the Monos – are being trained rigorously for what seems like war. To start with we have little information about the Monos, except that the kids with tribal noms de guerre – Wolf, Rambo, Boom Boom, Bigfoot, Dog, Smurf, Lady and Swede – are part of ​"The Organisation". It's an elusive force whose only contact with the outside world comes via a messenger (Wilson Salaza – a real-life rebel fighter who director Alejandro Landes found in a Colombian ex-fighter resettlement camp).
The guerillas' job is to protect an important asset in the form of ​"Doctora" (Julianne Nicholson), an American doctor they're holding hostage. However, the group are mostly left to their own devices, waiting for the next instruction from base. And, after the celebration of the ​"partnering" of Wolf (Julian Giraldo) and Lady (Karen Quintero) turns violent, the Monos' journey turns extreme.

In the first half an hour, Monos divulges information sparingly. You understand the core elements that this is survivalist tale, and that these kids are indeed kids and not hardened war veterans. They're being trained intensely, but we're unsure what for. They have the responsibility of a hostage, but we don't know how they got her.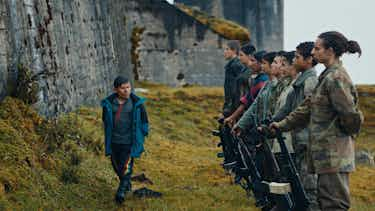 For most films, these would be important plot points that, when omitted, could lead to a messy and erratic narrative. But Landes paints this potentially convoluted/​confusing tale into a beautiful masterpiece. Far from deterring you, the unknown props you on the edge of your seat, unsuspecting yet immersed, thanks in no small part to the beautiful cinematography and a haunting score from Mica Levi. Much like Roma last year, the filmmakers implore you to watch Monos on the bigger and best screen you can find to soak it all in properly. And so you should – the scenery is breathtaking.
In order for you to savour the film's true surreality, we won't go too deep into the events that unfold. But suffice it to say: when the group's fun with automatic rifles and a psychedelic trip on wild mushrooms leads to disaster, they move, hostage in tow, deeper into the jungle. With the pressure building, the relationships within the previously tight-knit group begin to fray as a battles of hierarchy, love and impulse cloud their mission. Think: Lord of the Flies with serious weaponry.
Colombian-Ecuadorian filmmaker Landes' thriller is, simply, unlike anything else out there. It's little wonder it's already taken home top honours at the London Film Festival and Sundance, for Best Film and World Cinema Dramatic Special Jury Award respectively. A wholly unique feature from an exceptionally talented director (who is also co-writer and co-producer), I expect we're still at the very start of applauding Landes and Monos.
Monos is in cinemas from 25th October

More like this