A wormhole into Mowalola's world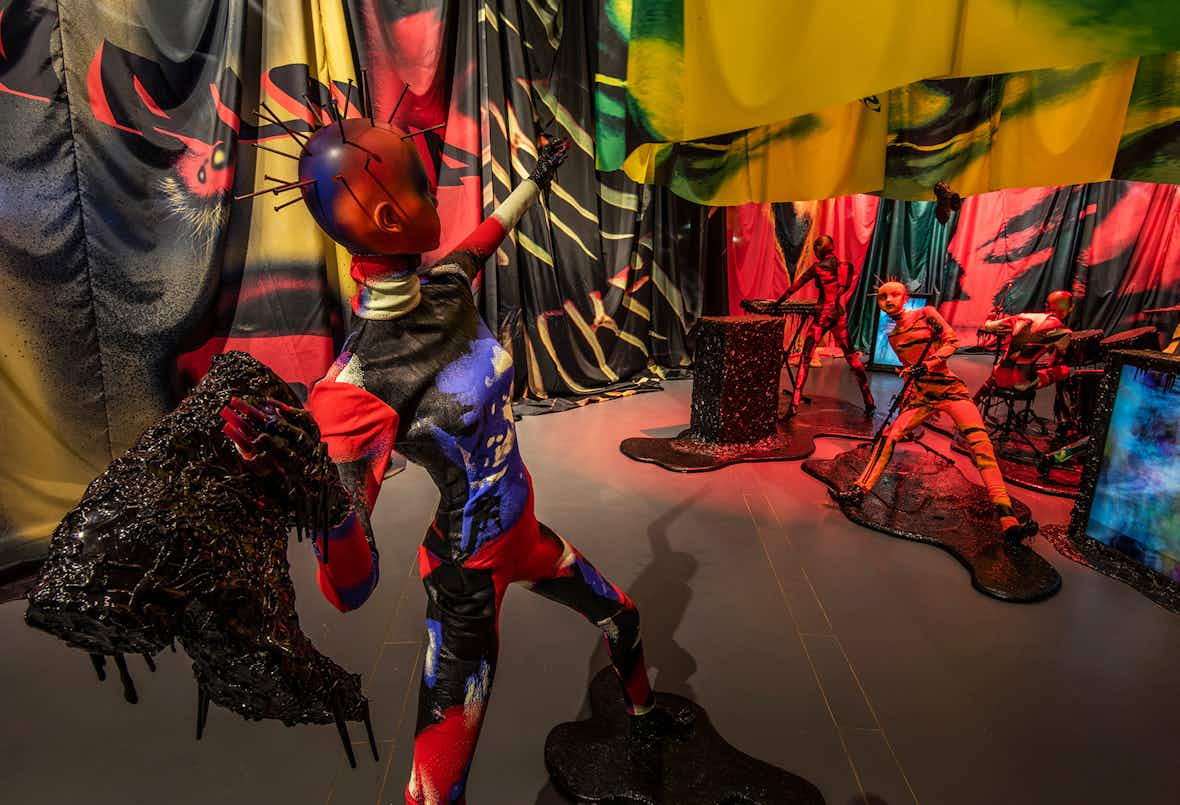 The designer's debut exhibition Silent Madness is a soundtrack-accompanied installation exploring her inner thoughts and tapping deep into her Nigerian roots.

2019 has been a monumental year for Mowalola Ogunlesi. Kickstarting the year with her debut collection under the Fashion East umbrella in January, ​"Exposed" saw the former Central Saint Martins student approach the fashion circuit with an enviable level of assertiveness and confidence, far beyond her young years. The British-Nigerian designer spawned slick leather pieces, tie-dye infused designs and printed leather jackets for AW19, sparking a new era.
Mowalola's latest collection for SS20 is a more vulnerable insight into the designer's creative process, reflecting her sentiments about romance and the actualities associated with love. Showing her evident appreciation for leather, the aptly named offering, ​"Coming For Blood", is rife with low-cut halterneck suits and intertwined bursts of cow print and neon hues, while marrying together slim-fitting trousers and statement buckle belts, catering to all genders.
Her audacious collections have garnered attention from A‑list admirers including Skepta, Drake, Solange and GQ's recently crowned Male Model of the Year, Alton Mason — an ever-present face on the catwalk who sported her tailored bullet wound two-piece suit earlier this year. Industry veteran Naomi Campbell was also spotted wearing her infamous bullet wound halterneck dress — a design which was embroiled in a minor dispute back in September. However, the designer cited her inspiration behind the striking garment as a consequence of ​"delving into the horrific feeling of falling in love". Additionally, the collection tackled her relationship with womanhood and the intricacies of blackness, ​"It screams my lived experience as a black person. It shows no matter how well dressed you are or well behaved, we are time after time seen as a walking target."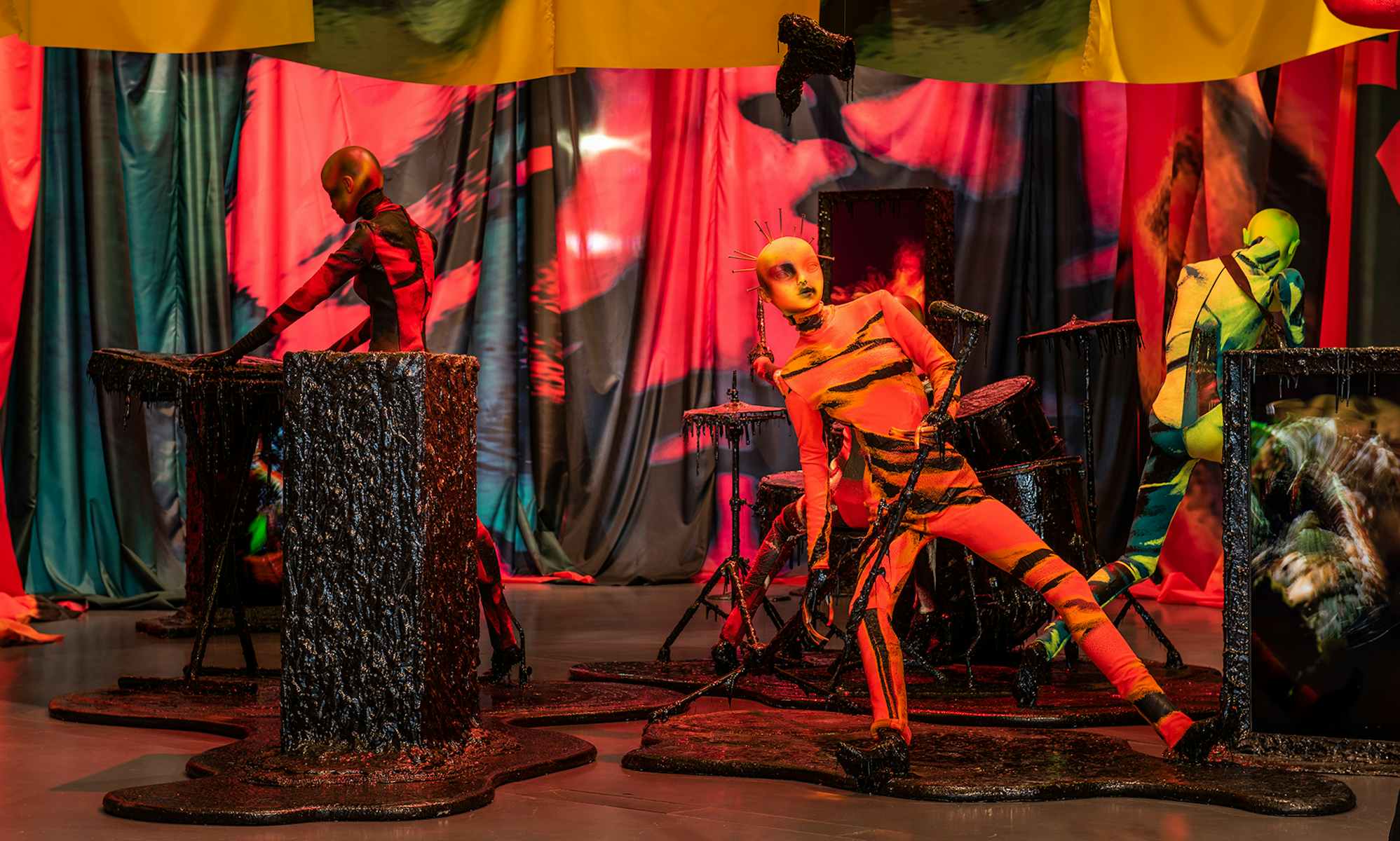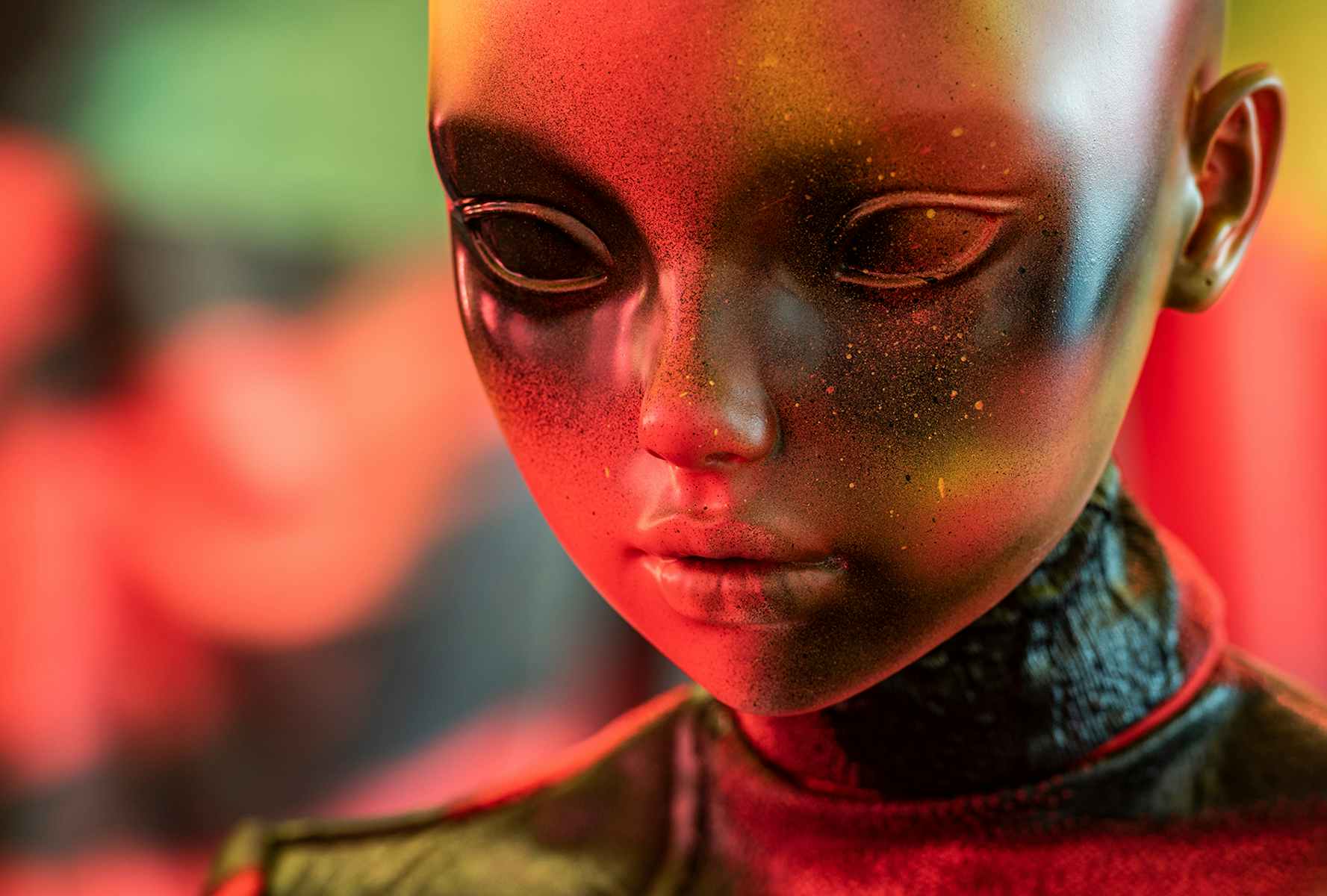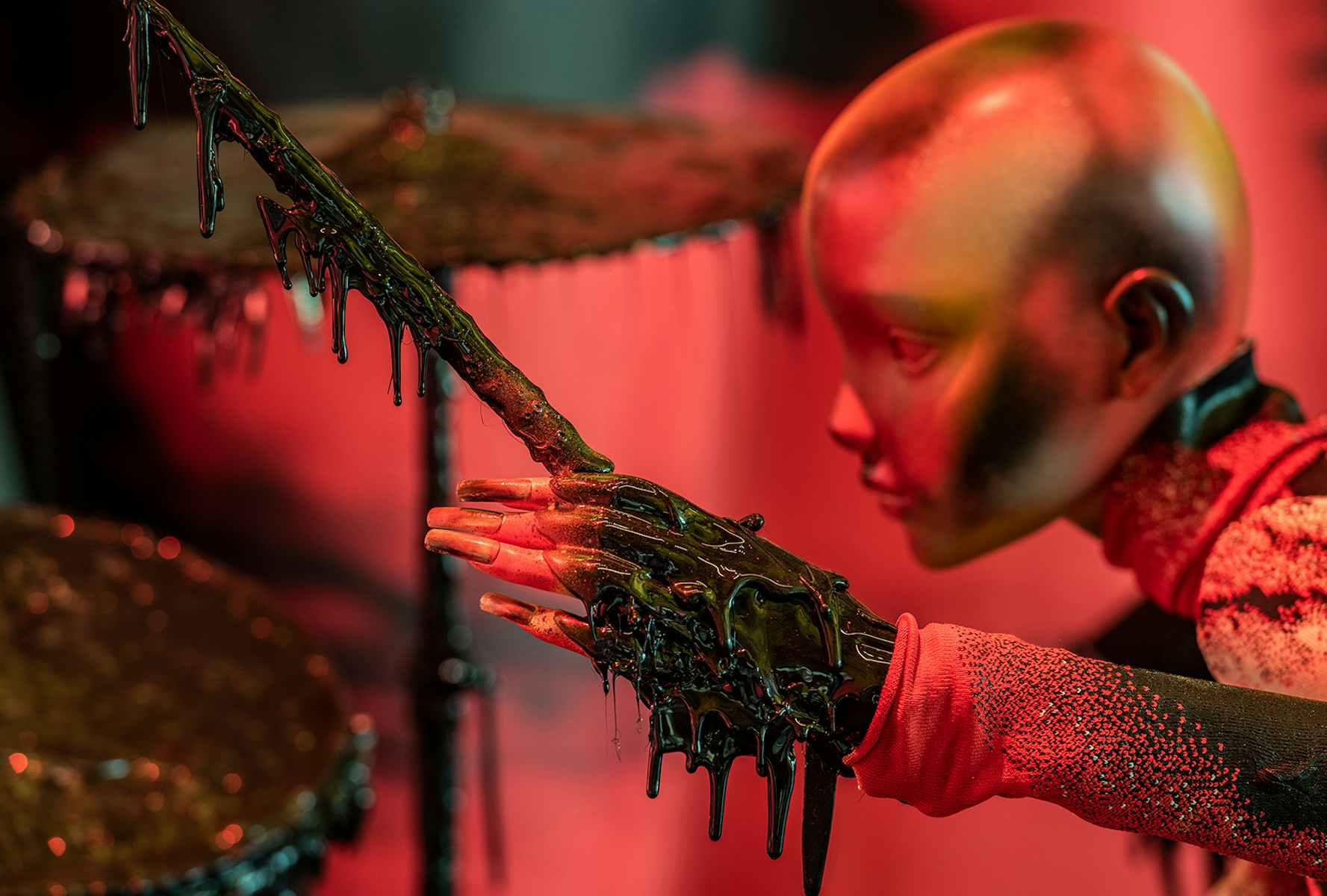 Silent Madness sees Mowalola become the latest designer to join NOW Gallerey's directory of resplendent fashion-led exhibitions. Joining elite fashion heavyweights such as Molly Goddard and Charles Jeffrey, her exhibition is solely and unapologetically drenched in her gritty, provocative and chaotic aesthetic. The installation fuses three integral elements of her life ​"music, film and people," she mentions. Creating an interactive installation was the ideal way to snapshot colossal moments in her life, she continues, ​"My initial thought was that I wanted to create a renaissance painting of what my world is and leave something behind when I go, which is where it developed from. Now, it's just an insight to what's inside my head."
Unsurprisingly, her latest thrilling venture pushes boundaries and focuses on dismantling the norms surrounding Nigerian society and hyper-sexuality. ​"Growing up my parents were fashion designers, but in the world I never really saw anyone show African fashion in a way that wasn't just Ankara and marginalised on a basic level." Unveiling the many dimensions of her African heritage was at the forefront of Ogunlesi's mind, ​"I'm Nigerian, whatever I make is Nigerian. It's about the person who's creating it. My own African experience is individual to someone else's. There isn't a single narrative," she explains.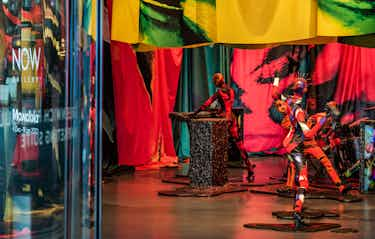 Upon arrival visitors are issued with an MP3 player boasting a 6‑single soundtrack infused with a mashup of sounds. (These include unwavering vocals from south east London musician Shy Girl on song Uckers — a track accompanying the trailer (directed by Aidan Zamiri), plastered with a bouncy beat and horror-like screeching.) Furthermore, the soundtrack sees the designer's debut venture into the music sphere as a co-producer. ​"I spoke to the people I wanted to work with and explained what the energy was behind it. All the tracks were made for the exhibition so with Odunsi [the Engine], we worked together on the track and we listened to different samples. It was a new experience and it kind of set the tone for the exhibition." It's essentially a gateway to Ogunlesi's artistic inner thoughts, she continues, ​"I wanted to take the visitor on an emotional and visual roller coaster. I love watching horror movies, love what it does to me, I feel like it's so exciting. It makes you lose your breath, catch your breath, enjoy it, get it ripped away. It's another experience within an experience. It's a wormhole of Mowalola."
Underneath the undercurrent theme of darkness sits a ​"band" made up of mannequins. Situated at the heart of the exhibition, each member is soaked in black tar and garnished in some of her 2017 graduate tie-dye prints. The reasoning behind it? Seeking beauty in the unconventional. ​"I wanted to have a nasty element to it to contrast the colours. It's [about] me trolling the world and saying not everything has to be beautiful and clean, there is beauty in dark things. We are living in this chaotic mess at the same time." The efforts of her collaborative images with Lea Colombo are imprinted onto surrounding curtains and the wonderfully vibrant colour scheme is the result of ​"a photo that me and my makeup artist Daniel Sallstrom took while we were doing makeup testing".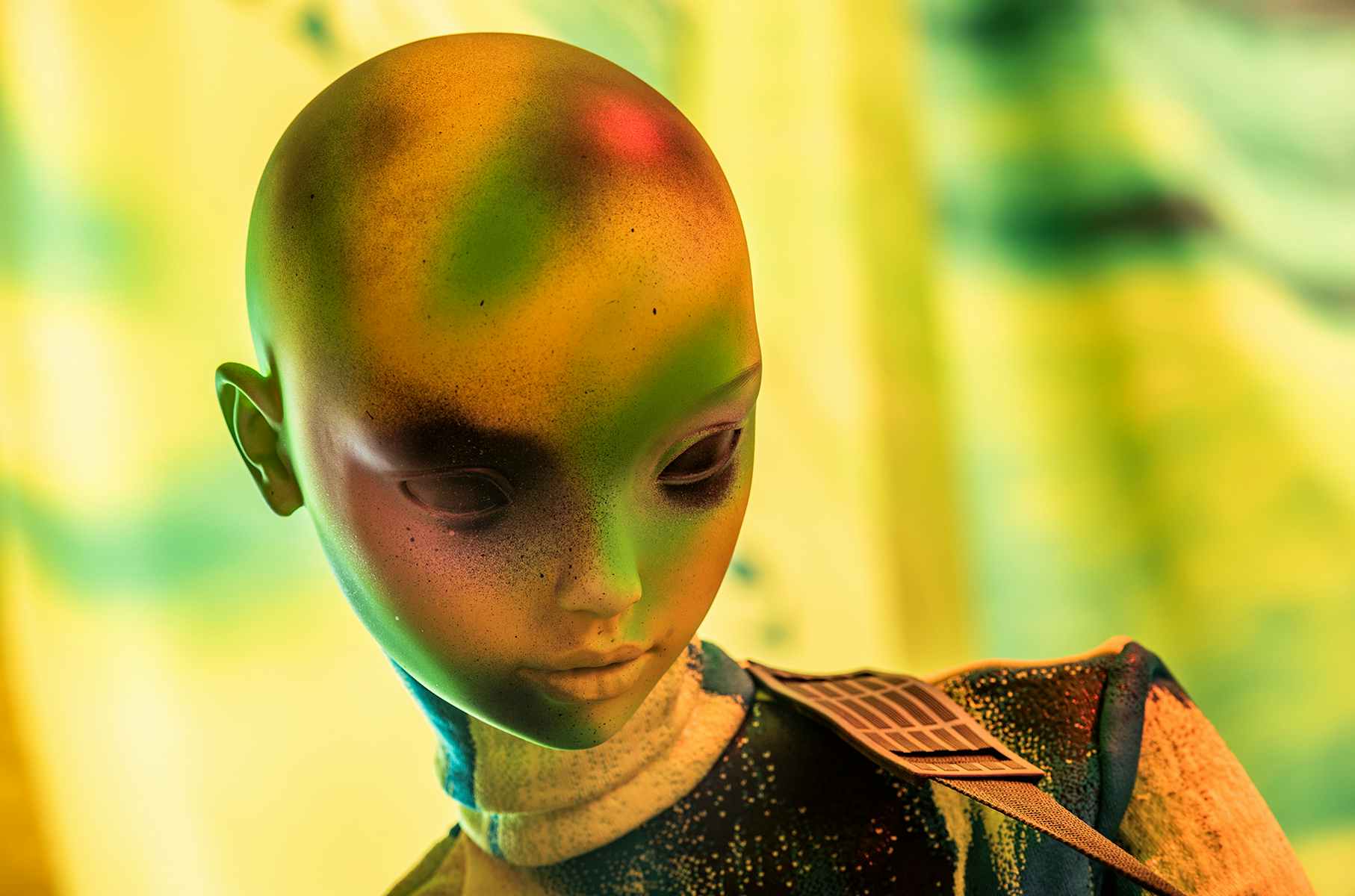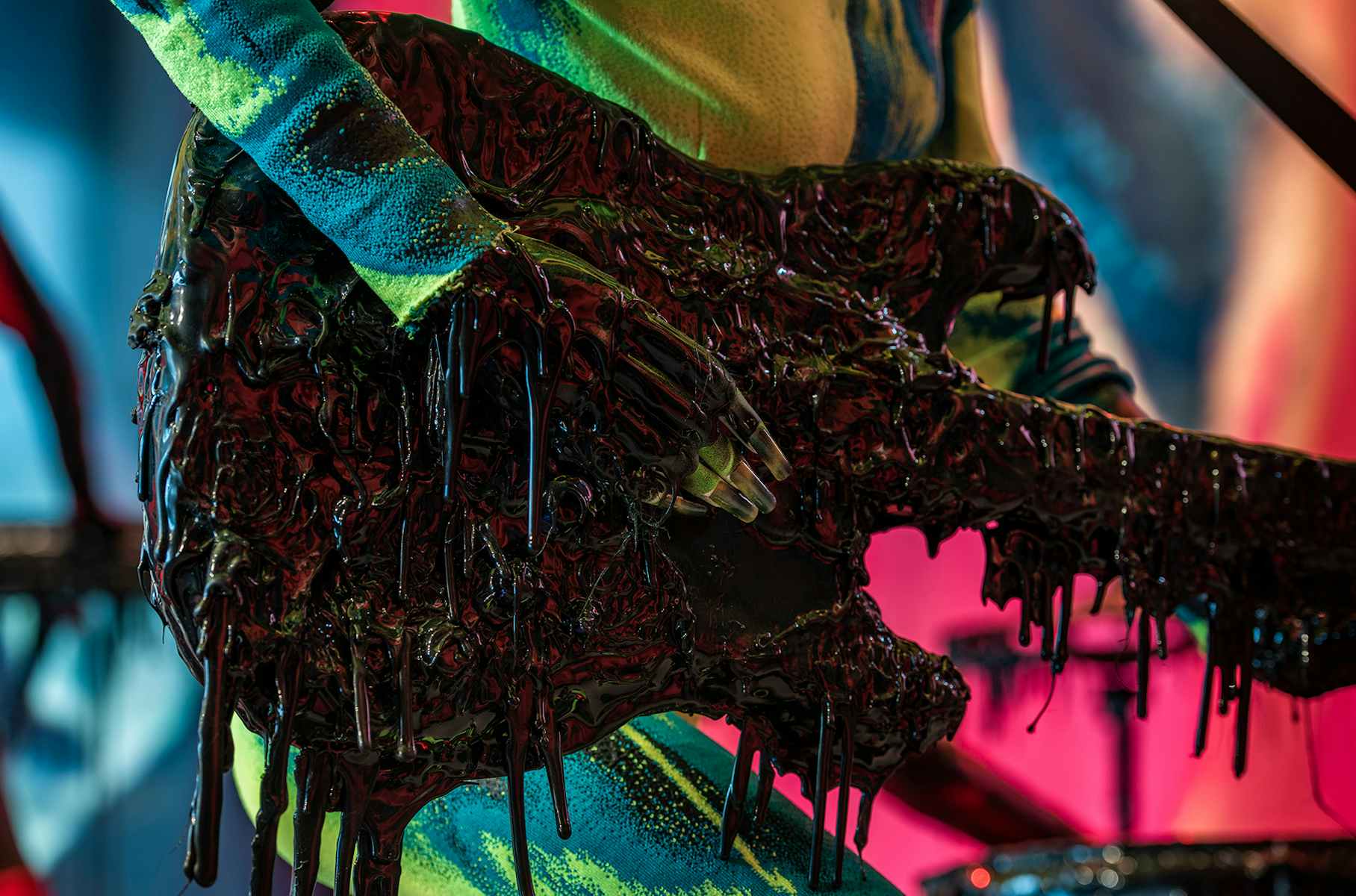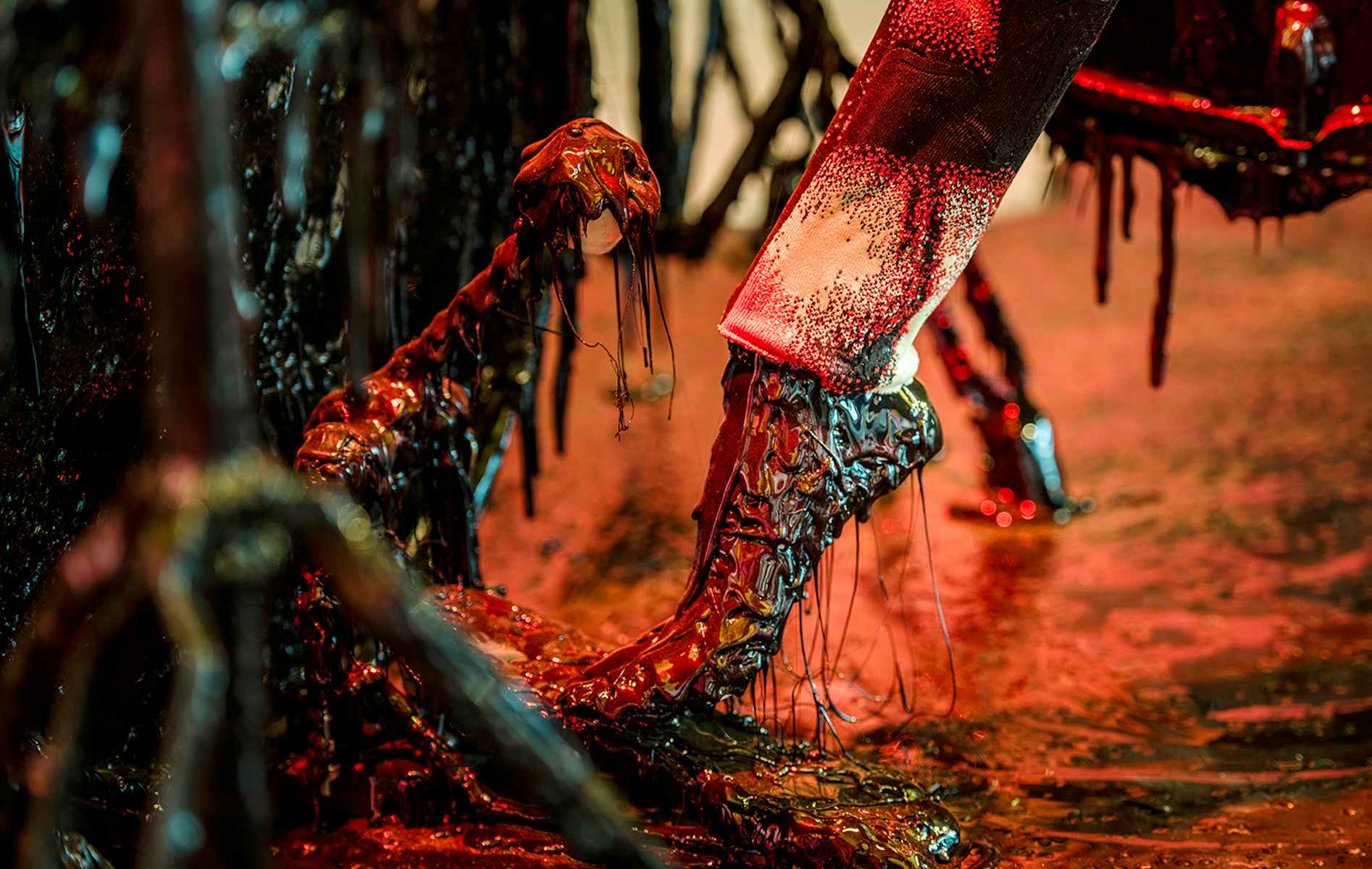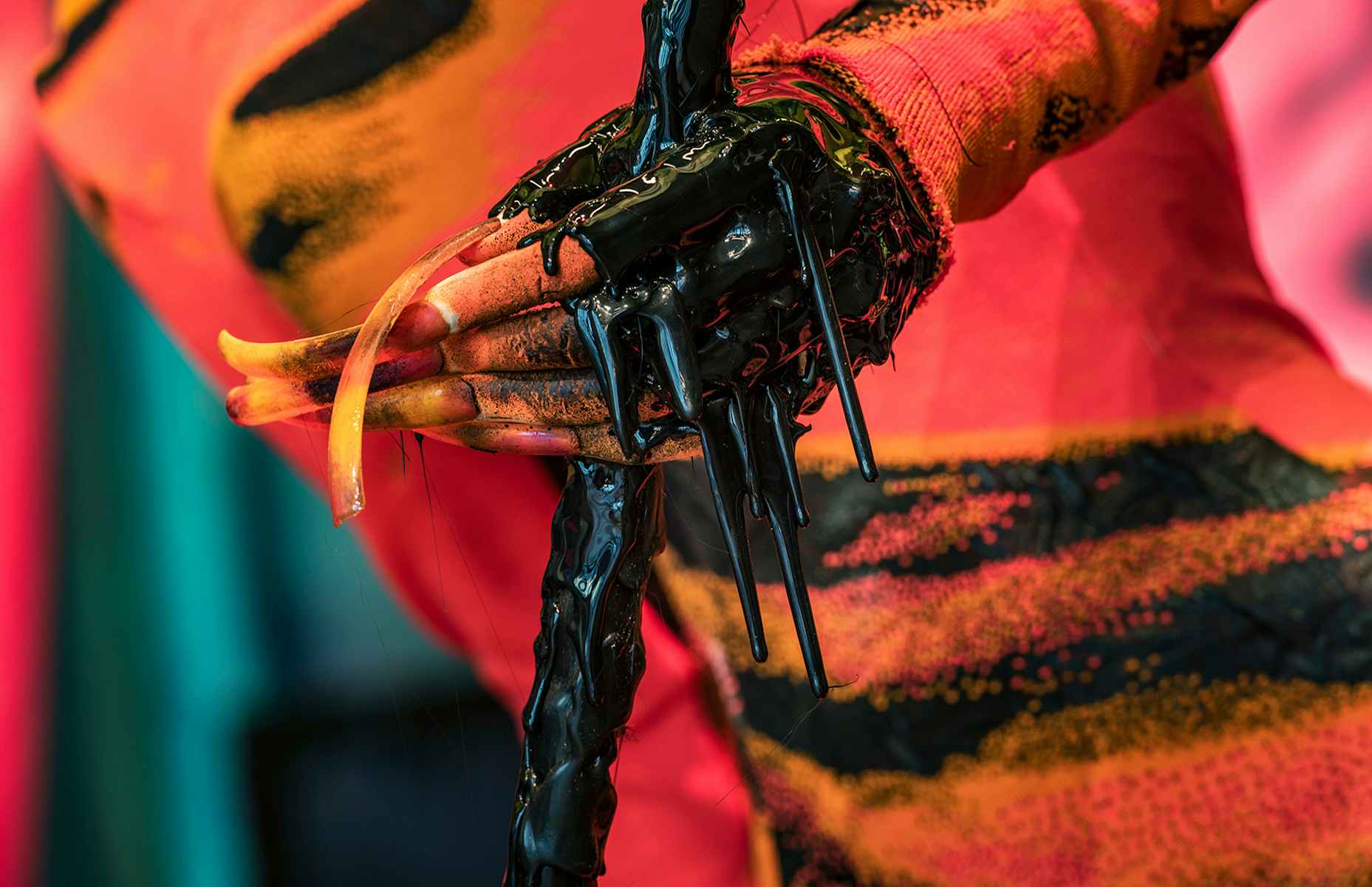 Alongside the soundtrack sits a film birthed from an alliance with Jordan Hemingway, Yves Tumour and Jamie Reid, which she muses was like ​"a weird acid trip gone bad" and describes the film as a, ​"discombobulated experience". Following Ogunlesi's authentic practices, her cast was recruited via an Instagram open call. ​"I said whoever wants to come and likes what I do can be a part of it, it was nice to see I was inspiring people who in turn wanted to help me and be a part of what I'm doing."
For those who have witnessed Ogunlesi's fashion shows, music is a crucial element. Her soundtracks are often born via an amalgamation of partnerships. ​"I often work with my friend Joey, I tell him what I feel and what the collection is based upon, maybe I'll give him reference tracks. When we do a track list, we make a mix in super random ways. Like the last show I had, there was a Soulja Boy scream, coupled with a Kanye scream, a Janet Jackson song, a Whitney one. It was just very black and weird."
Although her primary creative outlet is currently through her eponymous label, Ogunlesi is firm in exploring many entities, ​"I'm inspired by music. Fashion was just the medium I chose to show what I wanted to create at the time, I don't just want to make clothes. I'd love to take this on the road to Tokyo and Lagos."

More like this