From Asa to zygote: an A to Z of Sex Education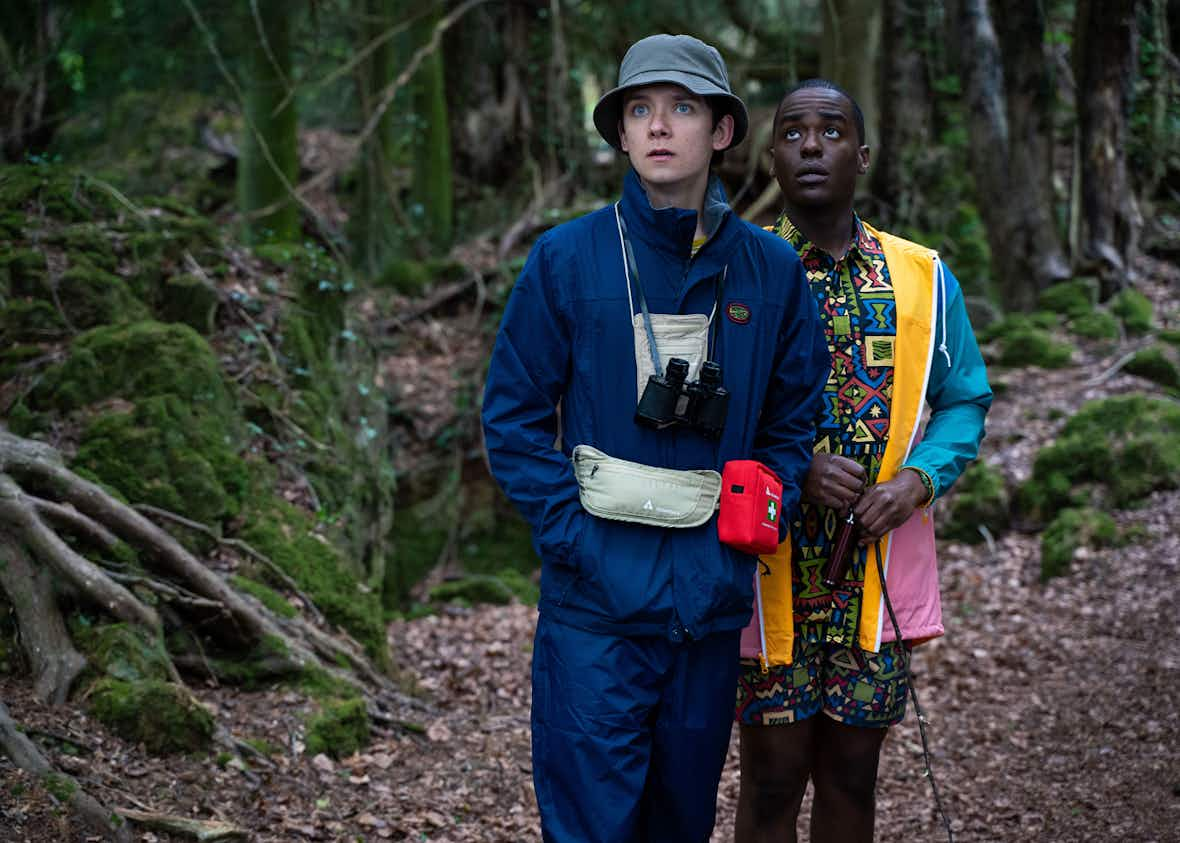 As the teen-dream show returns for season two, we present an alphabetical guide to Sex Education's sharply funny exploration of love, dating, sex, teen pregnancy, the minefield of schooldays romance and all points in between.
True to its title, Sex Education is a glorious, heartfelt series that puts, well, intercourse up front. But, brilliantly, Netflix's hit Brit dramedy about the school-age son of an overly frank conjugal therapist uses sex to destroy stereotypes and illustrate the human condition. Just as importantly, it's effortlessly, eye-wateringly hilarious.
Beginning with leading man Asa Butterfield and ending with zygote (an egg fertilised by sperm) (you knew that), here's the inside track on Sex Education​'s sharply funny exploration of love, dating, sex, teen pregnancy, the minefield of schooldays romance and all points in between.
As the mighty Maeve Wiley puts it: ​"Get your good shirts on, boys. It's party time."


A is for Asa Butterfield… The 22-year-old you'll have seen in everything (The Boy in the Striped Pyjamas and Miss Peregrine's Home for Peculiar Children, to name but two). The all-growed-up (nearly) former child actor plays Otis, a shy, awkward nerd who can't masturbate despite – or because – his mum is a sex therapist. Through a series of accidents and Maeve's business savvy he sets up Moordale Secondary School's sex clinic. Clients call him ​"Care Bear," ​"mum man," and ​"that weird sex kid who looks like a Victorian ghost". Otis has problems.
B is for Butlin's… The place Eric, Otis's best friend, gave two-and-a-half handjobs to a guy before being interrupted by surprise karaoke. Nonetheless, he points out, this still puts him on the winner's board of ​"people at school who had sex over the summer". He has a point, hands down (then up again, then down again…)
C is for Confusion… In what year is Sex Education actually set? And where? The fashion is sort of 1980s, but with iPhones and lines like: ​"Hey, Adam, you know homophobia is so 2008, right? Totes passé." And, that's not the British playground – or, even, geography – of Skins or The Inbetweeners, so is it an American school? The head boy wears a letterman jacket but the kids eat Curly Wurlys… Then again: who cares? Just go with it.
D is for Dildo… Otis's mum spreads them round the house like they're coasters. Hilarity ensues.
E is for Eric Effiong… Otis's best friend. His black queer narrative has the internet gripped, and he announces the show's premise when he proudly declares that, this school year, he and Otis ​"shall transform from lowly caterpillars into awesome killer whales". We'll let them off for missing the obvious ​"sperm whales" joke.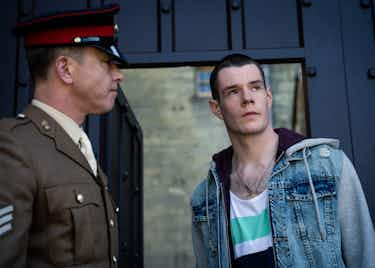 F is for Feminism and Fucking… Sure, Sex Education is far from the first time teenagers' sex lives have been the fertile seed for comedy. But the likes of National Lampoon's Animal House through Weird Science to American Pie and Superbad are all about the boys. Sex Education focuses on the girls' satisfaction with equal if not greater attention. This is what the future of the sex comedy looks like.
G is for Gillian Anderson… AKA Jean ​"Otis's mum" Milburn. Her excessively frank approach to the act of love, endless one-night-stands and deeply uncomfortable blend of prurient questions and terrifying warnings to young Otis – ​"Intercourse can be wonderful, but it can also cause tremendous pain. And if you're not careful, sex can destroy lives" – mean one thing: her poor son can't even masturbate.
H is for Humiliation… The Moordale kids are trying freedom, love, heartbreak, shattering disappointment, core-shaking joy for the first time. True to deftly-written form, the show understands that the first time is usually uniquely embarrassing. But while most teen comedies titter at the humiliation, Sex Education somehow uses it as the stepping off point for a host of much funnier jokes. It never punches down. It prefers to punch itself in the face.
I is for Intimacy Coach… As in, hired by Netflix to help the young cast feel comfortable in sex scenes. It's also for Impotence, Intercourse, Invitations, Insults, Ignorance, Ingenuity and Intensity. The one I it's not for? Illicit. No-one's hiding anything on this show.
J is for Jizz… Or, as Jean puts it: ​"Jizz. Spunk. Man Milk." Also for Jackson Marchetti, the irritatingly popular head boy with two mothers who somehow becomes the occasional lover of the aforesaid mighty Maeve. He craves greater affection despite her palming him off (not literally) with sniffy dismissals like: ​"We're just fucking, Jackson. We don't need to know each other's postcodes."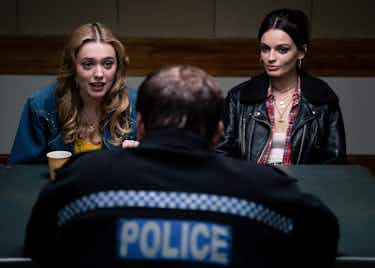 K is for Kate Herron… Director of half of season one. Sex Education​'s neat inversion of the male-driven sex flicks extends to the creative team. Most of the writers, most of the directors and more than half the crew are women. As it should be, finally, belatedly, at long, long last.
L is for Laurie Nunn… The gifted writer and creator who conceived the show as a homage to John Hughes films, Freaks and Geeks, 10 Things I Hate About You, Mean Girls and the YA books that got her through difficult bouts of bullying. It's her first script filmed since she graduated from the National Film and Television School in Buckinghamshire in 2013. Also for Left-handed, the way Otis explains a potential sticky handshake to the first of his mother's one stands. Ewww.
M is for Maeve Wiley… Played by Anglo-French shooting star Emma Mackey, she's ostensibly the school loner with dyed hair and no mates who is actually secretly queen of the school and friends with everyone. She's got more side hustles than a millennial Al Capone and more putdowns than a Ru Paul-reading champ. The badass heroine du jour.
N is for Ncuti Gatwa… The Rwanda-born, Scotland-raised newcomer plays Eric with both hilarious and heartbreaking skill. Must-see episode: the school dance. After a homophobic beating, Eric's immigrant dad begs him to butch up. Eric gives it a go but ultimately just gotta be himself. When he goes to the dance in batik-print suit and heels, his dad drives him there, and… Well, wait, excuse me, I must have something in my eye…
O is for Orgasm… School bully Adam – played by Connor Swindells – inadvertently becomes Otis's playground clinic's founding patient through his inability to come. His unconvincing squawks when girlfriend Aimee reaches her own summit leads to her hauling off the condom and demanding: ​"Where's the spunk, Adam?" Enter Otis. Not literally.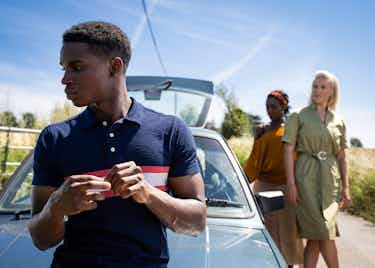 P is for Penis Size… Adam's gargantuan member – resembling in length and girth, according to one witness, two stacked cola cans – kicks off the show. But where some movies make King Dong the ​"hero", Adam bears it as a burden. A huge burden.
Q is for Quotes… ​"My pubes are out of control. I've only just cut them, and they've grown back. I'm like Wolverine." ​"You jizzed your pants, you're not Hannibal Lecter." ​"Nothing says ​'Happy Abortion' like a bouquet." ​"I've been wanking all night. I ate four packets of crumpets and I think my clit might drop off." We could go on…
R is for Revenge Porn… AKA Sex Ed​'s Spartacus moment. Mean girl Ruby's sexted pic of her unwaxed vagina circulates the school without her consent, disseminated by an anonymous villain who wants an apology for some wrongdoing. Maeve sorts the fightback and protects Ruby's identity. When the headmaster scolds the students at assembly, a wave of students stand to claim the picture, declaring: ​"It's my vagina!" First, it's the girls. Then, even the most popular boy in school. Finally, Ruby stands, too: ​"It's MY vagina," she declares, proudly. Mass crucifixion ensues. (Digital Editor – are you sure, Armstrong?)
S is for Satsuma… Eric puts on his best togs for Aimee's party and seeks approval: ​"How do I look?" ​"Like a satsuma." Also for Scandinavian handyman Jakob Nyman, who develops the nearest thing to a relationship Jean's had in years. Also, Sex. Obviously.
T is for Therapy… Jean loves her job. We love her advice. ​"Marjorie. How are you getting on with your penis?" ​"I'm not hating it…" ​"Fantastic, let's proceed." Or the instructional video on masturbation involving a courgette that Otis watches with his classmates. Your worst teenage nightmare, cubed.

U is for Uncensored… Here there be nudity, hard-ons and the act of love performed in all its awkward, desperate, beautiful glory. But the sex scenes aren't there to titillate the viewer or glorify the actors. They're just about the mayhem of being human. Relatable, right?
V is for Viagra… Adam's desperate, failed attempt to overcome his ejaculation issues by popping the pill – or rather, the pills – leads to an appalled encounter with Otis and Maeve. ​"Is three Viagras bad?" he asks. ​"Her reaction made it seem like it was bad. I feel lightheaded and I can taste scampi." We've all been there, etc.
W is for Wales… The show's location. Sex Ed sounds, on paper/​script, like Bristol-set, big-city(ish) Skins, but it's filmed in Llandogo (full Welsh name Llaneuddogwy). The University of Wales Caerleon Campus serves as Moordale, with the Paget Rooms in Penarth employed as the school hall. Also for Wank. No explanation necessary.
X is for X‑rated… It's the kind of show for which ​"NSFW" was coined. Or ​"NSFH". If you can watch Sex Ed with your parents, you're probably in the show already.
Y is for Year of the Dog… The Cardiff-based swing sextet appear as the school band and wrote Run these Streets for the show, adding to a superb Spotify-playlisted soundtrack which includes Muddy Waters' Mannish Boy, Dirty Streets' Good Pills, Bikini Kill's Rebel Girl as well as Fire by Beth Ditto, Devo's version of Satisfaction, lots of Ezra Furman and 1980s tracks from A‑ha, Billy Idol, Violent Femmes and A Flock of Seagulls (ask your mum and dad) (unless they're sex therapists).
Z is for Zygote… Maeve discovers she's pregnant with Jackson's child and the show hits one of its finest hours, following her abortion every step of the way, from decision to pro-life protestors to a touching moment in the hospital waiting room. Amidst this careful portrayal of one of the most intense moments of Maeve's life, she's still Maeve. When a doctor asks about her hobbies she counts them off: ​"Crochet, running illegal cock fights…" Like one of the condoms wisely used in Sex Education season one, roll on season two…
Sex Education season 2 launches on 17th January.