Teen bedrooms we wished we had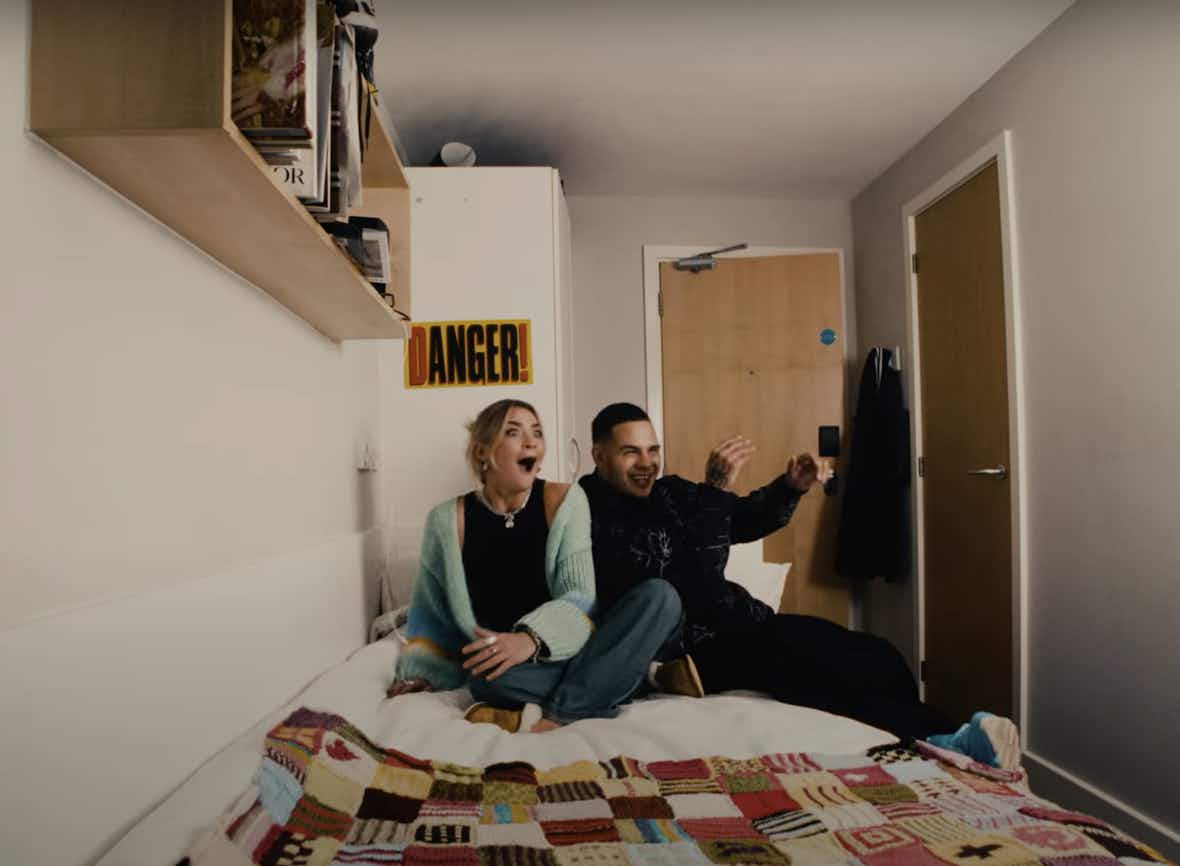 To celebrate slowthai's video for Feel Good, we've rounded up some of the best teen bedrooms in film and TV.

Last week, slowthai debuted the video for Feel Good, the second single from his upcoming album, Ugly. The video was shot in a load of teenage fans' bedrooms as they listened to an early preview of the track, with slowthai bursting in mid through. Featuring everyone from rockers and students, to dreamers and DJs, it was an ode to British youth and all its stylistic, cultural contrasts.
There's something particularly special about slowthai surprising his fans in their bedrooms. The teenage bedroom is a sacred place – four-walls containing secrets, confessions, heartbreak and secret piss-ups. And as a personal haven away from the prying eyes of parents, these spaces often reveal a lot about the people who inhabit them.
Nowhere is this more true than on screen. In 10 Things I Hate About You, the cynical temper of Kat Stratford is illustrated with Riot Grrrl posters on the walls and a drum kit in the corner, while the ethereal innocence of the alienated Lisbon sisters in The Virgin Suicides gets the Sofia Coppola treatment in coquettish furniture, feminine details and childhood drawings.
To raise a glass to Feel Good, here are some of the best teen bedrooms from film and TV. Slam the door, hang up a ​"KEEP OUT" sign and dig in.
10 Things I Hate About You (1999)
In this ​'90s classic, Kat Stratford is all dry, sarky and out-right rebellious. She doesn't care about boys (cue: Heath Ledger), reads The Bell Jar and listens to Riot Grrrl on full whack. And so Kat's dimly-lit bedroom is covered floor-to-wall with grunge posters, an easel for light relief and a hippie-adjacent bedspread – coinciding with her ​"stick it to the man" ethos. By contrast, her sister Bianca – popular, vein, superficial – goes for it with pinks, florals, teddies and glossy mags dotted around. JW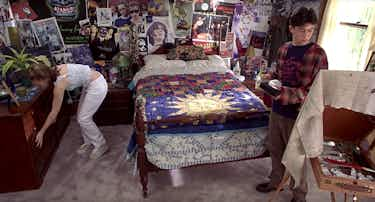 The Princess Diaries (2001)
Mia Thermopolis's loft in The Princess Diaries is important for many reasons. There's the fact that she's at the very top of the converted fire station she lives in, which basically means she's in San Francisco's answer to a turret. There's the smiley on the trap door that softens the blow when she slams it shut after arguments. And there's the turquoise wall, one of the hottest wall colours for Y2K teen bedrooms. But you'll have the most fun in Mia's bedroom when you leave it, exiting down a golden fireman's pole. Weeee! OP


Daria was far too advanced for her peers at Lawndale High and didn't suffer fools. Deadpan, highly intelligent and quick to beat down the next idiot, her room was a solid reflection of the brutal cynicism that won her a legion of fans: no-nonsense grey concrete walls, a Franz Kafka poster and a human skull on the floor. As one of MTV's finest creations of the ​'90s, Daria went on to inspire a slew of anti-cool characters that came after her, such as Kat in 10 Things I Hate About You, Cliff Pantone in Bring it On and Janis Ian in Mean Girls. TS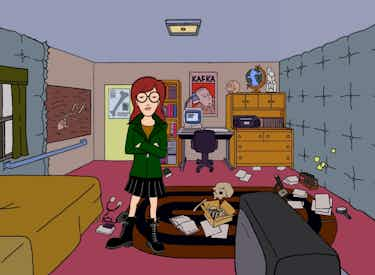 While most teen films of the Y2K era followed formulaic plots about toned jocks, US high school cliques and love stories that wrap up in 90-minutes, Ghost World is story of two teen outsiders was an antidote in horns. The film's sartorial cues – a slime green bob, ringer T‑shirts, plaid skirts, stomper boots – and Enid's bedroom may well have been on a Heaven moodboard. Crammed full of weird mannequin heads, anti-establishment posters and lilac walls that would feel twee anywhere else, it's a room that speaks to Generation Alienation. Stuff sucks, man. TS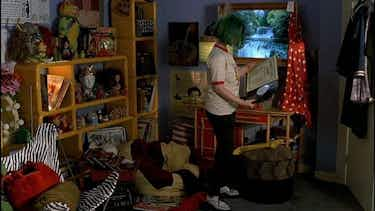 That's So Raven (2003-2007)
Raven's bedroom makeover episode is the stuff of teenybopper daydreams. First of all, the room is massive. In fact, it's big enough to squeeze in a sofa, coffee table, armchair and a king size bed that's suspended from the ceiling by lilac satin ropes. La pièce de résistance? A fully kitted out design studio, where the Disney fashionista could add fur trim to her glitter denim jackets. Chef's kiss. OP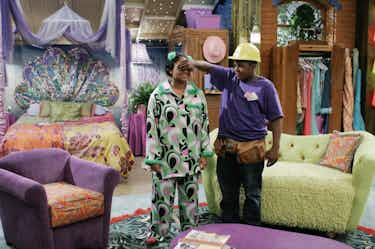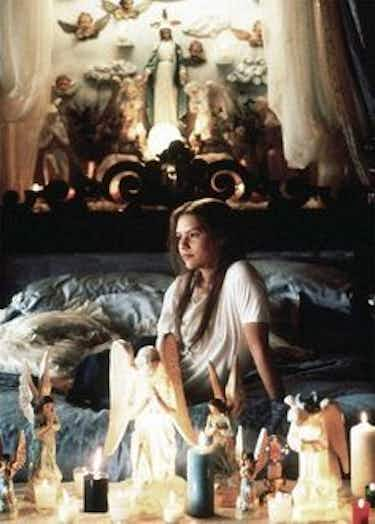 The devil's in the detail in Baz Luhrmann's version of Romeo + Juliet. The Virgin Mary inscription on the Capulet's guns, the cross-dressing costumes worn at the party where the star-crossed lovers meet and the Hawaiian shirts worn by the Montague boys all make for some serious character development. Juliet, played by Claire Danes, is somewhat ethereal throughout the film. And her child-like innocence that stems from a lifetime of overprotection was encapsulated by a bedroom full of Russian dolls, angel paraphernalia, a pink stereo and frothy floral motifs that look straight out of a Rococo painting. TS

Tony Stonem, the de facto head of Skins' most dysfunctional family, had a quintessential no-frills bloke's room. It's pretty simple as far as bedrooms go: there's a saucy ​"school mistress" canvas pinned up above his glass desk, complete with a printer and a couple of school books Tony probably never opened. But the real kicker was those bed sheets, featuring a fully nude couple, which have remained firmly in the pop culture canon since they appeared on our TV screens back in 2007. JW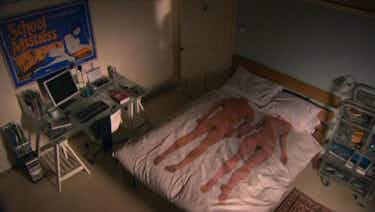 More like this