An interview with Thing from The Addams Family (yes, the hand!)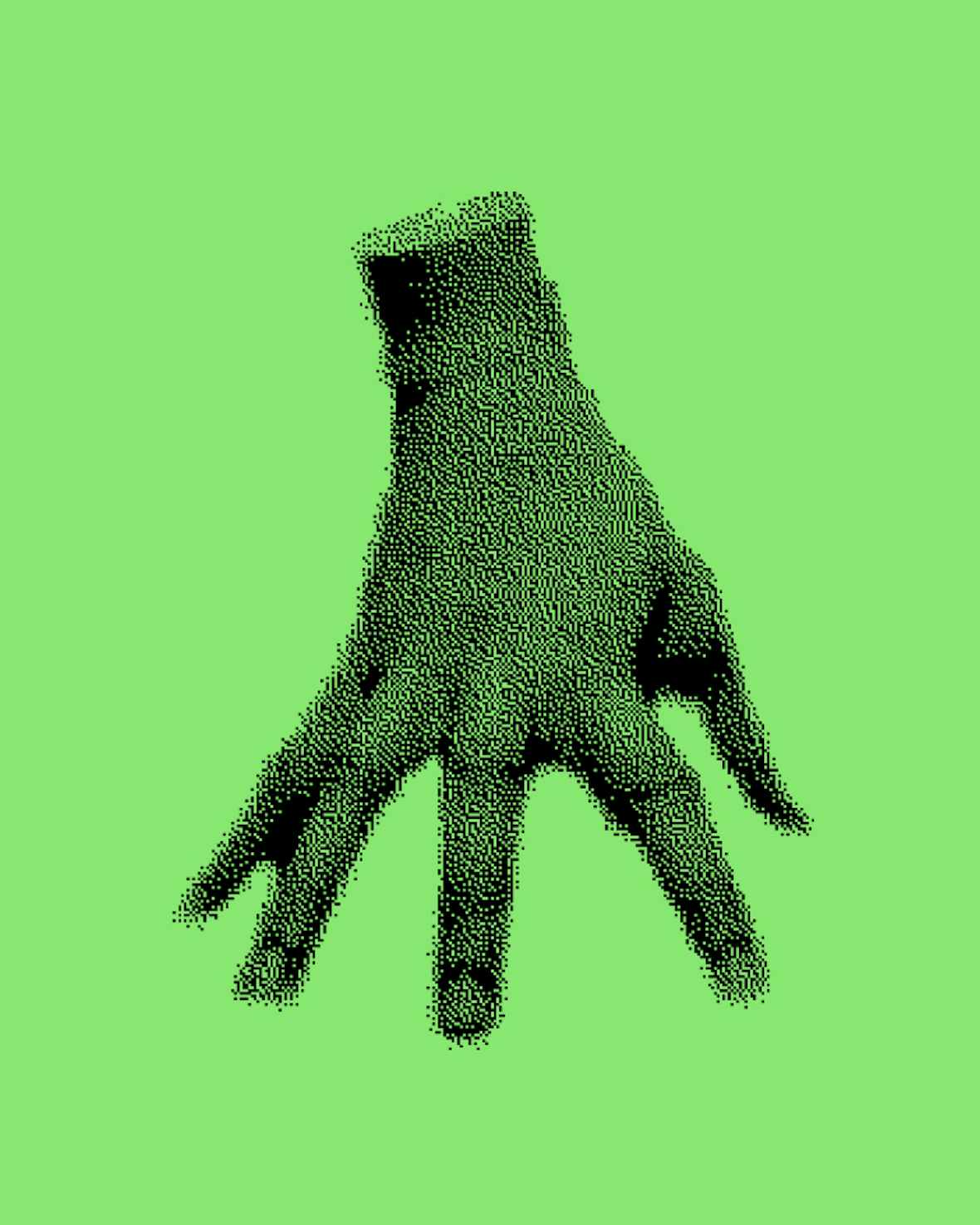 ... Or, well, the very nice human actor and magician attached to Thing, Christopher Hart, who, across three Addams Family movies in the '90s, had the best hand job in Hollywood.

Taken from the new print issue of THE FACE. Get your copy here.

Hello Christopher! How did you first get into magic?
As a child I was very shy. I had to be cajoled by teachers at school to speak before I could leave class. So magic was this secret world. It's a performance medium, which meant I was forced to speak, in a weird way, and it actually empowered me. Magic has some really amazing healing attributes and my love of it was greater than my fear of speaking.
I wonder if there's anything in needing to express yourself differently that fed into your performance as Thing? You were able to bring so much personality to the role, without speaking…
The script would say: ​"Thing scampers to the door, Thing runs along the street." There's no dialogue so I thought: I want to make this as interesting as possible. I started thinking of comparisons. You see a little puppy dog that's so excited when it sees its owner – that expresses excitement. I see Charlie Chaplin sliding around the corner, comedically. I see cartoons where a character runs so fast he bounces into the wall. So every one of those things I took in and tried to attribute that to the hand.
How did the role come about?
They were looking for mimes, puppeteers, magicians – people who work with their hands. When I went in, all of my magic friends were in the room. So the [casting agents] talked to me and I showed them some magic; they wanted to see my hand crawl around a little bit. Then they wanted to see my hand happy, sad, nervous, sleepy. They asked me: ​"Are you gonna be OK being under a table, are you claustrophobic?" I said: ​"I'm a magician, I'm used to it."
What was the first scene you shot?
The chess-playing [in The Addams Family, 1991]. They put me under a table with a video monitor. I have to move pieces, almost like the arm at a carnival but without depth perception. They bring in the ​"A" actors, Anjelica Huston [Morticia] and Raul Julia [Gomez], but now blood is rushing out of my hand and I'm tingly. I was sweating. Thank God, once I got through that scene everything was OK. The actors were tremendous, so kind. They accepted me as another actor.

Did you do anything to look after your hand on set?
I was shocked actually, in a weird way, that they didn't do anything in terms of what my hand care should be, or protection. Nothing! I cut my own nails. I hear stories about hand models that sleep with moisturiser, gloves on their hands and wrapped up – I was never that fanatical a guy. But because I'm a magician, I'm naturally already protective. It's going to sound strange but I don't bowl anymore because every time I bowl, I feel like I tweak my hands.

Were you worried about type-casting?
My agent at the time, after the first [Addams Family] movie, said: ​"We gotta try to get you some roles with your face." They made a Buffy spinoff called Angel and I auditioned for the role of a crazy doctor who could take his hands off and have them crawl through the mail slot. My agent calls me: ​"I've got good news and bad news. They don't want you for that: they only want your hands." My hands are somehow a more talented actor than I am! My hands have starred in six films and I've done none! But it's kind of cool, right?
How do people react when they meet you?
Thing, I realise, is a legitimate movie star. I'll be at a party with friends and then their family come and they'll introduce me. And then because they're my friends and they're proud of my credit, they'll say: ​"Oh, and he played Thing in The Addams Family." And they'll freak out! They'll want to look at my hand. And so I do these shots now – when people ask me for photographs, I realise that they don't really want me in the photograph, per se. So I'll do these shots where I hide behind their back, and I put my hand on their head. They like when I shake their hand because they're touching a movie star.
What do you think of when you look back on the Addams Family films today?
The Addams Family, on the surface, appears to be very dark. But when you really look at it, one day I realised: this is the most amazing example of love, of a family, ever. They really accept each other: the weird cousin, the non-bodied hand, the monster butler. And I think that's why it resonates at a subconscious level that people don't realise. It's not a horror, ​"we're gonna kill you" family. It's just a different perspective. Their version of ​"pretty" is different to a normal person's version of pretty. But their love and commitment… they're fantastic.

More like this