Why grown adults are losing their minds over Barbie

The film of the summer (that is, in case you need reminding, about a children's toy) has given us all an acute case of Barbie Girl Syndrome.
Leicester Square has never seen so much pink. Jessica, 18, woke up at 3.30am to get fully kitted out in her Barbie premiere outfit, a DIY version of Margot Robbie's cowgirl costume, before catching the first train from Ashford to arrive in London just before 6am. 23-year-old events manager Bradie (moonlighting today as retro Rollerblade Barbie) got here around 6am, too, while recent grad Vaish, 23, arrived at 5am in a fuchsia satin dress, purple glitter twinkling on her eyelids. Their dedication's impressive, but they're not the most hardcore Barbie fans gathered beside the pink carpet that's been unfurled in London's busiest square. Margaret, 63, has ​"been here all night."

"I am number two in the line," she grins proudly, flashing a newly-acquired wristband that will grant her access to the fan area when the cast arrive for the European premiere of Barbie later that evening (13th July). ​"There were nearly 1000 people in the line this morning."

Not in recent memory has a film unleashed so much hysteria, so much unbridled girlishness, so much, well, pink into the world. Fans queueing from 3am to catch a glimpse of Margot Robbie (hey, Barbie) and Ryan Gosling (hey, Ken) is just a fraction of the picture.
On TikTok, #barbie has racked up 48 billion views; on Pinterest, searches for ​"Barbie outfits" have risen by 614 per cent over the past year. Barbiecore, the fashion trend driving all those searches, has been seen on runways, red carpets and the high street, sometimes courtesy of collabs with Barbie herself (see: Zara, Crocs and Boohoo, to name a few), but more often a result of brands piggybacking off the hot-pink hype.
Across the globe, cinemagoers are planning their Barbenheimer itineraries – that is, the day on which they'll watch Christopher Nolan's competing release Oppenheimer before necking mimosas and heading into Barbieland for director Greta Gerwig's take on life in plastic. And afterwards, they might even end up at a Barbie-themed club night, with events popping up across the UK that encourage clubbers to don their best Barbiecore outfits and dance to the film's star-studded soundtrack until the early hours.

We probably should have seen Barbiemania coming – Mattel sells around 100 dolls every minute, after all. But that's the thing: Barbie is a doll, designed to be played with and adored by kids. Yet the Barbie that we're about to see on screen, as written by prestige auteurs Greta Gerwig (Lady Bird, Little Women) and Noah Baumbach (Marriage Story, Frances Ha), is categorically not for children. Rated 12A in the UK, this is a film for adults with acute Barbie Girl Syndrome, those yearning to retreat back into the Dreamhouse and live in a plastic fantasy for two hours.
Why exactly has Barbie struck a chord with so many grown adults, who should, in theory, be more preoccupied with paying rent than planning their outfits for Barbenheimer day? For many, the film presents an opportunity to indulge in a type of femininity that was often the object of ridicule when they were at that awkward pre-teen age, when Barbies were still alluring, but not enough to override the desire to fit in.

"Growing up, it was all [about] indie and grunge, and there was very much a backlash against cutesy, pink, pop‑y things, whereas Gen Z lean into it way more," Emily, a 28-year-old software engineer, says over the phone. ​"I feel like we never had that. Obviously there was ​'millennial pink', but even that was meant to be cool-girl pink – the girlboss era, when you weren't allowed to be fluffy. I think now we're like: ​'I'm so over it. I just want to see Barbie, wear pink and maybe some glitter and diamanté.' This is our reawakening."

Bradie, AKA Rollerblade Barbie, agrees. ​"It's an excuse to heal our inner child. For girls growing up, we were told we're not allowed to like these [girly] things – we can't do this, we can't do that. We were told we weren't allowed to like Barbie and be cool."

Of course, hardcore Barbie fans have stuck with her since day dot – through the feminist backlash, the body image rows and the rivalries with Sindy, Bratz and Monster High dolls. For them, the film is less of a reawakening and more of a homecoming.
"I got my first Barbie when I was six, it was the Day-to-Night one. I'm still a collector," says Sophie, 44, as she queues for the premiere with her daughter, niece and their friend in Leicester Square. In their minds, Barbie has always been a figure of freedom, her enviable CV that includes stints working at both McDonald's and the White House presenting a world of opportunity, where life is truly your creation. ​"She represents that you can do and be anything you want…" Her daughter, Janelle, 17, quickly chimes in: ​"No matter your height, size, shape or colour – you can be anything you want, no judgement."

For a toy that feminist icon Gloria Steinem once described as ​"everything we didn't want to be, and were told to be", Barbie's certainly had an ideological makeover in recent years. This is in part thanks to Mattel's efforts to make the dolls more inclusive, introducing petite, curvy and tall versions in 2016, and Barbies with hearing aids, wheelchairs and prosthetic limbs last year.
"What's been really nice is to see, over recent years in particular, is Mattel making more strides to have Barbies of different identities, experiences and shapes," says Matt, a 34-year-old communications director, over the phone. ​"If Barbie hadn't moved with the times, I wonder if this film would have even been made."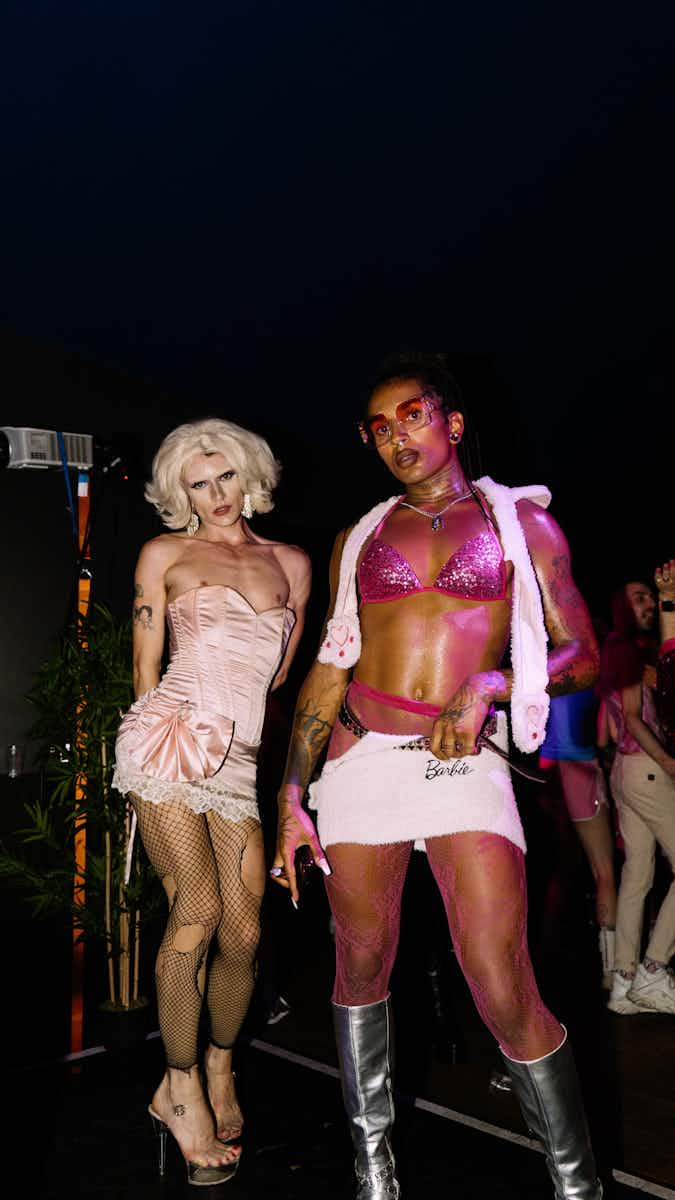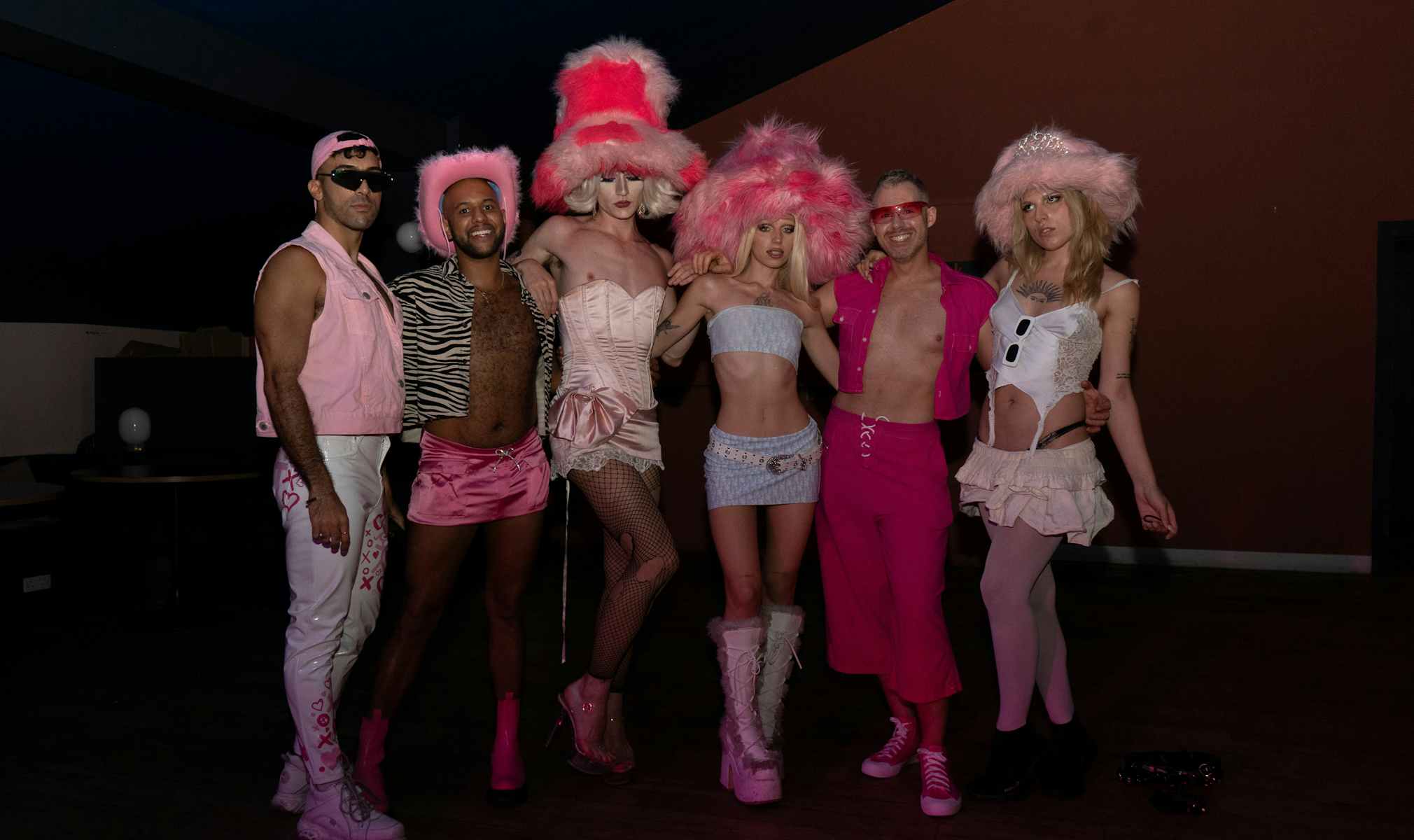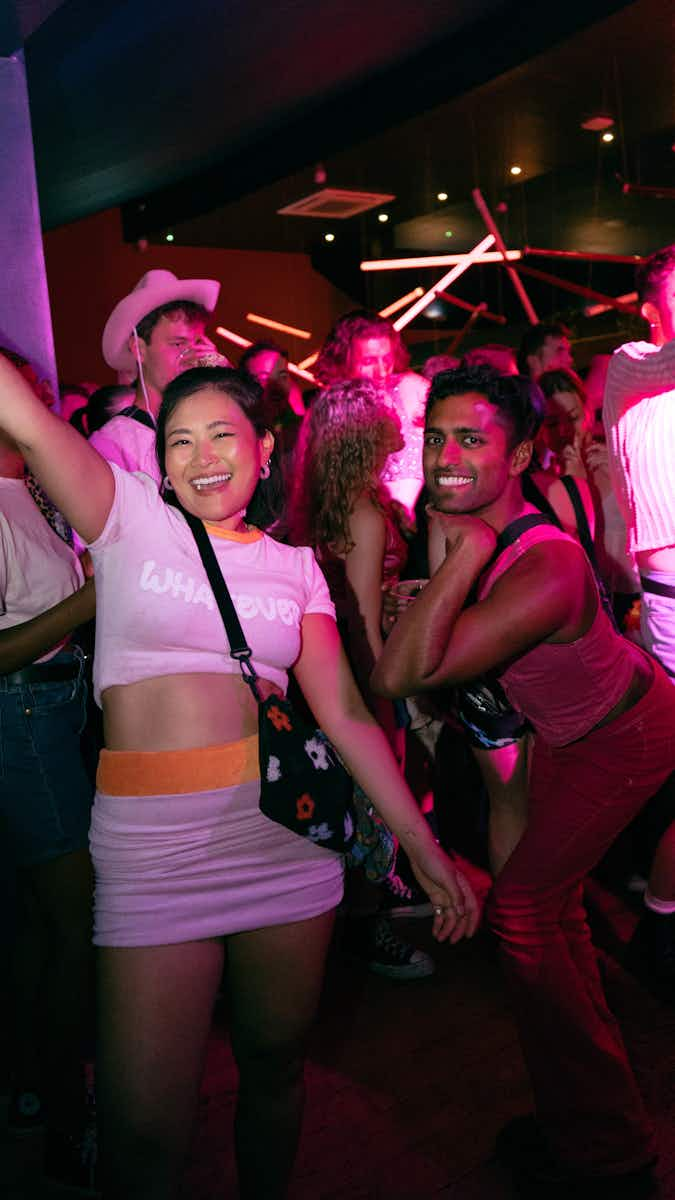 Away from his day job, Matt also helps to run Loose Change, a non-profit club night that raises money for queer charities. Naturally, they hosted a Barbie themed event at the start of the month in support of Trans Pride London. The event quickly sold out and turned out to be their biggest night yet.

"One thing that was really nice that we noticed was that everybody that came – all different identities, sizes, shapes; gay people, trans people – they all had some kind of positive affinity to Barbie," he says. ​"When we've been talking to people who bought tickets, DJs who had agreed to perform, or people who agreed to work the cloakroom or door, the first thing they said was how excited they were about the theme. Part of that was how excited they are for the movie. The other part was this kind of escapism. There's something about Barbie and that universe that feels like a parallel alternative to the bleak times [we're living in]."

After more than three years of relentless bad news (you know the headlines), it almost feels redundant to point out that we're all in need of some relief from the doom and gloom. But almost every Barbie fan interviewed for this piece cites it as a reason for the unprecedented levels of rose-tinted anticipation surrounding the Barbie film.

"We've had a sort of fall back into a lot of nostalgia because we've been living through quite difficult times," Prashant, a 28-year-old civil servant, says. But unlike many people who will be heading to the cinema in head-to-toe pink this weekend, Prashant only became interested in Barbie when the first teaser trailer dropped for the film last December. ​"I love the colour pink, the aesthetic of the movie and how everybody's so hyped up about it. It just feels quite campy and fun. I'm a feminine queer man and something about the vibe of Barbie that they're channelling resonates with my queerness."

There is also the sense that, with Hollywood's endless stream of superhero films, live-action remakes and big-budget action thrillers, a blockbuster like Barbie, that's unapologetic in its embrace of campy femininity, is long overdue. ​"It's about time they brought one out for the girls, because the boys get the best of everything," says Margaret back at Leicester Square. ​"If it goes well, which we hope it does, I hope there'll be sequels to it, because they've done so many sequels for the men. Come on, girls! Let's have one for us, yeah?"

"The scale of this movie is absolutely insane," echoes Bradie excitedly. In addition to her Rollerblade Barbie look, she has two more costumes from the film sitting at home, ready for the Barbenheimer double bill. ​"It's like nothing we've really seen before. Even Avengers: Endgame didn't have this level of marketing, with so many different brands and people just wanting to be part of it. The sheer volume of it alone is really exciting."

But when the pink carpet is rolled up and Margot Robbie is contractually allowed to wear normal clothes again, Barbie, it seems, will continue to live in the hearts of fans as an emblem of empowerment, possibility and (Aqua said it best) imagination. As Jessica puts it: ​"She's so inspirational." As Vaish puts it: ​"She's anything you want to be." As Greta Gerwig puts it: ​"She's everything."


More like this