Why you shouldn't be scared of BDSM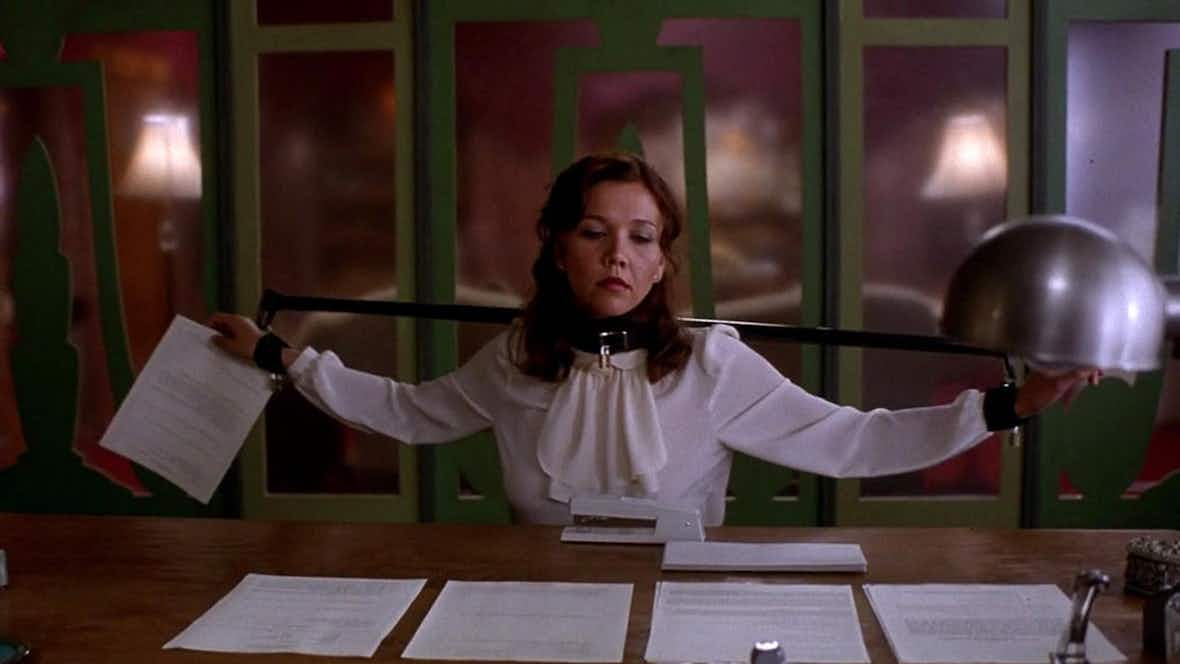 There's a lot more to it than chains and whips.
During my illustrious sex career, I've met many vanilla (AKA not into kinky sex) and uninitiated people whose perception of BDSM seems to have been solely shaped by 50 Shades of Grey. When asked what they think it involves, answers typically range from intimidating whips and chains to latex clad dominatrixes treading on some pathetic submissive man's back in 10-inch heels. The image conjured up always involves some level of pain and humiliation, while being tied down or getting dressed up – or both. E. L. James has a lot to answer for.

But BDSM isn't as scary as it seems. In fact, it can be a great tool, not only to spice up your sex life, but also enhance your relationships. Consider this your 101 on how to get it right.

What does BDSM involve, exactly?
BDSM is basically an acronym for a group of sexual behaviours. Although over time some of the acronym has been swapped around, the groups can be defined as bondage and discipline, domination and submission, and sadism and masochism. And those vanilla people aren't entirely wrong – BDSM definitely involves all of the aforementioned activities. But it also includes a vast multitude of kinks, sexual likes, fetishes and lifestyles that often don't have to involve any sex, pain, humiliation or bondage, and definitely don't require dressing up.

No matter which letter of the BDSM spectrum you're exploring, each one absolutely requires an extreme amount of trust between participants. When you trust someone implicitly, you can let your inhibitions go and have the confidence that you're not going to be tied up, gagged and then abandoned. Unless you like that, of course.

OK, but how do I do this without actually hurting anyone?
Before you start, the most important part of BDSM is consent. RACK or ​"risk aware consensual kink" is a common philosophy in the BDSM community, which essentially means ensuring everyone is safe and consenting. That can range from discussing each other's personal boundaries to making sure bondage isn't so tight that it cuts off your blood supply.

Deciding on a safe word before playing is essential. Sometimes saying ​"no" or ​"stop" can be part of the fun, so choose a word that is totally out of context to the situation, such as ​"Mini Egg" and ​"blizzard" (both tried and tested by yours truly).

Aftercare is also important. After a long session of intense play, the person receiving all the fun might be full of adrenaline and coming down off a high, meaning they could need a cuddle, a blanket or food. Check in with them and ask how they're feeling. Remember: BDSM is supposed to be fun, which is why the community often refer to it as ​"play".

So how do I know where I fit in?
The dominant and submissive element of BDSM, often referred to as doms and subs, is a type of relationship dynamic. At its very core, a dom/​sub relationship is about power exchange, with one person assuming an authoritative role, taking control in the relationship, while the other is submissive (although not necessarily subservient), consenting to give complete control to the other.

There can be many types of dom/​sub dynamics, such as master/​slave, where the dom would be referred to as master, mistress, or any honorific you like – captain is a great gender neutral option. The sub may take on a more subservient role with their partner in this dynamic, but there are no hard and fast rules.

As BDSM has become more mainstream, the use of ​"daddy" has crept into more vanilla bedrooms, however a daddy/​baby girl/​princess dynamic is quite specific. Usually used in long term relationships, if you venture into this realm, you could expect to be spoiled when rewarded for good behaviour, or be subjected to very patronising humiliation when being punished.

How can letting my partner make all the decisions be a good thing?
Creating your own sub/​dom dynamic that works for you and your partner is incredibly rewarding. From a submissive point of view, giving up all responsibilities, with no thoughts in your brain, just sexy vibes, is very liberating. Exchanging power and trusting that they know what's best for you can also help with bonding emotionally.

From a dominant's perspective, knowing that your partner trusts you enough to make decisions for them is very hot! Often, the roles we enjoy sexually are swapped from the ones we lead in real life. Creating a safe environment like this allows us to be vulnerable and explore different dynamics that you wouldn't necessarily experience otherwise.

Do we have to tie each other up?
The bondage part of BDSM is a bit of a misnomer. What it actually means is being turned on by either making someone immobilised or being immobilised in some way, or restricting movement. Although it can be very fun if you are into it, bondage doesn't have to involve chains, gaffer tape, cuffs, silk scarves or, where most people's minds go, Japanese rope bondage or Shibari. You can simply restrain your partner by holding them or grabbing their wrists while you're getting down.

Bondage is sometimes paired with discipline, as restriction is a good punishment method. Because bondage needn't involve physical restraints, simply by asking your partner not to move, then punishing or rewarding them depending on whether they fail or complete the task, is incredibly sexy and inventive.

If you want to go the extra mile and restrict someone's movements outside the bedroom, then wearable bondage is for you –anything from elaborate harnesses to collars and leashes. Let Google be your guide. Too expensive? Try wearing rope under your everyday clothes. Your submissive has broken some rules? Discipline them by making them wear a butt plug all day held in by rope, tape or whatever you have to hand.

What if I want to bring the pain?
The sadism element refers to people who enjoy taking a sadistic role in a sexual relationship, and they're typically the dominant. On the other hand, masochism is used to describe people who enjoy pain or humiliation, and they are typically submissive.

This is where the pain stuff does come in. If that floats your boat, there are lots of ways to ease yourself into these roles by learning how to spank, or even trying some sensory deprivation, before you leap into buying floggers and paddles.

However, S&M truly is about the mental side of things. A good sadistic dom should be able to torture without any pain. Orgasm denial is a staple in the S&M handbook, for example. The humiliation of having to beg to masturbate if you have pissed off your mister or mistress brings a particular type of thrill. There's nothing as horny as the build up of this kind of play.

Will swapping nights out at Nando's for nights in with restraints really improve my relationship?
Stepping into the world of BDSM can feel daunting, but there are no rules as to how you and your partner play. Do whatever feels right for you. Creating your own special dynamic helps build the trust and connection needed for trying new things. The trust built through these untraditional, often intense and pleasurable methods eventually creates a sense of closeness that cannot be replicated through cinema trips and Nando's dates. It transcends your sex life. When you trust someone enough to let them hog-tie and gag you, you're probably going to trust them with that joint bank account.

More like this