Gabbriette's daily beauty rituals: long baths and vivid dreams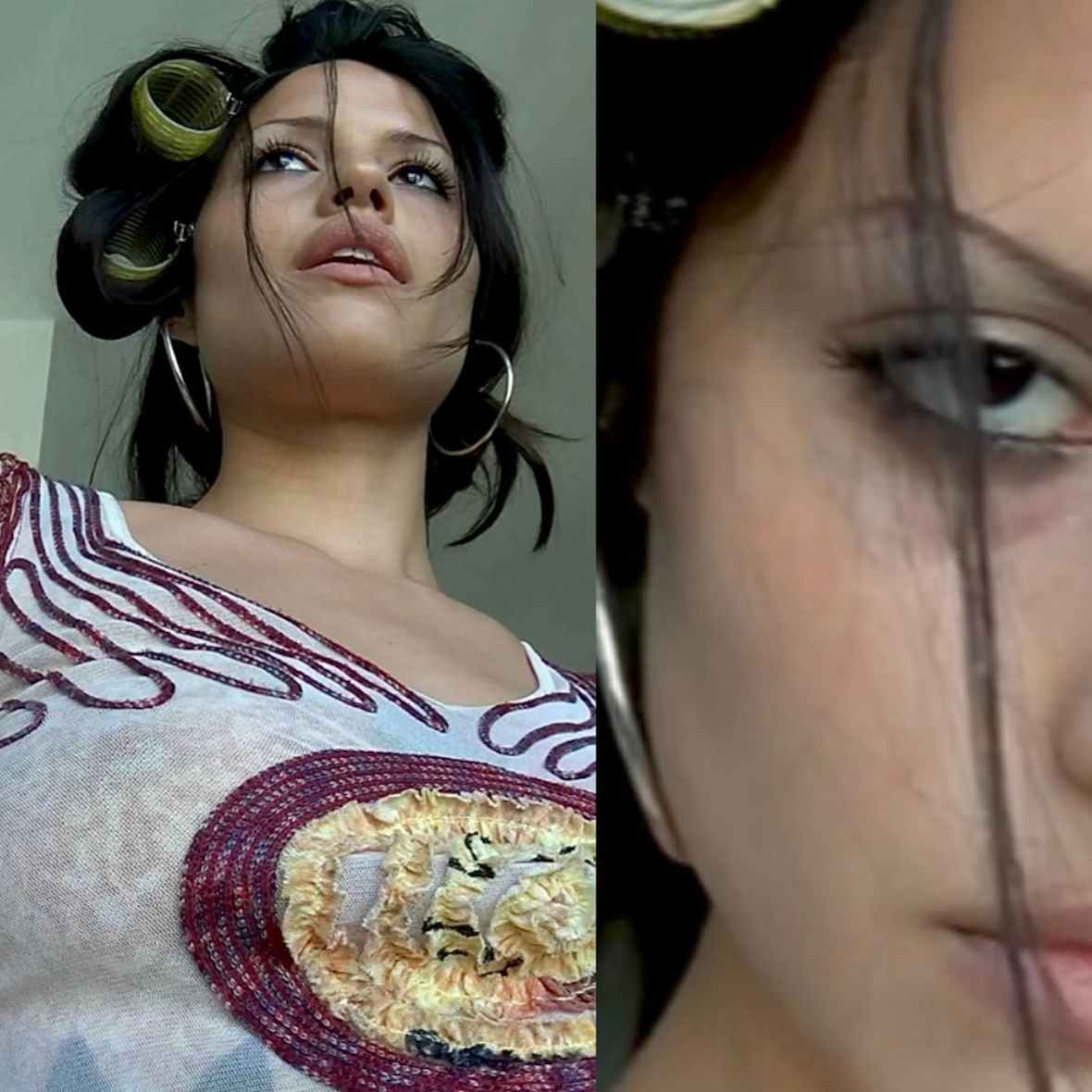 The amateur chef and lead singer of Nasty Cherry dishes the dirt on her favourite beauty products and self-care routine.

In just 24 years, Gabbriette Bechtel has lived a fair few lives.
The Californian model, actress, dancer and musician had her big breakthrough in 2019, after being recruited by Charli XCX as the lead singer of indie-pop band Nasty Cherry. Alongside guitarist Chloe Chaidez, drummer Debbie Knox-Hewson and bassist Georgia Somary, the girl group seemed poised for musical superstardom. They even starred in Netflix docu-series I'm with the Band: Nasty Cherry that same year, which charted their ascent. Then, the pandemic happened.
Since then, with Nasty Cherry on hiatus, Gabbriette has been busy cooking up a storm – literally. Her Instagram is chock-full of mouthwatering tutorials and recipes: veggie empanadas, za'atar sweet potatoes (complete with lemony garlic dip) and miso butternut squash mash, to name a few. All the while, she's continued to land modelling gigs for the likes of Miaou and fashion's favourite beauty wiz, Isamaya Ffrench.
And it turns out culinary tricks aren't the only thing Gabbriette's got up her sleeve. Ever wondered how she keeps her skin glowing and hair oh-so shiny? Hitting that five-a-day quota probably helps, but so does using a special concoction of beauty products. Lucky for you, Gabbriette has told us all about her daily beauty rituals. Take note…

I wake up at…
9 or 10 am.
The first thing I do is…

Drink a large glass of water and look out my window.
My skincare regimen in the morning looks like…

I normally drink coffee and brush my teeth. I wash my face with Osea milk cleanser, Youth To The People vitamin C serum, Osea Hyaluronic Sea Serum, Belif The True Cream Aqua Bomb moisturiser and, finally, Supergoop! sunscreen.
My favourite morning products are…

Sunscreen.
My worst beauty habits are…
Probably smoking.
My favourite feature is my…

Thick Mexican hair.
My first beauty-related memory is…

My mum or dad doing my hair before school everyday.
Where are you headed today?

I have a few errands to do before I go to a friend's party later.
What tasks have you got to get done?

I need to film a cooking tutorial and ship my sister a package. And always, always laundry.
Do you work out?
I dance and box.

Are you taking any supplements?

Collagen.

What's for lunch today?

I'm thinking chicken salad with cauliflower soup.

How do you relax?

I'm a big bath girl. I can lay in one for hours.
Do you listen to anything in the evening?

I always keep a record spinning while cooking dinner.
Burn any candles?

Oh yes!
What products do you use at night?

I use the same ones I do in the morning, but switch the vitamin C out for retinol.
What's the best beauty hack you've ever learned and why?
Not to pop your pimples! I still have scars left over from high school. I wish I knew then to not freak out over something small.
What's the last product you apply before you sleep?
Osea Seaglow Overnight Serum. I'm obsessed.
Bedtime is at…

Around midnight or 1am.
How do you sleep?

With my eyes closed, on my left side.
I've been dreaming of…

Insanely vivid yet mundane situations. The other day, I had one one about not being able to find my keys… Nothing fascinating, but still.


More like this