Henry Calvert: the British Pete Davidson and TikTok's favourite geek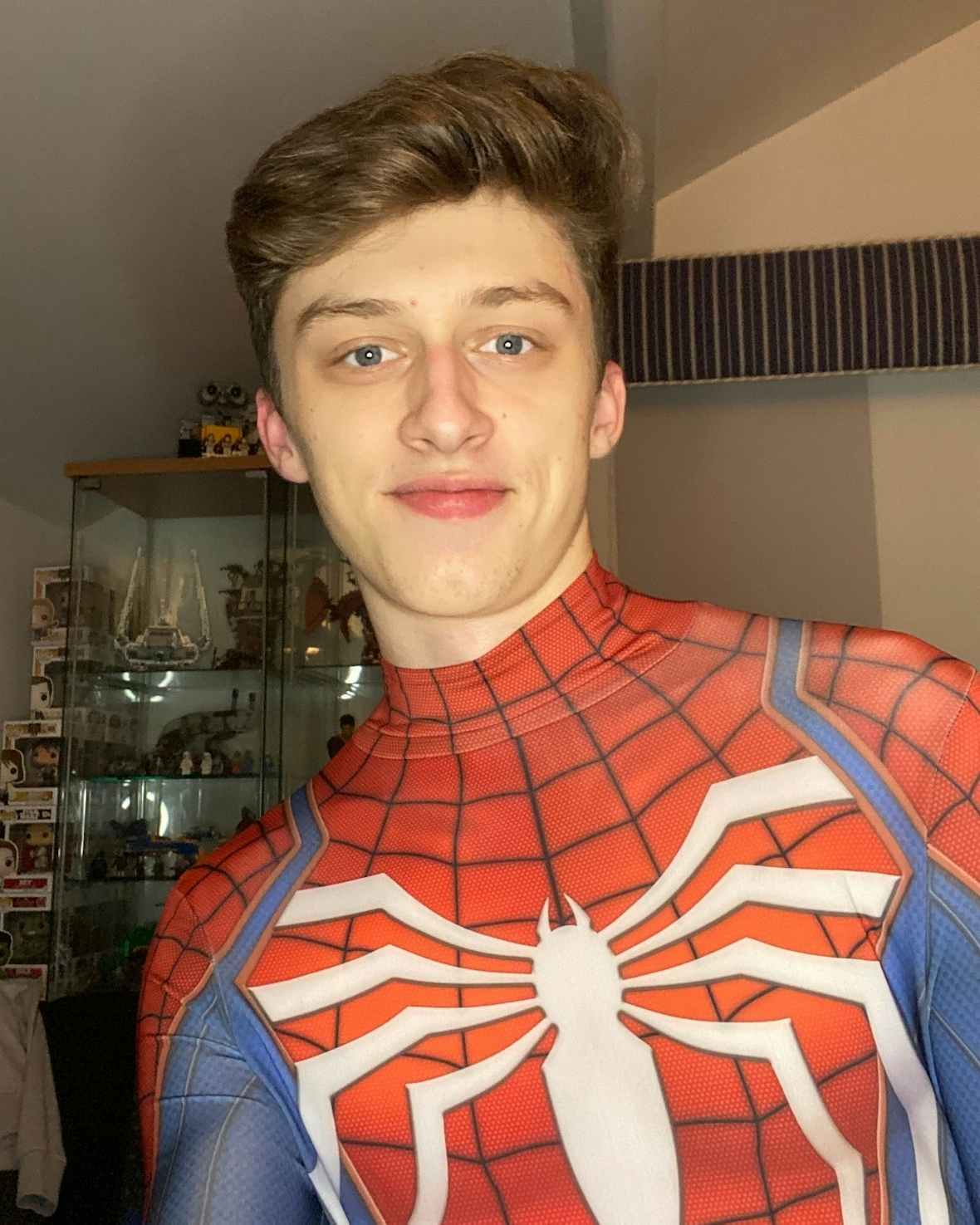 The 20-year-old comic book, Star Wars and Marvel fan has won over thousands of hearts on social media. In the era of wholesome content, he's just what the doctor ordered.

If Henry Calvert's TikTok page is anything to go by, we're in the midst of a bonafide geek revolution. Dubbed the ​"British Pete Davidson" by many of the platform's users, the 20-year-old might just be Francis Bourgeois' new wholesome content contender.
Calvert's profile is populated by videos of comic book reviews, deft lightsaber wielding, move-busting to Phil Collins and, er, weeping at The Muppets, all of which are lapped up by his loyal 79,000 followers. No matter the vibe, though, Calvert's overarching message is simple: embrace your inner geek.
Right now, he's Zooming in from one of his part-time jobs selling carpets in Thirsk, just north of York, where Calvert is from. On the side, he runs extra-curricular performing arts groups at a couple of local schools, including a Glee Club. ​"It's my pride and joy," he says, ​"and it means the world to me." Tonight marks the closing performance of a rendition of Beauty and the Beast, which Calvert has co-directed and choreographed.
But beyond all that IRL stuff, he operates in an entirely different universe on TikTok: the ultimate geekdom, in which Calvert is a major player. Right now, he's reeling from the virality of his most popular video yet, a tongue in cheek ​"Get Ready With Me" clip where he playfully takes the piss out of himself for having a hilariously basic routine. At the time of writing, it's racked up over 4.4 million views.

"This week's been kind of wild," he continues. ​"I started TikTok properly about a year ago. At the time, I'd recently gone through quite a rough breakup and was trying to kind of find myself again. I posted a video called ​'Showing off the geeky stuff in my room' and it's the first one that got over 10,000 views."

Suddenly, it dawned on Calvert that people the world over were into the same things he was: Star Wars, Marvel, Lego, Lord of the Rings… the list goes on. What started out as a TikTok account dedicated almost exclusively to comic book reviews and recommendations slowly grew into a healthy mix of skits, field trips to places like Disneyland, cosplaying and day-in-the-life content centred around Calvert's warm personality.

​"It's hard to connect with likeminded geeky people in real life," he says. ​"Even though Marvel and Star Wars are two of the biggest franchises ever and everyone loves them, there's this taboo that's been instilled into us that geeky and nerdy things are bad." Outside of his mates at home, thanks to TikTok, Calvert has been able to connect with people he now calls friends in Belgium, Sweden and Australia.

His own odyssey of the geek started when he was a kid, watching old Star Wars and Indiana Jones films on VHS. Then there were ​'80s classics (Calvert's favourite era for pop culture) like Ghostbusters and Back to the Future, before his equally geeky uncle got him into LOTR and Transformers. The rest, as they say, is nerdstory.
"In primary and secondary school, I was a lot more reserved about it," Calvert says. ​"Once you grow up a bit, ​'the lads' are then like, ​'Marvel's pretty cool'. I couldn't do sport, so that's how I connected with these boys I had nothing to do with. I owe a lot of my long-standing friendships to Marvel and gaming."
A few months ago, Calvert got into London's Royal Central School of Speech and Drama, where he'll be heading in September. For him, it's ​"a dream come true." So what's the through-line between geeky stuff and performance? ​"Passion," he says, assured. ​"On a surface level, it doesn't necessarily connect to being on stage, but I'm very passionate about both. Performing allows me to express that passion."
While a Marvel: The Musical Broadway number might be Calvert's north star, for now, he just wants his TikTok page to make people feel welcome. ​"I really want them to feel at home and comfortable in their geeky passions," he says. ​"I hope I can give them the space to express that."

More like this