A foolproof guide to handling a dick of every size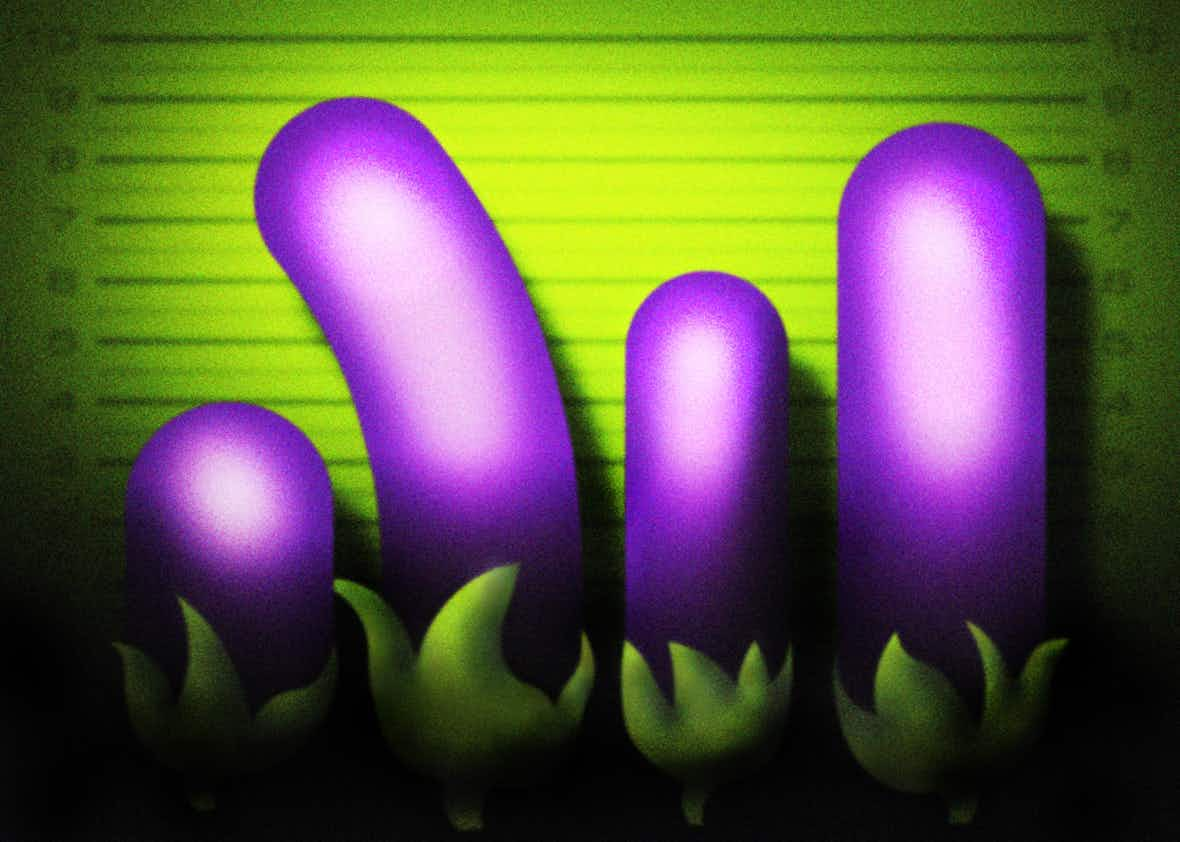 Micro or massive? It doesn't matter really. When it comes to doing the dirty, it's all about technique.
A huge amount of people are insecure about how their penises shape up compared to others. And that's just sad, because penises are great. If I had a penis, I'd do helicopters all the time and be really proud of my member, big or small.

But maybe the grass is greener on the other side. A whopping 30 per cent of dick owners say they're unhappy with its size – one study even found that many cis men embellish the real size of their peen when talking about it. In fact, penis insecurity is so rife that it's developed into a kind of dick dysmorphia: many cis men believe they have an abnormally, medically small penis – known as a ​"micropenis" – when their penis is average size.

One of the biggest myths about penis size is that having a small penis will negatively impact your ability to deliver a good performance in the bedroom. This is total, utter bollocks – and disproved by Gregory Quayle, a urologist and advisory member at Phoenix. ​"The psychological comfort of both parties impacts the performance more than penis size. If a man is confident about his penis size, he will be able to perform better in bed," he explains. ​"Every third client of mine is asking how his or her penis size will affect sexual activity. The answer is always the same: it all depends on your mental attitude."

Quayle explains to THE FACE that the history of the ​"does size matter?" question is, quite literally, 60 million years old. Basically, in the world of primates (that's us), shlong size is actually a status marker. ​"Humans have a significantly bigger penis than any other primate, which can be interpreted as a natural selection where females preferred males with a bigger size," he says. It's been a common thread in the history books, too. ​"The size of a man's penis was regarded as an indication of his masculinity and bravery by Mediaeval Norsemen. Also, mediaeval European fashion included the codpiece, a padded or stuffed section of fabric that was fastened over the front of the crotch of men's trousers to emphasise their genitalia." The 21st century update? Mainstream porn that's packed with ridiculously huge pipes. As we can see, bigger dicks have always been upheld as the apparent ​"preferred penis" throughout history – and still kind of are now.
But whopping willies are not the be all and end all. The real issue is not with a lack of girth or length, but a lack of sex education amongst both penis-havers and those playing with the penises. People with vaginas may feel nervous about having sex with a significantly big or small penis, but that's probabaly not because they're disappointed. It's usually because we're not used to seeing willies like these in the media, so we're left wondering what on earth we need to do with them.

Whether you have (or have a partner who has) a little dick, big dick, skinny dick or thick dick, you're capable of having great sex. You just need to learn the ins and outs of different penis shapes and sizes, and act accordingly.

Here's the run-down of how to have sex with penises of all shapes and sizes.
Although long penises have clearly held the BDE first-place award for centuries, it's actually more likely for sex to be negatively impacted by a long penis than a short one. If a person's penis is going into a vagina and it's really, really big, there's potential for discomfort and pain during sex.

If you're on the receiving end, sexpert Isabelle Uren of Bedbible has some tips for having pleasurable penetrative sex with a partner whose big dick goes beyond just energy.

"If your partner's penis is too long, you might find that the head of their penis bangs into your cervix, which can be very painful," Uren explains. To counteract this, she recommends trying ​"silicone ring sex toys, which sit around the base of your partner's penis and act as a buffer that prevents your partner from thrusting too deeply. They come in a stackable set of four rings, so you adjust them to suit your needs."
You can also ask your big dicked boyfriend/​bestie/​colleague/​whoever it is you're boning to simply go easy on you. He doesn't have to put the entire penis in – sometimes that teasing, ​"dipping" technique is highly pleasurable for everyone.
You might also want to consider switching up positions. ​"Sex positions where your partner thrusts into you are more likely to end up in pain, as no matter how good their intentions are, it's almost impossible for them to know how deep they can go," Uren explains. However, if you go for a bit of cowgirl, you control the movements and can therefore better control how deep your partner's penis goes. Positions like spooning are also great because less of their penis is inside you. Plus, you get to hug and bang at the same time. Cute.

Dr Quayle explains that men with shorter penises can experience discomfort in several positions such as standing doggy style. ​"A shorter penis will also often slip out and this can distract both partners," he says. So, the key here is to make the most of positions that maximise penetration without discomfort – physical or mental.
"If you crave a little more depth, you want to pick positions that give you maximum [penetration] depth without any other body parts getting in the way," says Uren. Standard doggy style is perfect for deepening the feeling of penetration for the person on the receiving end. You can also try positions that put the two of you in an angle where the clit is being stimulated at the same time as penetration, such as like cowgirl and its fun cousin: reverse cowgirl.

Of course, you can make clitoral stimulation happen in any position if you put your mind (and a vibrating bullet toy) to it. Pick up a cheap ​'n' cheerful bullet vibrator like this one and bring it with you next time you bang.
If some extra length is really needed, a penis sleeve could be a good option. ​"A penis sleeve slips over the penis and adds more length and girth, and is sometimes textured for extra stimulation during partnered sex," explains Uri. ​"They come in a wide range of sizes, styles and materials, but I would recommend looking for one that's made of silicone as it's the safest option."
Don't fancy splashing out on new kit? Well, there are ways you can create a tighter fit during penetrative sex without any toys or gadgets. ​"Firstly, you can squeeze your thighs together or cross your legs over during penetrative sex," Uren says. ​"You can also use a sex positioning pillow or a regular pillow under your hips to change the angle of your pelvis to create a tighter feeling or more stimulation against the front wall of the vagina."
If you have a vagina and your partner's penis is too girthy, you might experience pain on insertion. The solution to this requires two of my favourite things: foreplay and a whole lot of lube.
Before trying to climb aboard a really thick penis, make sure you are fully aroused and using lubrication. You might think his penis is too big and therefore causing pain, but the vagina is pretty stretchy and powerful. It could just be that your body just isn't ready for penetration yet and needs a bit more help.
This is your excuse to request loads and loads of oral before getting to the main event. Plus, extending foreplay time means more teasing, more longing, more excitement. When you finally have sex, not only will it be more comortable physically, but you'll also have been playing for so long that the pay-off will be all the more significant. ​"When you are fully aroused, the vagina gets wet and increases in size to get ready for penetration, so foreplay to prepare for penetration and lube to reduce friction is a must," says Uren.
As for lube, basically, no one should have sex without it. It's not just for butt stuff and vaginal dryness. It makes all kinds of sex better. The best lube in town IMO? Wake the Neighbours by Hoo Raa. The CBD subdues pain and it's very easy to control how much lubrication you apply (I've been wronged too many times by a lube that fires out everywhere the second you open it). Once you're all slippy and slidey, it should be easier to have sex, even if you're partner is hung like a horse. Lube is pretty magical like that.

No matter the willy at hand, sex should be pleasurable. Actually, it should be joyful. Have a laugh and maybe an orgasm, if you fancy it. Try not to fret over your penis size or your partner's penis (especially as that will probably hurt their feelings). Being nervous about the size of your partner's penis can actually make you tense and make penetration more difficult, keeping you in a weird phallic-shaped loop. So breathe, relax, lube up and find enjoyment in figuring out your partner's dick.


More like this