Pro skater Tony Hawk talks tricks, trends and his new T-shirt line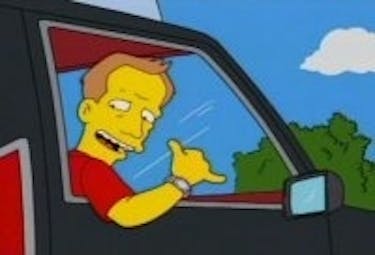 Ah, nos­tal­gia. Remem­ber play­ing Tony Hawk's Pro Skater for hours on end after school sound­tracked by the angsty punk-pop sounds of blink-182? A sim­pler time. A peri­od in which check­ered Vans were our go-to footwear choice, six-week sum­mer hol­i­days still exist­ed and our mates were always about.
Tony Hawk was the poster boy for skaters, kids and teens of the ear­ly-00s. He was signed as a pro aged 14 and became the first skater ever to land ​'the 900', a 900-degree aer­i­al spin per­formed on a ramp (easy). He com­plet­ed it on his twelfth attempt. He was – and still is – the epit­o­me of cool. Let's not for­get Hawk's appear­ance in The Simp­sons, after all. Car­toon cameos aside, Hawk's been on a mis­sion to build safe and legal skateparks for kids in the US since 2002 when he set up the Tony Hawk Foun­da­tion. He's quite the guy.
As of late, he's turned his hand to fash­ion via a nine-piece col­lec­tion of T-shirts and hood­ies (in col­lab­o­ra­tion with Brown's) fea­tur­ing black and white images of Hawk him­self lensed by cel­e­brat­ed pho­tog­ra­ph­er Anton Cor­bi­jn. The pieces ref­er­ence Hawke's rich his­to­ry as one of the great­est, most inven­tive skaters of all time.

So when we got offered the chance to catch up with the leg­end, we couldn't turn it down. We had far too many burn­ing ques­tions that need­ed answer­ing: ​"Were you dizzy when you land­ed the 900?"; ​"What trick would you do in Trump's White House?". We sent The Face's in-house skater (and design­er) Arun Gogna, and his mate Jake to get down to the nit­ty-grit­ty with the grand­dad­dy of skate­board­ing and, as expect­ed, he was a good sport.
If you don't know your hand-plant from your egg­plant, wor­ry not. Hawk won't mind you wear­ing it. ​"It's not nec­es­sar­i­ly for the ​"hard­core skater" but just some­one who's life has been influ­enced by skat­ing and feels like they have a con­nec­tion to it," he says. The pro talks skate­board­ing trends, tricks and Tony Hawk's Pro Skater below.
What trends do you think need to come back into skate­board­ing? Car­go shorts?
[Sar­cas­tic] At my age, yes. Car­go shorts.
Do you think you wear more car­go shorts now you're old­er, or less?
I don't wear car­go shorts. Some­where about five or six years ago I just grabbed some instinc­tive­ly, put them on and my wife said are you going on safari? And that was the last time I wore them, for real.
Are there any recent skate­board­ing films you've seen that you real­ly liked?
I like the vibe of the Supreme video. It was a bit long but I under­stood what they were going for and I appre­ci­at­ed it.
What's the worst trend in skate­board­ing today?
Small wheels.
Every­one says small wheels.
It was worse for ramp invert skaters. Sud­den­ly you couldn't get any­thing over 55mm and that was on the big end. We rely on our speed.
We'll let you off. Now you're a bit old­er what would your spe­cial move be on Pro Skater? Would it be mak­ing a cof­fee or…
Mak­ing an old fash­ioned. That'd be my spe­cial move.

On a scale of one to 900, how sick are you of talk­ing about the 900?
I'll give it a 720. How's that?
Were you dizzy when you land­ed the 900?
No. You don't real­ly get dizzy because it's just that one instant of spin­ning… then you've got to do the walk of shame up the lad­der and shake it off.
Who would win in a fight between Andy Mac­Don­ald and Bob Burnquist?
I've nev­er thought about that. I'd say Andy's got the bulk behind him, but Bob prob­a­bly has some crazy nin­ja moves.
When you used to play Tony Hawk's Pro Skater, did you play as your­self or Kareem Campbell?
I would most­ly play as, not with, but as myself.
The End turns 21 this year. Where would you take it for its first legal drink, and for what sort of drink?
I would take it to a Kore­an bar­be­cue to meet up with Jere­my Klein, most­ly so that he could rem­i­nisce about all the things he hat­ed about it but tru­ly did love.
What trick would you do in Trump's White House?
Sex change.
Final­ly, what gets your spe­cial bar up?
Time off. Time alone with my wife with­out our chil­dren. Although I do love our chil­dren and spend­ing time with them, I also love lock­ing them out some­times. And a real­ly nice glass of whisky on the rocks.
I hope these weren't the worst ques­tions you've ever been asked.
No, they were good. I hate ques­tions like ​'pick your top skaters' or ​'pick your top bands'. Like, someone's get­ting left out, someone's going to be mad.
---