How Dom's Subs built a lucrative, finger-licking business in lockdown

Side Hustles: When three East London coffee shop-owners faced closure last March, panic struck. But quick off the mark, they transformed a "horrible hovel into a really decent kitchen", turning pandemic pandemonium into an overnight success, one sandwich at a time.
It's sobering to think it's been nearly 12 months since Wuhan announced the world's first lockdown. Since then, everything has changed, not least how – and where and if – we work. By last August, 9.6 million people were furloughed in the UK. By this summer, unemployment is likely to reach 2.6 million, up from 1.3 million at the end of 2019. Little wonder that 2020 was also a record year for new businesses, with 85,000 more start-ups launching year-on-year.
Now, as the one-year anniversary of the UK's first lockdown looms, THE FACE investigates the working realities for those who've had to say goodbye to their former employment. From sneaker schools to sandwich services, bakers to candlestick-makers, our new fortnightly series celebrates the inventive side hustles of the Business Class of 2020/​1. Who knows, maybe you'll have a venture soon, too…
DOM'S SUBS

DOM'S SUBS

DOM'S SUBS

DOM'S SUBS

DOM'S SUBS

DOM'S SUBS

DOM'S SUBS

DOM'S SUBS

DOM'S SUBS

DOM'S SUBS

DOM'S SUBS

DOM'S SUBS

DOM'S SUBS

DOM'S SUBS

DOM'S SUBS

DOM'S SUBS

DOM'S SUBS

DOM'S SUBS

DOM'S SUBS

DOM'S SUBS

FOUNDERS: Matt Scott, Greg Boyce and Dom Sherington
LAUNCHED: May 2020
LOCATION: Hackney, London
£££: Undisclosed, but definitely heading for a profit.
BEST SELLER: The Grapow: ​"It's like a Thai chicken thing… it's incredibly spicy, like uncomfortably spicy. And kind of addictive."
DELIVERY: From Hackney within a two-mile radius: Clapton, Homerton, Stoke Newington, Wapping, Shoreditch, Hoxton and parts of Central London.

First up in our Side Hustles series, we speak to one of the boys, Greg Boyce, about life at the helm of a top sandwich delivery service in East London.
Dom's Subs has burst on to the foodie circuit, opening up shop in May of last year. Since then, the trio behind the operation have built a finger-licking reputation for creating and shipping out mouthwatering sandwiches to lunchtime locals. Their secret? Freshly baked bread, hefty fillings and big flavours.
Boyce and his business partners Dom Sherington and Matt Scott formerly owned Visions Canteen in Shoreditch and a sweet coffee spot called Lanark, smack bang in the middle of a formerly bustling Hackney Road. Despite building a loyal clientele, lockdown and restrictions on hospitality presented a roadblock, meaning it was no longer business as usual. With Visions Canteen closed for good, it was time to come up with a contingency plan.
Pivoting, and fast, they set about converting the Lanark café site into a fully-fledged kitchen. And the rest is history. Now, they are inundated with hundreds of orders a day, have managed to keep their previous staff and hire more riders. In fact, business has been so good that they've just got the keys to a second site in Liverpool Street, big enough to fit in customers, too – whenever that will be.
So, how did a café on the verge of collapse manage to turn itself around at the most crucial time?
Boyce fills us in.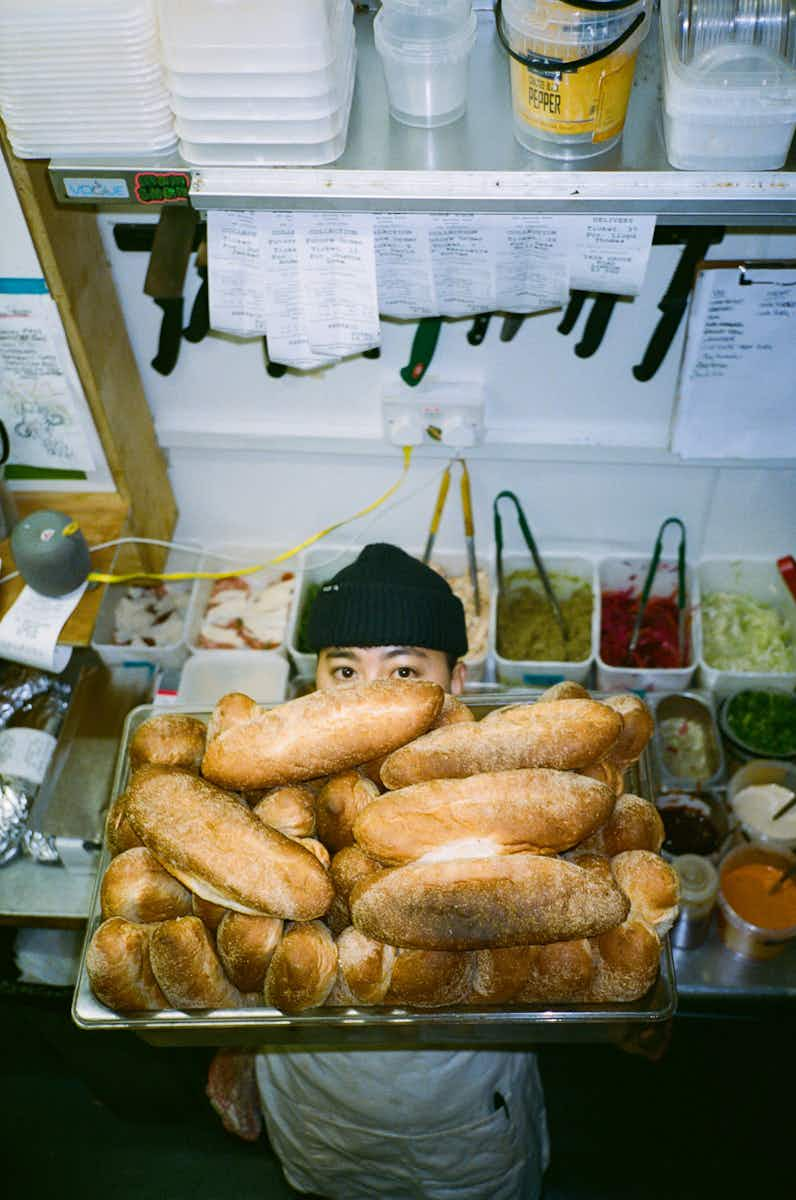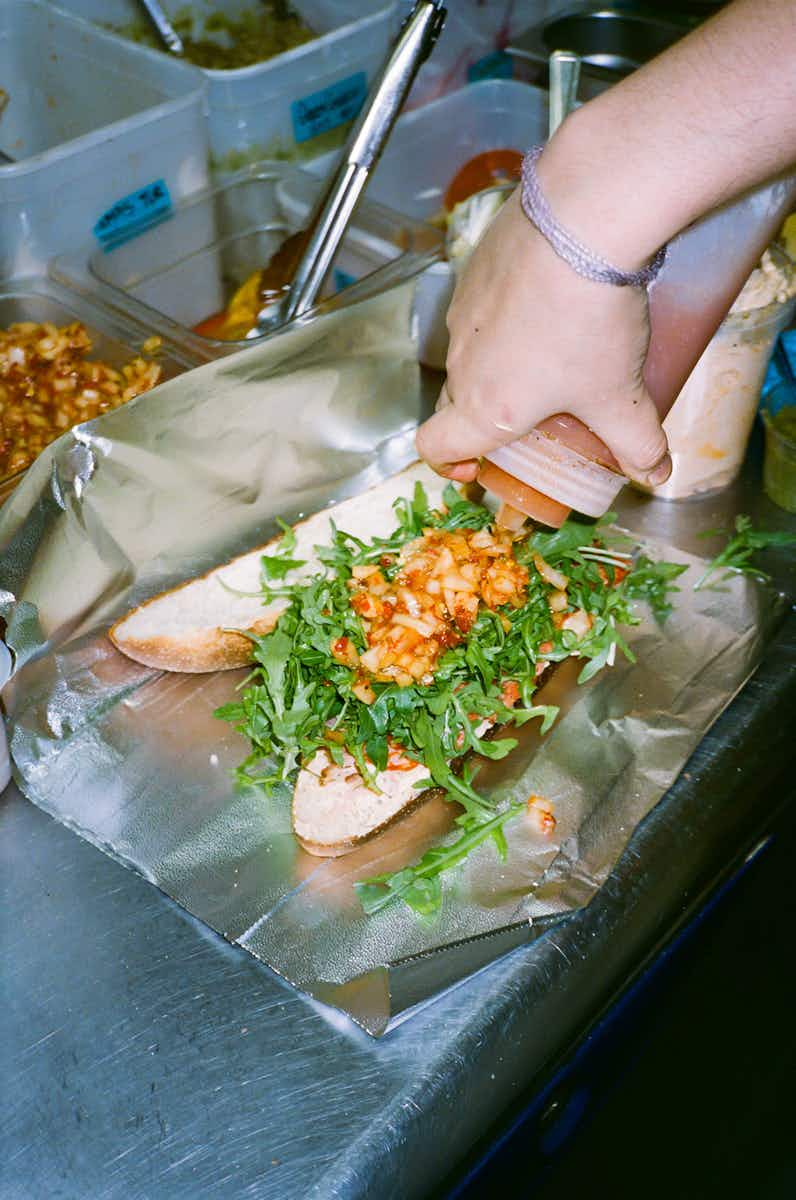 What do you miss most since the UK went into lockdown?
One hundred per cent pubs. I didn't realise how much I missed them because, even that little stint where you had to have a substantial meal? I hated it.
What were you doing before the pandemic hit?
I'd been running Lanark coffee shop for the last six years. I think I've got maybe 15 square metres in the entire shop, so obviously as soon as the restrictions started coming in with two-metre spacings, I couldn't fit any people in.
We were doing takeaways and got some produce like fruit and veg and cans of tomatoes and pasta like everyone did at the time to try and stay open.
At the same time, my two business partners for Dom's Subs were running another café that had to close because of the pandemic called Visions Canteen in Shoreditch. They bought the lease off Magnus Reid initially a couple of years ago. The place was massive, but again, as soon as restrictions hit it was game over.
How did the initial idea for Doms come about?
Because we had been going for so long and our taste had changed in that time, we wanted to start fresh, and do a deli. You know, like in The Sopranos… the pork store.
I came up with the name Dom's Subs. My business partner's name is Dom, and that is the best fucking name ever. I said we had to call it that. He didn't want to for a long time.
When everything closed down we were like ​"ah, fuck it", we'll shelve that idea completely. Then one day when we were in the café twiddling our thumbs, not really doing anything, I was like, why don't we just do Dom's Subs, but to your door? It was like the penny dropped that, yeah, it's fucking perfect – they're going to travel well!


So, when did you get the ball rolling?
I think that our first delivery was in May 2020, but it obviously took us a while; we had to get a website built, and stuff like that.
Where the subs are made, which is under Lanark, it's quite a small kitchen so we had to really kit that out from scratch. It was just a store cupboard before basically. In fact, my dog used to come into work with me and sleep down there during the day. So it went from this horrible hovel to a really decent kitchen now. It's nice.
Was it easy for you to grow your customer base and get the word out?
Yeah, that was the mad bit because we had the idea in the works. We registered the Instagram and then posted about it on our social platforms and overnight we got thousands of followers, just like that.
We were just like ​"oh shit" because, honestly, we thought, right, pandemic, whatever, it's not going to last long. We'll keep ourselves busy, one of us can jump out on the bike delivering them, two guys can make the sandwiches. It'll be nice, it'll be chill, we'll do 30 sandwiches a day, it'll tick over. Then, very quickly, it got to a hundred plus a day, and we're only open for three hours.
We've got five or six delivery drivers now. It's quite an intense workday for them, to be honest.
What was your first day like?
We were ready and raring to go. So we thought, well we'll just open and people can DM us an order. We thought it would ease us into it but then within 10 minutes, we had 100 DMs. It was overwhelming.
How was it adjusting from serving coffees to going into a food business?
We've always been quite good at adapting. When we took over Visions from Cream [another café] we did it overnight. So we were game, anyway, and up for the challenge, whatever it was. We weren't scared of doing the graft, we knew it was going to be hard and there were going to be problems.

Why are your sandwiches ​"impeccable"?
I think it's a real labour of love. We do everything ourselves. The only thing we don't do is make cheese or cure meat, which we would like to do in the future. But we bake our bread fresh every morning to our secret recipe and we kind of go heavy on fillings. It's big flavours, nothing that's appropriate for a sandwich. There's nothing subtle here.
What would you say has been your biggest hurdle so far?
Well, running a delivery business is not something that I ever thought I'd do or was particularly good at before this. Making food, the service element of things is easy; you get into the swing of it and it's okay. But staring at a computer and figuring out a decent route for a rider to go so he can drop off three packages and come back for another one was kind of mind-melting at first. I think I'm quite good at it now. If all the people that were ordering sandwiches were actually coming to a shop, and we got to interact with them, I guarantee you we'd have zero complaints. But trying to make sure no order is too late is another matter.
And how about your biggest achievement?
We're just happy that we stayed open through a pandemic and kept all our staff from the shop that we had to close. We sunk a bunch of money into making this work and a lot of time and effort, and I'm just happy that it's still afloat. We're working every day and enjoying ourselves, and that's not common at the moment for people, but for us and our staff that's the case.
Do you expect to turn a profit?
I mean, with a new business there are a lot of start-up costs that you need to recoup before you can truly turn a profit, but I think we're getting there! This is also the first time we've ever spent money doing anything. To be honest, we've always been super frugal. With this [we've] speculated a bit so, hopefully, that's going to reap its rewards.

For those who have dreams of setting up a booming business in the foodie sector, what is your advice?
I think that one of the main things that holds people back is actually doing it. So many people have good ideas, but something stops them from doing it. You just need to be on the lookout for a while. It's easy to procrastinate but taking the plunge is the hardest part.


More like this