Half pipe dreams: a skateboarding haven for women and non-binary people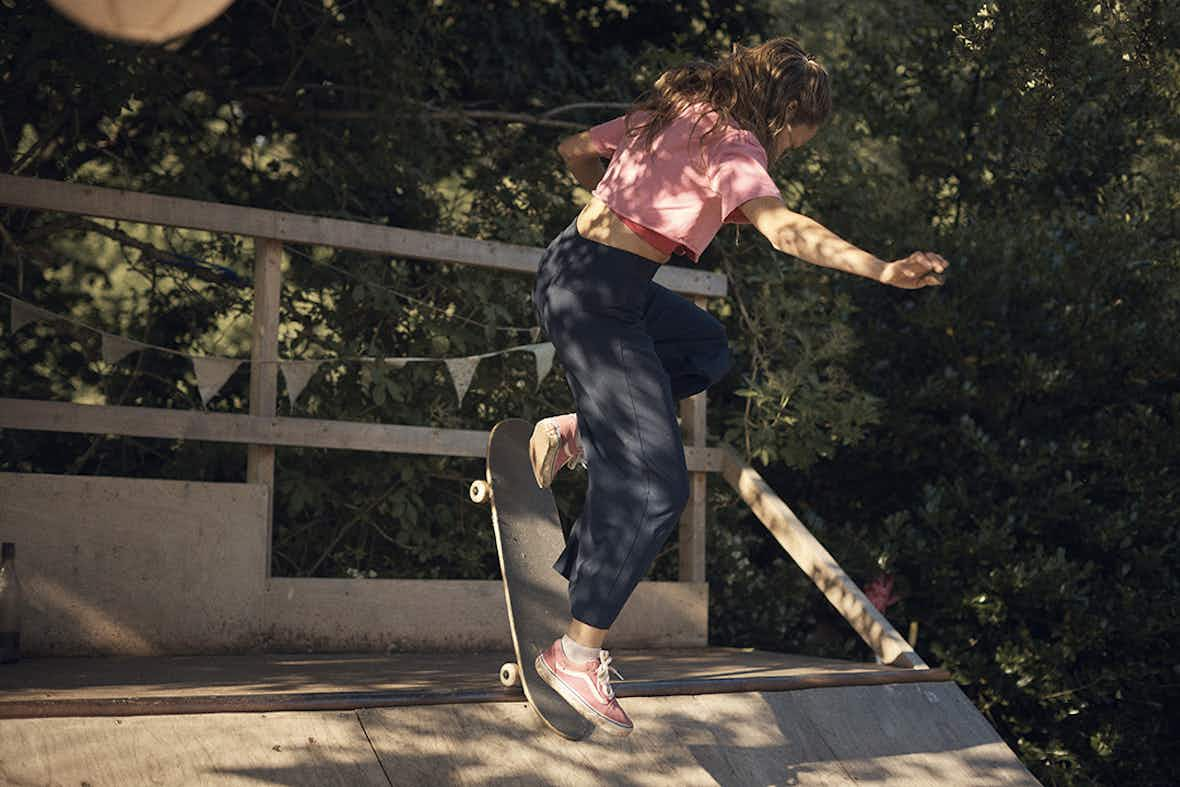 Over in Sheffield, The Skate Retreat is providing a safe space for the underrepresented – and it's magic.
It's a common misconception that skateboarding should only be reserved for teenage boys or professionals such as Tony Hawk. But last month, 13-year old Sky Brown became Britain's youngest ever Olympic medallist, after she took home the bronze medal for women's park skateboarding at Tokyo 2020.
"I was in awe of all the competitors," says Danielle Gallacher. ​"The average age on the podium was 13 and a half years old. It must be so inspiring for children to have these skaters as role models."
Danielle is the founder of Girl Skate UK, a skating collective that has been running for almost a decade, and has been skating since her early twenties, competing across Europe.
Last year, the 34-year-old launched The Skate Retreat with fellow skater Zeta Rush and organised a women's skating getaway in the Peak District. But when the pandemic thwarted their plans after lockdown was announced in March, Danielle decided to invite skaters to her own private skate haven – complete with a DIY mini-ramp, an outdoor pizza oven and a vegetable garden.
"Female skateboarding is highlighted in the media as being this new phenomenon, but it's more that the scene is finally being recognised," Danielle says, adding that the Olympics has had a huge impact on interest. In fact, according to Skateboard GB, skateboarding sales grew by 34 per cent last summer, with a 21 per cent increase in female skateboarders in the UK. ​"This is because a wider range of people seem to be either looking to take up outdoor sports, reconnect with a sport they used to do as a child, or are using sports as a way to bond with their children. In a lot of cases, it's all three," says Danielle.





Photography Olly Burn
At The Skate Retreat, which is based in Sheffield, Danielle offers one and two-day skateboarding workshops. Nestled in a secluded ​"secret garden", the retreat offers a safe space for women, trans and non-binary people to skate, connect and relax.
"I felt that there was a bit of a gap for lessons aimed towards older women and those from marginalised genders. We wanted to create a welcoming space that catered towards those that felt anxious to immerse themselves into the skate scene," Danielle says. ​"I think feeling zen as possible is why I wanted to create this space that can make guests feel happy and relaxed."
The workshops include four hours of professional tuition at a private mini ramp, as well as a pizza lunch. They are priced at £35 per hour, while skill-based workshops are £100 for one day (four hours) and £185 for two days.

She also hosts retreat holidays, costing £250 for a three-day camping ticket and £425 for a ​"glamping" hut, with their next retreat scheduled for next month in Norfolk. ​"It is set in beautiful, expansive woodlands and there will be two private skate ramps, an on-site physiotherapist to give guests treatments and we will be giving guided foraging walks and having a wild cocktail making evening."
It's the calming surroundings that make The Skate Retreat so appealing to people wanting to learn to skate for the first time. ​"The most important thing that makes our workshops so effective for learning is the quiet, private safe space we have created – it makes guests feel more calm, relaxed and more capable of being able to try their best," Danielle says. ​"There are no watchful eyes on you. You can just be at one with your board, with a beautiful backdrop. There's no doubt that being amongst nature absolutely adds to that calming experience."
Whether you're picking up a skateboard for the first time or wanting to improve your skills, The Skate Retreat offers advice and guidance for all in a safe and inclusive space, where you can make new friends and learn new tricks.
To book and learn more, you can visit The Skate Retreat website here.

More like this