100% Amaarae: Afropop's surreal rule-breaker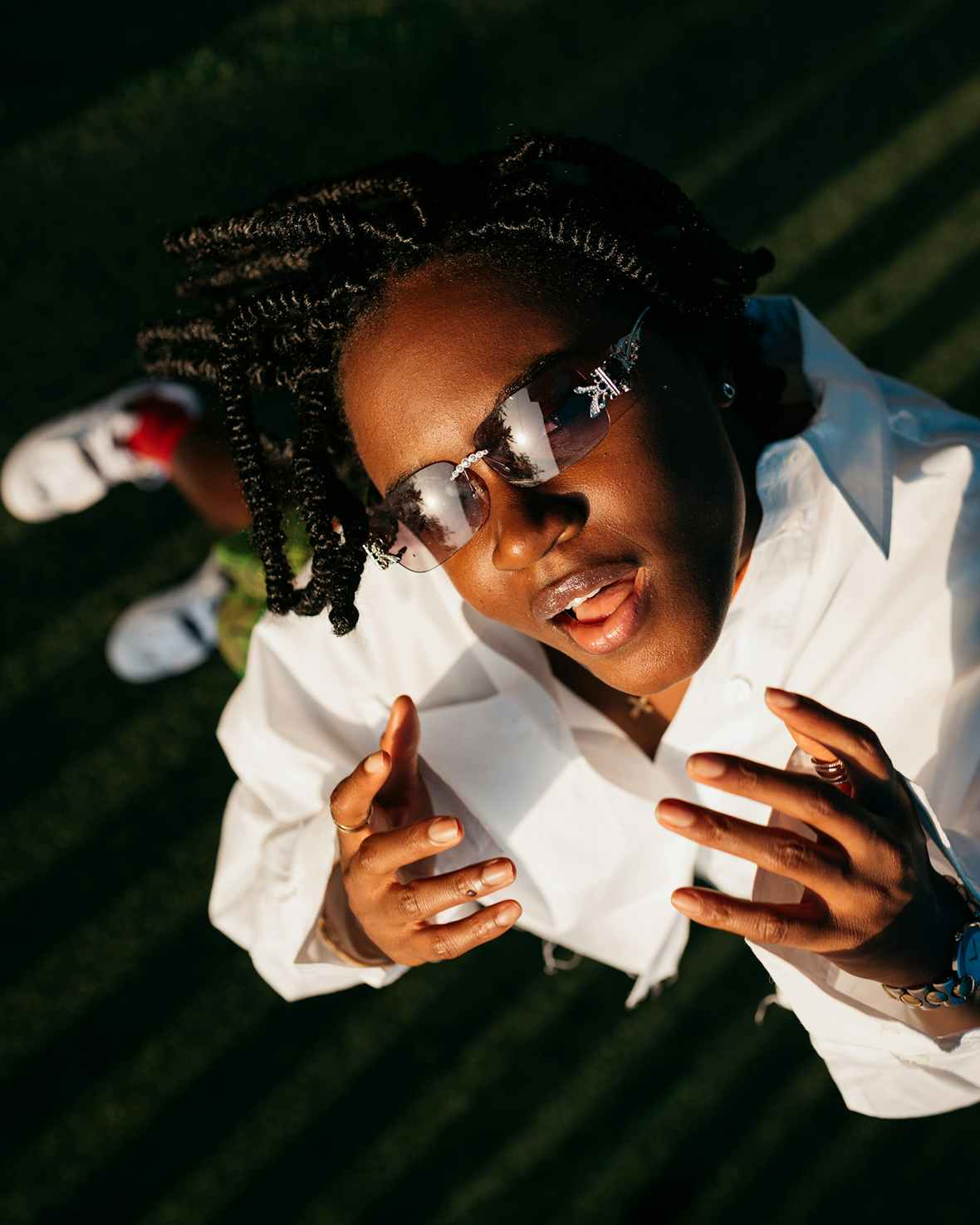 The Accra-based singer and producer talks signature dishes, classic Lil' Kim looks and sending Trump to outer space.
Amaarae sounds like silk. Her half-whispered falsettos slide across slick guitar licks, propelled by hip-swaying Afrobeats rhythms and featherlight hi-hats that flutter like butterfly wings.
Behind the breezy beauty of her music is Amaarae's carefree confidence. Listen closely to the 26-year-old singer and producer's new album The Angel You Don't Know and you'll discover her unblinking sexual bravado, a touch of trippy humour and an experimental streak which results in the occasional burst of pop punk – a nod to her mall-dwelling adolescence, which included stints in a number of US cities.
Amaarae – who lives mostly with her family in Accra, Ghana these days – has been turning heads since the release of her debut EP, 2017's Passionfruit Summers. As well as her alluring voice, she's stood out for her fearless approach to fashion, becoming affiliated with the open-minded artists of Nigeria's alté wave – including collaborators Odunsi (The Engine), Lady Donoli and Santi – as well as her British cousin, Kojey Radical.
Check out Amaarae's 100% questionnaire below.
10%: Where were you born, where were you raised and where are you now based?
Born in the Bronx, New York. Shout out BX! Raised all over the world – Ghana, Atlanta, New Jersey. Based nowhere really, I spend a lot of time between London, Nigeria and Ghana these days.
20%: What kind of emotions and experiences influence your work?
Angst, sensuality, love, romance, rule-breaking, pain!
30%: If you're cooking food to impress someone, what will you make?
THEY DIDN'T TELL Y'ALL I WAS THE CHEF OF LIFE??? I make a mean baked ziti, I make a meannnn blue cheese burger and some fries. I make an even meaner sticky fried rice and peanut sauce with honey chicken.
40%: What's a piece of advice that changed your life?
Power changes hands. Be respectful and kind to everyone, you never know whose help you might need.
50%: What was the last book which inspired you?
A Van Jordan's Quantum Lyrics. His words dance on the page.
60%: How did you celebrate your last birthday?
With family and friends getting toasted!
70%: Love, like, hate?
Love money, like sleep, hate a disrespectful-ass motherfucker.
80%: What's the most pointless fact you can share?
Lil Kim's famous VMA look (with the titty out and the flower pasty) was actually an idea Missy Elliot gave to Misa Hylton (legendary stylist) during a random conversation.
90%: What's the best pet you've ever had, and what was their name?
We had a golden retriever named Goldie when we were kids, she was such a sweet one.
100%: You rule the world for the day? What went down?
We forgiving all student loans for students of colour and students from impoverished backgrounds. We forgiving all debt for people of colour. We're making Thought it Was a Drought by Future the national anthem. We sending Donald Trump in a pod to outer space (the forces can decide what to do with him). We're opening cases on all fraudulent leaders of suffering countries. We're unifying passports and giving access to all countries. We're making travel accessible and affordable. We're subsidising healthcare and offering it at the most affordable rates. We're re-evaluating and dismantling the entire educational system.

More like this