Bally On Me: Why UK rappers cover their faces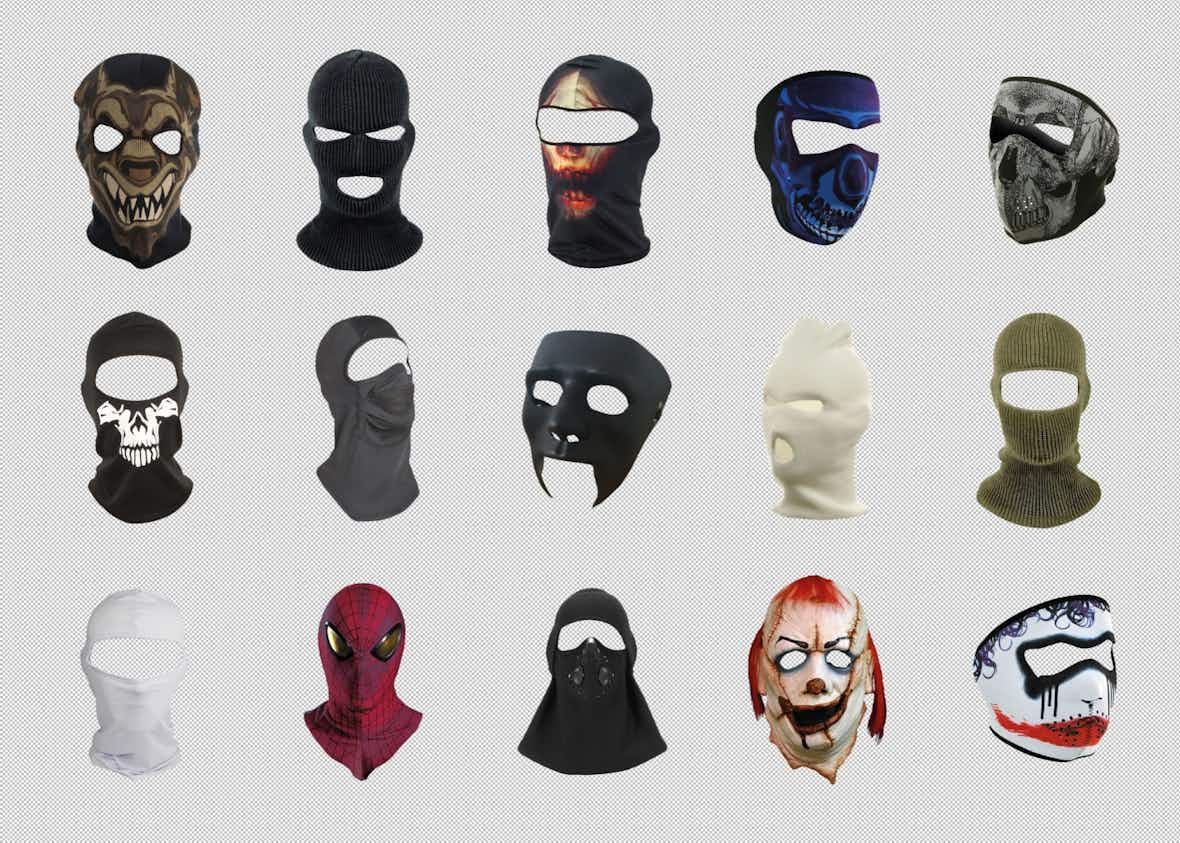 Alter-egos, privacy and surveillance are just some of the reasons behind drill's masks and balaclavas.
Last summer, UK drill rapper S1 decided he'd had enough. ​"There were all these Instagram pages saying they were going to expose my face," he tells me over the phone. S1 is 20, from Shepherd's Bush, in West London, and until then he'd worn a balaclava in all of his music videos, alongside his 12 World rhyming partner Sav. ​"They were threatening me and Sav saying they'll expose our faces. So we were like, ​'Fuck that!' We can't let people blackmail us like that. I went on my Insta story and told people, ​'I got a surprise for you at 9pm.' At ten to 9, I'm not gonna lie, we were shaking, bro! But then I posted the picture, and I got like 20K likes in ten minutes."
In recent years, UK drill music has evolved from being a hidden, guarded subculture amongst London's social housing estates into one of the most exciting genres in contemporary music. Since UK drill began to emerge around five years ago, following the explosion of drill music in Chicago, covering up with a balaclava – or in more recent years, a customised mask – has been an integral part of the UK scene's visual aesthetic.
A significant number of the biggest names in drill — from SL, 67's LD and AM at the more commercial end of the spectrum to KO, C1 and members of the OFB crew at the more underground end — have always covered their faces. Drill's explosive, if interrupted, forward momentum has reflected and reinforced the tendency of boys and young men to wear balaclavas and masks. I've seen it develop as a trend in my youth work, whilst talking to teenagers in community spaces and schools, as boys increasingly refer to the need to protect themselves from being surveilled by police (AM, who, alongside rhyming partner Skengdo, was recently handed a suspended prison sentence for performing one of their songs, was too busy revising for his university exams to comment for this article) and from being spotted by rival groups, family members, university admissions tutors, or even their church pastors
"Some people cover up because they might be doing stuff on the roads," S1 tells me. ​"Some people cover up their face because their family don't know they're rapping or in a gang. But also, I've been around a load of yutes who wear masks and balaclavas, and they've got no participation in madness. They're good kids, but they're trying to be like rappers, so they cover up. I used to wear mine strong. I was always covered up. Nobody could see my eyes and face. That was mainly because of the area I came from and my environment. I used to say to myself: ​'I have two sides. There is Sanch, which is just me, and there is S1.' When I didn't have the mask I'd be Sanch, cool and humble. S1 was the arrogant, aggressive and violent guy. It made me feel invincible. I was stuck in that mindset of wanting to trap forever, then I decided to better my life," he continues.
On the one hand, such items of clothing are symbols that reveal the social pressures faced by those who choose to wear them. That includes racialised over-policing in poor inner-city communities, the claustrophobic sense of fear and wariness that comes from living a life governed by territorial pride and normalised violence, and the simple desire to avoid being recognised whilst spitting crud and posing in front of a camera.
On the other hand, garments like balaclavas and masks have become genuine artefacts of modern fashion for young people, as well as a way for artists to stand out and consolidate their own entertainment value. Drill and rap music are become strengthening vehicles of social mobility for young artists who are able to earn legitimate incomes from racking up millions of YouTube views and streams, get booked for regular shows and festivals, and in the case of MCs like Russ, Unknown T and Digga D, make the official UK charts.
"The mask is the brand," said LD (formerly known as Scribz, without the mask) when I spoke to him last autumn. ​"It's the symbol. It's how you know a man is still active." As arguably the founding father of the UK drill movement, LD's distinctive mask has helped him create a performative character, like hip-hop legend MF Doom or UK rap veteran CasIsDead. It's also functioned to help him evade the authorities' punitive actions against drill (as Scribz, the police imposed an injunction banning him from performing publicly) and separate his music from the street life he was trying to leave behind. He told me the story behind the gothic, opera-esque shape of the mask. ​"My mate lost my original mask and we turned up at SBTV to record a freestyle. We were doing a Warm Up Session, and my manager gave me a new mask, but there was no gap for my mouth. People couldn't hear me properly when I was spitting. So really, I've gotta shout out Jamal Edwards, because luckily he was getting his office re-done at the time, and there was a saw lying around — a proper big one too! — so we the cut the mouth gap cut out. Then after, we took the same shape and got it made smooth, which stayed as the LD mask."
Read next: Heart of a lion: the rise of Headie One The Tottenham rapper has transcended the UK drill scene and climbed the charts. He speaks to The Face about family, success and a growing sense of responsibility.
Recently I sat down with London's AutoTune trap king M Huncho. He doesn't make drill music, and instead sings over melodic trap beats, although songs like Council Flat similarly engage with universal rap themes of urban struggle, social deprivation and road life. In the past, he's worn a balaclava to cover up, and recently, with his growing success and industry stardom, he's started to wear a branded grey mask. This is comparable to the way AM has transitioned from a full balaclava to a stylish mask just covering his mouth and nose. I asked M Huncho if, like LD, he sees himself going into character when he puts it on. ​"No, nothing like that. I'm the same person always. I'm still a clown, I still make jokes. It's just about privacy. I don't wanna be walking down the street and asked for a picture, you get it?"
S1, who's become known for his energetic dancing and has helped drill evolve into a more dancefloor-friendly movement, is not the only drill artist who stopped wearing a mask. Harlesden's Q2T and Tottenham's RV both used to cover up, but are now enjoying wider exposure and success in the competitive London scene than ever before, with the latter having recently charted with the Drillers x Trappers II mixtape in collaboration with Headie One. Both S1 and Q2T have benefitted from the guidance of independent record label Finesse Foreva, who specialise in supporting artists as they transition into being commercially viable outfits. S1 calls Finesse Foreva ​"family" and says his life has completely changed since he decided to remove his mask.
"Once you start making yourself look like an artist, and present yourself an artist, you can start going places," S1 says, when I ask what he has learned since showing his face. ​"I stand out too because I don't look like a standard driller. I look like a good yute! People like my baby face, you get me?" he says, chuckling. He asks me to hold for a second, and I hear him open his front door to greet a woman who says she is collecting charity money for blind people. ​"Have a great day," I hear him say to her, before shutting the door, having donated cash from his pockets. ​"Sorry about that," he continues. ​"Where was I? Oh, yeah, removing my mask is probably the best thing that could have happened to me. My advice to people is not to wear a mask if you don't have to. It's pointless. Just be you, do what you have to do, and don't watch no one else. If you rap about what you live, that's a consequence you've got to face. If you don't, then just be yourself."
Read this next: The proud tradition of alter egos in female rap

More like this