How UK rap and grime helped make Cafe East the best brunch spot in London

This joint has served the likes of Ghetts, Headie One, D Block Europe and Jorja Smith. Perfectly presented pancakes and exotic fruit aside, it's earned a reputation for respecting Bow's music history.
Success wouldn't normally pose a problem for a business, but for Mustafa Has, co-owner of Cafe East in Bow, ​"I'm a bit scared about how popular it's getting." Rather than looking at the expectant queue of people snaking outside as a matter of pride, he's more concerned that everyone gets seated and fed. The line outside is proof he's doing something right. On any given weekday there's usually a queue, while on Saturdays, the line stretches so far down the street that getting a table in time for brunch is a test of perseverance.

Run by Has and his brother-in-law Ali Cakan, the café is positioned snugly on Roman Road and boasts a cosy look, with a pale pink wooden front and traditional signage. It was designed with old East End pie and mash shops in mind, where you're sat elbow-to-elbow with other patrons (the pandemic, of course, has meant spacing out their previously intimate tables). It serves traditional caff and brunch food, but presented immaculately – hash browns and scrambled eggs are plated up with exotic fruit and edible flower arrangements. Has, 32, has a background in graphic design, and this is central to his care for how the food looks: ​"We never let one plate leave the kitchen unless it looks ten out of ten, even if it's, like, the last plate of the day."
Despite how much people can't help instagramming their brunches there, the café is unpretentious, with a focus on good food, friendly service and honest prices. The halal, non-halal and vegan menu options accommodate everyone from groups of schoolmates to mums with babies. ​"It's a nice thing to see really, people of different religious backgrounds, of different cultures, different races, everyone's eating together," Has says. There's a certain charm to the way he and his colleagues interact, too, always cracking jokes and catching up with their regulars in typical East End fashion.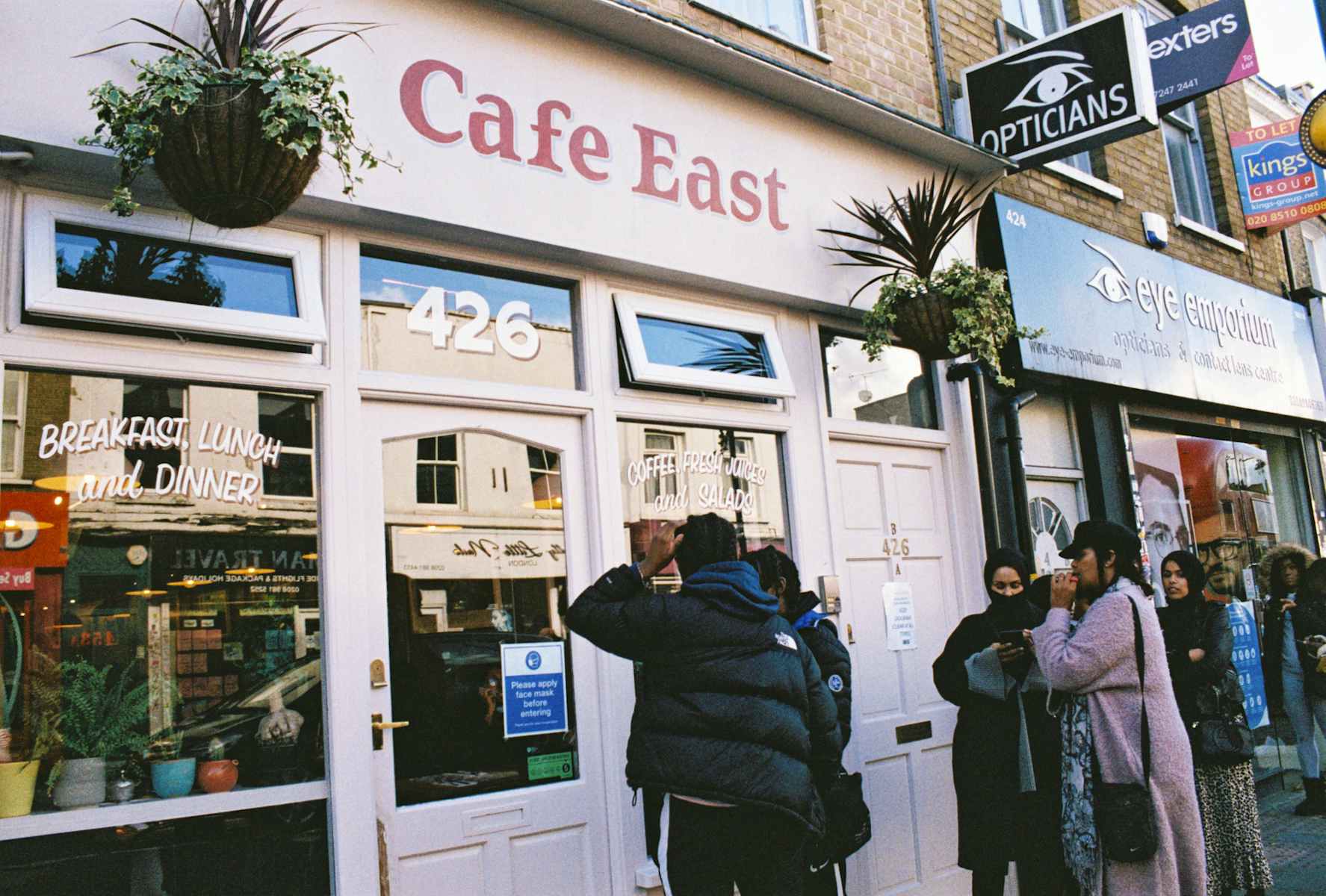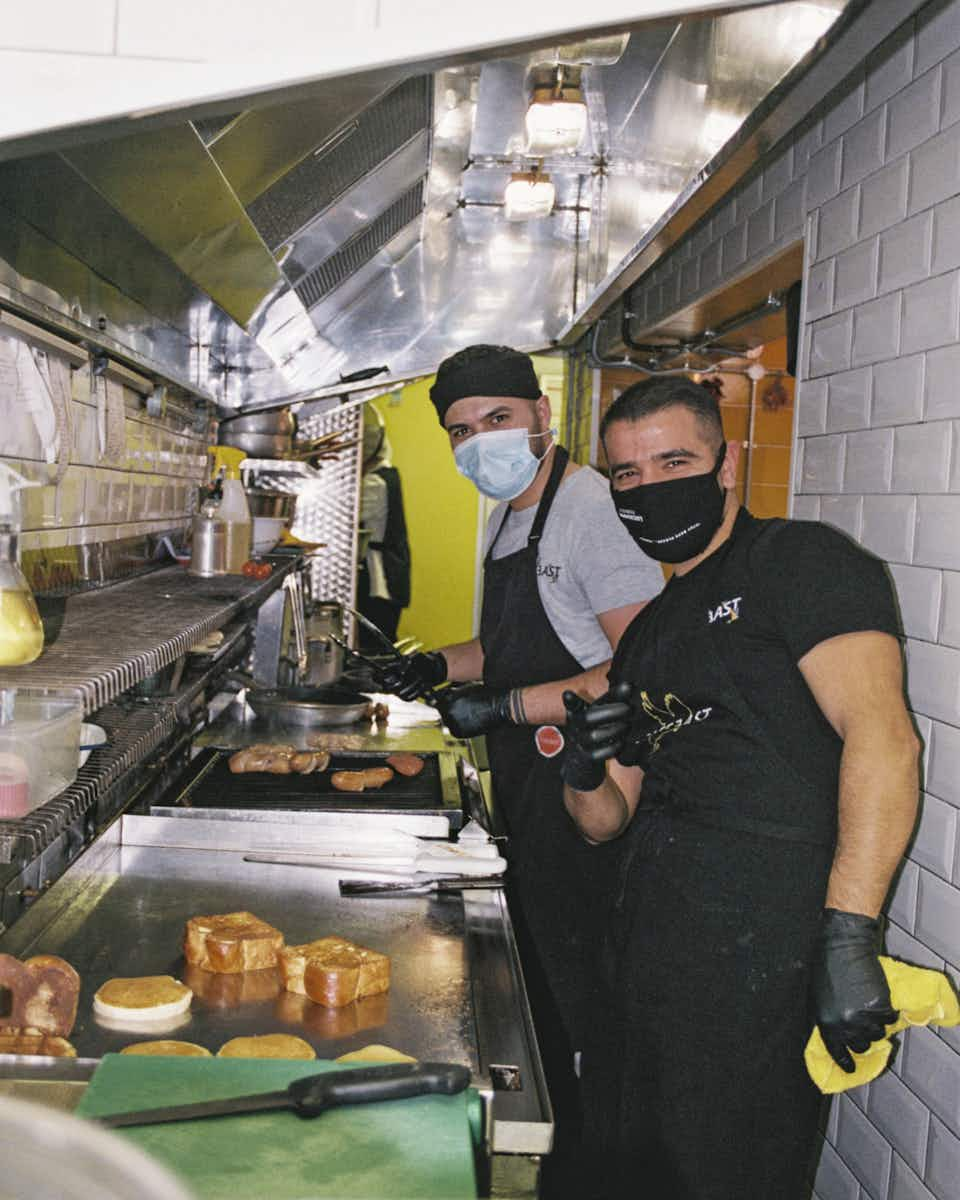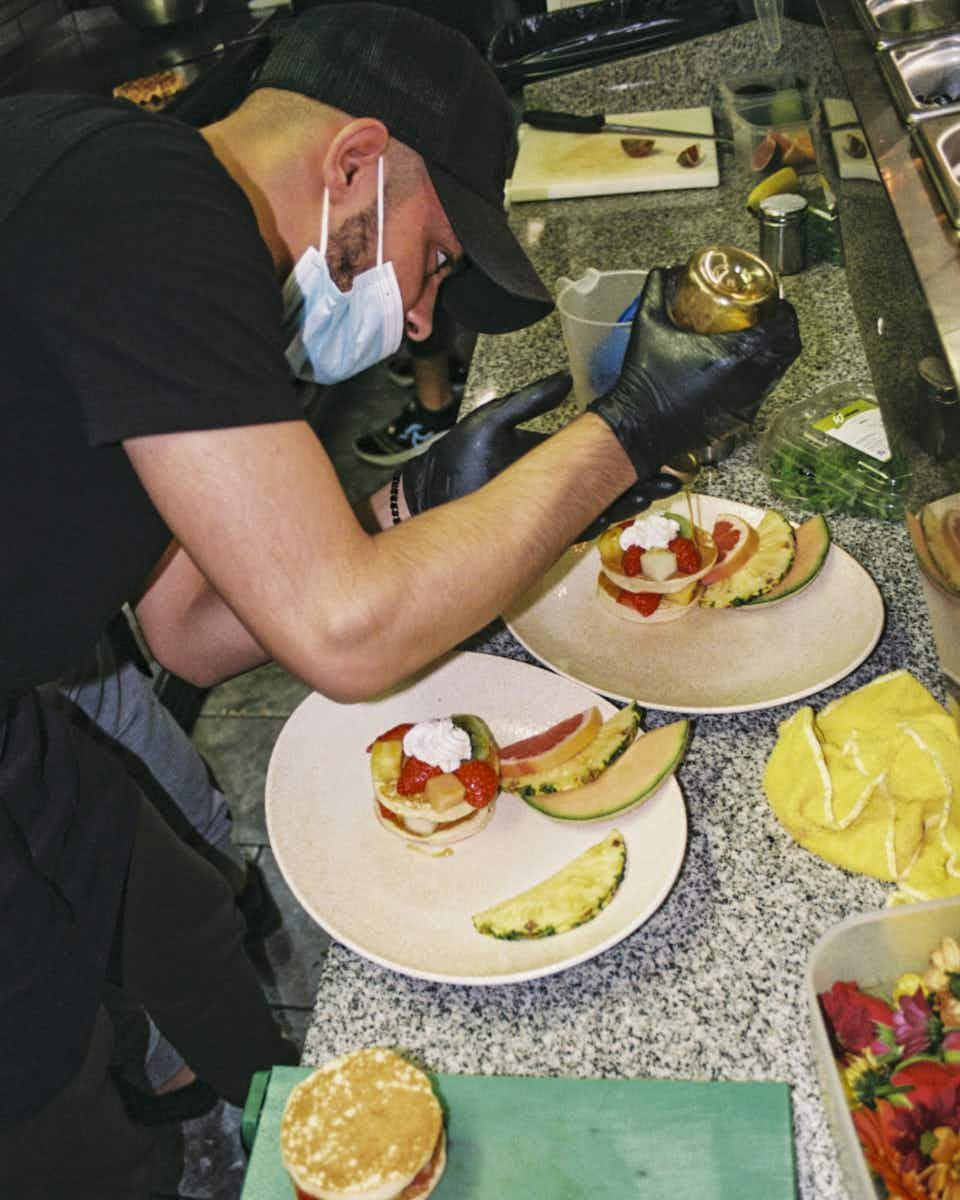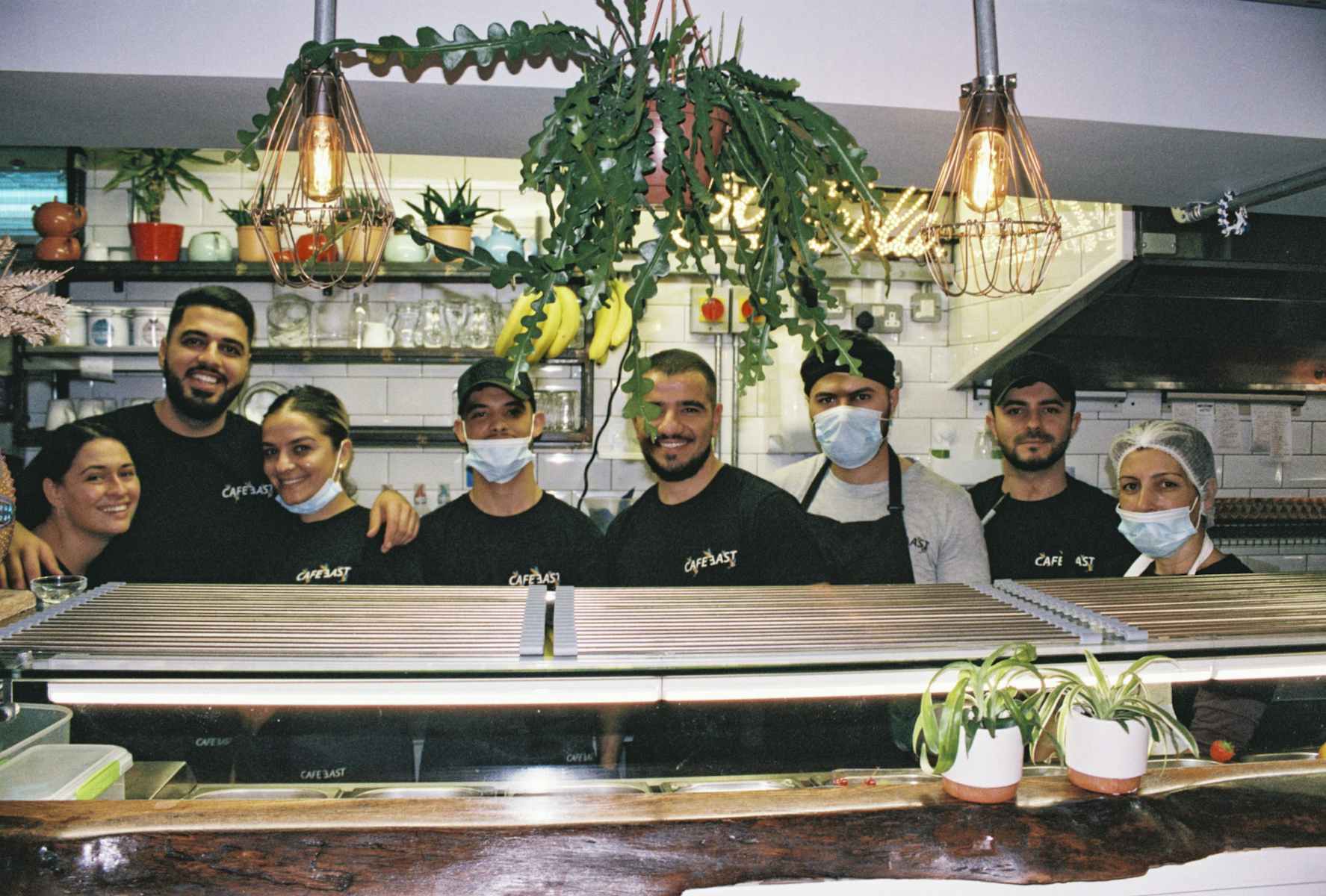 As something of an unusual accolade for a café, it's recently been immortalised on a chorus by the melodic rap duo D‑Block Europe. On Cartier Rings from their recent The Blue Print album (which reached no.2 in the UK Album Chart), Young Adz spits: "(Yeah) I'm in Cafe East, talkin' bricks with the Turks."

"That was pretty cold, that definitely put a smile on our faces," Has says, adding that D Block Europe now opt for delivery as it can get ​"too hot" for them to turn up in person. They're not the only ones to put the café in a bar; on the remix of Poundz's Opp Thot, Peckham's Snap Capone raps: ​"Still skrtt skrtt on the backstreets /​Cats selling food like Cafe East". Various Roll Deep and BBK members are regulars there, and Fredo, Headie One, Giggs and Jorja Smith have been known to roll through. The owners joke that Ghetts, who comes in a lot and is a good friend, has a black card.
When grime emerged in the turn of the millennium, Roman Road was the centre point, largely down to Rhythm Division record store at number 391. All manner of grime legends – Skepta, Dizzee – cut their teeth in the blue-walled shop, and it was more than a place to browse, hosting live clashes and just generally being a place where artists and DJs could link up. After allegedly making tens of thousands flogging dubplates to the store, Wiley shot his Wot Do U Call It? video there with a nod to that Human Traffic scene.


Having taken a DJ workshop at a community centre as a kid, Has spent time flicking through the store's crates, and the white labels (like the original Forward Riddim) he purchased there now hang on Cafe East's brick walls. He and his family grew up in what was known locally as the ​"three flats", the Crossways Estate where Slimzee and Geeneus would regularly scale the tower block to transmit Rinse FM – then a pirate station – to the capital. He went to Bow Boys school where he was in the same classes as MCs, and went to the same Tower Hamlets youth clubs.
Back then there was ample funding for local outreach projects, initiatives whose budgets have since been slashed. The austerity programme, launched by the coalition government in 2010, cut the East End's public services by £148 million, a 64 per cent reduction. It was an art class in Bromley By Bow community centre that first sparked Has's passion for visual arts. Producer Faze Miyake, who went to college with him, and whose debut album hangs on the wall, says: ​"I have seen him graft and put his creative vision into his business. We have all come up from kids with loads of ideas and it's amazing to see us all bring them to life."
When grime began to enter a fallow period and Rhythm Division closed down in 2010 to make way for a coffee shop, it left something of a gap in the local area. Though perhaps unintentionally to begin with, Cafe East has kept some of the store's spirit alive, both through supporting London artists' new releases on its stereo (mainly rap and grime, as well as that of friends like Rudimental and Anne-Marie) and its inclusive, welcoming vibe. ​"Music was always going to be part of anything that I do," he says, ​"we embrace culture." The steady stream of MCs and house DJs passing through helped the business get off the ground in the early days via word-of-mouth buzz.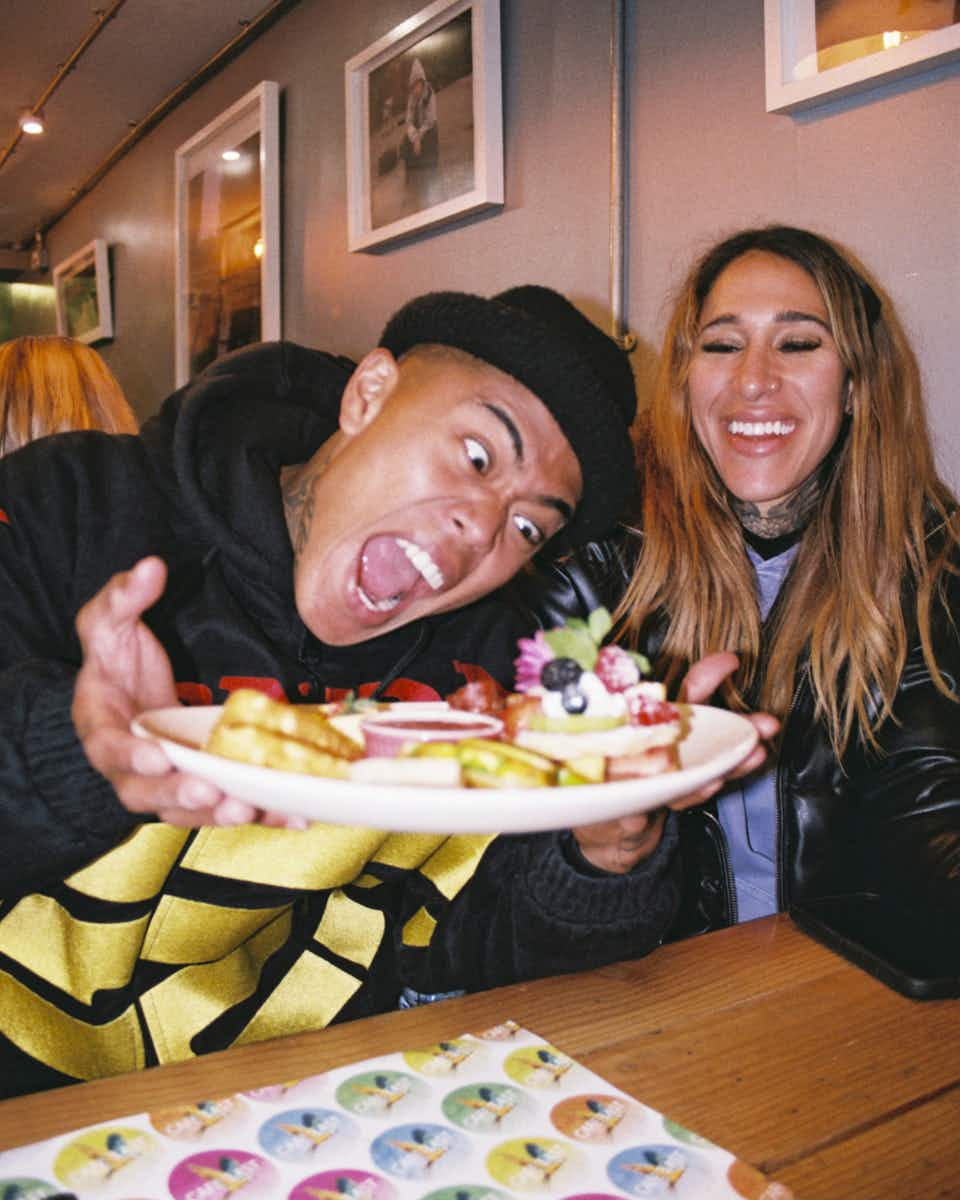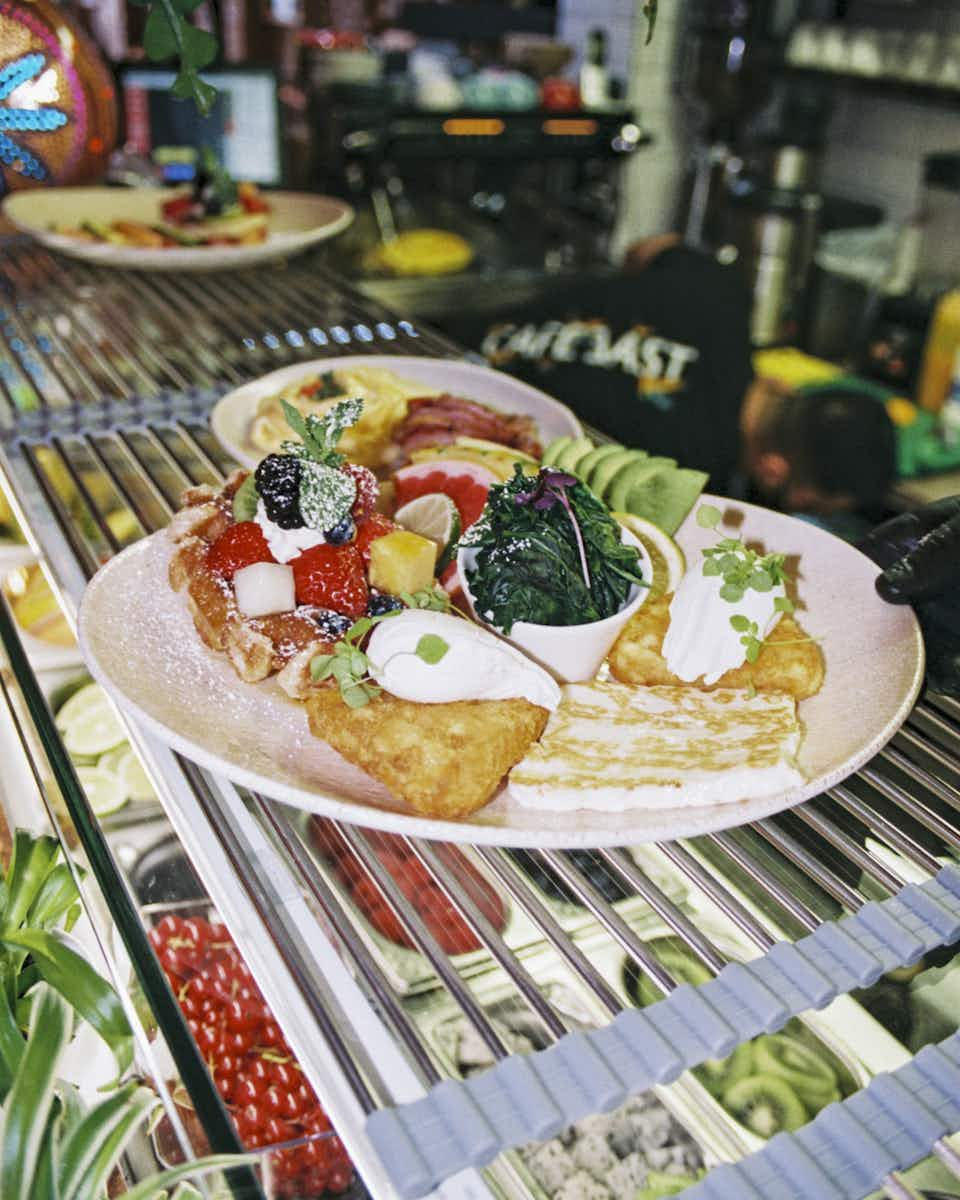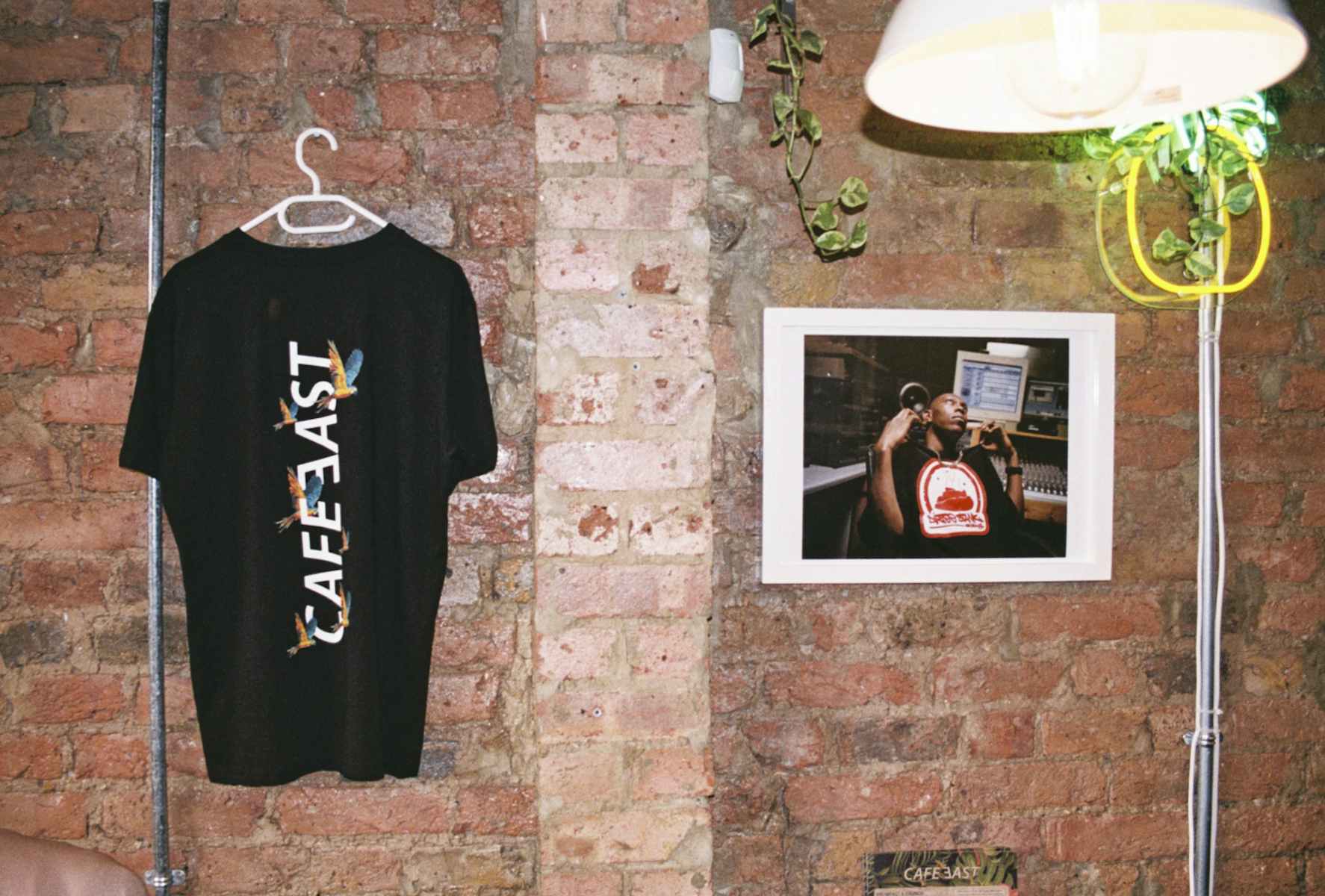 Over the past years, the area has changed dramatically, undergoing a wave of gentrification, but the café still attracts both longtime residents and newbies. More recently, they've had 2020 to contend with causing them to offer delivery for the first time, taking that mad presentational flair to cardboard boxes. Over lockdown – as well as having a baby – Has opened Juice Trap, a bar in Bethnal Green, and is eyeing up potential new premises to expand the cafe in a bid to reduce the queues. ​"Things change when you have a child, I guess," Has says. ​"You have a purpose."…
Throughout Black History Month the cafe has been hosting an exhibition of photographs by Simon Wheatley, author of Don't Call Me Urban: The Time of Grime. Wheatley's scene-documenting pictures – the iconic shot of Roll Deep sprawled out over an ice cream van, for example – hang below signed vinyl like Dizzee Rascal's Boy In Da Corner, embellished with a ​"nuff love" sharpie scrawl. It's timely, given the release of Dizzee's E3 AF album this week, a love letter to the postcode, as is Wheatley's exhibition given the recent push to erase the word ​"urban" from the music industry lexicon.
Like the MCs he grew up around who were forging new inroads into music, Has built something from the ground up – literally, he constructed the tables and did the flooring. ​"It was the first time I was given the opportunity as a young man to just be free with everything," he says. ​"People know there's a lot of love that's gone into this place and a lot of passion. We're still from the ends, we're still, I guess, raw talent."

More like this