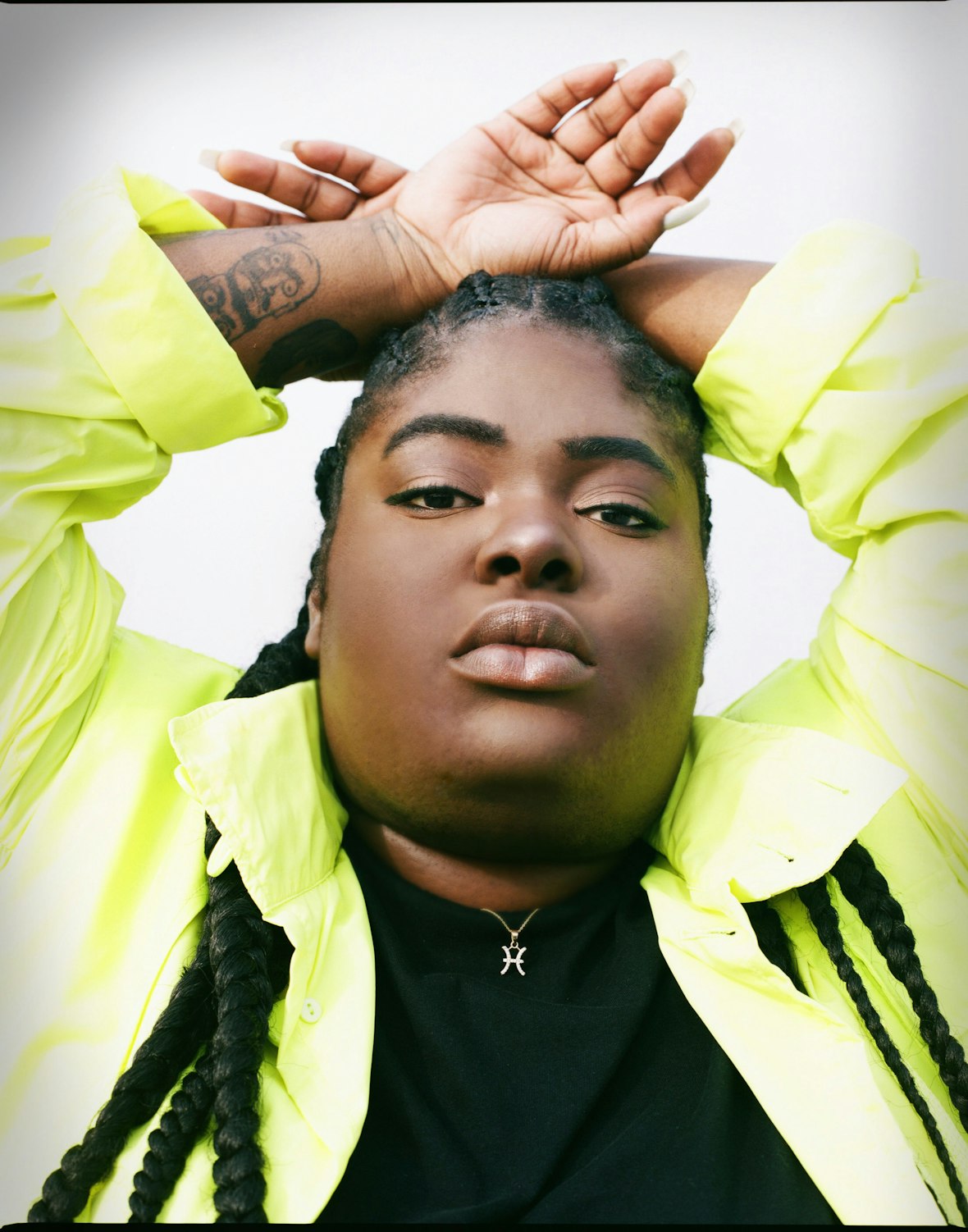 Chika's making power moves
In a recent tweet, Chika couldn't resist the urge to talk her shit. ​"I have now not only been called ​'daughter' by Beyoncé, but Snoop Dogg, Lin-Manuel Miranda is aware of me, as is Jay‑Z – per Diddy's excited introduction – Swizz [Beatz] and Alicia [Keys] have blessed me, and so have Jill Scott and Erykah [Badu]."
When I ask her about the tweet over the phone, the rising 23-year-old rapper insists that she wasn't trying to stunt on us. She just wanted to take a moment to absorb all that she has achieved as someone who, in her own words, has struggled with mental health issues and imposter syndrome. ​"As a woman, we're always told to stay humble or be quiet and if we don't accept our flowers with whatever threshold of grace that people say we should have, then we're told we're cocky or we're not humble and we don't deserve this."
Indeed, the Alabama-born artist has accomplished a lot. After going viral in 2016 with a hilarious video response to the US presidential election results, she has maintained a one million-plus combined following across Twitter and Instagram, thanks to her videos where she offers a glimpse into her talent as a rapper by freestyling about topical matters. (Take, for example, her 2018 viral video about rapper Kanye West's endorsement of the current President of the United States.) It was actually through Instagram that Chika once again caught the attention of another industry legend: Jamie Foxx. He told producers of his Netflix film, Project Power, to consider Chika for a potential role.

In Project Power – currently number one on the Netflix Top 10 – Foxx plays a former soldier working alongside a cop (Joseph Gordon-Levitt) and a teenage drug dealer trying to track down the people responsible for creating a new street drug that gives anyone who takes it superhuman powers. Chika originally met with producers for the role of Robin, the dealer who reveals that she can also rap, but it eventually went to actress Dominique Fishback (who, according to Chika, was absolutely ​"the best choice".) Though she missed out on that role, her talents as a rapper would prove useful as she stayed on to provide not only the lyrics that Fishback's character would rap throughout the film, but the closing track for the film, My Power. For that track, she says, "[I was] writing from the same place as Robin was, in terms of needing people to believe in her." (She also makes a small cameo in the film.)
After soundtracking a big budget movie, Chika reached another milestone last week. She was revealed as one of the rappers on this year's edition of the XXL​'s freshman cover. The hip-hop magazine's annual freshman issue features a list of the hottest new rappers (last year's cover included the likes of DaBaby, Roddy Ricch and Megan Thee Stallion). The list is watched closely by the industry, and fiercely debated by fans online.
Chika's feelings about the XXL cover were mixed. She tells me that she doesn't ​"trip over the accolades", but she says that learning she was hand-selected by the magazine – as opposed to fan voted – gave her some sense of validation.

As for the future? Chika is playfully coy. At the beginning of this year, she released an EP titled Industry Games, marking her major label debut. She recently released the single U Should – a sweet melodic tune about falling in love with someone at first sight. She's currently working on her debut album, but the pandemic has put nearly everything on hold.
Her brief cameo in Project Power makes me wonder if she's eyeing up an acting career. ​"Acting is not something that's far-fetched," she says, referencing her theatre kid upbringing. ​"So stay tuned!"
Whether you see her next on the big screen, or the small screen, on the cover of a magazine, or on a billboard in a Calvin Klein ad or while scrolling through social media, Chika is on her way to becoming a household name. To steal the words of Jamie Foxx: ​"If you want the future, you need to get this girl."
---