100% CLIP: hip-hop's hottest alt-girl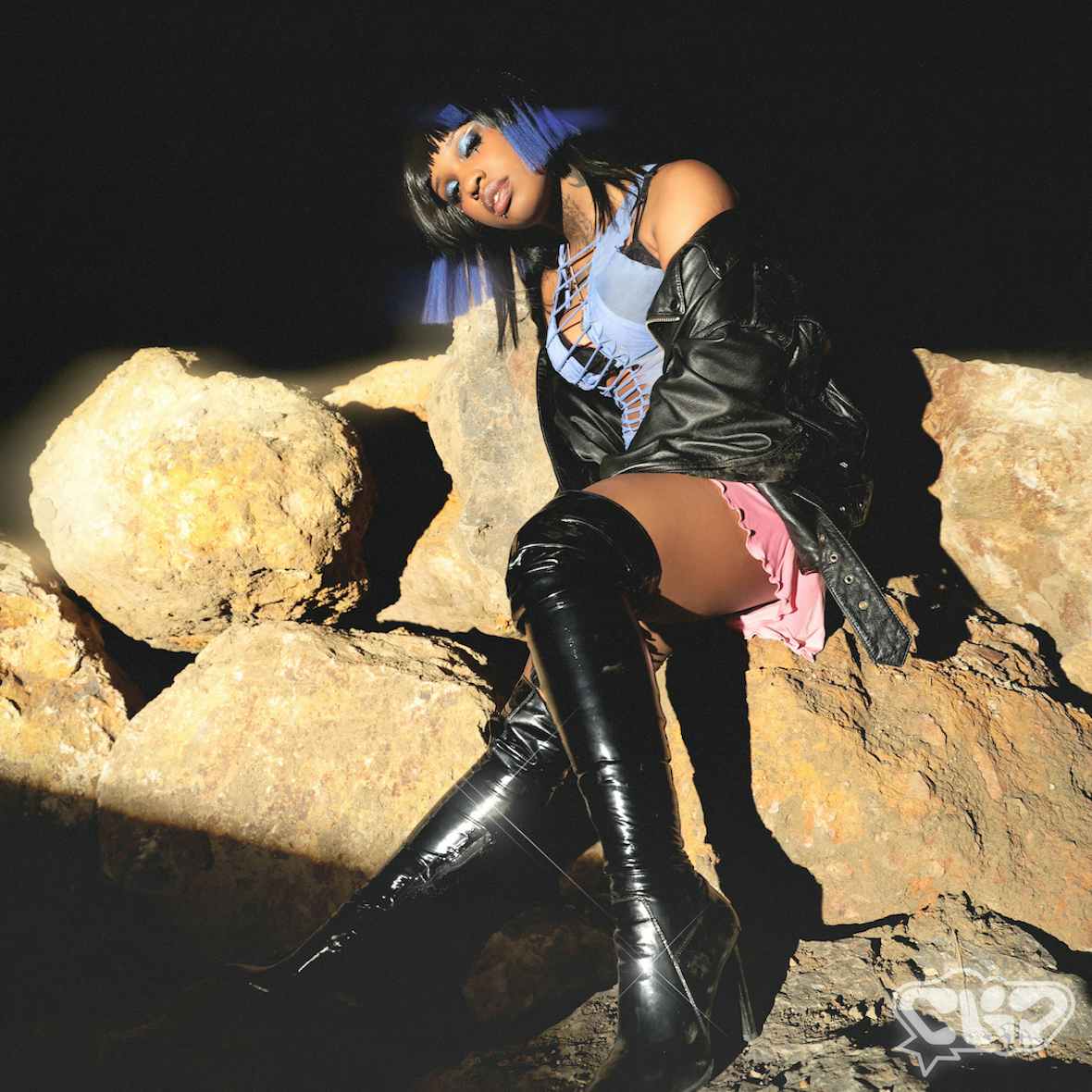 After running away from home to New York, the rapper's viral hit Sad B!tch catapulted her into the city's coolest circles. Ahead of her debut EP, we asked CLIP some of life's most pressing questions…

It's been a rollercoaster couple of years for newly California-based musician CLIP, whose 2020 viral track Sad B!tch sent her hurtling down a career path she'd never quite imagined for herself.
Featuring hazy, soft-spoken bars and a deceptively upbeat backing track, Sad B!tch was a kind of slumber party anthem for kids who were locked up over the pandemic: ​"Sad bitch but I love being bad /​Hopped up out my feelings /​And I hopped in my bag," CLIP raps matter-of-factly against a backdrop of dreamy synths. The song racked up over three million streams – and counting.
"I've been making music forever," she says. ​"When I was around 15, I got my first iPod and it had the app GarageBand, which I used to make covers for fun. A singer named Cuco retweeted one of them, which led a lot of his fans to my SoundCloud. I took a break for a couple of years and then released Sad B!tch at 1am – it's been kind of crazy ever since!"
Now 22 years-old, CLIP hasn't let overnight success rattle her. ​"It was weird, though," she continues. ​"My music career was taking off, but everything around me was terrible. I'm glad it happened at that moment, because it's what kept me grounded in reality and on my feet. I had very much fallen into Covid and the depression of it all, but music kept me going."
All that being said, CLIP fought harder than many of her peers to get here. Smashing through high school in Texas, which she hated ("I wasn't good in school because I wanted to be – it was my only way out"), she ran away to New York, where she was born, to study journalism at Marymount Manhattan College. ​"I just didn't fit in and I was on my own in the city," CLIP says. ​"I dropped out, and right after that I posted Sad B!tch. It was the universe, I guess!"
Since then, she's released breakbeat-backed Calvin K, followed by euphoric track FALL BACK and new single Hurt U, whose heartfelt, to-the-point lyricism languidly mesh into heavily distorted vocals: ​"I guess I'll stay all alone in my room /​Only place I can't hurt you". It's all a warm-up for CLIP's debut EP, Perception, which comes out 8th September.
"All my life, people have perceived me in a way that wasn't really me, and I had difficulty processing that," she says of the inspiration behind the project. ​"I knew that one day, I'd find my voice, find a way to show who I am.
"I always felt alone growing up, so I hope people can relate to what I have to say. I want them to feel connected to me. I like to build genuine relationships, and even if I can't do that with everyone in the world, maybe my music can do that for me. That's beautiful." Get your 100% fill on CLIP below.

10% Where were you born, where were you raised and where are you now based?
I was born in Brooklyn, New York, and I lived there for a third of my life. Then I got forced to go to Texas, and worked my ass off to get back to New York at 16. I've been living on my own since then – now I'm in California and I live with my boyfriend.

20% Where did the name CLIP come from?
Running away to New York when I was 16, I was always outside. New York culture is like, you're always outside. The main spots were St. Mark's, Washington Square Park or V Files [store] in Soho. I always had clips in my hair, tooth gems, make-up done like a doll. I also used to smoke a lot, and when the joint gets itty bitty, they call it a clip. My friends started calling me that, and it stuck.
30% What kind of emotions and experiences would you say influence your work?
My everyday life. A lot of my songs are really depressing, but their sound is very upbeat. Those moments in life that really weigh on your mind – I take those to the studio and make an alternate reality out of them, through music. I hope people notice that in my songs.

40% What's a piece of advice that changed your life?
It's kind of generic, but I always get told to stop being a people pleaser. I'm really working on that, especially now I'm in this field with so many new people and new eyes on me. I tend to succumb to a lot of things. But I've learned that I'm here for a reason! What I say and think matters. I really have to embody that in everything that I do.

50% If you ruled the world for a day, what would go down?
Honestly, I would just try to make everyone as rich as possible. Money rules the world.

60% If you could travel back in time to see an iconic music act perform, who would it be and in what era of their career?
Prince, when he was just starting out. I'd love to see how he became Prince – such an icon and legend, but also a mystery. It would be cool to see that build up.

70% What's a bad habit that you wish you could kick?
I bite my nails. I can't even do my nails because I bite them off! It's so gross.
80% Like, love, hate?
I love everyone who loves me. I like the colour blue. I hate pork. Oh my god, I cannot stand it. And I hate gum. I hate pork and gum!

90% What's wrong with pork and gum?
Listen, I just feel like pigs are so gross. Gum, same thing. I get so triggered by it, it really gives me the ick.

100% What do you think artists can do to help save the world?
Artists can use the platform they were blessed with to help as many people as they can – whether that's financially or through their songs. I think artists have a lot of power they don't always take advantage of. Everyone consumes entertainment in some way. If the people providing it could do something to help others, that'd be cool.


More like this