100% Finn Askew: Somerset's new heartthrob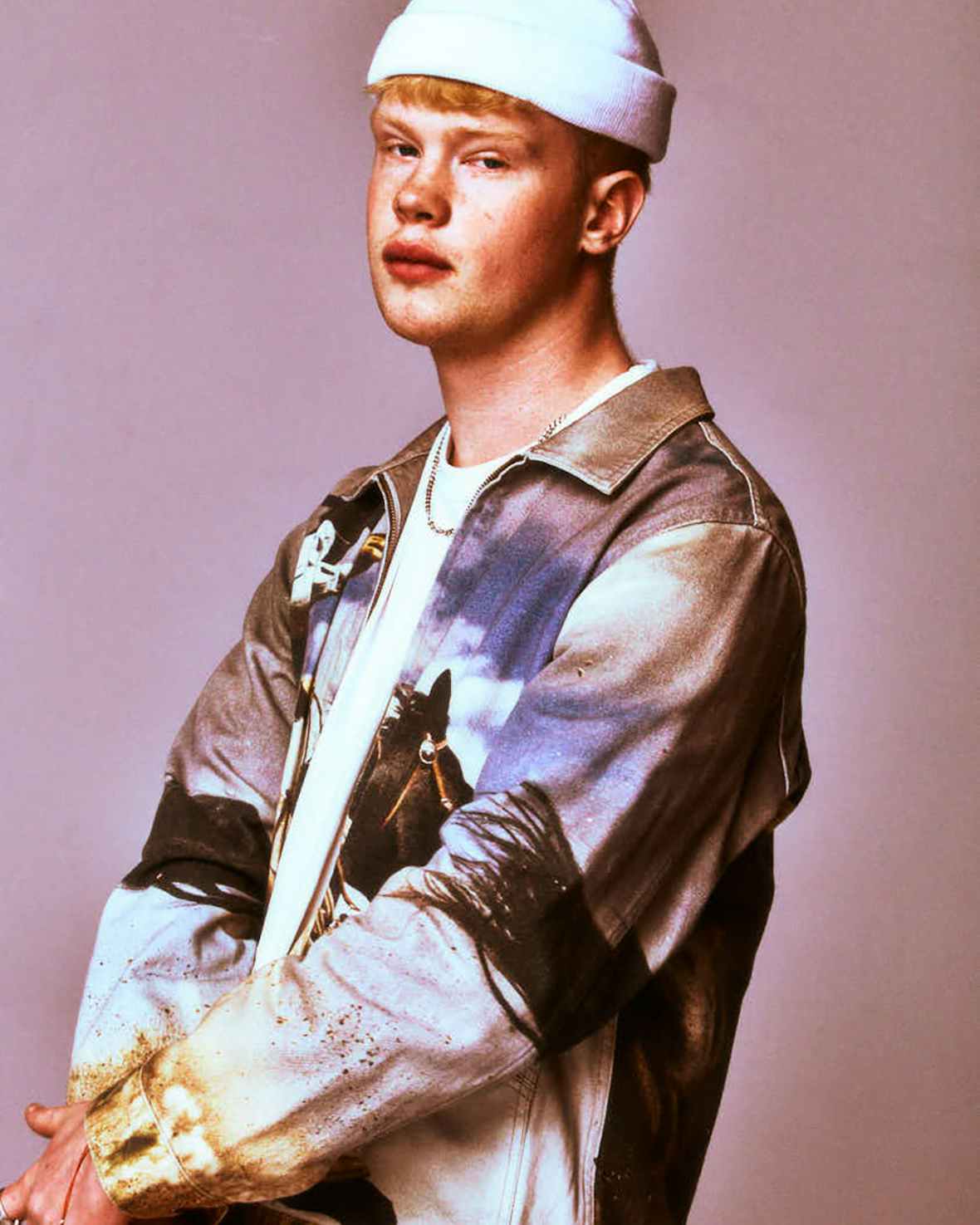 The viral music star talks small-town life, hating Boris and following his emo instincts.
Finn Askew proves that you don't need to be from London to blow up these days. The 20-year-old singer-songwriter who hails from Wellington, a sleepy market town in Somerset, shot to global stardom after Taeyong from K‑Pop group CRAVITY shared his debut single, Roses, back in January. It gained Askew a cult following in Korea, sending him up several of the country's digital music charts. At the time of writing, Roses has racked up over 15 million Spotify streams.
Growing tired of his structured guitar lessons, Askew found his sound after exploring everything from emo rock to downtempo R&B. His songs such as Same Old Love, Peach and Cherry Bomb typically discuss youth and falling in love, although Askew himself admits he has other things on his mind than the latter: ​"It's hot boy summer. I'm too busy to fall in love."
And he is. After a year of recording a bunch of singles during the pandemic, August for Askew is packed with festival dates, including Reading & Leeds Festival and ALT-LDN.
Check out Finn Askew' new single, Adidas – which is taken from his forthcoming Tokyo EP – and get your 100% fill below.

10%: Where were you born, where were you raised and where are you now based?
I was born in Taunton in a place called Musgraves Hospital. They did a brilliant job of delivering me. I was raised in Wellington and I've been here all my life.

20%: Love, like, hate?
I love fashion, especially in the place where I live. I wear eccentric stuff and it makes me stand out in a place like this. I like T‑shirt weather, not too hot and not too cold because I burn really easily. And I hate Boris Johnson. He's a knobhead.

30%: When did you find confidence as an artist?
I've always had loads of confidence. I love being the centre of attention. I always back myself and believe I'm good. You have to back your own shit. Socially, though, I'm not confident. An unknown caller ID? I'm not picking up.

40%: What kind of emotions and experiences influence your work?
Being youthful, going to parties and just being a kid. That's what I'm living right now. Most of the time, I write about love. But I'm not in love right now. It's Hot Boy Summer. I'm busy!
50%: How did you celebrate your last birthday?
I rented an Airbnb with 12 of my mates. It was in the quietest village I've ever seen and I knew the noise complaints were going to be mad. It was a few boys, bit of alcohol, it was fun. I enjoyed myself.
60%: What's something people don't know about you?
I'm a quarter Norwegian. There's a bit of flavour in me. People always think I look like Erling Haaland.

70%: If you could travel back in time to see an iconic music act perform, who would it be and in what era of their career?
Any JUICEWRLD, XXXTentacion or Lil Peep show. They are the biggest pioneers for me when it comes to music. I would also love to see Frank Ocean. He's doesn't try to write radio hits, he's just making good music people fuck with.

80%: Which song/​artist do you current have on repeat
Clyde Carson. He's pure vibes. He's my favourite artist at the moment. I also love Snakes on my Nokia by BERWYN. It's so good. And every song I've put out. I'll plug myself.

90%: When you're not recording, how are you spending your downtime?
I live a really simple life. I chill with my mates or I play PS4. The most simple things: I do my music and come home, and I come home here to Somerset. I'm a nobody here, a normal kid who sees his mates and smokes weed in a field. I love chilling out. That's what I like to do.

100%: What can you tell us about your next project?
I feel like my first project was sick and I was happy but it wasn't me as an artist. I wanted to make sure that every song on my new EP was something different, so I can finally show my sound. So this project is really zoning in on that, so when people hear it, they will get it and will know that this is what Finn Askew sounds like. That rockier, emo-in-your-face is the vibe I'm going for.


More like this